When I saw this recipe for gooseberry and elderflower cordial in Fiona Beckett's book How to Drink Without Drinking, I knew I had to try it. Elderflowers are a highlight of my early summer foraging routine and I'm always looking for new ways to use them. Elderflower cordial is always the first thing I make. This recipe offers a twist on the usual, adding tart gooseberries to the infusion. It's a killer combo! You could probably invent a cool cocktail with this stuff but I've been enjoying it simply on ice diluted with fizzy water. Gooseberry and elderflower cordial could also be a great addition to the hip flask on summertime hiking trips!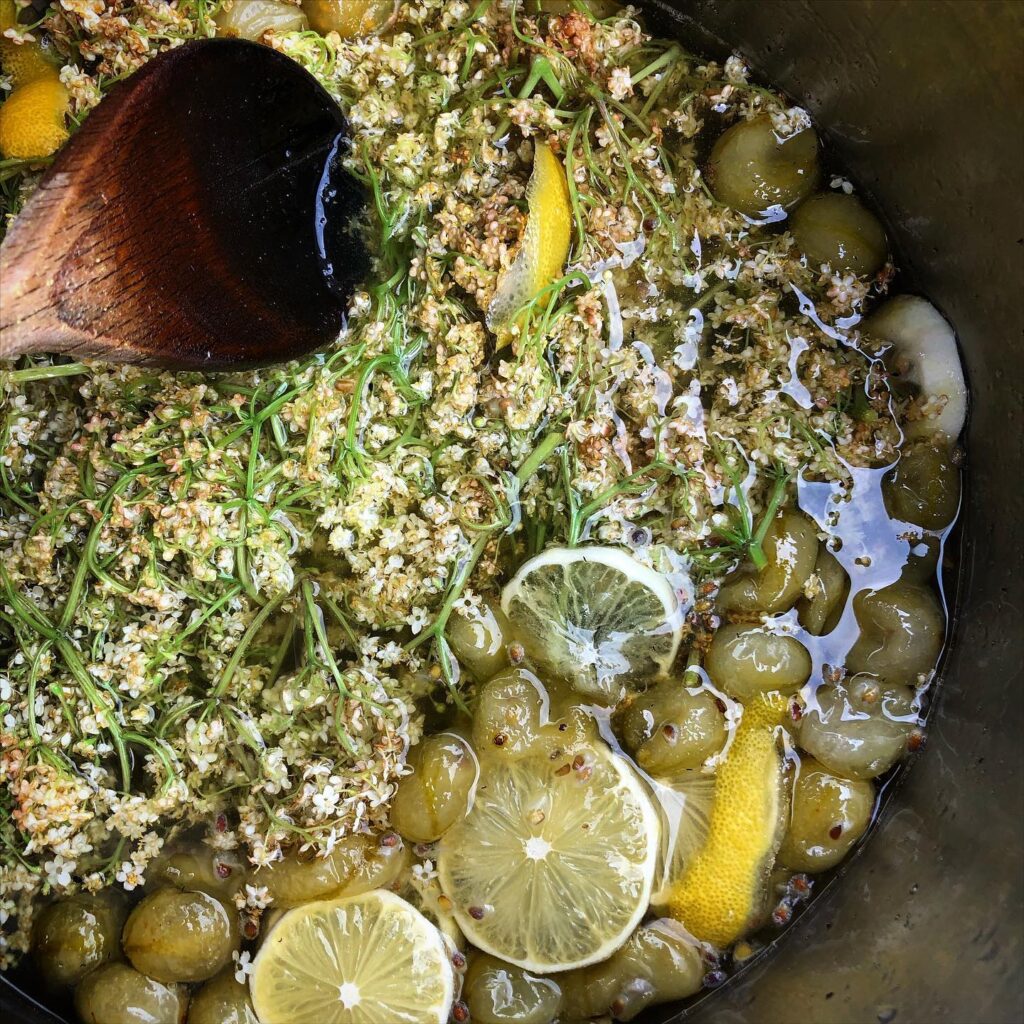 With thanks to Fiona Beckett for giving me permission to publish this wonderful wild food recipe here on Eat Sleep Wild! For more non-boozy drink inspo, check out her inspiring book How to Drink Without Drinking and visit her website Matching Food & Wine.

Gooseberry and Elderflower Cordial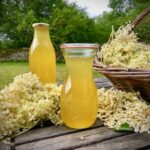 Makes about 1.5 litres.
10 –12 freshly picked heads of elderflower (or more if you pick smaller florets)
600 g 1lb 5oz granulated sugar
600 ml 20fl oz water
250 g 9oz green gooseberries, topped and tailed
2 unwaxed lemons (or 1 unwaxed lemon and 20g (¾oz) (maybe less) citric acid)
soda or sparkling water (to serve)
Pick over the elderflower heads, trimming the flowers away from the stalk and shaking out any insects.
Put the sugar in a large saucepan and add the measured water. Heat over a low heat, stirring occasionally, until the sugar has completely dissolved. Bring to the boil and add the gooseberries.
Simmer for 7–8 minutes, then take off the heat.
While the gooseberries are simmering, finely pare the rind of the lemon(s) and slice the flesh. Swirl the elderflowers gently in a bowl of cold water.
Remove the elderflowers from the water and add to the sugar syrup along with the lemon rind and slices and the citric acid, if using. Stir, lightly cover with a clean tea towel and leave in a cool place overnight.
Strain the cordial through a fine sieve into a wide-necked jug or bowl. Pour the cordial through a funnel into 2 x 75cl) sterilized glass bottles and seal. Store in the refrigerator and consume within a month. You can also freeze the cordial in plastic bottles, though remember to leave some headspace to allow the liquid to expand.
To serve, dilute to taste with soda or sparkling water.
Note: using citric acid will increase the shelf life. Tip from Fiona: "You can make the cordial without citric acid if you're not intending to keep it for long, but don't overdo the lemon, otherwise it will just taste like lemonade."