Everyone should have a good granola recipe in their repertoire, be it for backpacking and wild camping, or just to have at home. This orange, apricot and pecan granola has become a favourite of mine.


Of course, you can use any combination of fruit, nuts, seeds, and grains that you'd like. The key is in the ratio. This basic formula is a good starting point:
340g jumbo oats (or a mix of jumbo oats with barley flakes or other grain)
200g mixed nuts (I love pecans and almonds in particular)
50g seeds (pumpkin, sunflower, flax, or sesame)
100g dried fruit
pinch of salt
90ml of honey (or other liquid sweetener)
Optional add-ins:
Spices, such as cinnamon, nutmeg, cloves, or ground ginger
Coconut flakes – I love these!
Coconut oil – about 40g to the recipe below. You don't need this for a crispy granola but it does add a nice aroma and richness.
Orange zest. This one is a game changer, inspired by the granola recipe in The Camper Van Cookbook (recommended!)
Cacao nibs? Maybe weird but I think they would be particularly good with the orange and apricots in this recipe!
An egg white. Sounds weird but a whisked egg white added to step two makes for ultra crispy granola!
More honey or other sweetener if you have a sweet tooth. (I don't make my granola excessively sweet as I like to add fresh fruits to the final result.)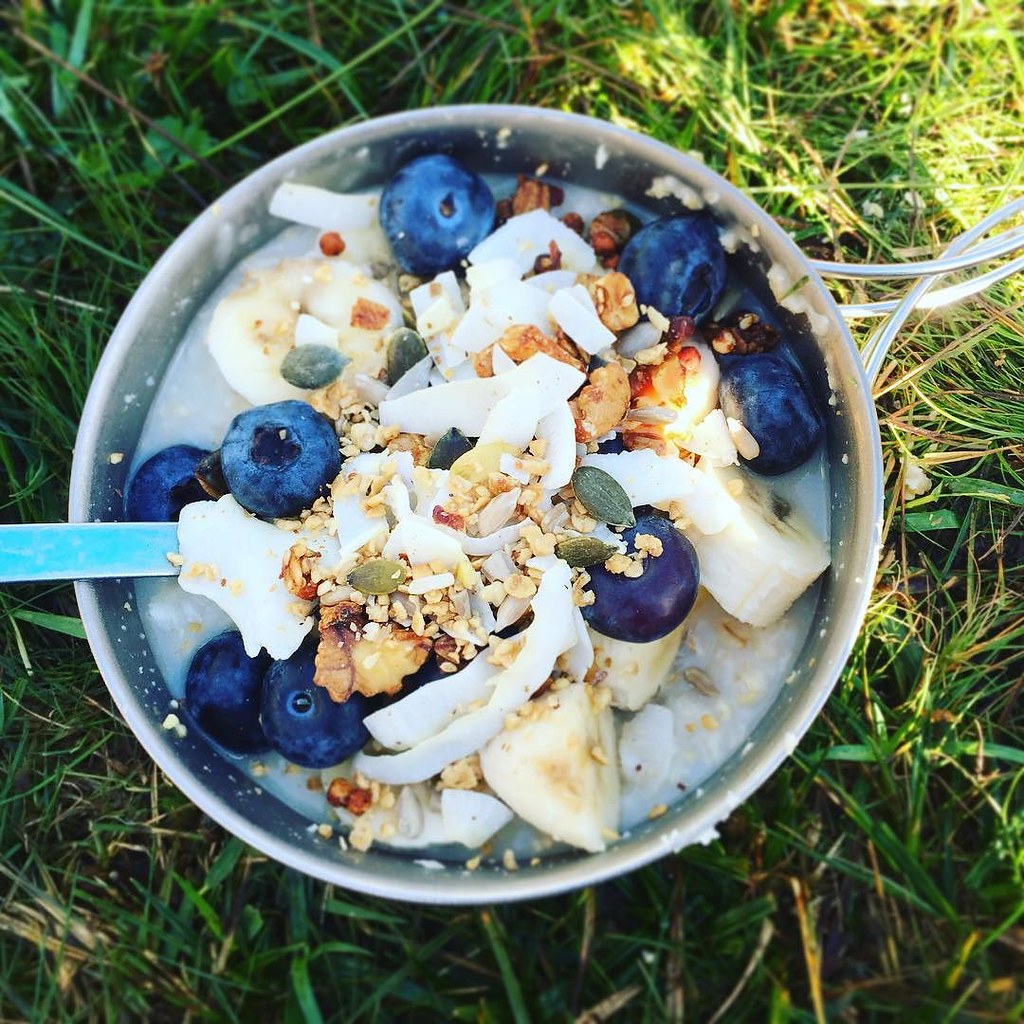 The key to great granola is to bake it on a low heat and stir regularly while cooking. This ensures even toasting of all the ingredients. Add the fruit after it's come out of the oven.
Use gluten-free oats for a gluten-free granola (easy!). And for my vegan friends, you can swap the honey for agave nectar or maple syrup. On the trail, use almond milk powder or coconut milk powder instead of dairy milk powder. Now get cooking!
You might also like:
Orange, Apricot and Pecan Granola
To save a little time – and baggies! – you can combine the powdered milk with the granola. On the trail, simply decant your granola into a bowl, add water, stir and enjoy!
For the granola
340 g jumbo oats
200 g pecans ((or other mix of nuts))
50 g sunflower seeds, pumpkin seeds, flax seeds, or a mix
zest of two oranges
big pinch of sea salt
6 Tbsp honey
50 g dried coconut flaks
100 g dried apricots (chopped)
To serve
Powdered milk
Berries, banana, or other fresh fruit (optional)
At home
Heat the oven to 150C.
In a large roasting tin, mix the oats, nuts, seeds, orange zest and salt. Drizzle over the honey and mix well.
Spread out on evenly and bake for about 30-40 minutes until golden, stirring every 10 minutes. Add the coconut flakes during the last few minutes of cooking.
Remove from the oven, stir in the fruit, and leave to cool.
Divide the granola into 8 portions and store in resealable food bags. (Or store it all in a sealed container and decant into food bags as needed for your trips.)
On the trail
In a bowl, mix a couple spoonfuls (or sporkfuls!) of powdered milk with a bit of water.
Add the granola, fresh fruit, and enjoy!
Nutrition info given without milk and fruit: 472 Calories | 29g Fat | 50g Carbs | 10g Protein

*Disclosure: This post contains some affiliate links, which means Eat Sleep Wild receives a small commission if you purchase an item after clicking on one of the links. This comes at no additional cost to you, and helps to support the website in its continuing goal to create quality content for adventurers everywhere. Thanks!