I've experimented with lots of energy bar recipes for hiking and backpacking trips and I'm pretty sure these are the very best! They're essentially a slightly-sweet granola bar made with good-for-you ingredients including rolled oats, sunflower seeds, pumpkin seeds, walnuts, almonds, banana and dried fruit. No sugar, no weird stuff.
This energy bar recipe combines everything you want in a hiking snack:
Nutrient-dense with oats, nuts, seeds, and fruit
High in slow burning calories to power you through long walks and big climbs
No-sugar-added containing only natural sugars from fruit to keep your energy levels stable and avoid sugar crashes
Easily packable: you can keep them stashed in your pack's top pocket or hip pockets and they won't crumble or fall apart
Easy to make, requiring just one bowl and no special tools
Long shelf-life: they'll keep for at least three days so you can take them on multi-day treks
Freezer friendly: They store well in the freezer so you can prep them in advance and keep them on hand for impromptu adventures
Vegan and gluten-free: if you're following a special diet, these energy bars are vegan, and gluten-free if made with gluten-free rolled oats.
Versatile: use your favourite dried fruit and nuts, or try adding chocolate chips or cacao nibs
Having made variations of this recipe for numerous hikes and multi-day trips, I've observed that these energy bars really deliver. They provide sustained energy thanks to the inclusion of lots of slow-burn carbohydrates and fats and total lack of refined sugar. Also, they're fancy-able! Appetite can do a funny things when you're on the move, but I always seem to have a taste for these.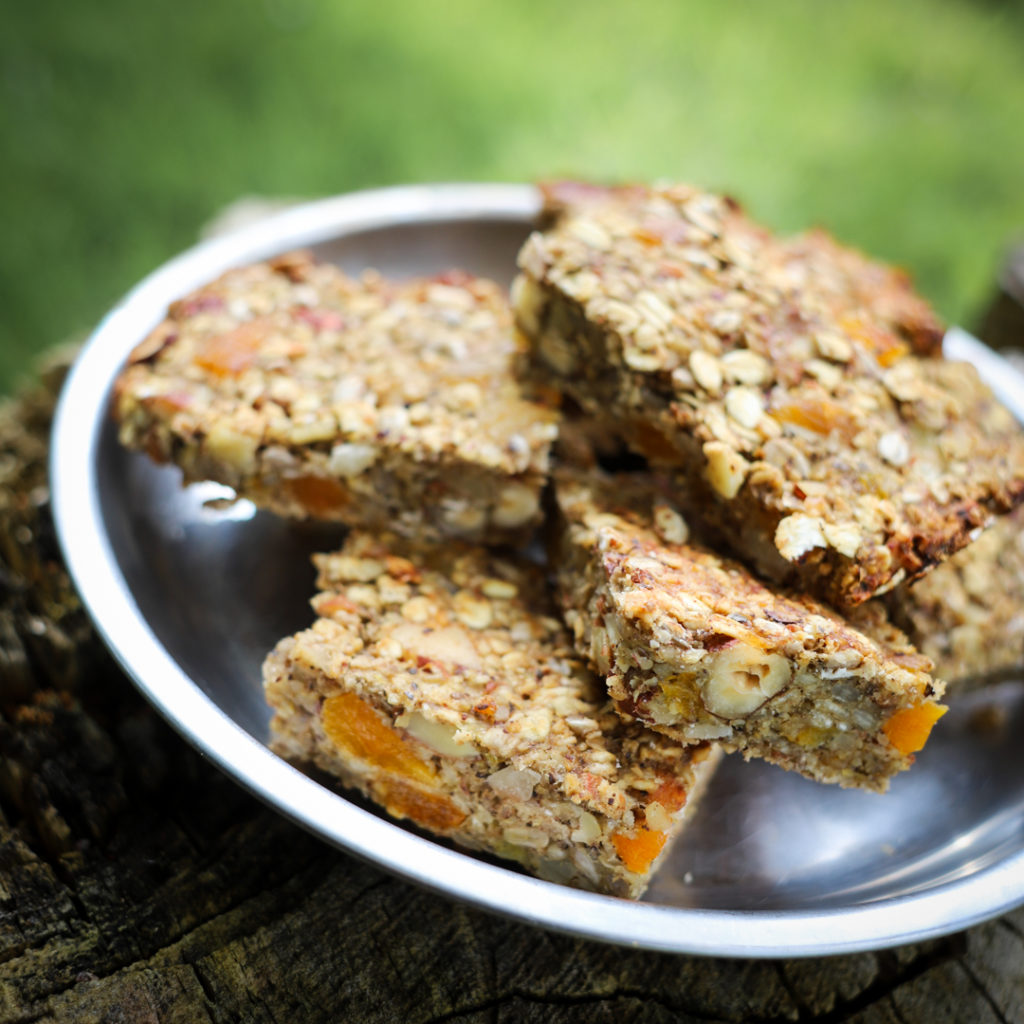 This recipe is adapted from Angela's Feel Good Hearty Granola Bars recipe, which was adapted from Anjali's Oat Snack Bars, which was adapted from Faith's 4-Ingredient Banana Oat Bars. So many adaptations! Isn't the internet a wonderful place?

The Best Homemade Energy Bars for Hiking and Backpacking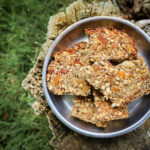 360 g mashed ripe banana (about 3 large)
1 teaspoon vanilla extract
200 g porridge oats / quick cook oats
90 g dried fruit (apricots, raisins, cranberries, etc)
50 g walnuts (chopped)
75 g sunflower seeds
80 g pepita seeds
60 g sliced almonds
35 g flax seeds
1 teaspoon cinnamon
1/4 teaspoon fine sea salt
Preheat the oven to 180°C / 350°F. Lightly grease a large rectangular baking dish (approximately 9" x 13" / 23 x 33 cm) and line with a piece of parchment paper (with overhang so the bars are easier to remove.)

In a large bowl, mash the banana until smooth. Stir in the vanilla.

Add the remaining ingredients to the banana mixture and stir until fully combined. You'll end up with a heavy thick mixture.
Spoon the mixture into the prepared dish. With lightly wet hands, smooth out until even and uniform. Press down on the dough until compacted.
Bake for 22 to 26 minutes, until firm and lightly golden along the edges.
Place the dish on a cooling rack for 10 minutes, then carefully slide a knife to loosen the ends and gently lift out. Place the slab on a cooling rack until completely cool.

Once cool, slice into bars. I like to use a pizza slicer as it easily cuts through the dried fruit and nuts. A bread knife also works well. Leftovers can be wrapped up and stored in the fridge for a week, or stored in the freezer for 4 to 6 weeks.
Approximate nutritional info (per bar, based on 14 large bars): 186 calories, 8.7 grams fat, 22 grams carbs, 4.7 grams fibre, 6 grams sugar, 6.6 grams protein.