We've been looking for some straightforward outings that enable us to grab a slice of wilderness at short notice without excessive planning or time off work. Our recent one night wild camping excursion in the Berwyn Mountains proved just the ticket.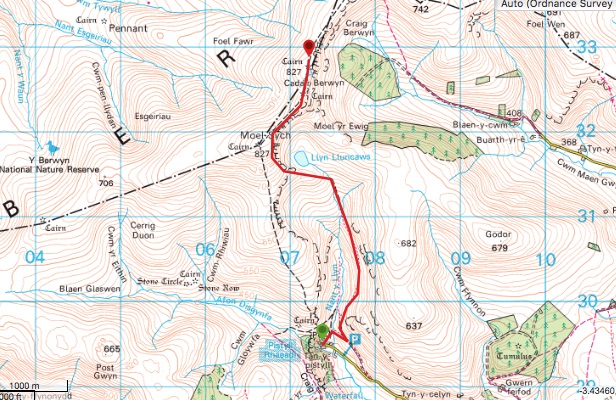 The Berwyn Mountain range is an isolated range in northeast Wales just outside of Snowdonia. It's not super popular for hill-walking, as most people bypass its humble peaks for Snowdon and the like. As such it makes the Berwyn Mountains a great place to find some solitude. Even on what turned out to be a beautiful autumn weekend, we only passed a few other walkers. For much of the journey we had this incredible place to ourselves.


We first learned of the Berwyns from our trusty Wilderness Weekends book in a walk subtitled "Alien Explorations". Indeed the Berwyn Mountains have some notoriety as the site of an alleged UFO crash. Ultimately the event was revealed to be due an unlikely combination of events: a rare earthquake, the appearance of meteors in the sky, interviewers from the British Geological Survey door-stepping villagers after the earthquake, and the presence of poachers in the mountains at the alleged crash site. The story may be a fiction but there's no denying that the Berwyn Mountains are still a place of wonder and intrigue.


Day 1
We started on a Saturday, heading out from Wiltshire at about 9am and arriving at about noon at a layby just below Pistyll Rhaeadr, a popular waterfall (there is an official waterfall car park but you have to pay and we weren't certain we could park overnight so we took the free option which seemed perfectly suitable!).
This spot was the only part of the trip where we encountered lots of people, mostly there to check out the base of the waterfall and enjoy the café attached to the car park. But quickly the main footpath forks right and takes you away from the "crowds" and into the heart of the mountain. The ascent is easy going, a long gentle uphill track that, after an hour or so, winds up at Llyn Lluncaws, a small tarn in the bowl of Craig y Llyn. This is also a terrific place to camp.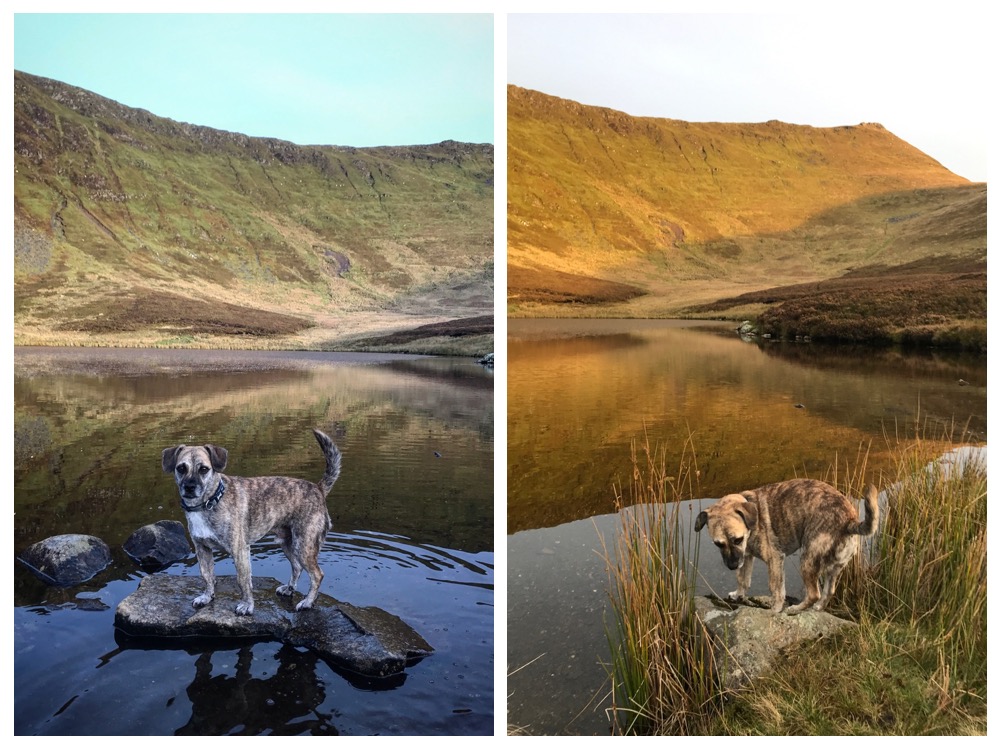 The day was young and it was far too early to pitch up, so we decided to dump our big packs and swap to smaller day packs for a longer walk in the hills. We stashed our big packs in the bracken and hoped they'd still be there when we returned. (As it turned out the packs were very easy to watch for most of walk as their bright green rain covers were just barely visible from the top of the ridge!)


The final ascent to Craig y Llyn is short and sharp and before long you're on top of the ridge which offers endless opportunities for exploration. You'll definitely want to bring layers as on this particular October day the wind was very cold and we were grateful for our fleeces and brand new winter gloves (and Andrew's mini-Sigg bottle of whisky).
We wandered from Moel Sych to Cadair Berwyn (827m), stopping along the way in the shelter of stones to have a quick lunch. Along the way we enjoyed awesome views of Snowdonia including some of our favourite peaks in the Rhinogs and of course, Snowdon, which was probably rammed with tourists while we enjoyed the view in total solitude.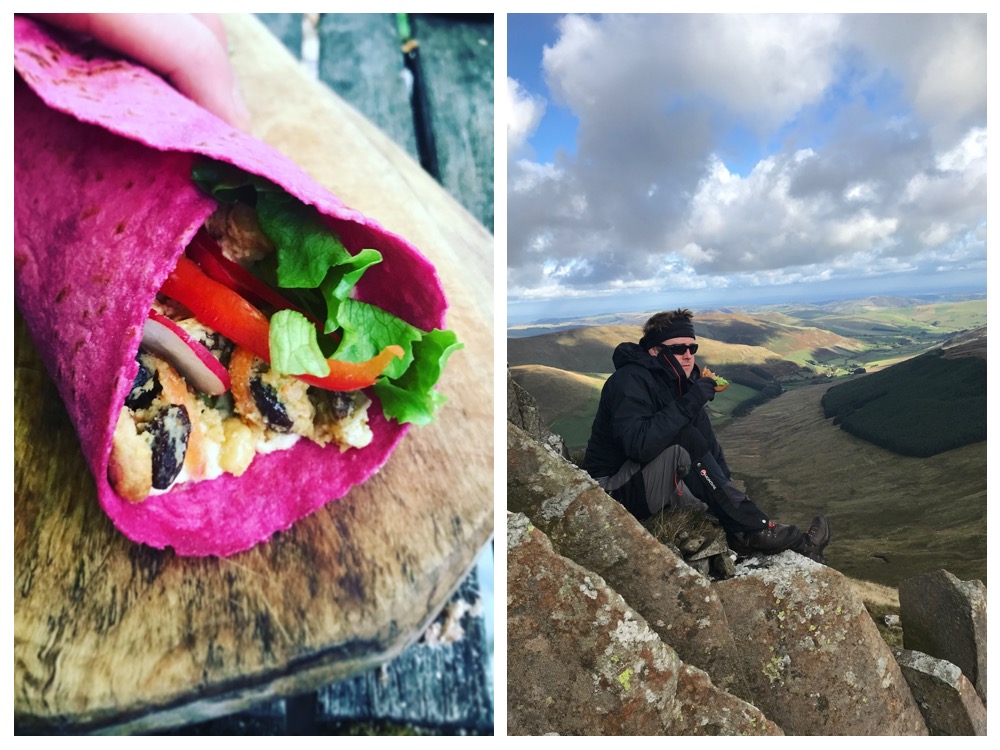 It was tempting to carry on as from the top we had a 360 degree view of endless inviting ridge walking opportunities …. you could easily craft a long and pleasantly challenging day out here. But the day was running out and we wanted to make sure we got back with plenty of daylight to spare for setting up camp and cooking dinner. (I had ambitious plans for tent tacos and tiramisu!)

The Food
Things got very cold very quickly as soon as the sun went down. While rehydrating our tent tacos (shredded chicken in a tomatillo sauce) I knocked together some quesadillas with cheddar and salsa macha using my little titanium pan and the JetBoil. (Camp stove quesadillas have become a favourite snack of mine!) I also made coffee…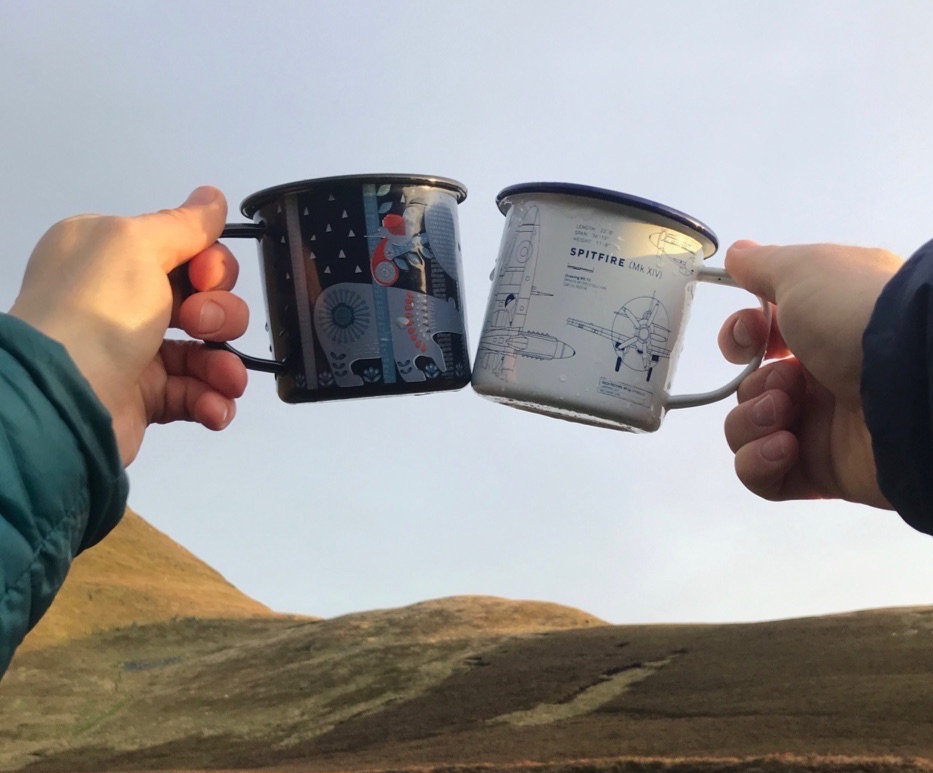 I soon realised that tent tacos probably weren't the ideal meal for cold weather, as it requires eating with your hands, and the tortillas cooled quickly. What you really want in these situations is hot spork-able food you can eat with gloves on! We would have been better using our taco filling with some rice or couscous. Oh, and speaking of the taco filling, the sauce was fantastic but the chicken didn't seem to want to rehydrate – I don't think I shredded it enough. Learning point!
For dessert, I had a go at tent tiramisu inspired by trail.recipes. Basically this involved: (1) soaking sponge fingers in a mix of coffee and whisky, (2) making some instant custard, (3) layering the custard on top of the sponge fingers, (4) topping with shards of chocolate or cocoa powder. I must have made the custard too thin because we ended up with something more akin to tirami-soup but it was still pretty good. And another learning point!

Day two
There isn't much to say about day two. We woke up to coffee and granola (again I think on future cold weather trips I'll go for a hot breakfast – the learning never ceases). Packed our things and were back at the car in the 9am hour. We got home with plenty of time to unpack and relax with a barbecue and a few bubbles to celebrate the awesome weekend!
Highlights
The Milky Way. One of the coolest things of the whole trip was the night sky. From our spot on this particularly clear night you could see the band of the Milky Way across the whole sky. Incredible!
The Jetboil. We recently replaced our MSR pocket rocket with a Jetboil and it's been a revelation. It's way more stable, weighs less, is much much quieter, and overall has allowed us to simplify how we cook and eat (while still allowing for awesome outdoor culinary experiences). I particularly like the coffee press which is much more straightforward (though admittedly much less hipster) than using the V60.
Daypacks. We can thank our friend Jimmy for this innovation which we used in Scotland, stashing our packs in a bothy and then swapping to much lighter daypacks for Munro-bagging. We didn't have a bothy this time but thankfully it was a dry day and it was easy to find an out of the way place to stash our bags. It also means you can afford to bring a few extra heavier treats along!
Weather. The drive to Snowdonia on Saturday morning was not promising, with heavy rain almost the whole day. The forecast suggested better weather in the afternoon and fortunately the forecast was not wrong! It was cold and windy but very clear.

Find more photos from our Berwyn Mountains trip in this Flickr photoset.