Wild elderflower cordial is a spring foraging classic, one of my first go-to recipes when the elderflowers start to appear in the hedgerows in May. But this cordial isn't just for drinking with sparkling water; it's endlessly versatile. You can use it to make cakes, ice cream, cocktails, and more. That said, it's worth making at least a couple litres of the stuff to store for months to come. There are plenty of elderflower cordial recipes out there, but this is the one that I prefer, adapted from River Cottage's "Pam the Jam". The recipe includes both orange and lemon in the infusion, making for a complex cordial with layers of fresh flavour!
When to make elderflower cordial?
Wild elderflowers are prolific from around late-may to mid-June. They are best when the buds are freshly open, picked on a dry day away from traffic fumes.
How long does wild elderflower cordial last?
I use citric acid in my cordial to aid in preservation. With citric acid, the cordial will last for 3-4 months in the fridge. Without citric acid, it will last 3-4 weeks in the fridge. You can always freeze elderflower cordial in smaller plastic bottles for longer term storage.
You might also like my elderflower cordial cocktail recipe (mocktail suggestion included!).

Wild Elderflower Cordial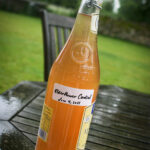 Makes about 2 litres
About 25 elderflower heads
Zest and juice of 3 lemons and 1 orange
1 kg sugar* (see note below)
1 heaped tsp citric acid (optional)
Place the flower heads in a large bowl together with the orange and lemon zest.
Bring 1.5 litres water to the boil and pour over the elderflowers and citrus zest. Cover and leave overnight to infuse.
Strain the liquid through a muslin and pour into a saucepan. Add the sugar, the lemon and orange juice and the citric acid.
Heat gently to dissolve the sugar, then bring to a simmer and cook for a couple of minutes.
Use a funnel to pour the hot syrup into bottles. Leave to cool then store in the refrigerator.
With citric acid, the wild elderflower cordial will last for 3-4 months in the fridge. Without citric acid, it will last 3-4 weeks in the fridge.
* For a seriously golden cordial, use unrefined golden caster sugar.