Achmelvich Bay is famed for its white sand beach at the south end of the bay. It's a superb setting, popular with tourists, with a neighbouring caravan site adding to draw. For these reasons I find it a bit ho-hum, however a short walk from this beach is a smaller more secluded beach with some insane geological features worth exploring. This shortish Achmelvich Bay walk takes you to these two beaches via a good track with sea views and a bonus historic mill! It also avoids the long single track road to Achmelvich by parking on the less onerous B869 Drumbeg Road near Clachtoll. (Handy for us as this spot is a short drive from the house!)
(Quick heads up – this page contains affiliate links so I may make a small commission when you make a purchase through those links. Don't worry, I only recommend products that I believe in. Thanks for your support!)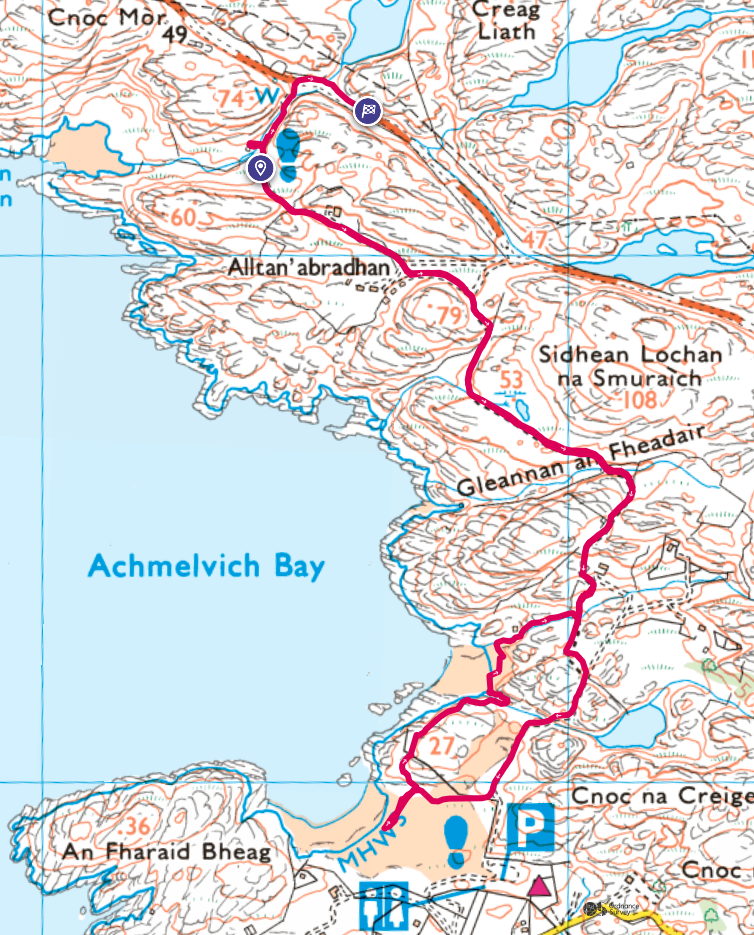 Trip Essentials
Summary
The trip starts at a small lay by on the scenic B869 Drumbeg Road (this also happens to be a great van stopover with a stream and of course this lovely walk!).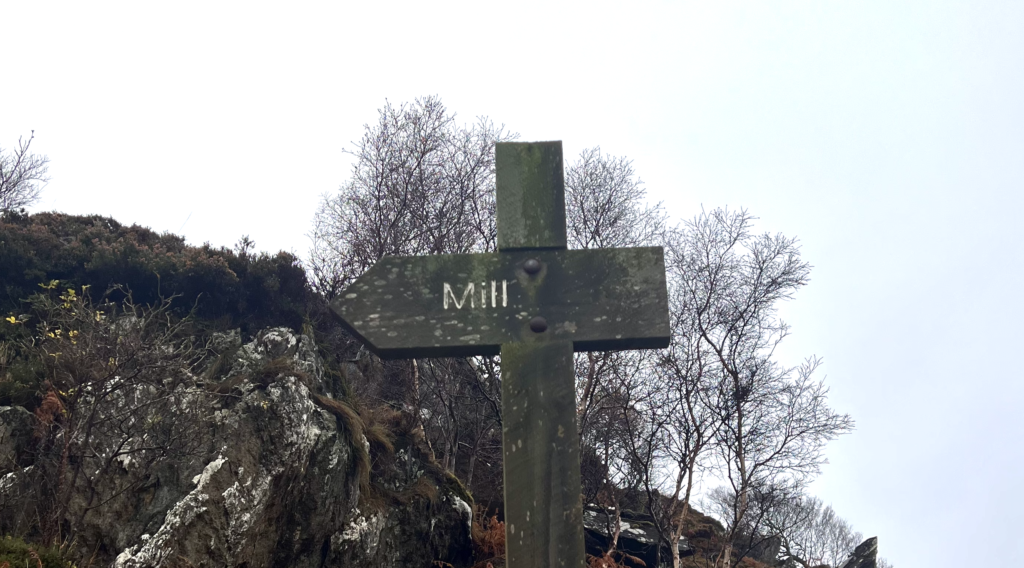 Across the road is a footpath signed "Mill" which after a short distance takes you to – you guessed it – an old mill! It's worth crossing the stream to have a look at the info board which reveals it was used to mill corn prior to the 1600's and up through the 1800s (I'm left wondering, where did all the corn fields go?). There are still some old mill stones "milling" around.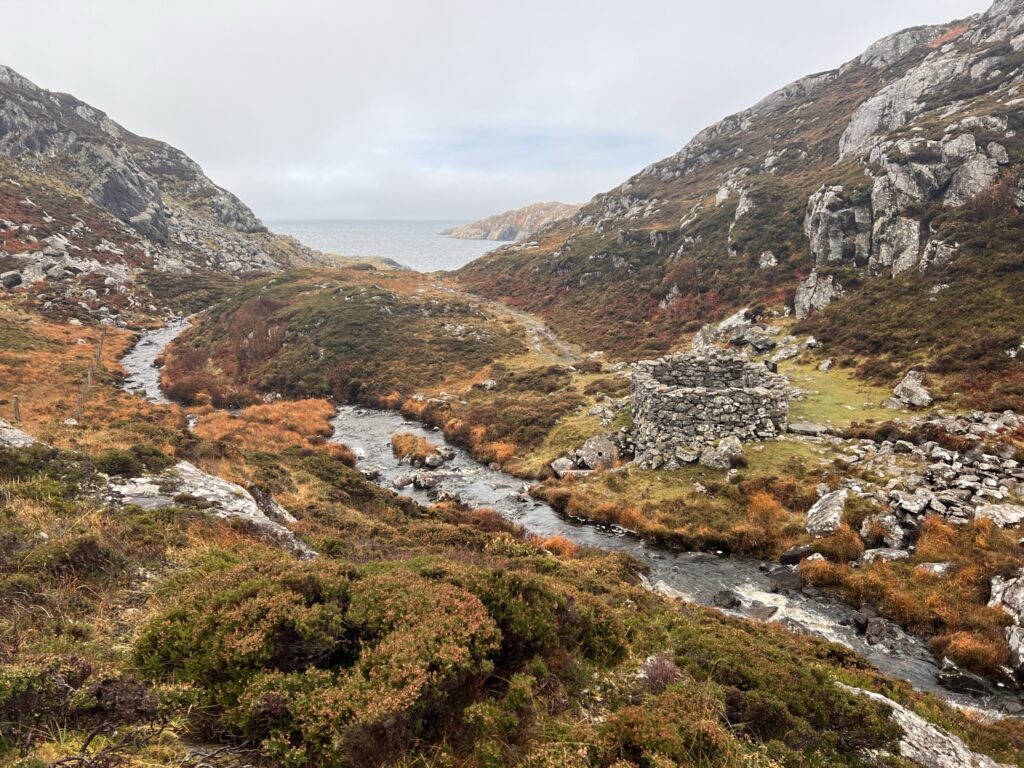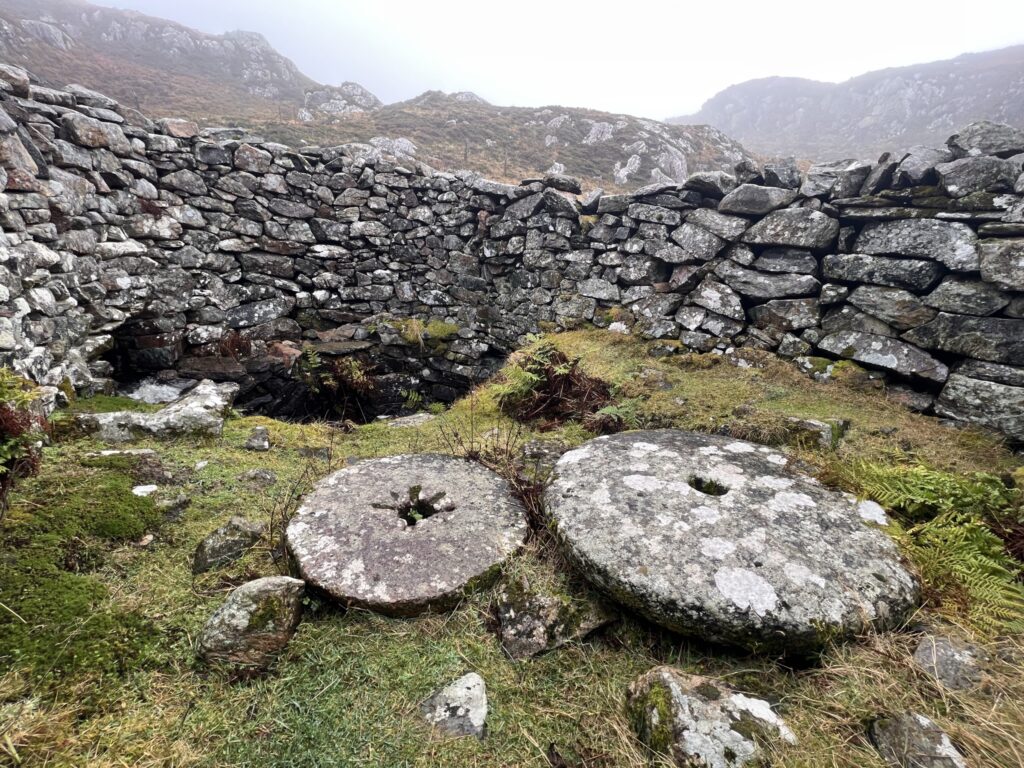 The walk carries on over higher ground on a good track with beautiful sea views. Along the way you'll emerge at a road after a white house. Carry on following the signs towards Achmalvich.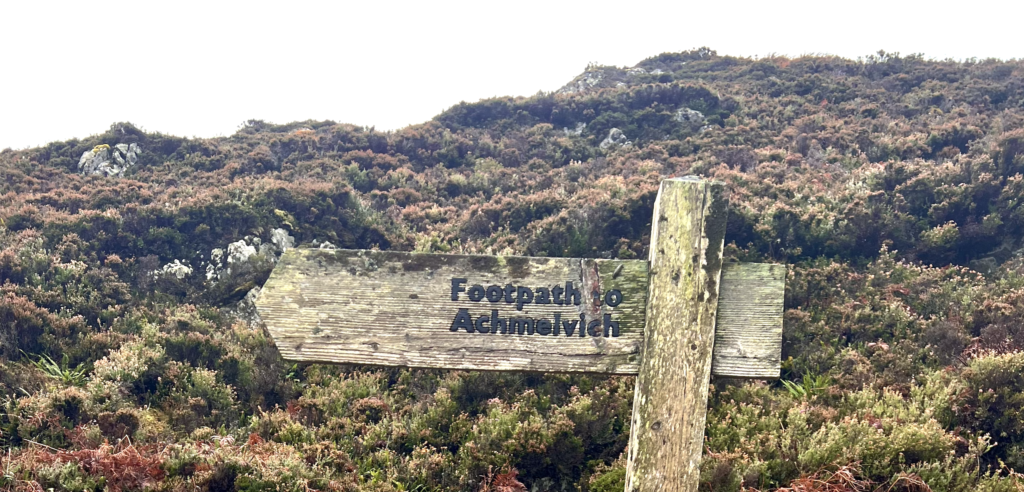 As you get nearer to Achmelvich beach, passing another house, you'll see some sandy paths going off to the right. These lead to the small beach pictured above. You could divert here, or carry on to the big beach as I did. On this particular November's day, the beach was blissfully empty, but I still felt spied upon by the neighbouring static caravans.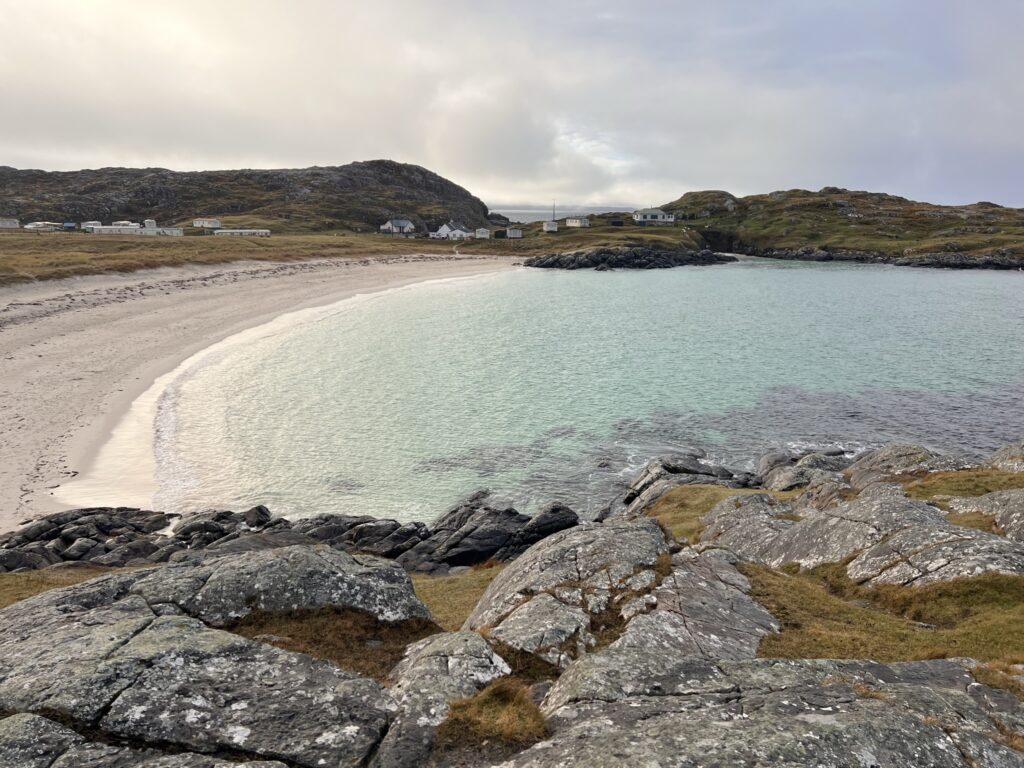 After a short stay on the beach, I diverted north to explore a path heading up above a beach which led me to the smaller sandy beach (see circled area on the map below).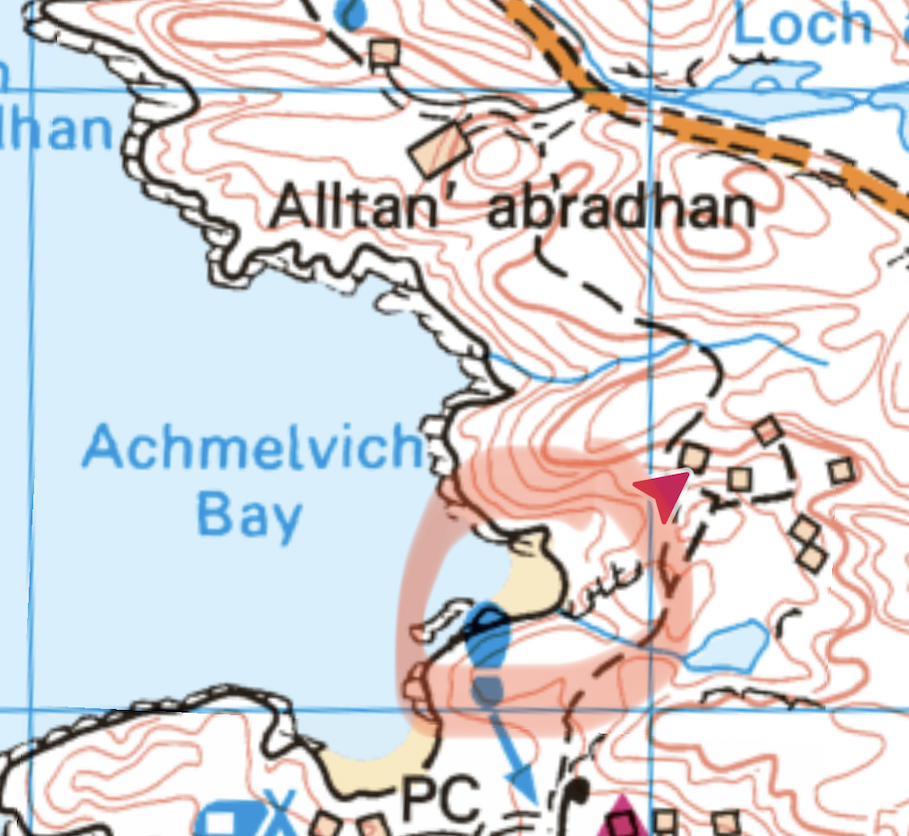 Discover the Geology of Achmelvich Bay
You don't need to know anything about geology to notice that this is a very special place. The bay is surrounded by colourful rocks in an array of layers and patterns.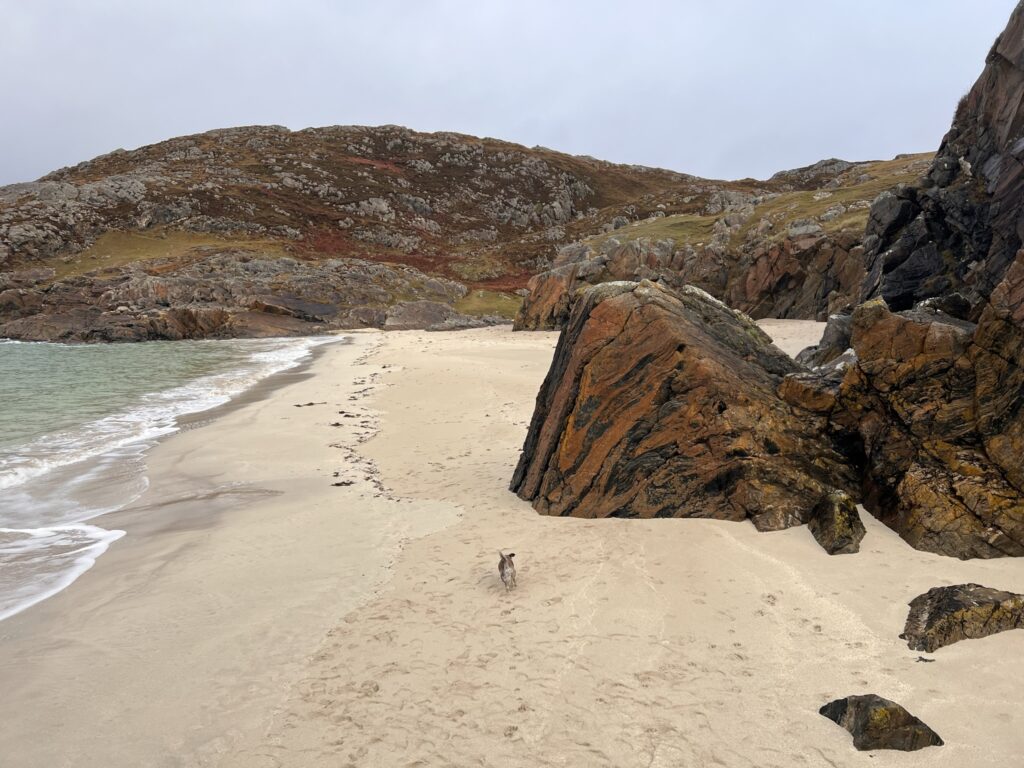 These rocks are so-called Scourian gneisses, the earliest history of the Lewisian complex, formed something crazy like 3 billion years ago and are amongs the oldest rocks in Europe. The original rocks were igneous which were then metamorphosed at mega extreme pressures and temperatures. You can see here very clearly how they've been stretched and folded out the wazoo! I'm intrigued by what seems to be a large drop stone in the gneiss in the picture below, but that doesn't really make sense given the drop stone would have to be older, and these are the oldest rocks! Some kind of intrusion?! I welcome your interpretation, as I cannot find any references to this anomaly on the interwebs. (You'll find a great summary of the geology of Achmelvich over at The Geological Society.)
Update from Instagram – thanks @nigebake!
The 'drop stone' you mention is a mafic inclusion. A blob of amphibolite probably deformed with the host rock but due to its different properties it weathered differently resulting in the appearance of it being dropped into the gneiss. One of the classic stretches of coastline for geologists.
Achmelvich Bay Walk – Further reading