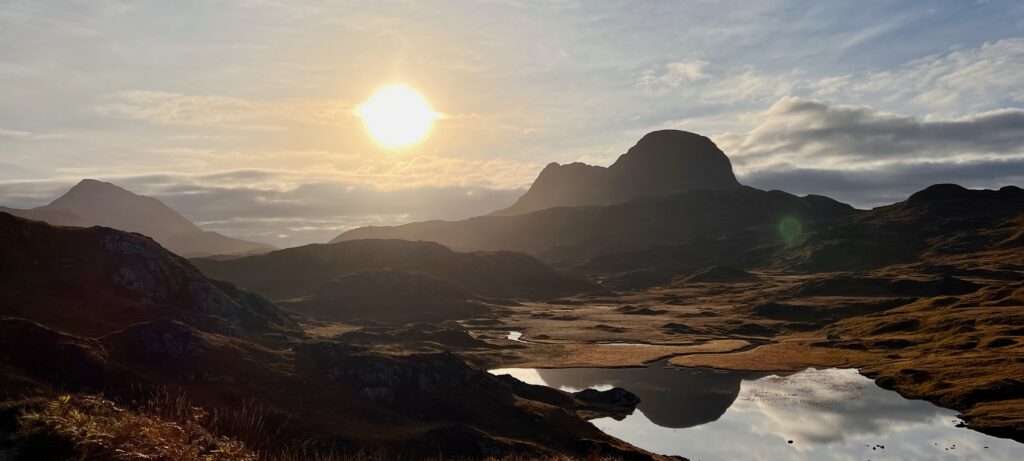 Just north of Ullapool in the far north of Scotland is the North West Highlands Geopark, a UNESCO status geopark comprising around 2000 square kilometres of coastline, beaches, mountains, peatland and forest. It's my favourite part of Scotland, not just for the geology, but also for its sparse population, inherent wildness, and unique landscape of isolated mountains like Suilven and Canisp (pictured above). Those latter points are pretty easy to appreciate for the casual observer. The geology, however, is a bit more complicated.
For all I've read about rocks, continental collisions, thrust faults, and what not, I've found it nearly impossible to apply the things I've read to reality, never really knowing what I'm looking for. So when I learned about the North West Highland Geopark Geotours, this seemed like a natural way to get to grips with this mostly complicated subject. The tour deep dives into the history of Scottish landforms, visiting key sites that help explain the patchwork of events that took place millions of years ago that explain the Scotland we see today.
The Geopark's Geotours run twice a year and include 6 full days of excursions throughout the Geopark, plus an evening pre-meeting to discuss logistics. At time of writing, the tour cost £310 including transportation (about £52 per day), a real bargain if you ask me! Our tour guide for the week was Pete Harrison, Geopark geologist, teacher, and co-author of Hutton's Arse (a book about Scotland's geology, the title referencing Scottish geologist James Hutton's discomfort riding around Scotland on horseback during his geology research!).
Pete was an awesome tour guide, combining expert knowledge and personal attention with a welcome amount of humour, whatever the weather (which was persistently wet for most of the trip!). The tour in many ways left more questions than answers, but that's the nature of geology, much of which is unexplained. And now I know a bit more about which questions to ask, and where to look for possible answers. You can read the geotour itinerary on the geopark website. Here's a few of my personal highlights from the week:
Achmelvic Beach
Our first stop on the tour was Achmelvich Beach where we were introduced to three billion year old Lewisian Gneiss (pronounced "nice"), the oldest rocks in Europe. Geology is, after all, a history of deep time, so it made sense to start here, at the beginning.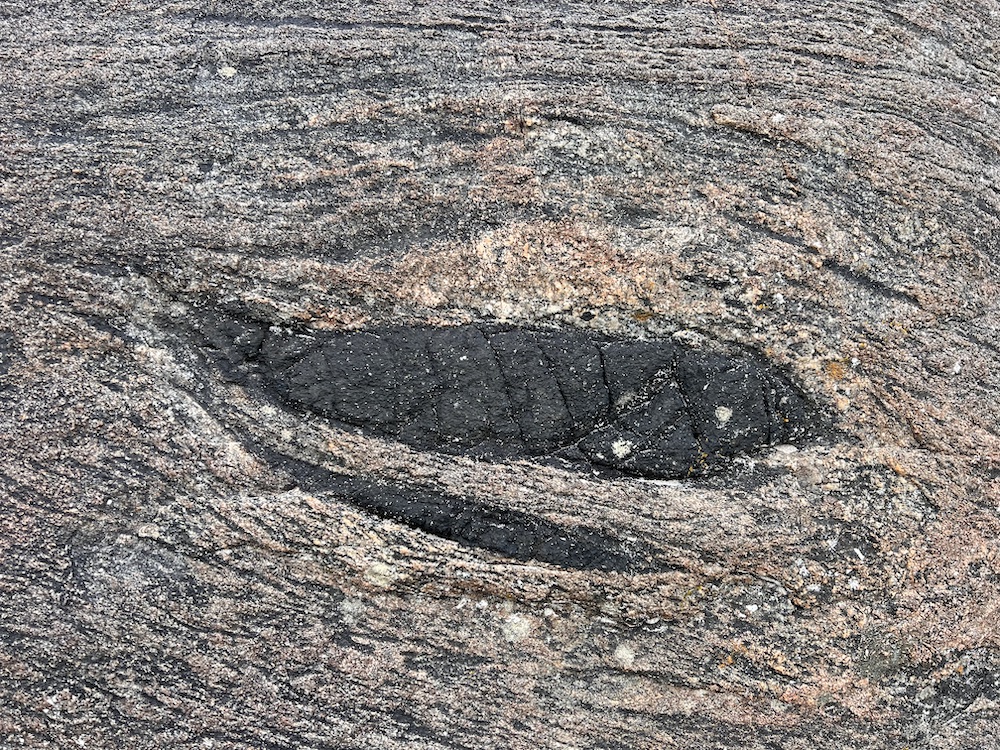 Gneiss is complicated, formed originally as igneous rocks in the earth's crust. My small brain can only marginally understand this ginormous concept. I like how Gneiss Things puts it:
…[gneiss] is a product of varying ingredients, some igneous (volcanic) in origin and some the amalgamated products of erosion which have gathered to form sedimentary thicknesses, before all these ingredients, regardless of origin, have been baked, squashed and melted, perhaps many times, cracked up in movement, injected with fresh material from deep within the earth and cooked, squished and melted again over almost unfathomable eons, as millions of years of heat and pressure separated and glued their minerals and cooked or cooled their crystals in bands of differing size and composition!

Gneiss Things
This was also our first introduction to the Scourie Dyke, igneous rocks formed by magma that pushed its way through vertical cracks in the gneiss, visible as dark outcrops.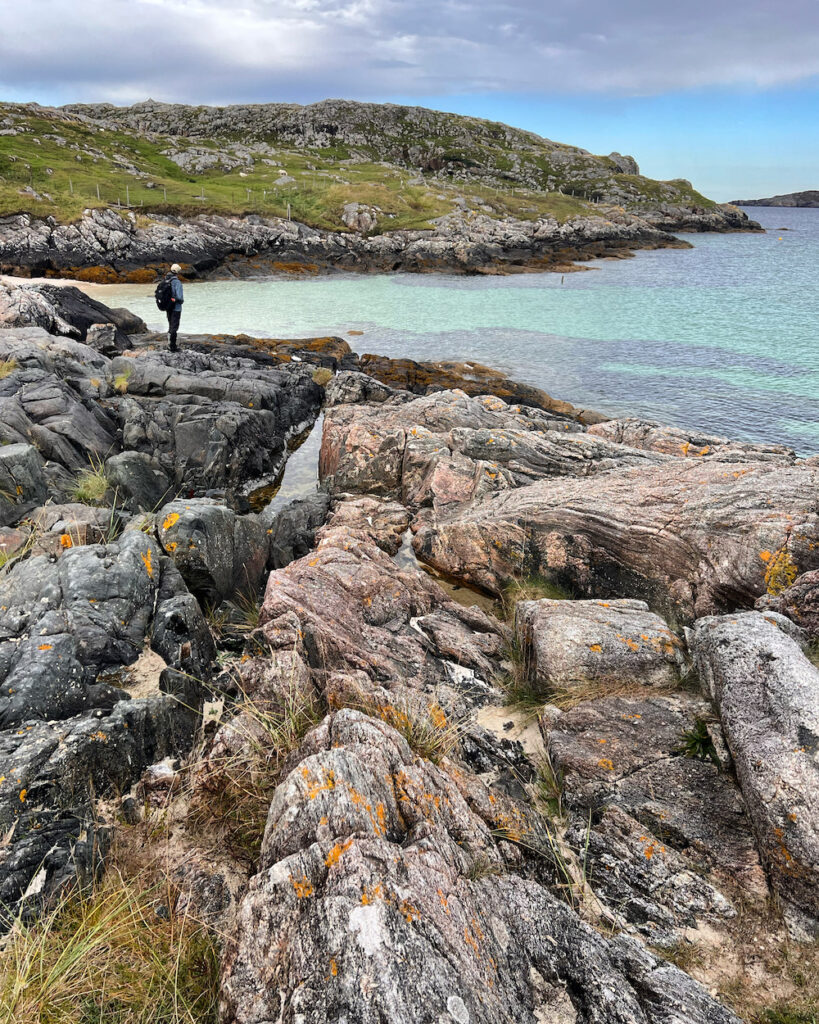 Learn more:
Clachtoll Beach
At Clachtoll, metamorphic Lewisian Gneiss meets sedimentary Torridonian Sandstone, a much newer rock, and our first introduction to an uncomformity. This is where two rocks of vastly different time spans meet, largely due to erosion and/or sediment accumulation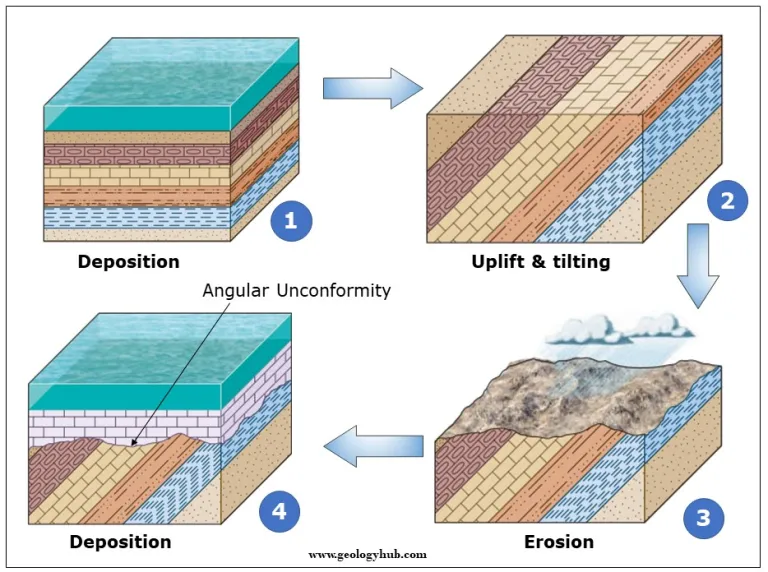 At Clachtoll, that unconformity took the form of sandstone on top of Lewiston gneiss:
We also observed vast examples of fossilised cyanobacteria mats called stromatolites, visible in the bedding planes of the Lewisian Gneiss.
Clachtoll beach is also known for its "split rock", made of Torridonian sandstone. It was probably created by the slippage of a massive section of cliff down the inclined bedding plane of the sandstone where it now forms a massive stack. [canmore.org.uk]
Learn more: Clachtoll information sheet [nwhgeopark.com]
Stac Fada meteorite Site
On the shoreline near the village of Stoer we found evidence of the recently discovered (and oft debated) meteorite impact. The rock was previously thought to be volcanic mudflow, but recently geologists found quartz grains in the rock showing the type of "shock metamorphism" found at meteorite impact sites.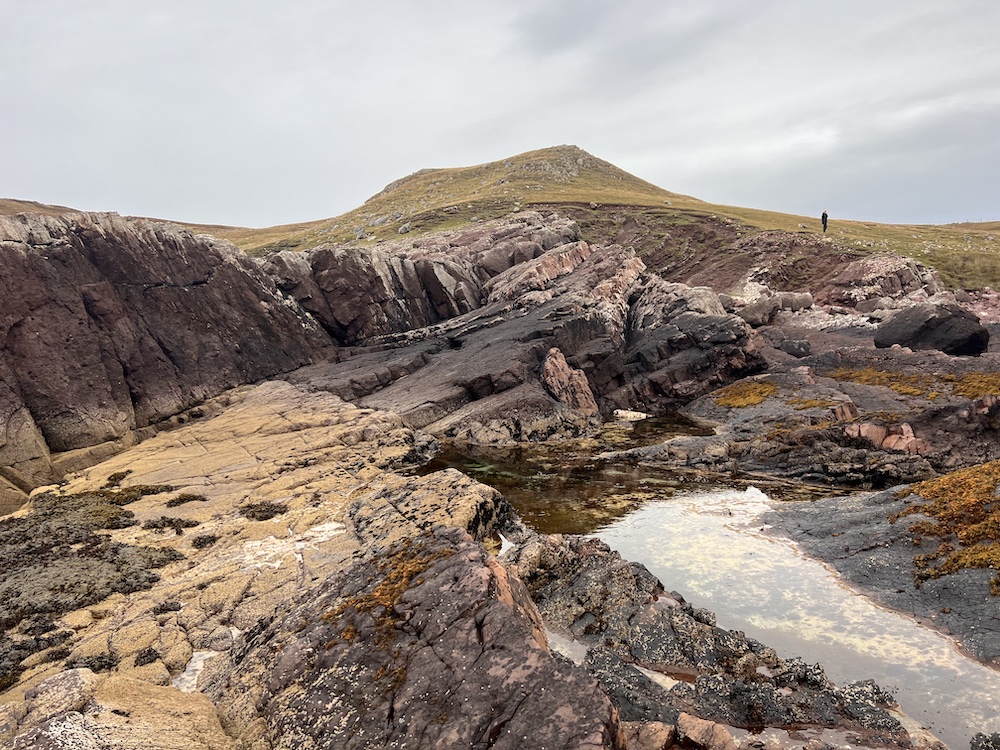 I have to admit, I found the evidence hard to digest! More learning required.
Knockan Crag
Knockan Crag was the site of much debate in the 19th century. Here you'll find older rock on top of newer rock, which was contrary to geology fundamentals. Two geologists – Ben Peach and John Horne – demonstrated that the cause of this was a "thrust fault", the first discovered in the world. By the power of tectonics, old rocks were moved 70 km west and pushed over the newer rocks. This is now known as the Moine Thrust. At Knockan Crag, you can walk to a section of the Moine Thrust and put your hand on the spot where the old rock meets the new!
Top tip: Knockan Crag is also a superb van park up! Free parking, great views, and a toilet!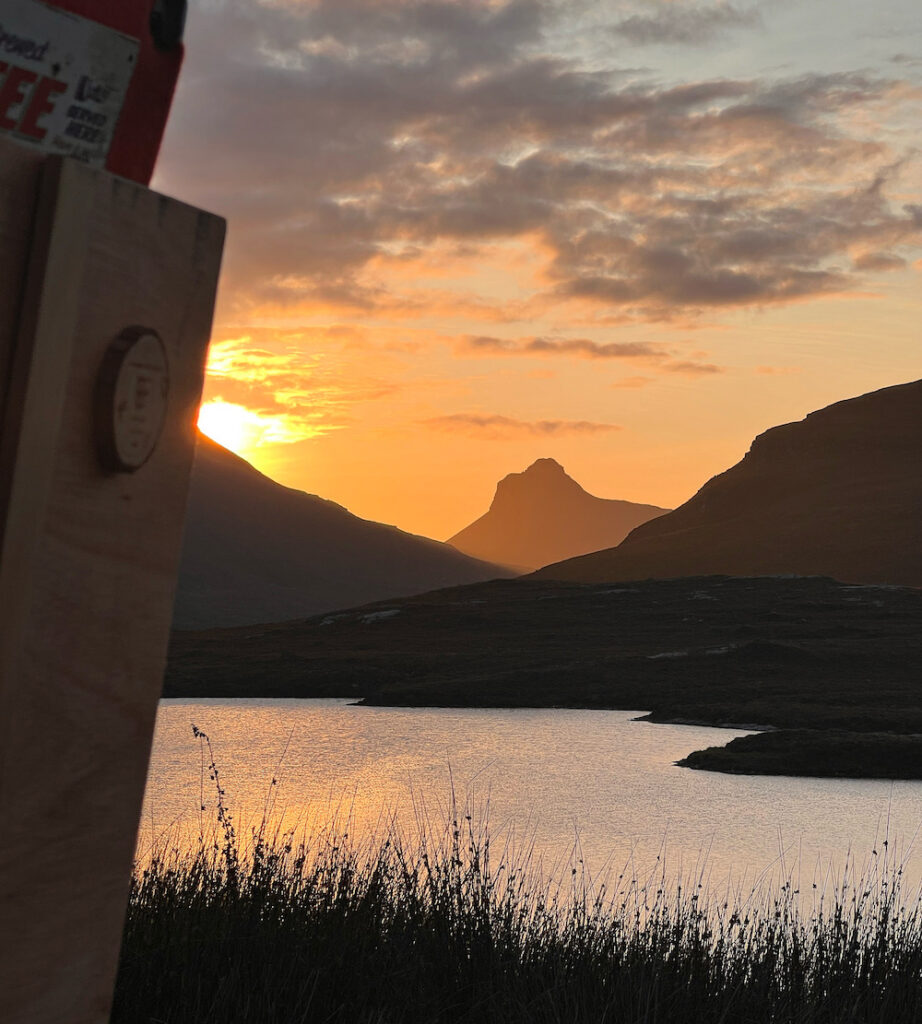 The MultiColoured Rock Stop on A838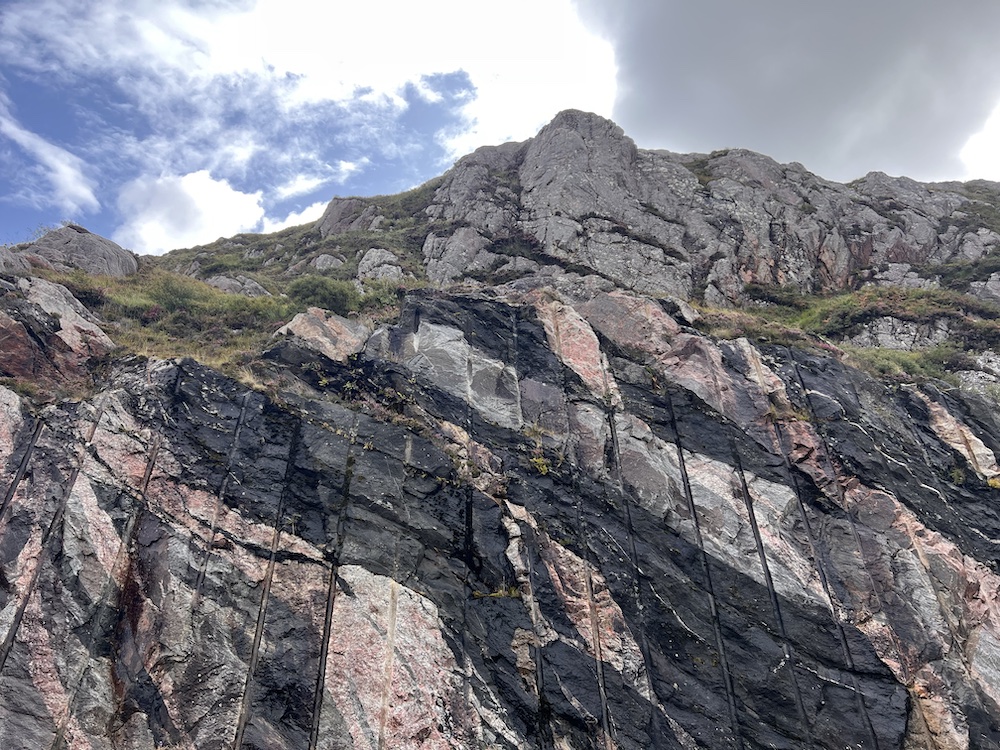 I will never look at road cuttings the same. This spot was excavated in the 1980s as part of the A838 road improvements between Laxford Bridge and Rhiconich. The cutting reveals various types of metamorphosed igneous rocks, now various forms of gneiss. Crossing these rocks are granitic intrusions.
Learn more: Laxford Brae Road Section [geolsoc.org.uk]
Traigh Allt Chailgeag
This was largely a scenic lunch stop but also another opportunity to view steeply-dipping Lewiston gneisses and some caves!
Ardmair Beach
The pebble beach at Ardmair – a largely sandstone environment – includes Moine rocks. How on earth did they get there?! The answer: they were carried there during the last ice age then tumbled around and smoothed to form this very pleasant pebble beach!
Coigach peninsula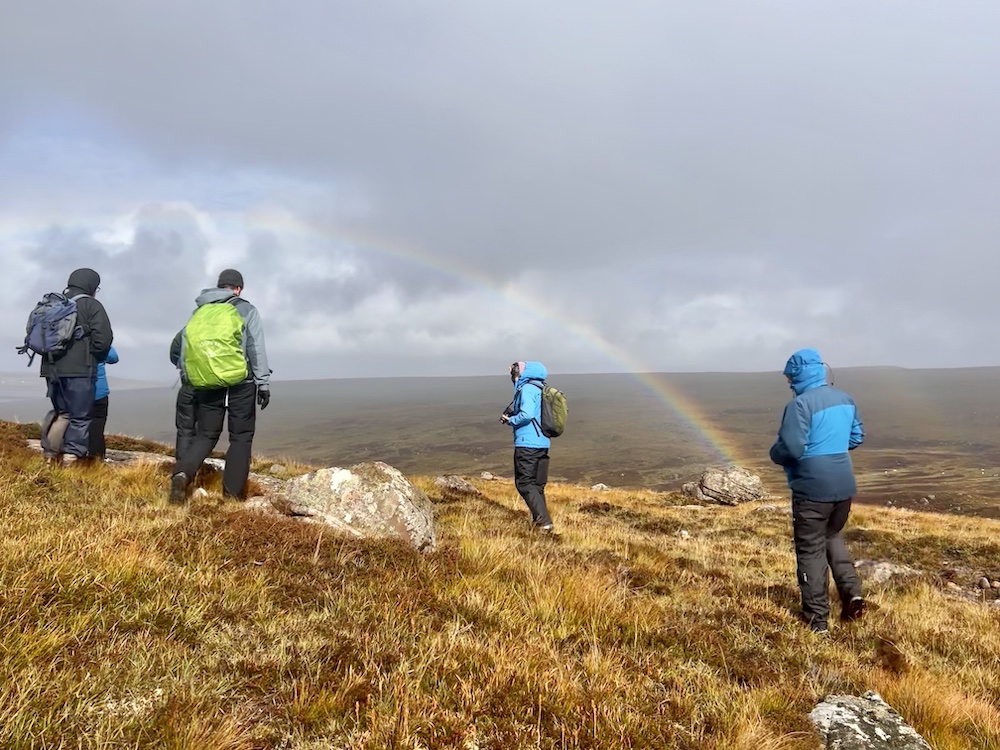 Our last day took us to the Coigach Peninsula near Achiltibuie for a day that combined geology with a bit of history and plant identification. From the village hall we first hiked northeast over Cnoc Mor where we found garnets in the gneiss, as well as more unconformities, Scourie dykes, and Torridonian erratic boulders.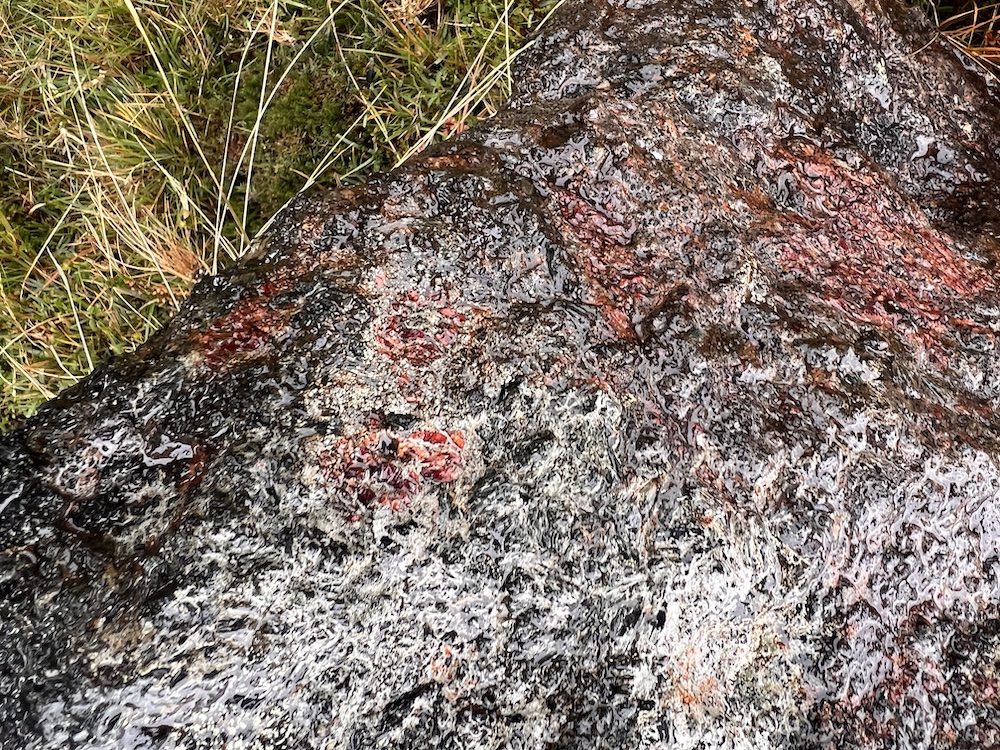 We then hiked south towards Rubha Dunan via the fascinating remains of a broch (an Iron Age drystone hollow-walled structure) then to the shore for some more unconformity scouting and great views of the summer isles.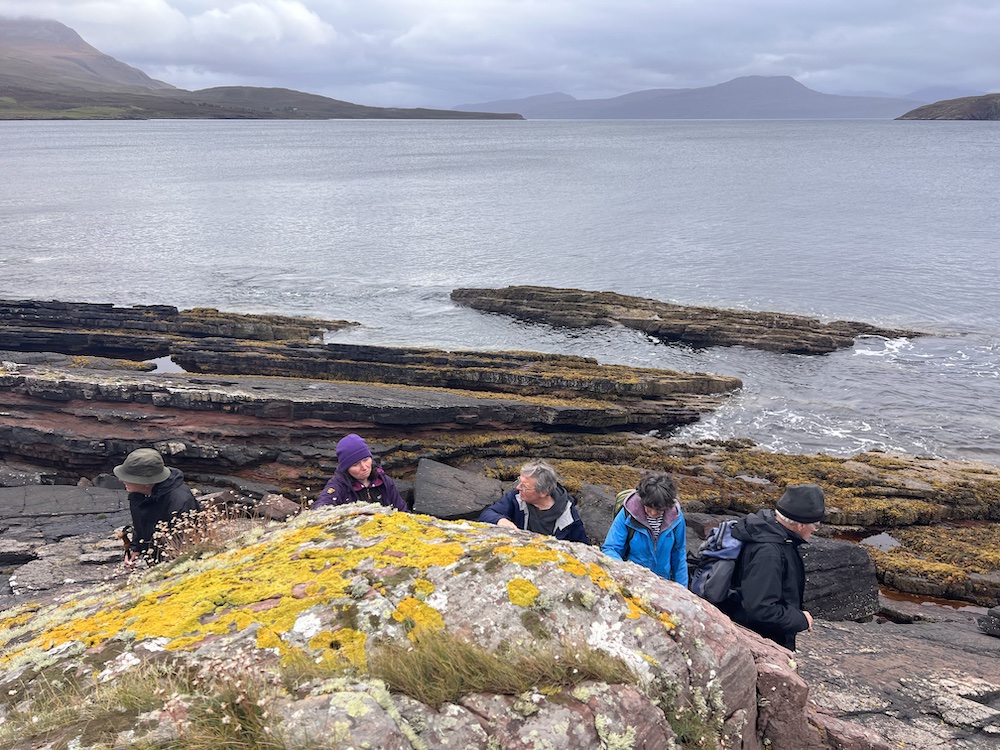 Along the way – which happens to involve a lot of looking down watching your feet as your negotiate boulders, heather, and bog – I brushed up on my Scotland flora and fauna. Learning moment: English Stonecrop looks a lot like Starry Saxifrage! (I thought I'd spotted the former but iNaturalist clued in me in to my error!)
The start of a whole new chapter
Our week in the north west highlands has changed the way we look at the Scottish landscape. My intention is to keep on learning and bring some of these lessons to my guided hiking trips throughout Scotland. Get in touch to learn more. And read on for some great resources and further reading about Scotland geology.
Scotland Geology Resources
Map of North West Highlands Geopark Sites
Find all of the geopark sites in one place on this interactive map: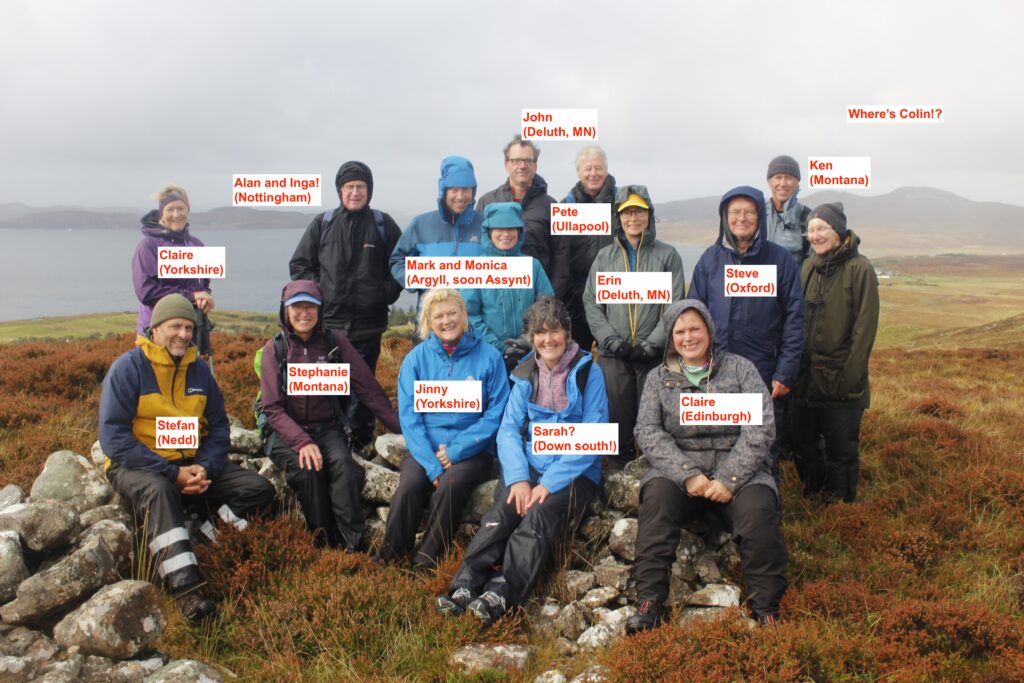 (Disclaimer: this post contains affiliate links which help contribute to the cost of running this website and providing you with awesome reviews and trip reports. Thank you for your support!)