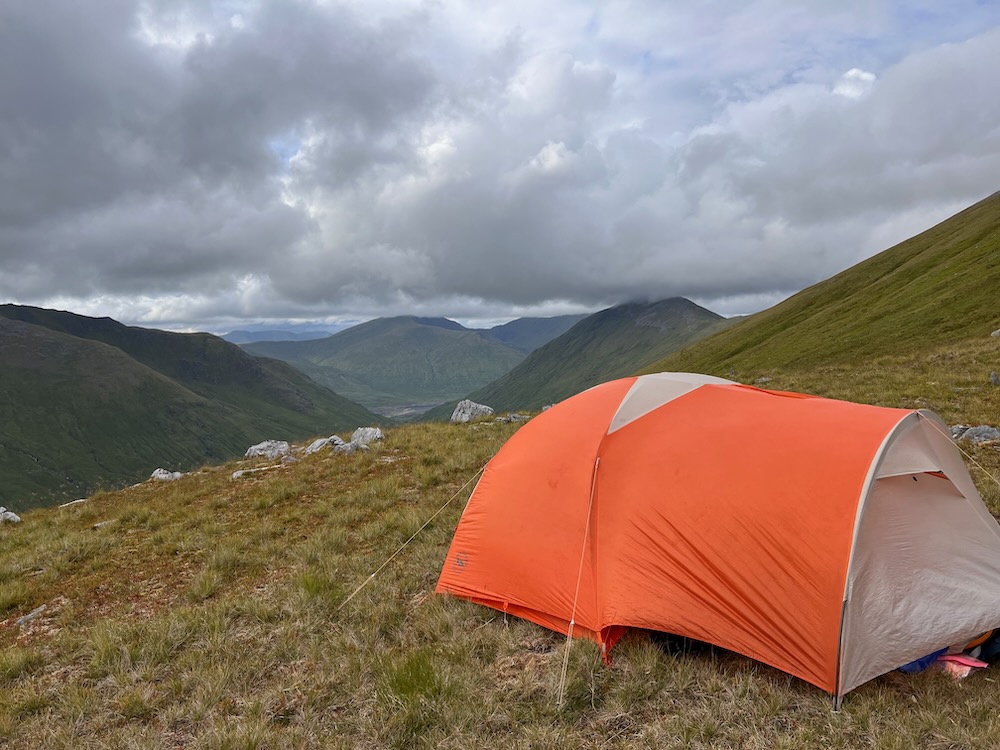 My birthday tradition for years has been to start and finish the day in a tent, and so this year took me to Glen Affric, often described as "the most beautiful glen in Scotland". After this trip it was easy to see why. The glen, stretching for 30 miles from Kintail to near Cannich, is typified by ancient Caledonian Pine forest, its two lochs (Loch Beinn a' Mheadhoin and Loch Affric) and of course its towering mountains. Inspiration for this journey came from the Affric Haute Route detailed in the inspiring book Scottish Wild Country Backpacking. That route takes in 8 Munros with 50km in distance and 3000+m of ascent over 3 days. We opted for a more leisurely approach, taking in about half the route in the same amount of time, and having an absolutely spectacular time. Read on for more details.
Trip Essentials
Starting point: Loch Beinn a' Mheadhoin Forestry Free Car Park (Google link)
Finish: River Affric Pay and Display Car Park (Google link)
Transport tips: You could leave a bike at the finish and cycle back to the start. There is also a very large layby a short drive west of the River Affric car park where you could leave a car (which we did, just don't forget your keys!). You can of course walk all the way back to the start which adds a further 3.4mi / 5.5 km.
Total Distance: 36km / 22.3mi
Total Ascent: 2095m
Map: OS Landranger 25
Glen Affric Trip Summary
We happened to have two cars with us so parked one at a layby just east of the River Affric car park, and another at Loch Beinn a' Mheadhoin Forestry Park where we started our journey.
The journey starts simply enough. Just north of the car park on the opposite side of the road is an old farm track that climbs up the hill alongside a burn through woodland and bracken. Shortly after leaving the woods, a small cairn indicates a path north up the hill. The rough path was easily lost under the summer foliage and you can see in my GPX route plotted in OS Maps that our actual path diverges from the intended path. This was a proper slog. Over 500 meters of ascent across very steep, heather-laden ground. This took some time! It was also during this time we realised we forgot to bring our keys for the car we'd left at the end – oops!
It was a relief to finally reach the main ridge to Toll Creagach. Still pathless, but firmer, rockier ground.
The weather had been variable all day (we were in waterproofs) and by the time we got to the foot of Toll Creagach (the first Munro at 1053m) the rain had settled in. Only time for a quick snap at the trig point before hustling off the hill to find camp (which ended up being on a bit of flat ground near NH 1784 2747).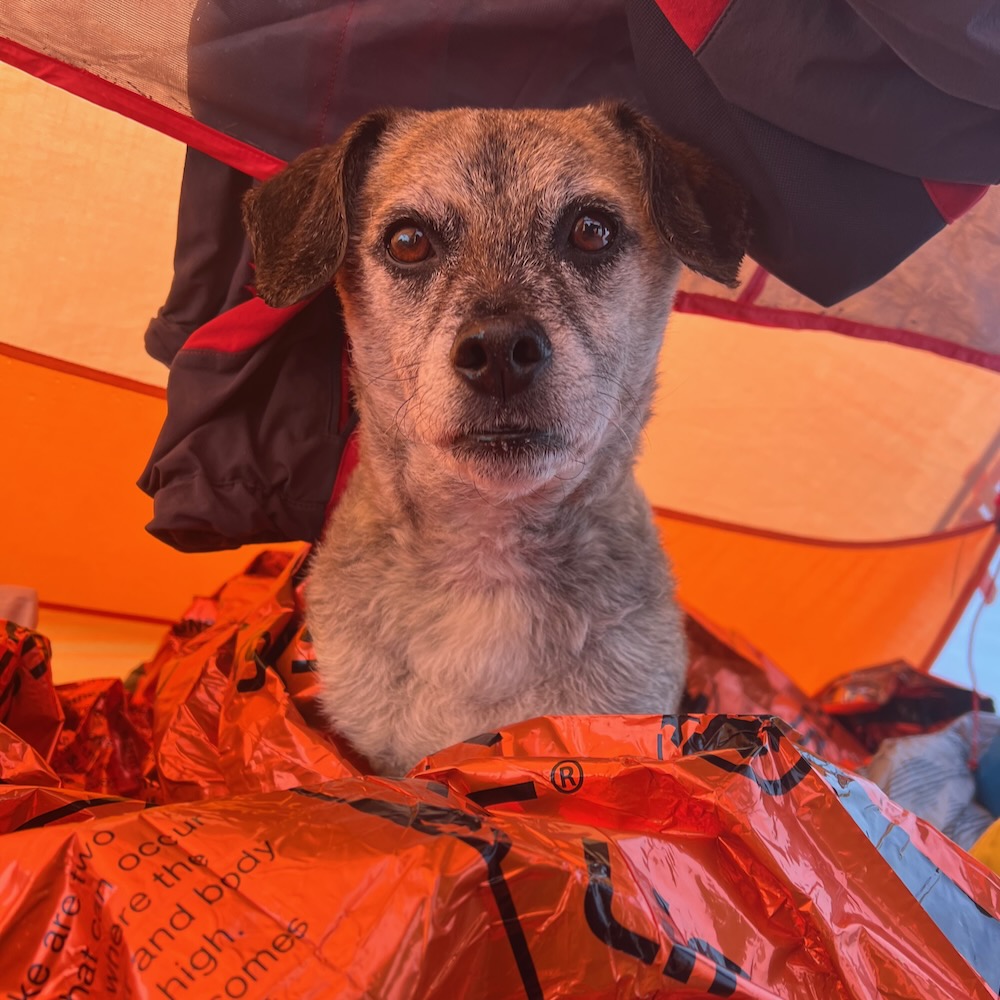 We woke up to much brighter skies and what turned out to be an enormously glorious day.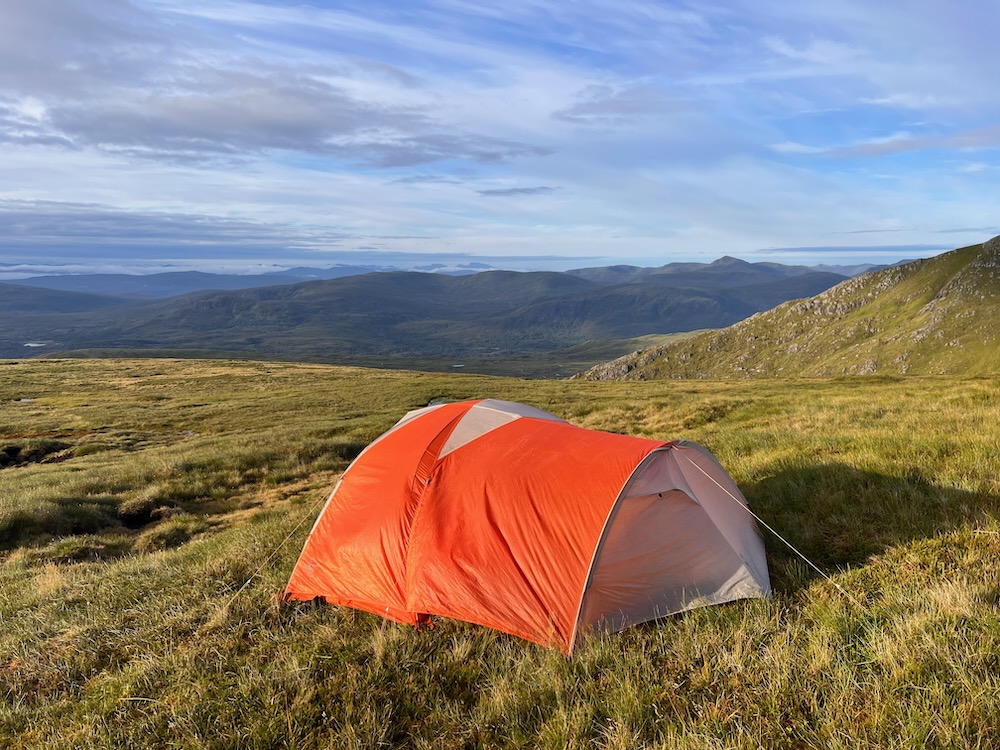 The second Munro of our journey was Tom a Choinnich (1032m) which we ascended quickly being just over 1km from our camp. It was a thrill to start the day up high, justifying the mind numbing slog from the previous day. What ensued was some of the best hill walking I've ever experienced in Scotland. The weather was clear, and we could see to both the east and west coast, as well as north all the way to Suilven. There were also very few people!
It's an undulating journey to the next two Munros – Carn Eighe (1183m) and Mam Sodhail (1181m), some undulations feeling like Munros in their own right. Anticipating a high level camp, we restocked our water at Loch a Gharbh-bhealaich, just below Stron Gargbh (this would be a great wild camping spot in its own right!).
We considered camping on Mam Sodhail but decided to seek warmer and more sheltered ground below, so we ascended to the Bealach Coire Ghaidheil and pitched up near NH 09981 23884. The map doesn't show it, but there was plenty of water around, so there was no need for me to lug all that water over all those hills! Oh well.
As it was my birthday (!) we took extra special care with dinner. Paloma cocktails and comte cheese for an aperitif. Then mashed potatoes, kale, and beans and rice for dinner with salsa macha. (Instant mash, fresh kale, and dehydrated beans and rice from Farm to Summit). Dark chocolate hob nobs and a dram for dessert!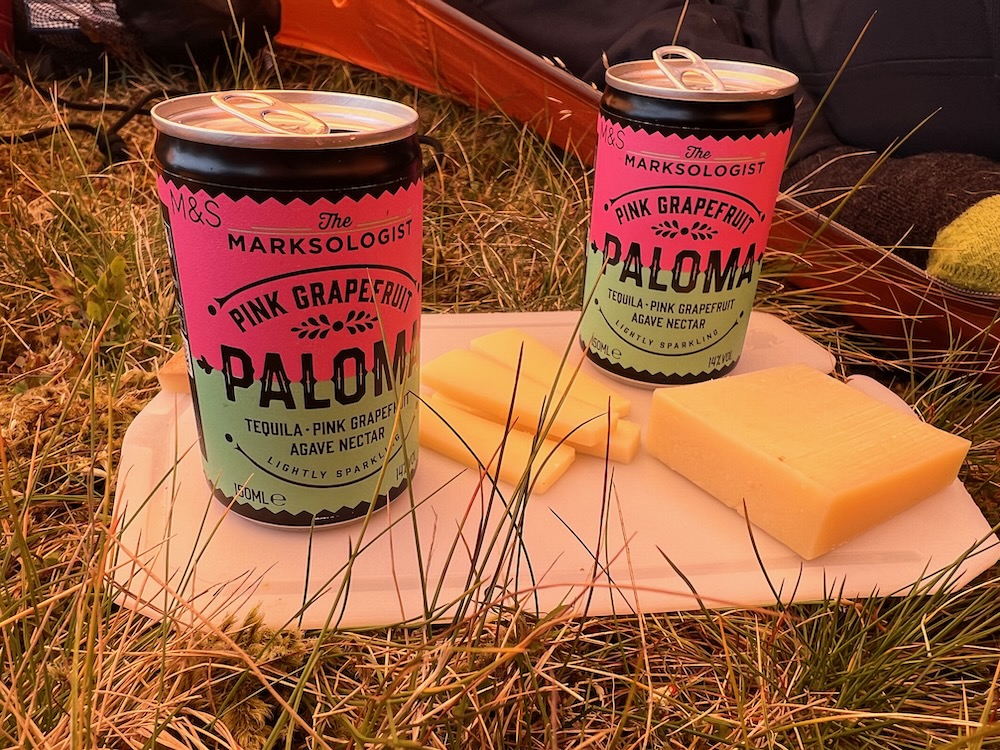 The next day saw us descend from the hill and walk back to our car (to which we had forgotten the keys) via the Affric Kintail Way. The day was relatively flat but I admit I missed being in the hills. It felt almost sad to be journeying back home, despite the beautiful views along the way.
So what became of the keys? I found someone in the River Affric car park who was happy to give me a lift back to the other car park, for which I was very grateful!
Glen Affric Mountain Highlights
Far Reaching Views
I don't believe I have ever stood at the top of a Scottish mountain and was able to see both the east and west coast at the same time. In Glen Affric. We could also see:
The Scottish Isles of Skye, Rona, Raasay, Eigg, Lewis and Harris
Kessock Bridge
Cromarty Firth
Ben Nevis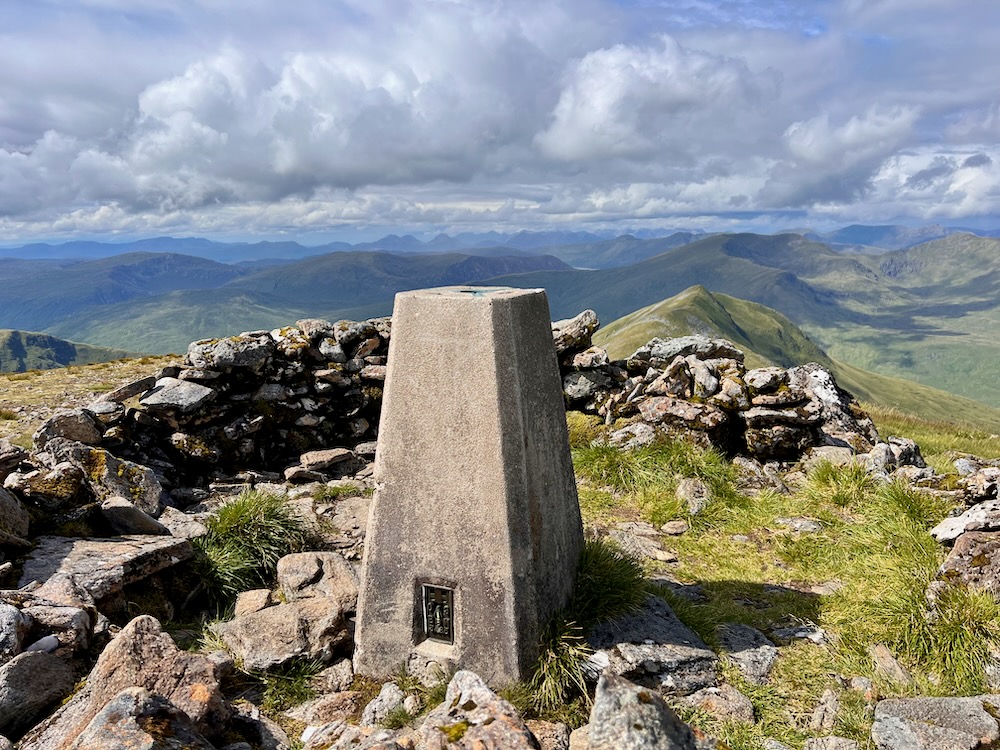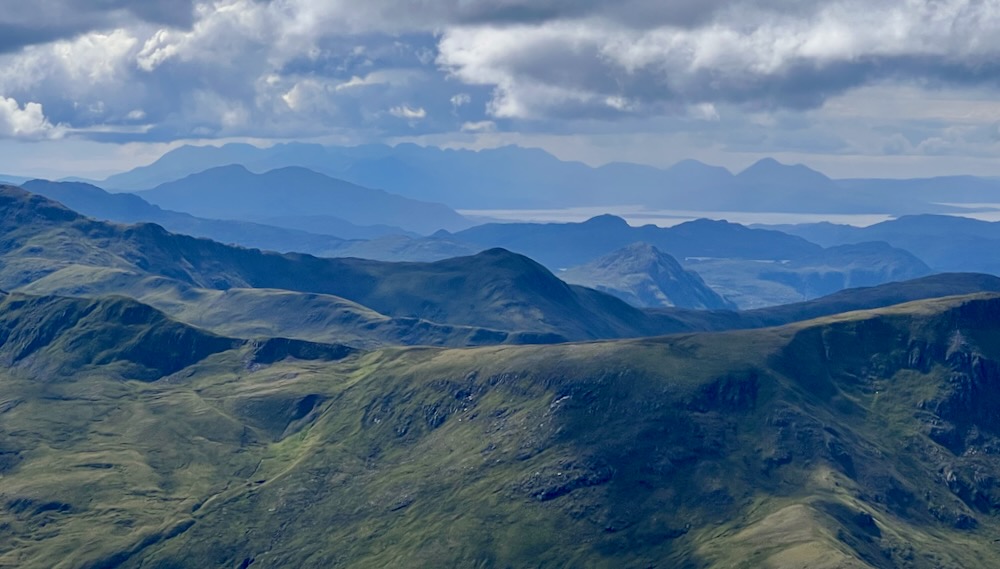 Insane Geology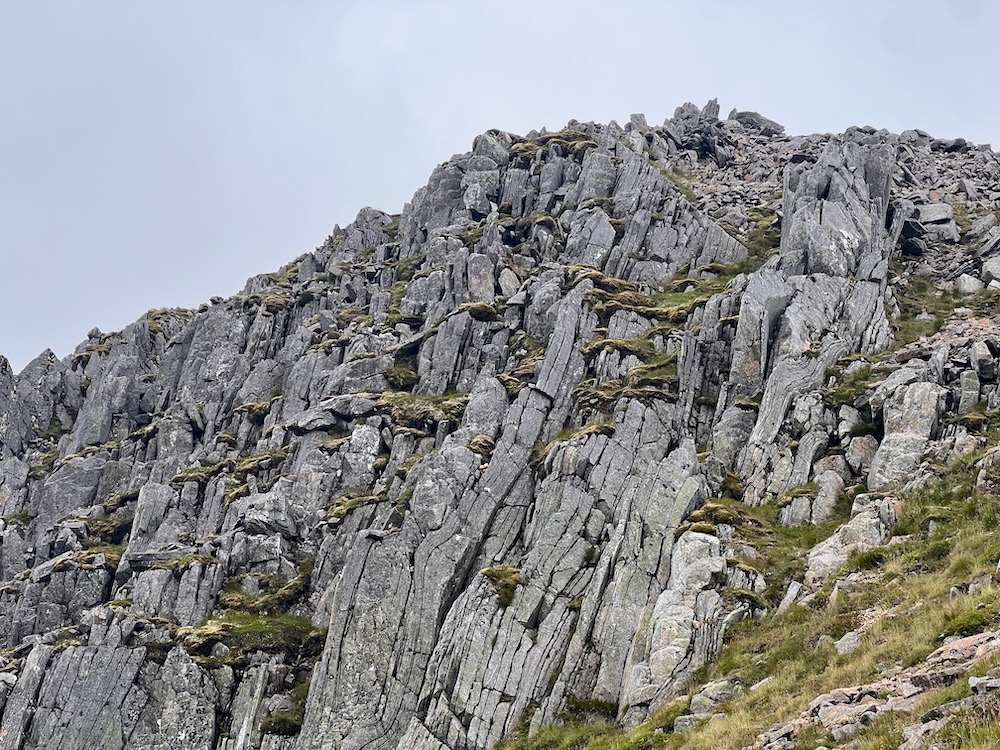 The Affric-Cannich Hills are a Site of Special Scientific Interest (SSSI) noted for its geological interest, upland habitat, and native pinewood. In terms of geology, the site includes rare examples of ""primary bedding and slumping structures in Moine rocks". A site management statement from Scottish Natural Heritage contains some fascinating history, particularly:
This SSSI includes a rare example of primary bedding and slumping structures in Moine rocks. These are features which normally disappear in the periods of mountain building and upheaval that these rocks experience. Within the Abhain Gleann nam Fiadh there are stream-washed rock exposures that reveal a great deal about the geology of west Inverness-shire area and Northern Scotland generally. The rocks date from a geological era known as the Neoproterozoic and are around 900 million years ago. They form part of a rock sequence known as the Cannich Psammite
Formation, which is part of Glenfinnan Group of the Moine Supergroup, which is the underlying rock of the Northern Highlands. They represent sands and sandy muds that were deposited in a shallow marine environment when northern Scotland represented the edge of the North American continent.


These rocks are particularly special because despite the fact they have been metamorphosed to metamorphic rock and intensely folded during periods of tectonic upheaval in the Earth's crust (most recently during the period when Scotland and England came together between 470 and 430 million years ago) they contain evidence of how they were formed originally. These ancient rocks contain ripple or dune-like structures that show the rock formed from sand that was shifted back and forth by water, possibly in a tidal setting, akin to a sand flat or estuary. There are also slump
structures formed as the once soft sediment was shaken or disturbed, disrupting the layering. These sedimentary structures are amongst the finest developed in the Moine Supergroup and have proved essential in understanding how the Cannich Psammite was formed, the rock layer sequence (stratigraphy) of the Moine Supergroup and geological structure of Northern Scotland.

Scottish Natural Heritage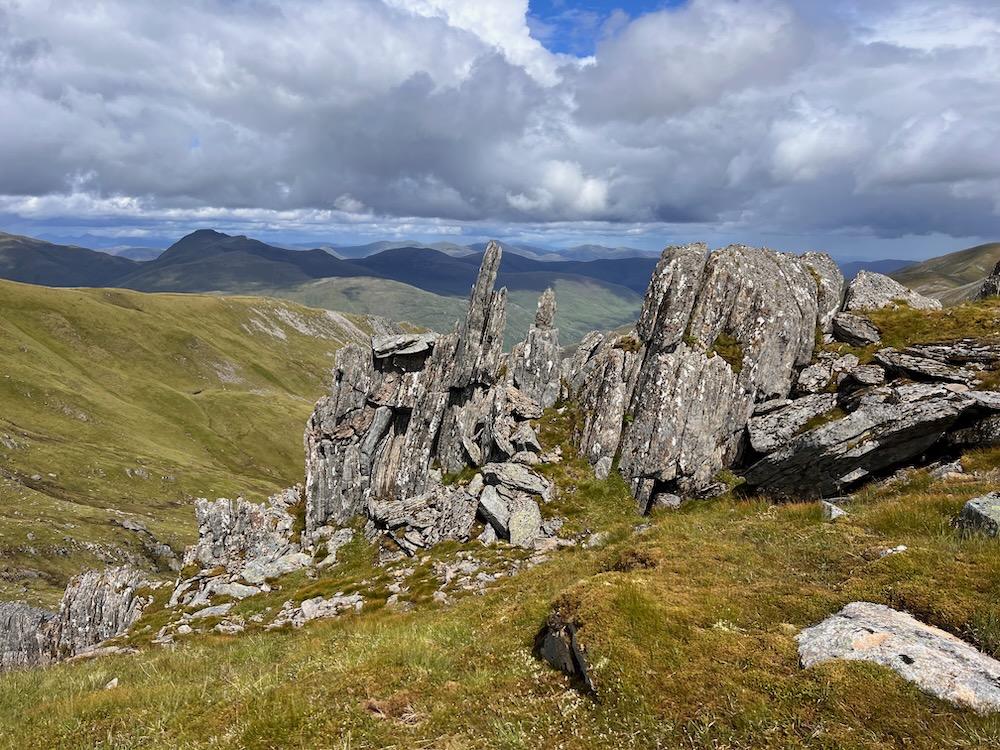 Excellent Hillwalking
The hills of Glen Affric are full of variety that make the hillwalking an absolute joy:
Exhilerating ridge walks connecting the different summits
Steep, rocky slopes and exposed pinnacles like those around Carn Eige
Mountain passes and bealachs, where we found our wild camping opportunities, still up high but a bit less exposed than the summits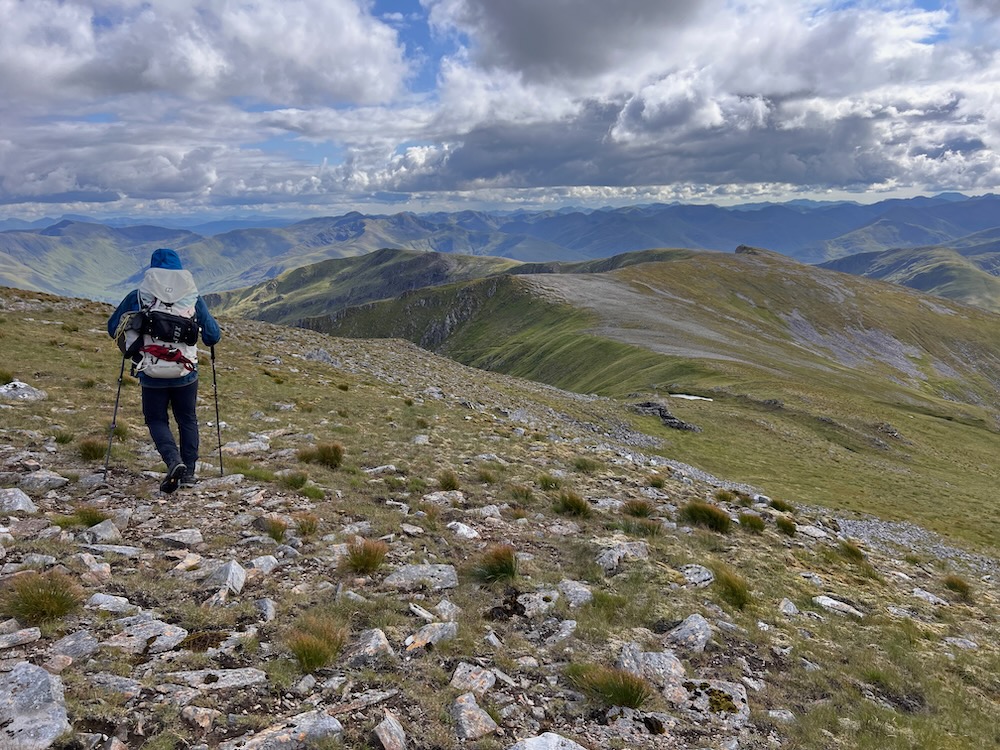 Cozy Camping Surrounding by nature
Half the joy of these adventures is in spending the night surrounded by the environment and in making a cozy home for the night. We're constantly evolving our base camp set up in an eternal effort to achieve the ultimate wild camp setup for two (and a terrier!).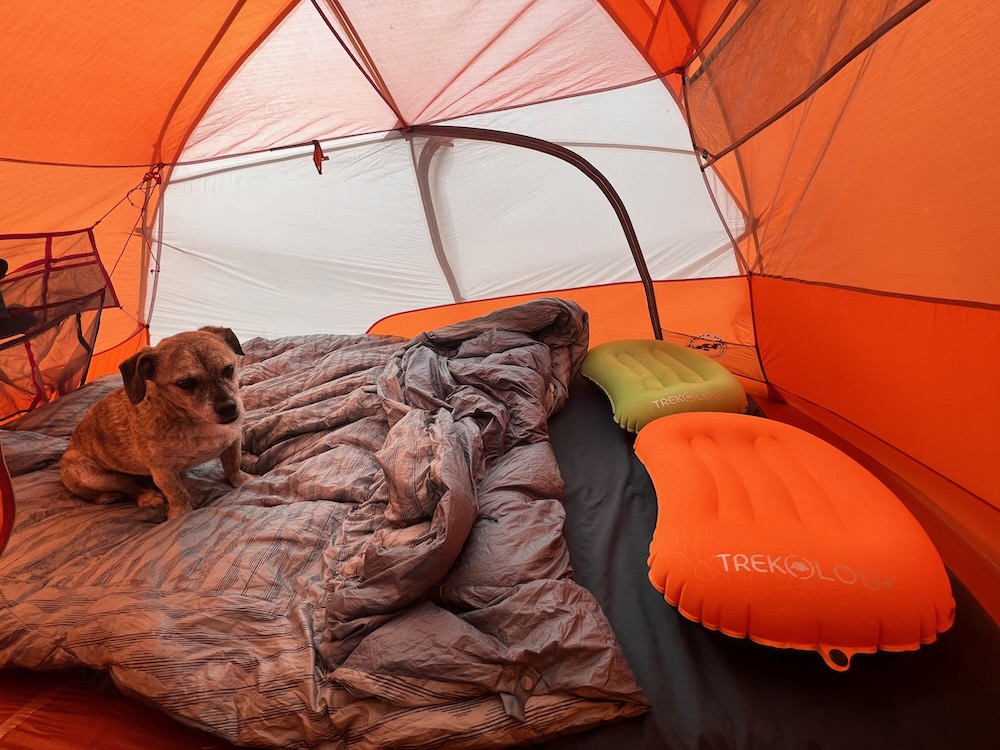 Current setup includes:
On this trip we learned that inflatable pillows really do add an extra level of comfort (beyond the previous approach of using clothes stuffed into a dry bag). We've also decided the Thermarest quilt isn't warm enough for high level camps, even in summer.
Base Camp Cooking
As always, mention must be made of our food! We tried to keep things light this trip, relying only on the Jetboil and foods that could be cooked solely with boiling water. Though in effect we ended up bringing way too much food than we actually needed! I've been doing this for years and I still haven't cracked that one. Here's a few foods we particularly enjoyed this trip:
Real Turmat Thai Red Curry – One of the few commercially available dehydrated food brands I actually like
Instant mashed potatoes – Mark's idea, and wow, they are surprisingly delicious! We went for the Idahoan brand, "From America's Potato State", and they did not disappoint
Fried chorizo with couscous and salsa macha – Yes, you can fry chorizo in a jetboil pot – it helps to render some of the fat from the chorizo as well which makes foods like couscous extra delicious. And yes, I did splurge and brought a small jar of salsa macha to augment my meals.
More good reads:
M
T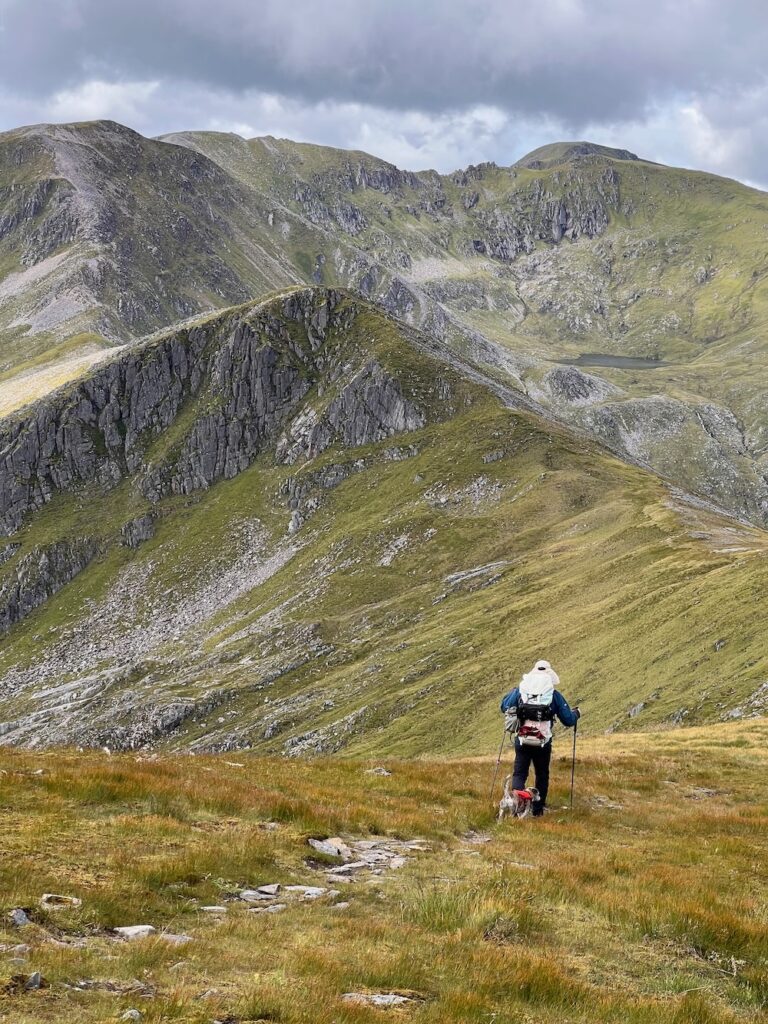 (Disclaimer: this post contains affiliate links which help contribute to the cost of running this website and providing you with awesome reviews and trip reports. Thank you for your support!)