The Big Agnes Copper Hotel HV UL2 is an awesome lightweight 2-person tent for backpackers, bike packers, pet owners, and anyone else who wants extra room without the extra weight. Here's my tried and tested review.
This website wouldn't be complete without a review of the Big Agnes Copper Hotel. This ultralight two-man tent has become a mainstay of my adventures and a favoured piece of camping equipment. I've taken it on numerous overnights and longer treks around the UK. Quite a few folks on Facebook and Instagram have seen my pictures of the Copper Hotel and asked me about it – what is that tent?! What do you think of Big A?? This post is here to answer those questions.
My Big Agnes backstory…
Back in 2008 I was looking to replace my beloved but knackered MSR Hubba Hubba with a new tent. I went over to my local REI to have a browse, almost certain I'd get another Hubba Hubba. But something else caught my eye…
I'd never heard of "Big Agnes" before. The company is based in Steamboat, Colorado. Why are they called Big Agnes? According to the footnote on their website, "Because, why not? Because we all have a truck drivin' mountain mama that we know and love? Because there's a 12,000 foot peak north of Steamboat Springs with the same name? Yeah, all that."
Big Agnes launched with an innovative integrated sleeping bag / sleeping pad concept that is still going strong today (see my Big Agnes King Solomon sleeping bag review) and their product line has evolved ever since. Which brings me to 2008, and my discovery of the Big Agnes Emerald Mountain SL2, a roomy super light 2-person tent. But what really got my attention was the huge vestibule, an optional add-on that zipped onto one side of the tent and created an additional 2 square meters of porch space.
Space for what? Gear. Pets. Cooking. A bicycle. Whatever you want. Having spent many a rainy nights trying awkwardly to cook dinner out the side of my tent without getting soaked, the idea was appealing. So I went for it, likely spending far more than my graduate student income could afford. Even so, I got my money's worth and then some. I used that tent heavily for the next 10 years, taking it from Austin, Texas to California, then across the pond all over the UK, and even a side trip to New Zealand. The vestibule became a point of obsession. The weight was around 3kg.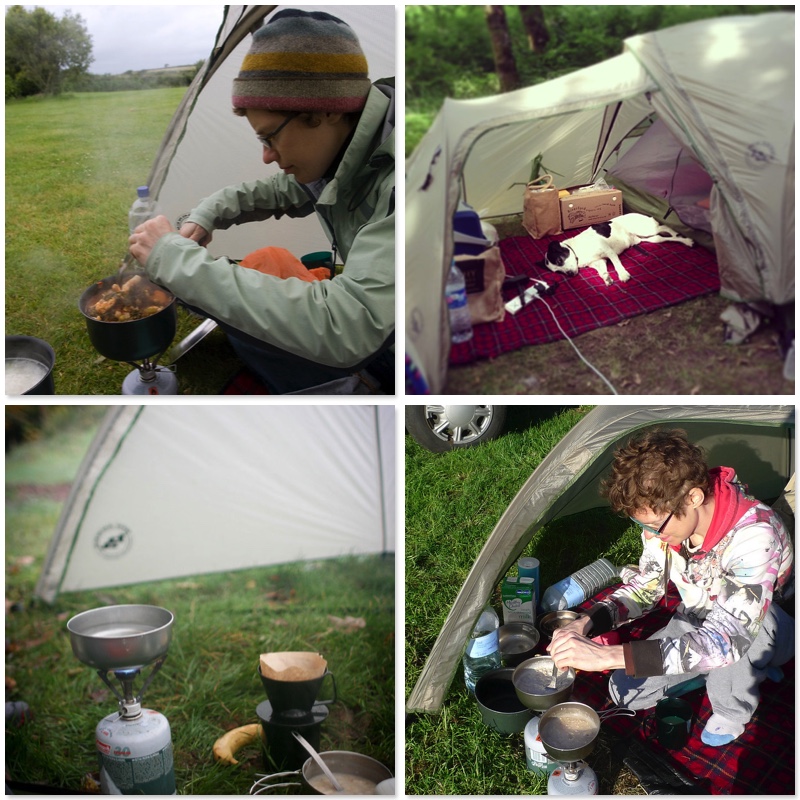 After 10 years of heavy use, the "Big A" was starting to show its age with leaky seams and noticeable degradation to the rainfly (probably my own fault: learning moment for me and everyone else out there who aren't yet clued in: solarproofing your tent is well worth the effort!).
By this point Big Agnes had retired the Emerald Mountain and replaced it with the Copper Spur and vestibule-enabled Copper Hotel. I didn't have to shop around. I knew that the Hotel was the tent for me. In April 2018 I made my purchase and have since taken it all over the UK and in all types of weather. Here's my experience.
My experience with the Big Agnes Copper Hotel HV UL2
When I purchased the tent in April 2018 it was possible to buy the Copper Hotel as its own standalone tent. Now it appears that you have to buy the Copper Spur plus the Copper Hotel HV UL2 Rainfly. This makes it a bit more expensive but as a bonus you have the option to go out with the smaller rainfly if you want to save on space / weight.
Big Agnes says:
Already one of our best-selling, full-featured, ultralight backpacking tents, the Copper Spur HV UL series just got better. Redesigned with new features inside and out, using proprietary materials that are lighter, stronger, and equipped with hardware that makes set-up even easier. The high volume design provides ample living space in this freestanding structure. Traditional, media, and 3D bin pockets help to organize your gear without cramping your sleep space or capacity to sit up inside. Awning-style vestibules can be customized to expand living space, great for both drizzle and sun protection. Your ultimate UL home away from home.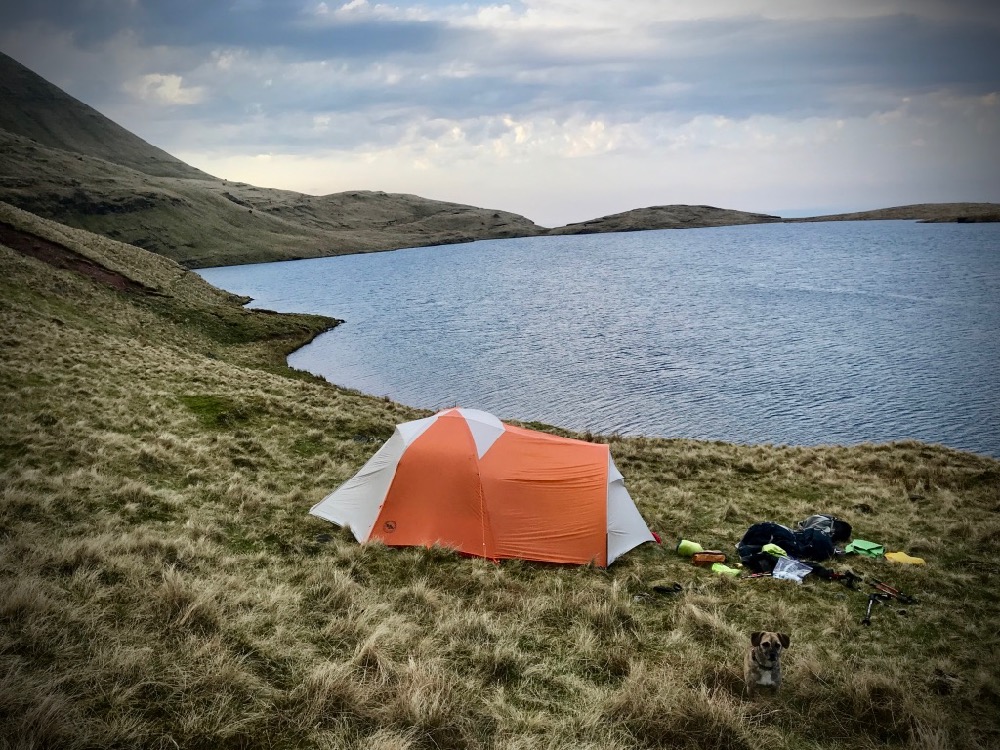 The addition of the Copper Hotel rainfly, increases the vestibule space from 0.8m2 to a whopping 2.5m2, which is almost the same surface area as the tent itself. The vestibule leaves plenty of space to store your gear with room to spare (which I typically use for cooking elaborate wild camping meals). Of course, this tent is more than just the vestibule. How does it stack up as an "ultralight" backpacking tent?
A few key benefits I've enjoyed:
The Copper Hotel weighs in at about 1.7kg, almost half the weight of the Emerald Mountain and comparable to the MSR Hubba Hubba NX (1.61kg).
It's very easy to set up, even on your own.
It's super sturdy, even in high winds and rain (provided you securely tie out the guy ropes!).
HV stands for "High Volume" and indeed there is plenty of headroom in the tent with loops for an optional gear loft (on my wish list).
The inside tent is plenty roomy for two average sized people and a small terrier. Bigger dogs and bigger folks might struggle, but this is where the vestibule comes in handy.
Overall, the Big Agnes Copper hotel HV UL2 has proved a great tent for two-person backpacking trips with a dog. The extra space both in the tent and vestibule are game changers, particularly in UK weather which can often be changeable. Having ample space to relax, cook, read, place games, snuggle with dogs and/or humans is enormously valuable for morale, especially at the end of a tough day or in poor weather. There are lighter tents out there, but for most of my use cases the space and comfort of the Big A makes it more than worth the extra few grams.
Further reading:
[ngg src="galleries" ids="1″ display="basic_thumbnail" thumbnail_crop="0″ number_of_columns="4″]