UPDATE: Big Agnes have since updated their King Solomon 15 which looks even better than this one! My UK friends can find it over on Ultralight Outdoor Gear along with the 20 and 35 for even greater warmth.

If you're part of a couple that likes to sleep in a tent, whether you camp with a car, or like to put all of your stuff in a backpack as we do, sooner or later you're going to struggle with being separated from your co-conspirator by a piece of down-filled fabric. You could either go for zipping together two single-person sleeping bags, or you could go for a purpose-made double bag.
We decided to try the Big Agnes King Solomon 15, an ultralight two person sleeping bag filled with DownTek (that's water-resistant down, for the uninitiated). Why a two-person sleeping bag rather than zipping together two bags? We reasoned that a two-person bag meant less excess material, and you get a zip on each side of the bag so you don't disturb your partner if you get out of the bag. More than anything, though, the whole thing just feels more fit-for-purpose than trying to get two single bags to zip together. We decided to test the theory during a weekend in Snowdonia.

Integrated sleeping pads
The King Solomon's killer feature is the ability to slide your sleeping pads (in our case, a pair of Therm-a-Rest NeoAir Xlites) into pockets on the underside of the bag to stop them sliding around. Sleeping bag and sleeping pads become integrated, and it makes a phenomenal difference. Not only does it bring an end to the constant sliding around trying to get back onto your sleeping pad in the middle of the night, but you'll just find that there's more space inside the tent and that everything becomes at once orderly.
This killer feature is also the bag's number one potential drawback, however. Not only does the pocket system force you to use the pad for insulation, which means you can't use the bag without it, but you'll find yourself having to slide the pads into the bag outside of your tent. That means you'll have to be fast in wet weather if you want to avoid a wet sleeping bag.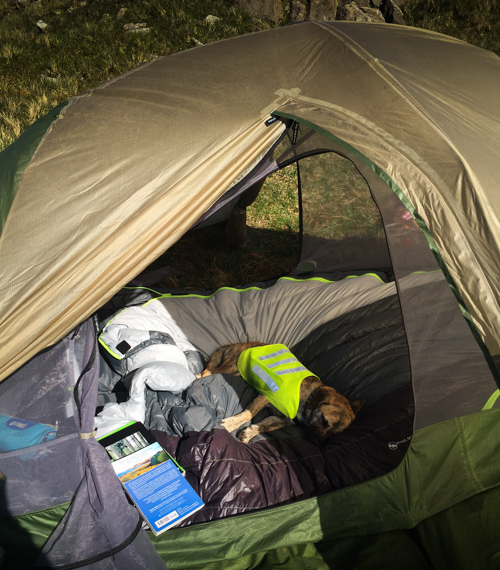 In reality, we use sleeping pads all the time, so we weren't concerned about being forced to use the pocket system. As for the rain issue? Well, this is a water repellent down bag, and as we get used to the bag, I suspect we'll figure out how to set everything up inside the tent.

Design details
Any quibbles we had with the product do really boil down to that: mere quibbles, particularly when you consider the quality of the product, and when you take into account the attention to detail in the design. It's as though the designers at Big Agnes have actually slept in sleeping bags before, and the result is that you get a bag without zips that jam in the middle of the night (they've stitched in protective fabric that keeps away from the zips), and with a pocket for you to make a makeshift pillow. There was even room for our (admittedly petite) dog.
Price and Weight
We bought our Big Agnes King Solomon 15 from ultralightoutdoorgear.co.uk for £419.99 (in the USA, rei.com presently stocks it for $449.95).
UPDATE: The new and improved version of the Big Agnes King Solomon is now available and can be purchased in the U.S. direct from their website for $429.95. In the UK, you can buy the King Solomon from ultralightoutdoorgear.co.uk for £399.99, along with the rest of the Big Agnes range.
At just over 2 kilos, this is a big bag, with a price tag that might make you think twice. However, when you consider that a comparable one-person sleeping bag costs over $250 and weights about 1.3kg, the Big Agnes King Solomon represents extremely good value for money in terms of both cost and weight.
Facts about the Big Agnes King Solomon 15
Rated at -9°C
600 fill DownTek water-repellent down
2040g
Integrated pad sleeve
Integrated pillow pocket
Zips along both sides
Comes with a large mesh bag and a stuff sack (but you'll need to get a compression sack if you're using a backpack)

UK people like us can buy the Big Agnes King Solomon 15 from ultralightoutdoorgear.co.uk. My friends in the USA can buy direct from the Big Agnes website .
Have any other adventuresome couples out there grappled with the sleeping bag issue? What's your solution? 2-person? Zip together? Or are you so hardcore on the trail that by the end of the day you're too tired to care!? Let us know in the comments!