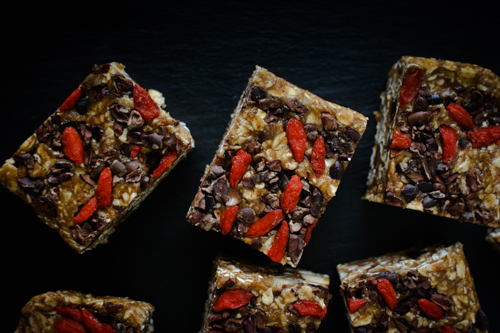 Easy and versatile, these no bake protein bars are perfect fodder for experimentation. Try amping up the spices or adding different dried fruits, nuts and seeds. Be creative! I like a combo of Willie's 100% Cacao, cranberries, and pecans, with a coating of cacao nibs. Sometimes we even add chilli (dry or fresh).
Credit to my CrossFit Cirencester friend, Andy K, for introducing me to this recipe!
Andy K's No Bake Protein Bars
2 cups oatmeal
1 cup protein powder (I use Pulsin's Organic Whey Protein)
1/4 cup almond butter or peanut butter
1/4 cup honey or maple syrup
1/3 cup dried cranberries (or other dried fruit)
1/4 cup almonds (or other nut)
1/4 cup milk (dairy or non-dairy)
1/4 cup apple sauce
1/4 cup dark chocolate chunks
1/2 tbsp cinnamon
1 tsp vanilla
pinch of salt
Method
Mix together dry ingredients in a large bowl.
In a medium saucepan, warm the wet ingredients and stir until combined.
Mix the dry mixture and the wet mixture together (you can let the wet mixture cool a bit if you don't want the chocolate to melt).
Place into 8×8 container lined with clingfilm. Use your hands to press flat. Refridgerate until firm, then cut into 6-10 pieces. Keeps for a week.