[vc_row][vc_column][vc_column_text]This post includes highlights and route details from a sensational walking and wild camping trip around the Black Mountain range in the Brecon Beacons. PLEASE NOTE: this post is about the Black Mountain near Carmarthen on the far western side of the Brecon Beacons National Park, NOT the easterly Black Mountains south of Hay on Wye (the two are often confused). If you're looking for information on the Black Mountains, please visit my post on Black Mountains Wild Camping. This is a guest post by Andrew. 

Having had a few weeks at home focusing on other things, we've been looking forward to taking a trip with our tent and waterproofs to the Black Mountain range one the far western side of Wales' Brecon Beacons National Park. (This is not to be confused with the Black Mountains, on the easternmost side of the Brecon Beacons – for that see this post.) Monica has been to the Black Mountain previously, both as a day walk and a wild camp, and we were both looking forward to testing our hill fitness on the challenging ascent of Fan Brycheiniog.
The Black Mountain Circuit
We used Vertebrate Publishing's Day Walks in the Brecon Beacons by Harri Roberts as our inspiration. The walk: "Glyntawe and the Fans", taking in 18.7km/11.6m and a total ascent of 809m/2654ft. We did the walk in reverse, over two days with a wild camp on the first night.
The route starts in the village of Glyntawe at the Tafarn-y-Garreg pub (with sneaky parking available on the dead-end road next to the pub). The first stretch is a breath-taking valley walk in the shadows of Fan Hir and Fan Brycheiniog, and takes in some of the highest peaks in the Black Mountain range. There is a welcome break at Llyn y Fan Fawr before the big ascent and an exposed ridge walk. The hills were covered in fog that day which made for eerie lunar like walking across the ridge. We finished the day with a wild camp on Nentydd Blaen-Twrch.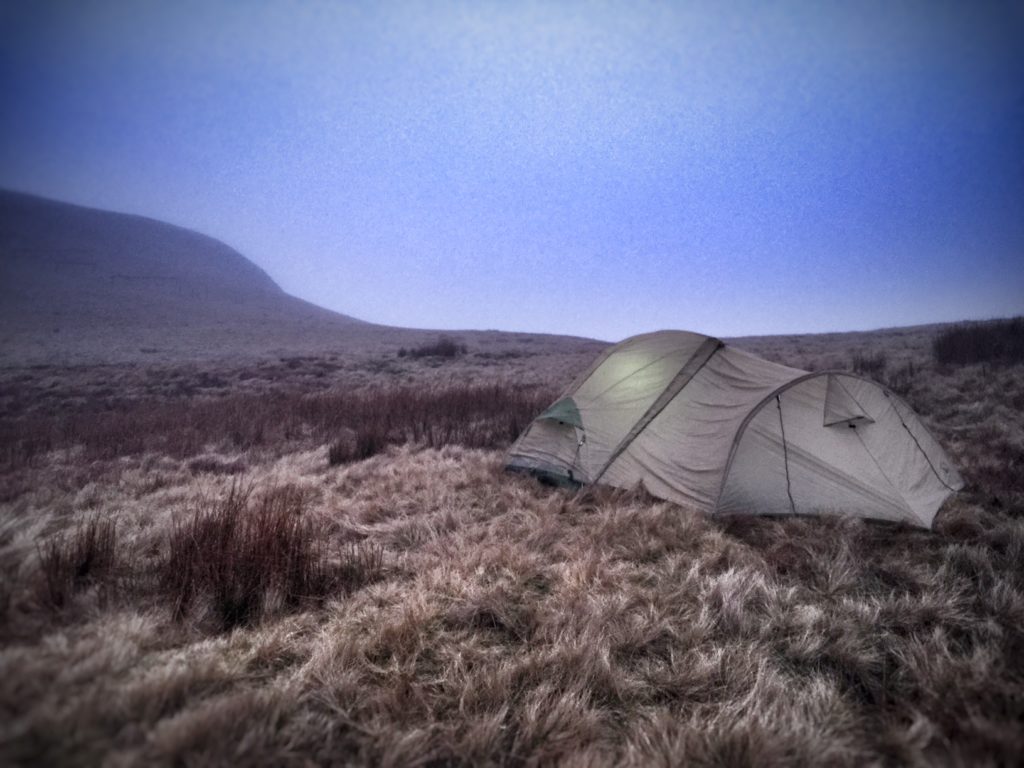 Day 2 started with a steep ascent up to Picws Du then another foggy ridge walk before striking south across open moorland to the bridleway which led us back to the start.
Packing for the Trip
We relied on our usual wild camping checklist plus added a few fun items that certainly weighed us down on the journey but were totally worth it for the pleasure it brought us at camp! Those items were
1 bottle of Sicilian red wine
300ml Laphroaig 10 Whisky
1 avocado
200g cavolo nero
187g Parmesan cheese
1 Kelly Kettle
11kg water (!)
200g blueberries
1 banana
Andrew's FIVE pairs of socks (3 normal socks and 2 liner socks – for a ONE NIGHT TRIP – and he used ALL OF THEM!)
Single origin coffee – given our location, we went with the Rocko Mountain Ethiopian coffee from Strangers Coffee Company. The tasting notes included intense florals, chocolate, and orange starburst, which sounded perfect for a mountain-top morning brew!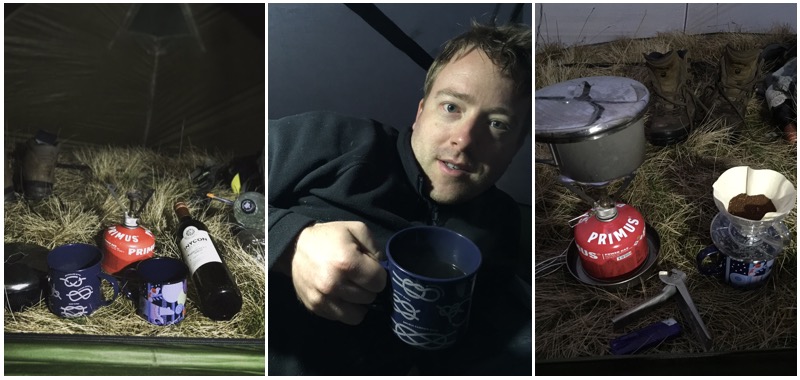 The water was definitely necessary, as we had to stay hydrated from all the wine and whisky, while also rehydrating our bolognese and ensuring ample amounts of porridge and Rocko Mountain coffee in the morning. The other, probably nearly 3kgs, of extra stuff may have been luxury items, but they made for a cozy homey vibe in the tent and ultimately the most fun wild camping night we've ever had!

Highlights
Having the trusty Big Agnes tent and its amazing vestibule! (vs our minuscule Terra Nova Laser Competition 2 which is lighter than the bottle of wine but is basically more of a shelter than a tent)
A brief moment of cloud clearing over the mountains (as we descended the wrong way down the ridge – fortunately we caught our mistake early on!)
Ellyn y Fan Fawr – such a beautiful lake and would make a great wild camping spot!
Smashing the ascent up to Fan Brycheiniog. It was a tough climb but we both noticed that our fitness had considerably improved since the last time we tried to do something like this!
We're looking forward to returning to the Black Mountain on a clearer day for another campout – there are loads of cracking spots to pitch a tent on this circuit. And plenty of water and streams with which to fill your hydration packs (though we definitely advise carrying lots of water if you plan to camp up high).
For more inspiration, check out our previous post about Wild Camping in Dartmoor.
Related reading:
[/vc_column_text][/vc_column][/vc_row]