The Black Mountains in the Brecon Beacons are a terrific place for wild camping. These are not to be confused with the Black Mountain (singular) on the easternmost side of the National Park (you can read my other post on wild camping on the Black Mountain for that). The Black Mountains form the northeastern part of the Brecon Beacons, comprising some sensational ridges and viewpoints including the Black Hill, Hay Bluff, Offa's Dyke Path.  They also happen to be fairly close to home for me (about 2 hours drive from the Cotswolds) so I often find myself wild camping in the Black Mountains when I want a quick getaway. Read on for my Black Mountains wild camping tips and favourite areas to find a pitch. As always, use these suggestions alongside the appropriate OS map (OS Explorer OL13).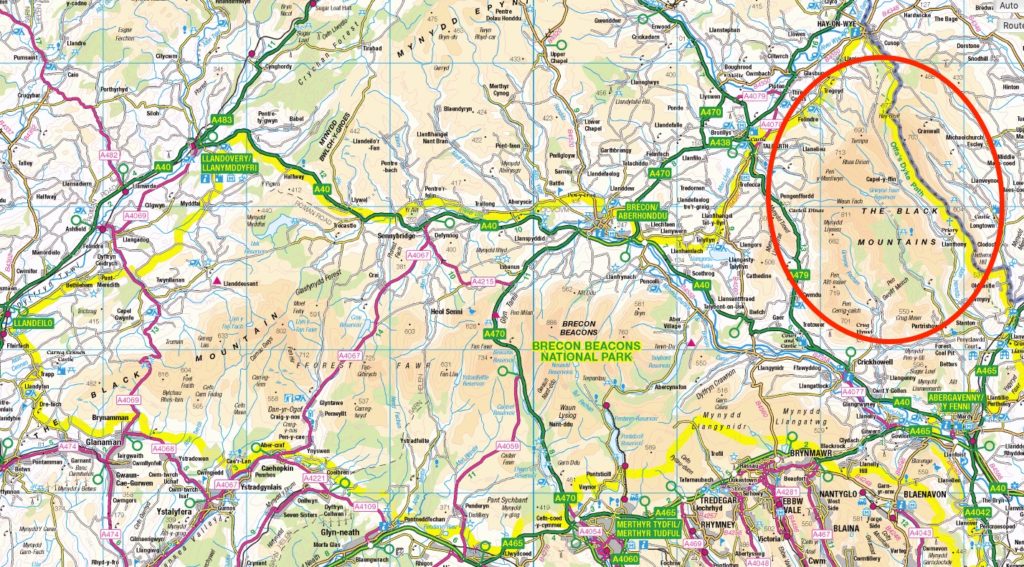 Favourite wild camping spots in the Black Mountains
Once you get on top of the ridges, you'll find plenty of places to wild camp in the Black Mountains. The ridges are typically cloaked in grass or heather, and it's generally pretty easy to find a flat spot somewhere to put up a tent. That said, here are some particularly good areas I've enjoyed, in large part because the journey is as exhilarating as the camp:
Rhos Dhirion
Credit to Phoebe Smith's excellent book Wilderness Weekends for this one. We did this route a few years ago (picture above) and had a fantastic night out with incredible views. The route starts at Mynydd Du Car Park (Google Map).
The best thing about this area – aside from the lack of crowds – is its topography, which means that once you get up high, you stay high. So, planning a high-level meander is easy, as is pitching your tent on one of the many flattened summits. It also scores points on natural history grounds: its slopes support unusual plants such as whitebeams, liverworts and various lichens, plus such breeding upland birds as red grouse and golden plover.
And lucky you, this particular wild camping route has been published in this Guardian article with a nifty map and everything: UK wilderness adventures: a walk on high in the Black Mountains, south Wales

Black Hill and Hay Bluff
The walk from Black Hill to Hay Bluff is one of my favourites. Free parking is available at Black Hill Car Park (Google Map). A steep but short lived climb is required to get on the ridge, appropriately called "The Cat's Back" – the ridge drops off dramatically on both sides, making for some amazing views and fun trundling. As you get closer to Hay Bluff the ridge flattens out leaving plenty of options for wild camping. After your night out, you can walk back to the start or do a loop via Offa's Dyke Path. This is a good option for beginners as there's very little climbing except for the short bit at the beginning, and you're never too far from civilisation.

Gospel Pass
Gospel Pass is the highest road pass in Wales, a beautiful stretch of road running south from Hay on Wye cutting right through the Black Mountains. The Gospel Pass Car Park (Google Map) puts you in a great position for a quick climb towards either Lord Hereford's Knob / Twmpa (684m) to the west or Hay Bluff (677m) to the north east. A good option for a quick night out if you just want to park up and walk less than an hour to your chosen site. Just be aware that this area can be quite popular so be prepared to pitch late and leave early.

Waun Fach
There's something massively appealing about "highest points" and same goes for the Black Mountains where Waun Fach is the highest point at 811m. It's also less frequented than other areasso you should be able achieve plenty of solitude and isolation. Waun Fach is covered in the Rhos Dhirion route mentioned above, but you can access it from numerous directions. See OS Explorer OL13 for options.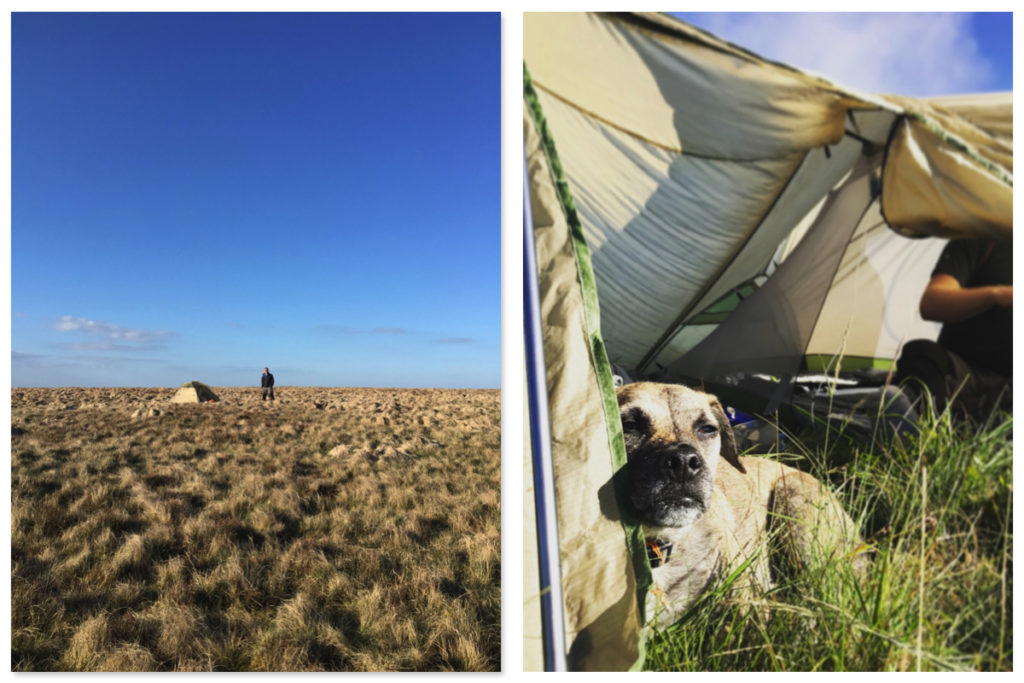 General advice for wild camping in the Black Mountains
Be prepared to carry your water. The best parts of the Black Mountains are to be found on its various ridges, peaks, and hills. While there are valleys and streams down below, why go to the mountains if you're not going to enjoy the view? Therefore it is wise to carry plenty of water with you, for drinking, cooking, and washing up.
Be prepared to climb a hill. There isn't a whole lot of ascent and descent in the Black Mountains – generally, once you're up, you're up. But you'll need to get there so do be prepared to spend an amount of time going uphill with a potentially heavy pack. The Black Hill and Gospel pass options above are short and sharp but other options may require more sustained climbing. The good news is that once you're up top things flatten out and you can enjoy the reward of gentle walking for miles with 360 degree views all the way.
Leave No Trace. A mantra for all my camps but always worth mentioning. Please make yourself aware of the 7 Leave No Trace Principles and do your part to preserve these beautiful places so we can keep on enjoying them.
Know to how to read a map: This guide should be used in conjunction with appropriate map (OS Explorer OL13 or similar). Do not attempt any of these routes without a map, compass, and the skills to use them.

Related posts: