This tasty dehydrated butternut squash soup is amped up with red lentils and ras el hanout, a North African spice mix. This soup is hearty, easy to make, rehydrates quickly, and is chock full of warming flavours. It's a great option in the middle of a tough day out when you want to warm up and fuel up quickly for the next challenge. I recommend garnishing with dukkah and yoghurt. Or simply go for some chopped toasted nuts, a versatile and energy-rich addition to your trail larder.
You can buy ras el hanout in supermarkets but it's way tastier to make your own (see recipe for details).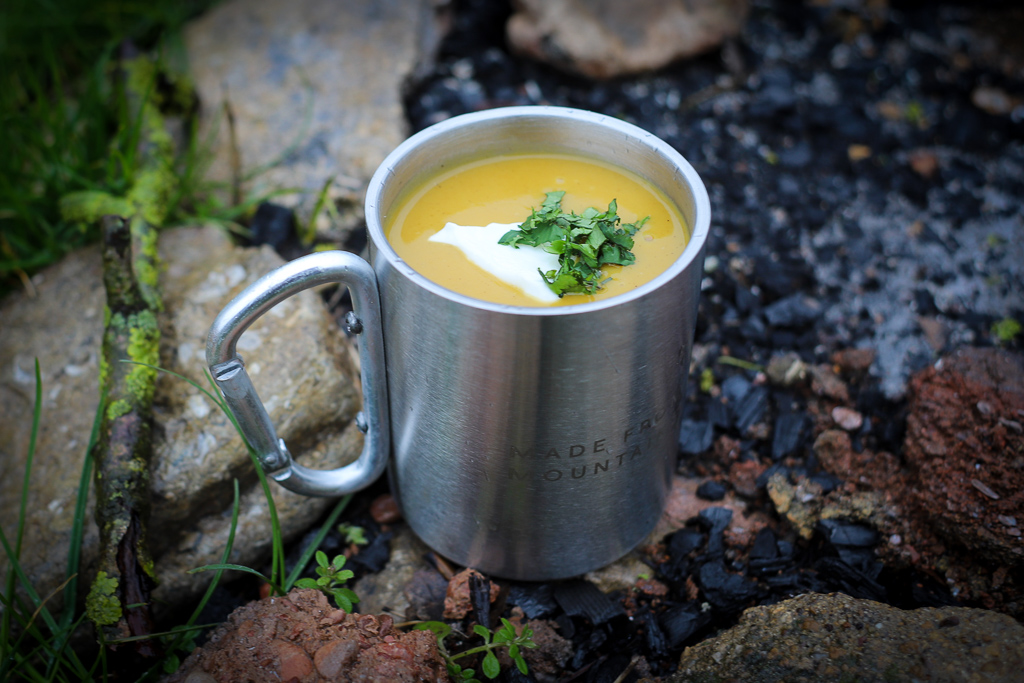 The dehydrated butternut squash soup recipe below is divided into four portions as that suits my appetite but you may want to divide it into 2-3 portions if you're a dude or a person with substantial appetite. To make it even more substantial, serve with oatcakes, bread or flatbread (these grilled flatbreads are delicious and travel well in a pack!).

Dehydrated Butternut Squash Soup with Red Lentils and Ras El Hanout
Ras el hanout is a North African spice blend. You can buy it at most supermarkets but it's way tastier and very easy to make it yourself. See recipe notes for the how-to.
2 tbsp olive oil
2 onions (finely chopped)
2 garlic cloves (crushed)
¼ tsp cayenne pepper
1 tbsp ras el hanout
1 butternut squash (peeled and cut into 2cm pieces)
100 g red lentils
4 cups vegetable stock
small bunch of coriander (chopped)
dukkah and yoghurt to serve
At home:
Heat the oil in a large pot over medium-high heat. Fry the onions with a pinch of salt for 7 mins, or until softened and just caramelised. Add the garlic, chilli and ras el hanout, and cook for 1 min more.
Stir in the squash and lentils. Pour over the stock and bring to the boil. Reduce the heat to a simmer and cook, covered, for 25 mins or until the squash is soft. Blitz the soup with a stick blender or conventional blender until smooth, then add the chopped coriander season to taste.
To dehydrate:
Let the soup come to room temperature.
Spread the soup puree on dehydrator trays covered with non-stick sheets or parchment paper.
Dehydrate at 130°F/ 55°C for 4-6 hours or until completely dry and crumbly. (Check it from time to time to see if it's done.)
Let cool to room temperature, then grind the dehydrated soup into a powder using a blender or food processor.
Divide into 4 individual portions and pack them in zip lock bags. Store in a dark, cool place.
On the trail:
Boil 400ml water per portion of soup.
Add the dehydrated soup to the water and simmer for a minute or two, stirring most of the time. The soup should rehydrate reasonably quickly. Add more water for a thinner consistency.
Decant into a bowl or mug if you'd like. Garnish dukkah, yoghurt, olive oil, fresh herbs, or anything else that inspires you. Enjoy with bread, oat cakes, or flatbread for a heartier meal.
Nutrition information (per serving): 240 Calories; 7g Fat; 38g Carbohydrates; 9g Protein
To make ras el hanout:
Dry fry the spices below in a frying pan on a low heat. Leave to cool then blitz in a blender into a fine powder.
2 2-inch cinnamon sticks, broken into several pieces
1 tbsp cloves
1 tbsp coriander seeds
1 tbsp cumin seeds
1 tbsp fenugreek
1 tbsp fennel seeds
1 tbsp mustard seeds
1 tsp turmeric
10g dried rose petals