Eat Sleep Wild has always been about adventures and wild places, with great food along the way. In this time when such adventures are a no-no, I'm determined to at least keep the spirit of adventure alive, albeit on a much more local level. And so I've launched a new venture, Eat Sleep Wild @ Home. Adventurous food, inspired by nature, available for delivery or pickup in the Cirencester area.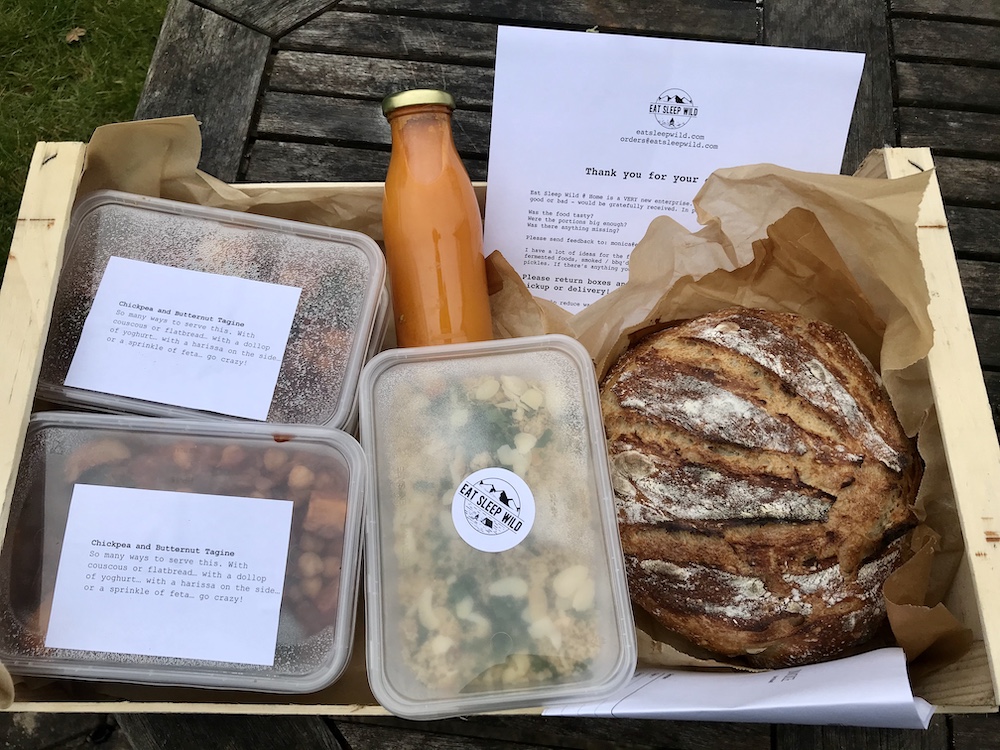 Today was the first of what I hope to be many more deliveries to come. I feel invigorated and encouraged by the feedback so far! I won't lie: I have a lot to learn. The menu at present is small to keep it manageable. The focus: nutritious, delicious foods that freeze well or are shelf stable, with bold flavours inspired by my favourite cuisines. The menu combines foods that have treated me well both at home and on the trail, as well as larder essentials, and some favourite garnishes that I use regularly to amp up every meal.
Orders, questions or feedback can be emailed to orders@eatsleepwild.com.
Menu for the week of 6 April 2020.
10% off when you order 2 portions or more of any ready meal, side, or soup.
Items with (F) are suitable for freezing.
Ready Meals
Sweet Potato & Black Bean Chilli(Vg)(GF)(F) – £4

With pink pickled onions – chilli should have garnishes!
Add Mexican rice (V)(GF)(N) – £3

Aubergine Cassoulet(Vg)(F)- £4

Wholesome comfort food with a breadcrumb crust
Add herby quinoa (Vg)(GF) – £3
Salad Box
Charred Broccoli and Quinoa Salad (Vg)(N) – £4
Soups
Add a thick slice of granary bread to any soup for £1.
Spring Minestrone with Wild Garlic (F)(Vg)- £3.50

A super fresh, nourishing soup loaded with veggies and cannellini plus a spring dose of green with wild garlic!

Shorbat Addas –(F)(Vg)(GF) – £3.50

A Middle Eastern red lentil soup with lemon and cumin, an ESW HQ favourite!
Larder Essentials
Sourdough bread (Vg) – £3.50
Wholemeal bread (V)- £3.50
Raspberry Jam (Vg)(GF) – £3
Sourdough Starter with instructions (Vg) – £3
Freshly Pressed Juices
Lemon & Ginger Turmeric Tonic (Vg)(GF) – £3
All the Greens (Vg)(GF) – £3
Beetroot Deluxe (Vg)(GF) – £3
Eat Sleep Wild Essentials
Delicious garnishes to make every meal more interesting
Dukkah, nutty spiced Middle Eastern sprinkle (Vg)(GF)(N) – £4
Salsa Macha, Mexican chilli pesto, an amazing drizzle (Vg)(GF)(N) – £4
Mexican pickled carrots and jalapeno, awesome with tacos and chilli! (Vg)(GF) – £3
Coming soon
Sauerkraut and kimchi, buddha bowls, sweets, the famous ESW Pickle Bar, and more. Let me know if you have any requests! monica@eatsleepwild.com

(F)=Suitable for freezing
(V)=Vegetarian | (Vg)=Vegan
(GF)=Gluten Free | (N)=Contains nuts