If you want to try your hands at baking bread outdoors, this campfire flatbread recipe is a great place to start. No fancy wilderness oven required; the flatbread gets cooked straight on the coals! Seriously, cooking bread on coals is a game changer. The char adds the most delightful smoky flavour. And it's not hard:

This recipe includes yoghurt and olive oil, both of which enrich the dough and make for a soft and fluffy flatbread. One of the most joyful visceral experiences to be had around a campfire is to take one of these flatbreads straight off the coals, tear off a piece while its still warm, and dip it into some hummus, baba ganoush, or simply good olive oil, before devouring with gusto. This is sharing food at its best. My favourite flatbread accoutrements include: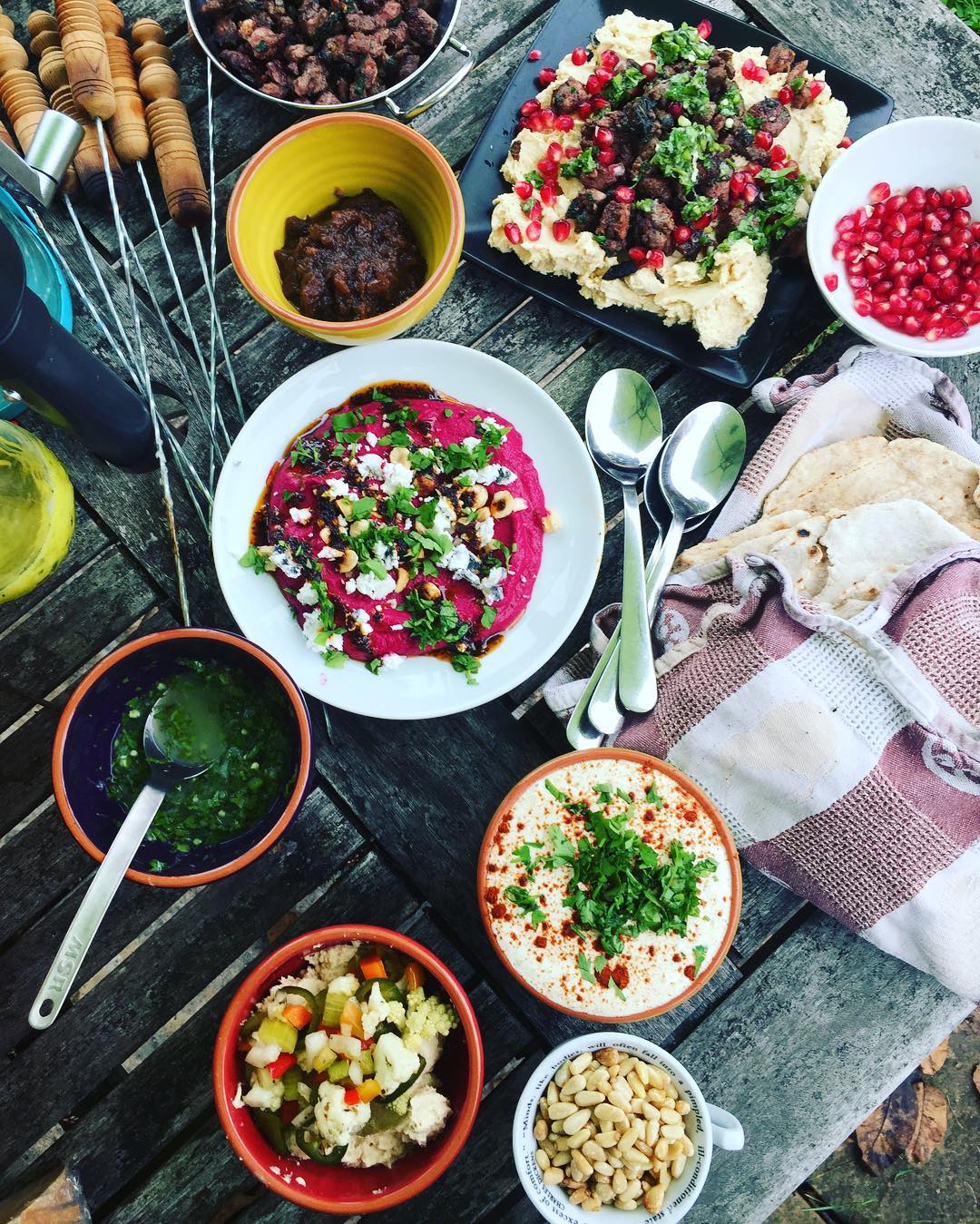 The recipe makes a ton of flatbreads, serving eight people generously. You can halve the recipe or make extra for leftovers (they keep well in the freezer, by the way). I almost always make extra flatbreads for packed lunches, stuffing them with kofta or falafel, plus hummus and veggies, for the ultimate hiking lunch. And as a bonus, these flatbreads travel well and keep for days making them a good option for multi-day backpacking trips (see my wild camping food guide for more).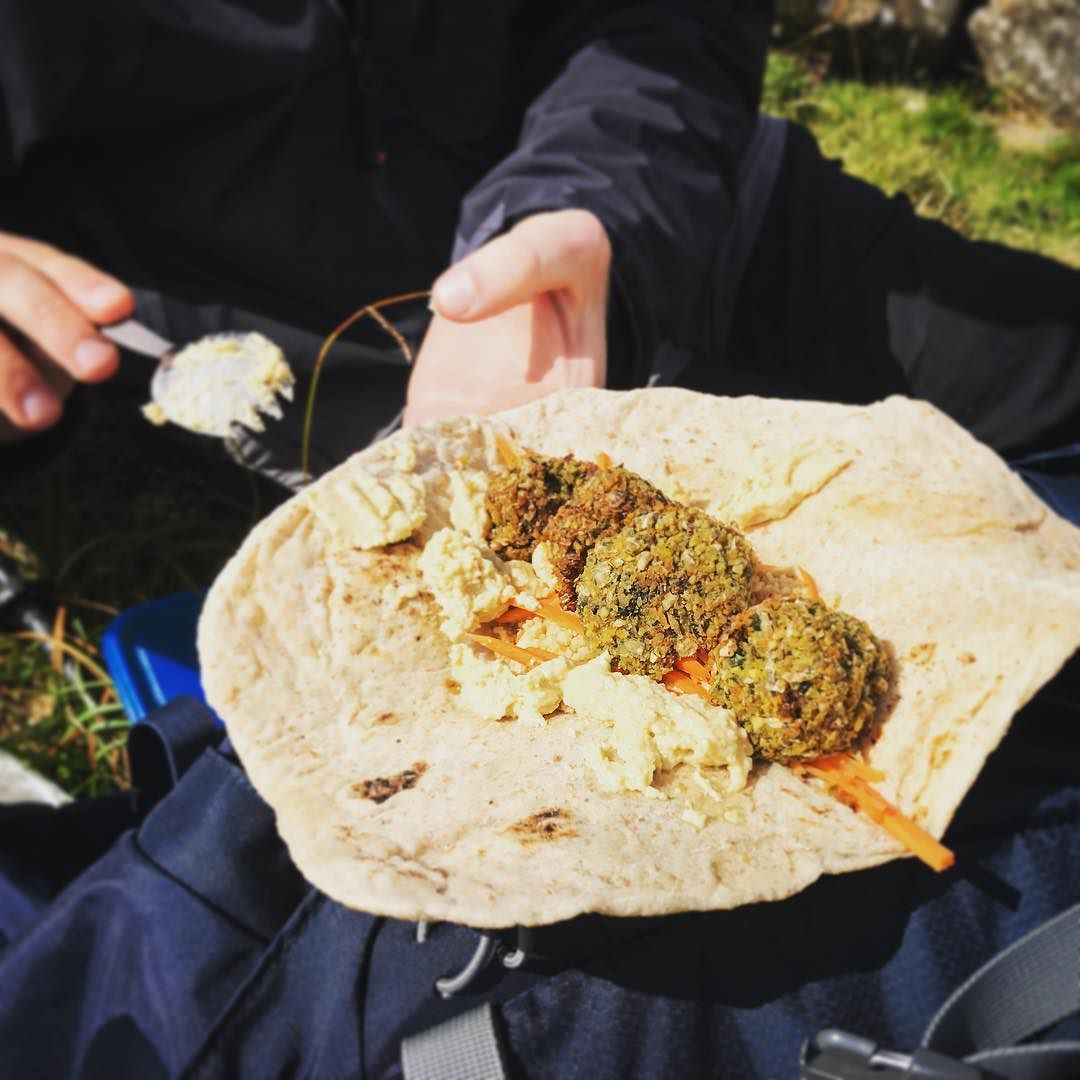 Campfire Flatbread Cooked on Coals
These are a cinch to make if you have a food processor to mix the dough in, doable at home but not necessarily at camp, in which case make sure to bring a sturdy bowl with you and something to roll out your flatbreads on. In lieu of a rolling pin (or wine bottle), you can use your hands to press these out into rounds. The result will likely be thicker than the breads shown here but they'll be just as yummy.
Ingredients
500 g plain white flour (plus extra for dusting)
500 g strong white bread flour
10 g powdered dried yeast
20 g fine salt
325 ml warm water
325 ml natural yoghurt (warmed)
2 tbsp good olive oil (plus extra for coating)
Kit
Sturdy bowl
Silicon mat or other clean surface to roll the breads on
Rolling pin – or a wine bottle
To make the dough in a food processor: Place the flours, yeast, and salt in the bowl of a food processor. In a jug, combine the water, yoghurt, and olive oil and mix well. Start the food processor. As it's running, pour the liquid ingredients into the shoot and let the food processor run for a bit, until everything is well mixed. Remove the dough from the food processor, knead a couple times to form a ball. Place the dough in a clean bowl.
To make the dough by hand: Mix the flours, yeast, salt, water and yoghurt in a bowl to form a sticky dough. If it seems really dry, and you're having trouble working all the flour into the dough, add more water, a little bit at a time. Add the oil, mix it in. Knead until smooth and silky. Shape the dough into a round, then place in a clean bowl.
Leave the dough to rise, covered with cling film or a plastic bag, until doubled in size.
Deflate the dough, then if you have time, leave to rise a second, third, even a fourth time (this improves the dough but is by no means essential).
While all of this is happening. Get your fire going with some high quality hardwood. Let it roar. Wait for a good amount of wood to burn down into embers. This can take a couple hours so make sure you have something nice to drink and enjoy the fire while you wait!
Tear off pieces the size of small lemons (or smaller, or larger, if you like) one at a time, shape into a round, then using plenty of flour, roll out to a 3-4mm thickness.
Arrange your fire so that you have a nice pile of embers … I usually create a pile of embers with the main fire burning next to it. Place the rolled dough directly on the coals. After a short while you'll see it start to bubble up. Before it goes really crazy, flip it over to cook the other side, removing any embers that may have stuck to the dough (see video). If all goes well your flatbread will puff up like a balloon! Remove the bread from the fire, brush with olive oil (this isn't essential but it sure is nice), and place in a teatowel while you make the remaining flatbreads. Keep stacking the flatbreads in the teatowel as you go which will keep the breads soft and warm.