One of my favourite all time uses for foraged nettles is this recipe for nettle spanakopita. This Greek filo pie is traditionally made with spinach, but we've used nettles which work amazingly well here.
To make this spanakopita you'll need quite a lot of nettles, so involve your friends in the picking if you can, or use a mix of nettles, spinach, and/or wild garlic.
I've successfully made an awesome vegan nettle spanakopita using baked almond feta in place of the dairy feta, and olive oil for coating the filo pastry sheets.

This recipe is inspired by Hugh Fearnley-Whittingstall's nettle recipes.

Nettle spanakopita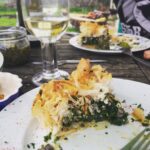 Around 300g young nettle tops
2 tbsp olive oil
1 tsp cumin seeds
1 large onion (peeled and finely sliced)
1 tsp thyme leaves
100 g crumbled feta
35 g pine nuts (toasted)
A squeeze of lemon juice
Sea salt and freshly ground pepper
2 eggs (lightly beaten)
250 g filo pastry
75 g unsalted butter (melted)
Heat the oven to 180C/350F/gas mark 4. With gloved hands, pick over the nettles and wash thoroughly. Discard the tougher stalks keeping only the leaves. Bring a large pan of well-salted water to boiling point and throw in the nettle tops. Bring back to a boil, blanch for a couple of minutes, then drain in a colander. When the nettles are cool enough to handle, squeeze to extract as much water as possible, then chop finely.
Meanwhile, heat the oil in a frying pan over medium heat. Add the cumin, cook for a minute or two, then add the onion and sauté for five to 10 minutes, until soft and golden. Add the thyme. Combine the squeezed nettles with the onion mixture, then gently fold in the cheese and pine nuts. Season with a squeeze of lemon and plenty of salt and pepper, then stir in the egg.
Brush a sheet of filo pastry with melted butter and lay it butter side down in a smallish, 1.5-litre ovenproof dish. Let any excess pastry hang over the ends. Lay another buttered filo sheet on top and repeat until you've used all but one sheet of filo. Spread the nettle mixture in the dish, fold over the overhanging pastry ends to enclose, dabbing with more melted butter to keep it together. Take the final sheet of pastry, crumple it lightly, and place on top, tucking in the edges around the side – this will give the top of the pie a nicely textured finish. Dab more butter on top, bake for 30-35 minutes, or until golden, and serve immediately.