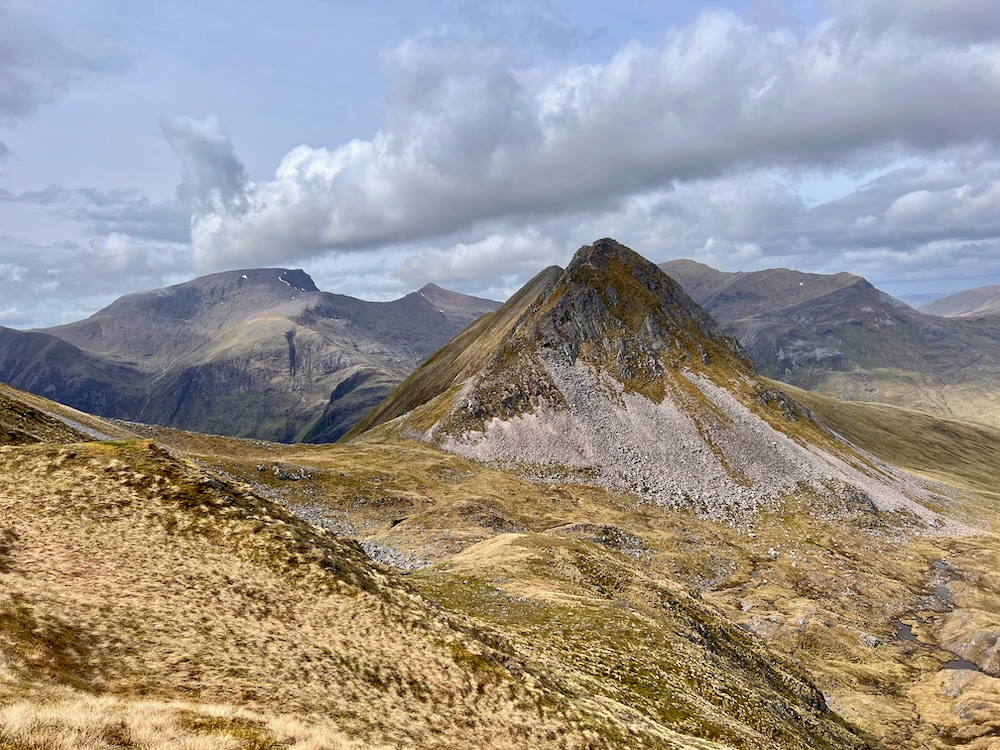 The West Highland Train Line is one of the most scenic rail journeys in Scotland, travelling from Glasgow to Mallaig through mountains, moorland and lochs. The line also passes through some convenient stations for point to point walks. I've had a few on my mind, including this trip from Fort William to Corrour Station via the Mamores mountain range. I completed this Mamores traverse over two relatively long days, but it could definitely be split up into multiple days for a more relaxed approach – or more munro bagging if that's your thing! There is plenty of scope for wild camping, and even a bothy option.
Trip Essentials
Starting point: Lower Falls (via Fort William Station)
Finish: Corrour Station
Transport: There is a pay and display car park at Lower Falls, or take the N42 bus from Fort William Station to the start at Lower Falls – about 20 mins, £4 single).
Total Distance: ~33km
Total Ascent: ~2100m
Map: OS Landranger 41
Mamores Traverse Trip Summary
Getting there: Train from Tyndrum to Fort William Station
N42 bus from Fort William Station to Lower Falls Car Park
Walk the Mamores mountain range to a wild camp above Loch Eilde Mor (about 13km, 1700m ascent – took about 8hrs)
Walk to Corrour Station in solitude across bleak moorland surrounded by hills (about 20km, 500m ascent – took about 7hrs)
Getting back: Train back to Tyndrum from Corrour Station
Day 1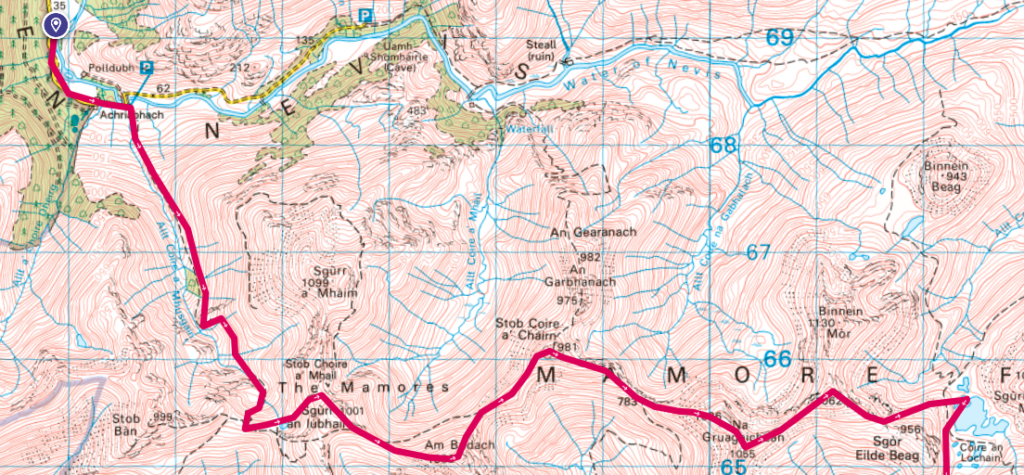 Day 2:

Aerial view via Google Earth:
Highlights
This is a walk of contrasts. Day 1 is spent in pure mountain bliss – this is where the bulk of the climbing happens, while Day 2 involves lower level walking through the desolate (and often boggy) moorland between the Mamores and Corrour. Fortunately there is a good path for much of the way!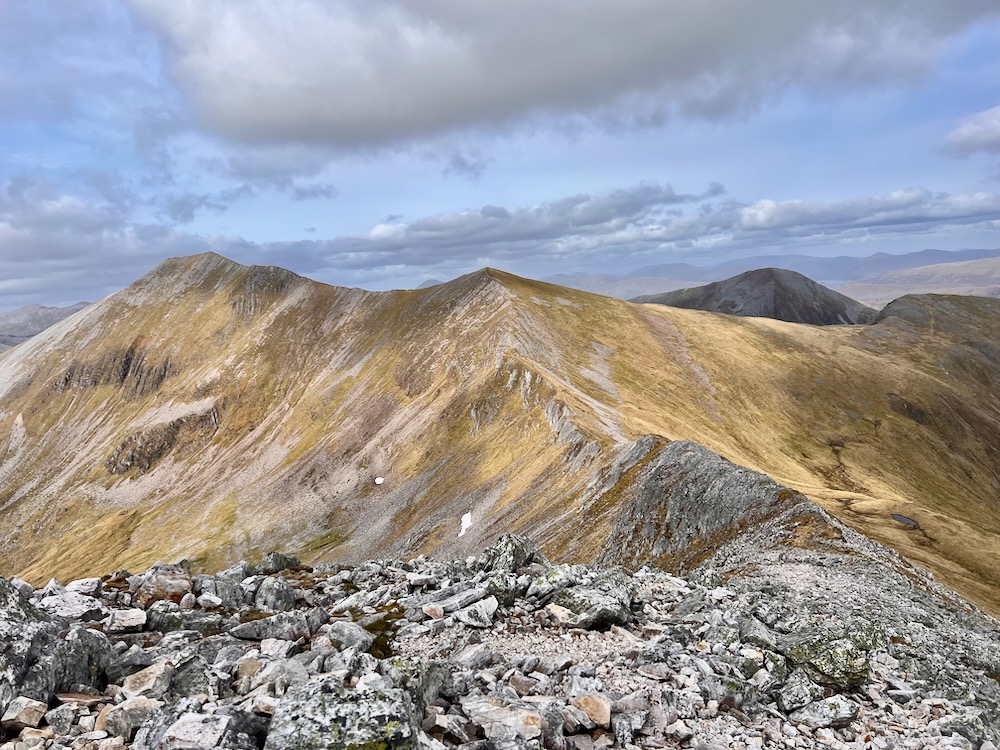 Day 1
I set off on the train from Tyndrum just after 8am, unintentionally catching the Caledonian Sleeper rather than the usual ScotRail commuter train (the online timetable didn't make it clear!). I was informed they could have ejected me from the train as I hadn't reserved a seat, but there was plenty of room in the seated coach car so we got away with it and they didn't even charge me (the next day at Corrour Station I met a dude who did the same thing, so this must happen a lot!). The Caledonian Sleeper is luxurious! The two hour trip to Fort William was a joy as we enjoyed the scenery outside from our big comfy seats.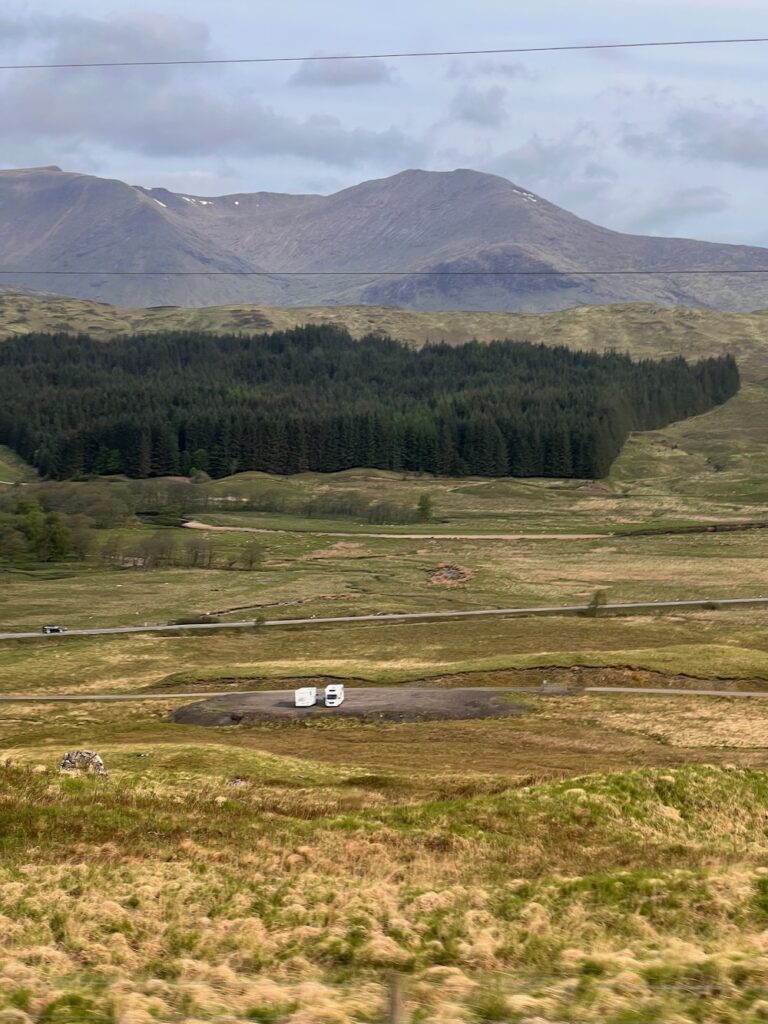 My take on the Mamores traverse starts at Lower Falls Car Park, about 10km from Fort William Station up Glen Nevis. You could walk it I suppose, but there's a convenient bus (N42) just outside the Fort William station which I was grateful to catch, saving my legs for the climbing!
A purist would have started the walk by going up Stob Ban, but I decided to omit this peak on this occasion as it had been a while since I'd been out backpacking in the hills and I didn't want to bite off more than I could chew. There is a good path all the way up the the Allt Coire a Mhusgain which makes for pleasant, gentle uphill start to the day. Things get more challenging as you approach the bealach between Stob Ban and Sgurr an Lubhair, but it's all very doable.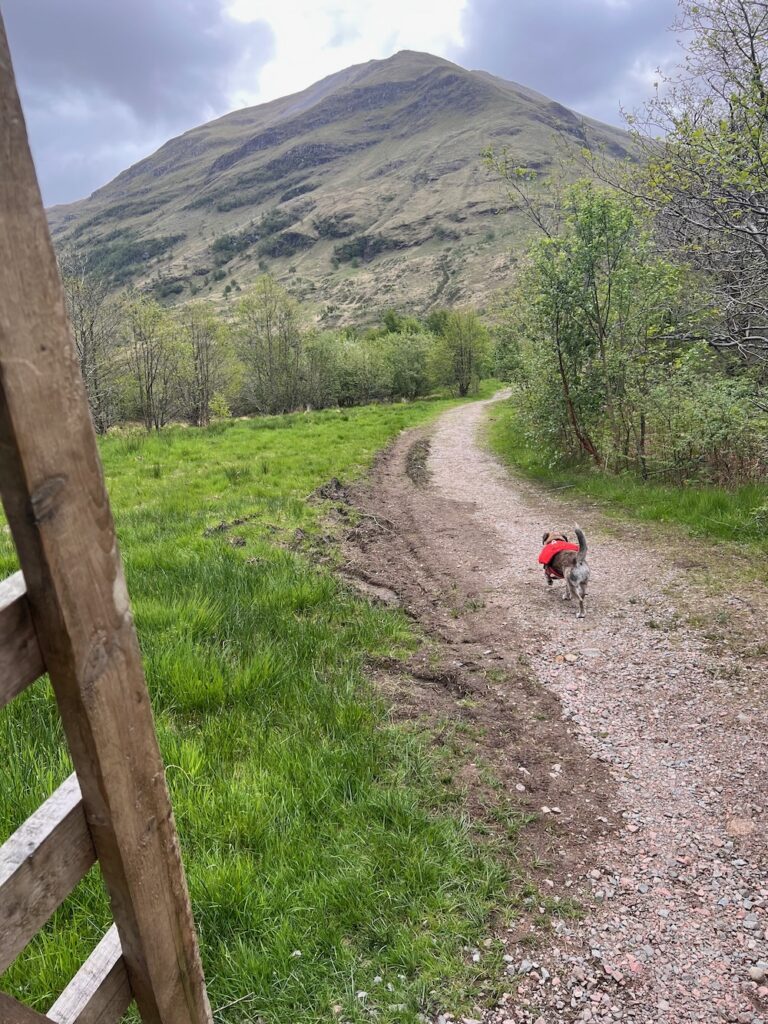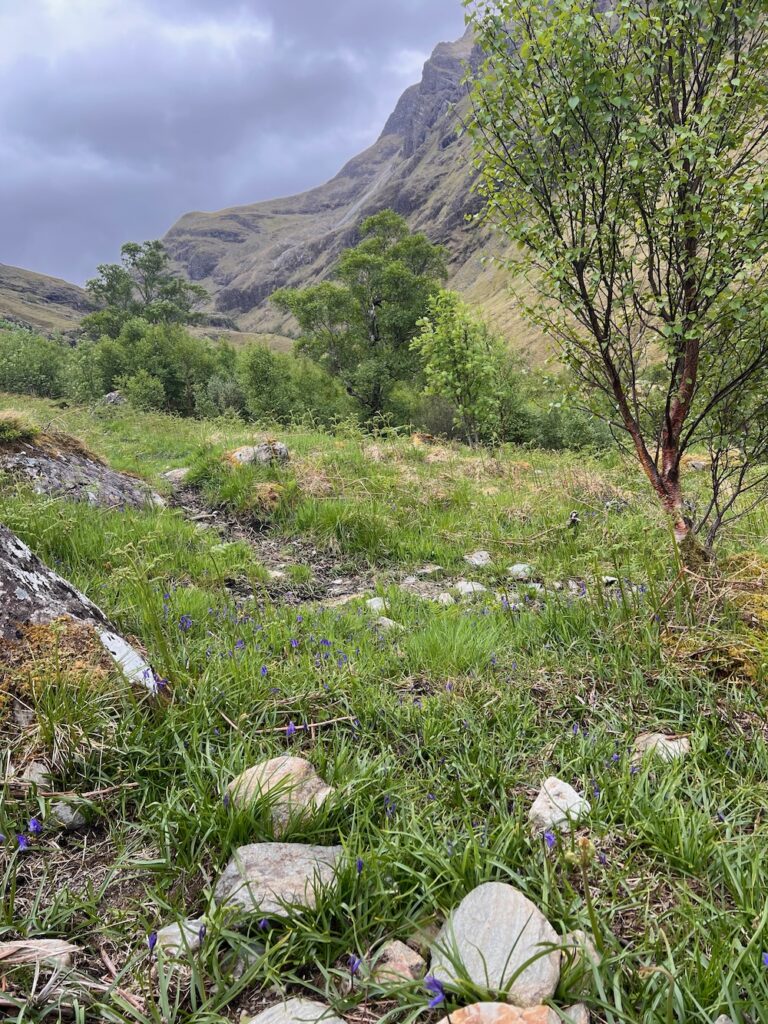 The Mamores are a well-traveled mountain range and so the paths are generally very obvious, albeit it steep in some places but that's what we're here for after all. On a day like I had, it would be hard to get lost as you can see the entirety of the range all around you! The pictures speak for themselves…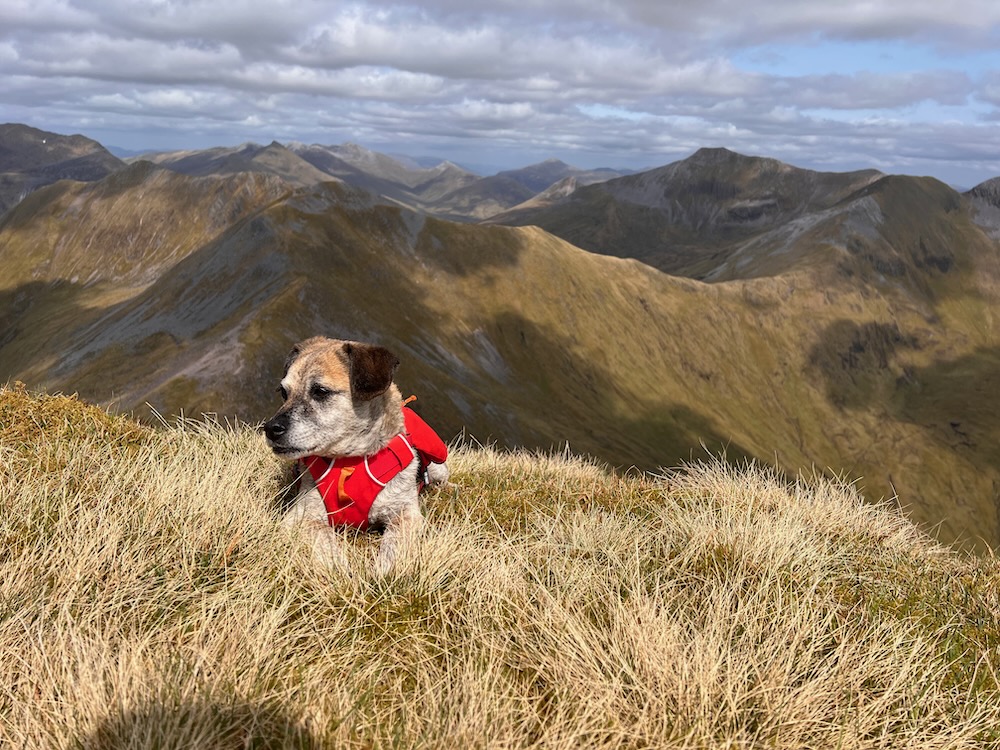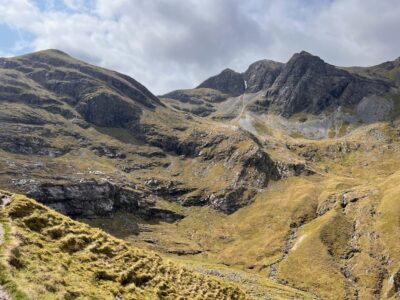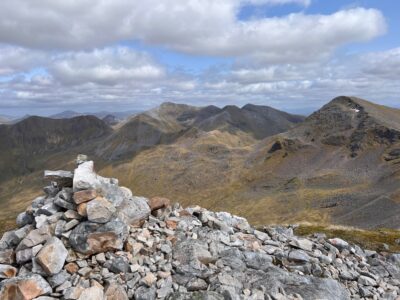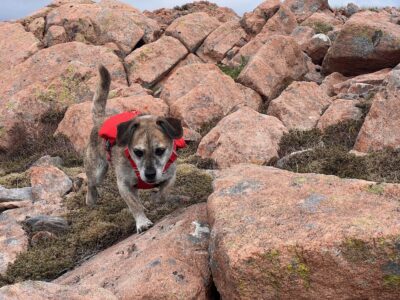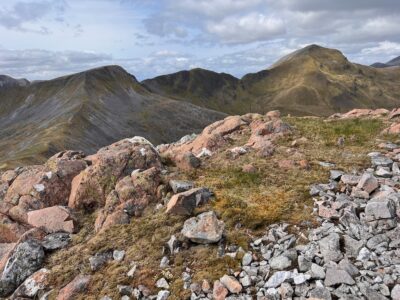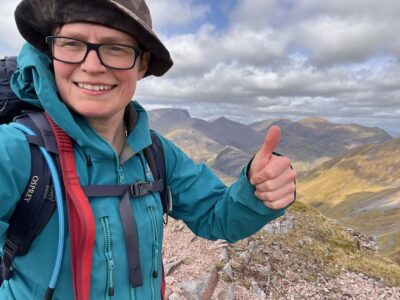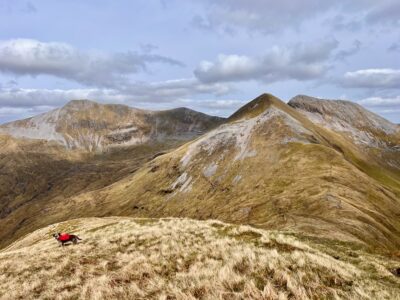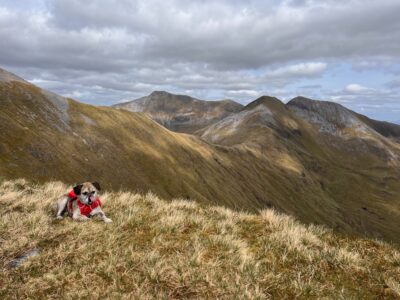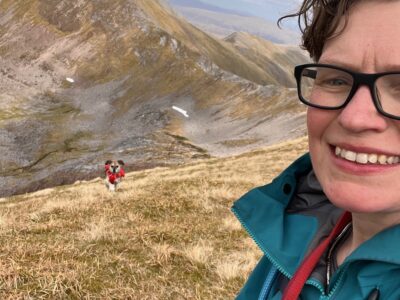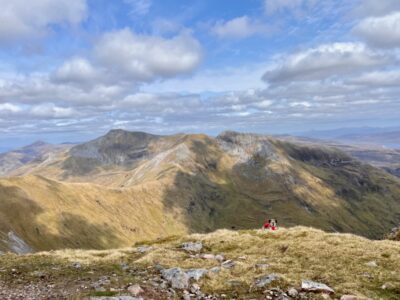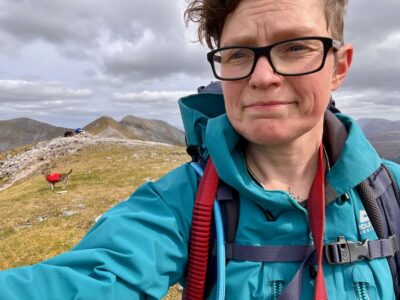 Cool Trivia: Geology of the Mamores
The main Mamore ridge consists of a series of quartzite peaks, including the shapely Stob Ban ('white peak') and the crowning top of Binnein Mor (1130 m). The summits are all made up of loose blocks of quartzite, shattered by the action of frost, but the flanks of the ridges often show the original sedimentary layering and this reveals spectacular geological and landscape features. The Caledonian earth movements have folded this layering into huge folds, several kilometres across in places. Geologists usually have to deduce the presence of such large structures from careful observations of smaller features that might be visible only in river beds. But in the Mamores, several amazing large fold structures can be seen on the hillsides, picked out by the layering in the quartzites. Visitors to the Alps will be used to seeing such a spectacle but this is the only place in Britain where folds can be seen on such a scale.

nls.uk
Things I wish I'd read before I went on the trip! Fortunately I took the above picture and was able to examine the land retrospectively.
Wild Camping in the Mamores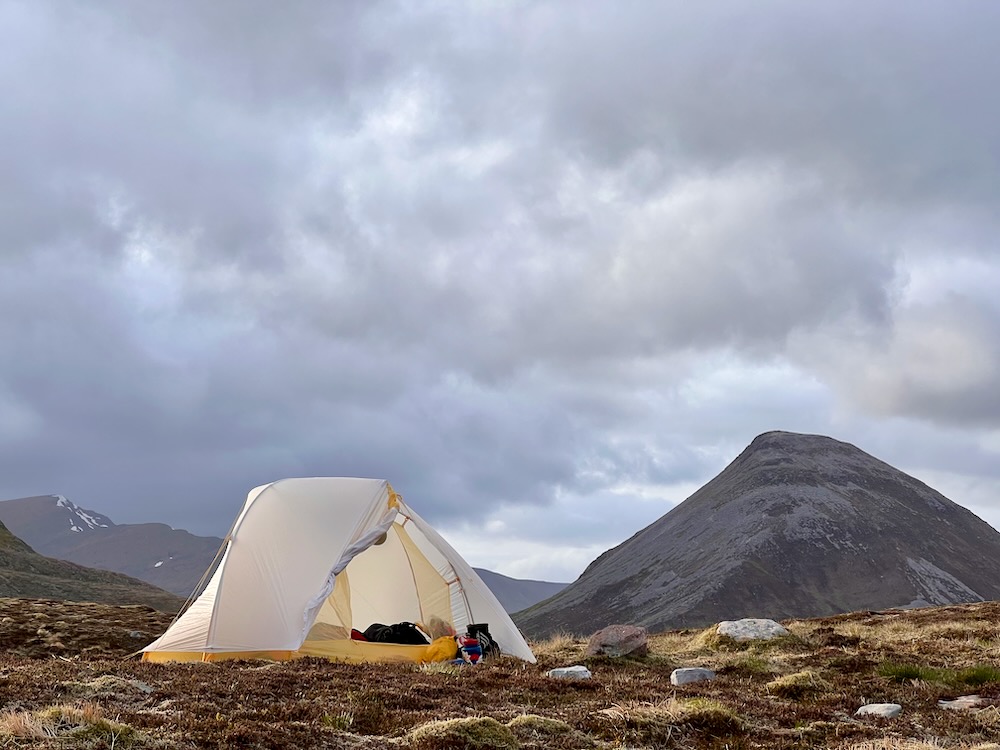 The hilltops themselves tend to be very dry, and wild camping with a water source will usually require dropping down. The journey up Allt Coire a Mhusgain is plentiful, with the last water opportunity around Lochan Coire nam Miseach at about 750m altitude. You could get away with carrying little water up at the start, then stocking up here. This area would also make a sweet wild camping spot if you wanted to break things up a bit and have a shorter day.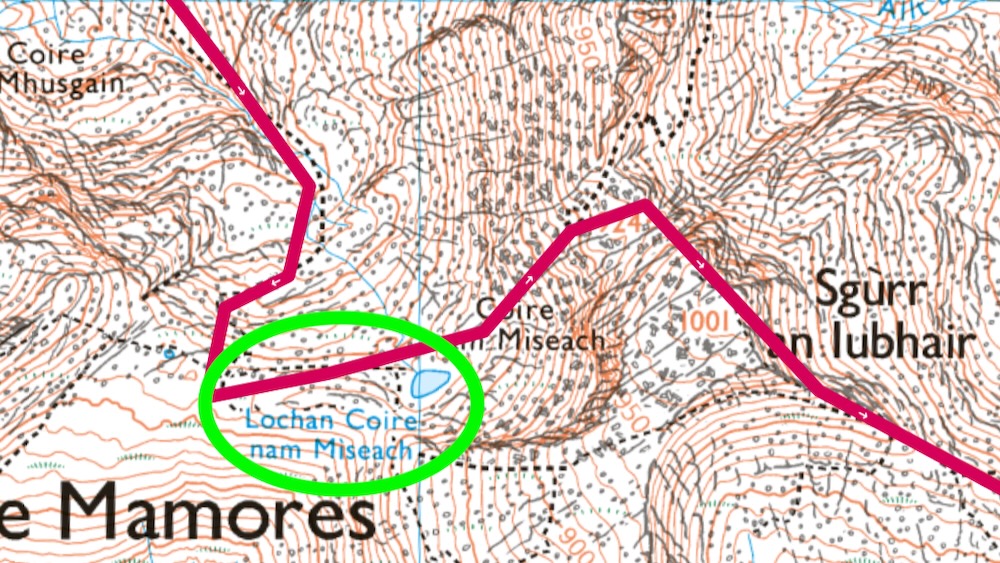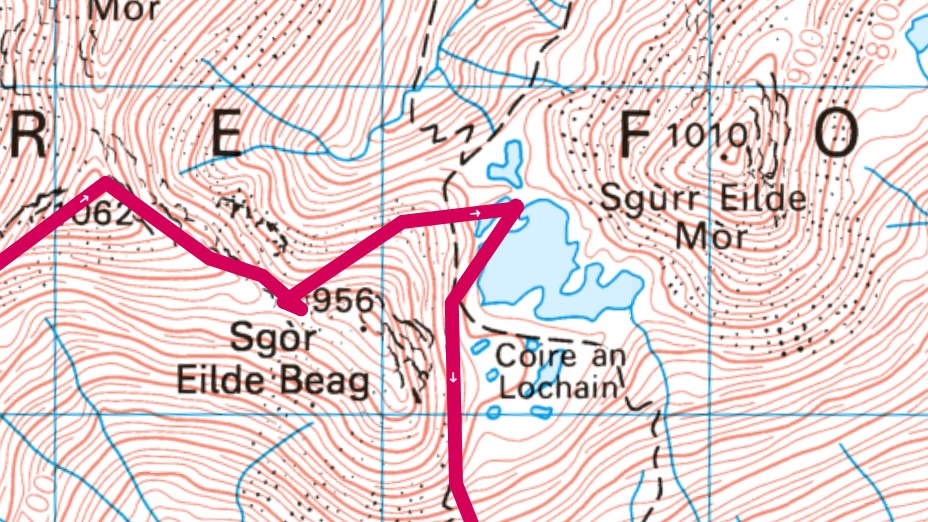 I opted for a long day out and camped at the eastern end of the Mamores around Coire an Lochain below Sgurr Eilde Mor. It's still a relatively high camp at around 730m altitude and an amazing spot at that, nestled between the hills with epic views all around. It was awesomely rewarding to reach this point after a long challenging day out. That sense of achievement combined with the scenery made this one of my top wild camps ever! There are plenty of flat spots to pitch around the lochs – I pitched up between the big loch and one of the smaller lochs which was a cool sensation! You have to go here!
Day 2
After such an epic first day out, some might find day two a bit of a drag. The trip to Corrour Station is through fairly bleak moorland backcountry.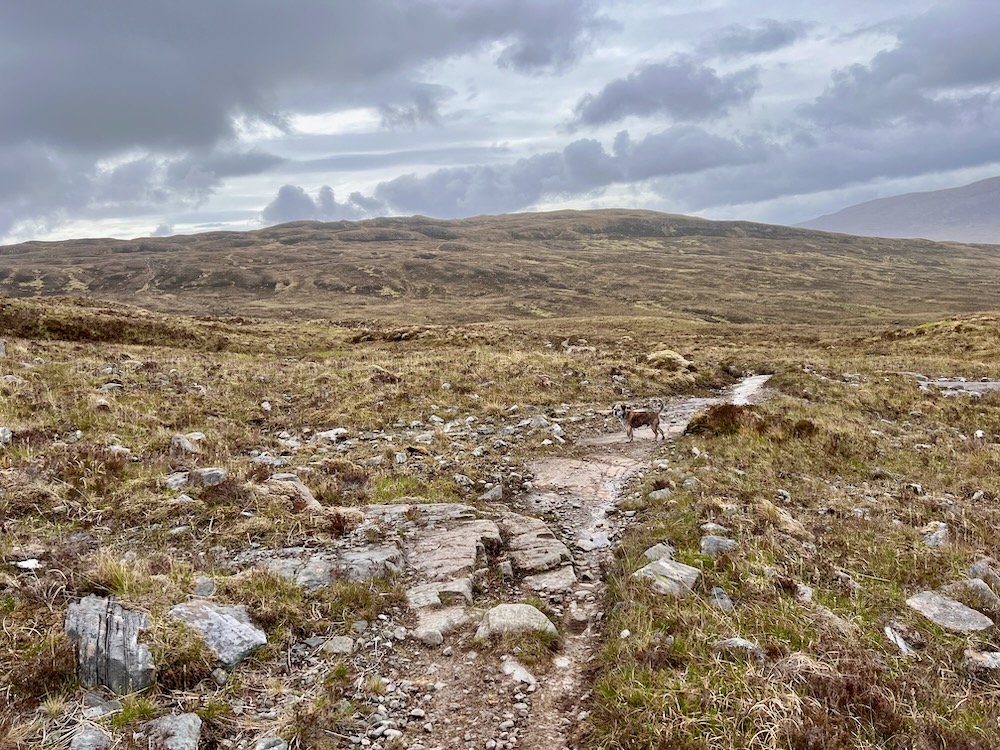 People who love to feel isolated and spend the day trundling along lost in thought will enjoy this stretch. But those who like the thrill of the bagging summits might find it a bit boring! Still, there's good reason to embrace the bleakness. The distant views are of distant mountain ranges and yet more moorland (Rannoch Moor most notably). There are THREE bothies in the area, depending on which route you take. And here there are a couple of options…
Options for getting back to Corrour Station:
Head north east! Either by: (1) descending to Loch Eilde Mor and following the track, or (2) make it interesting and grab yourself another Munro by heading over Sgurr Eilde Mor. Either way you'll end up at the Abhainn Rath (the river running E-W). You'll need to cross the river (the ease of which I cannot attest to!) but once on the other side there is a rough path you can follow east to Corrour. There's also two top class bothies along the way – Meanach and Staonig, both of which I've visited, and the latter I've stayed in (see Staoineag Bothy via Corrour Station).
Head east! This is what I did, as I've been the other direction and wanted to try something new. I feared the bog factor but on this occasion it wasn't too bad. (It was mid-May following a dry spell, so I might have gotten lucky!) The exception was the off piste section at the end of the walk, where I thought I'd cut a corner and head across the moorland to Corrour. It took over an hour and was fairly miserable! I would not do this again. Better to stick to the tracks, even if it means going a bit further.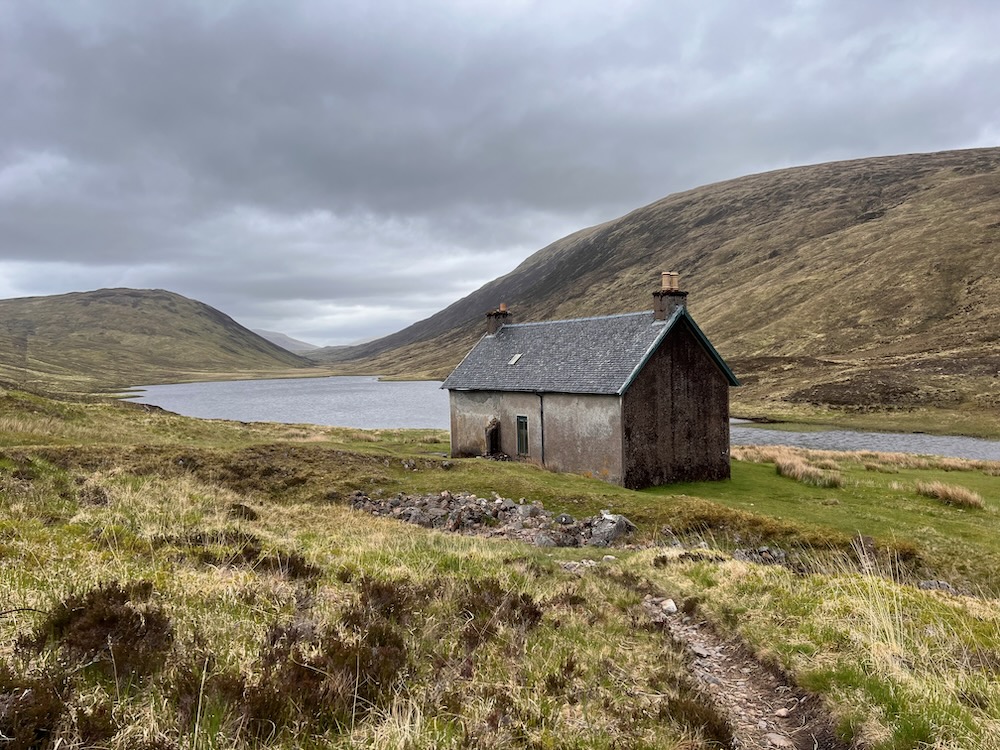 By far the highlight of Day 2 was coming across the bothy on Loch Chiarain, made all the better because I didn't know it existed! The bothy isn't shown on the 1:25 OS map, and on the 1:50 it's only shown as a small building. I targeted this building as my lunch spot, having no idea what it was, but it was sort of half way. To my delight when I got there I found a first rate MBA bothy. This was the perfect place to rest and recharge before heading onwards.
I didn't take many picture after my lunch spot. The scenery wasn't the stuff that great photographic dreams are made of. There weren't even many wild flowers to admire as I trundled towards my destination. These were hours for deep thoughts and meditation!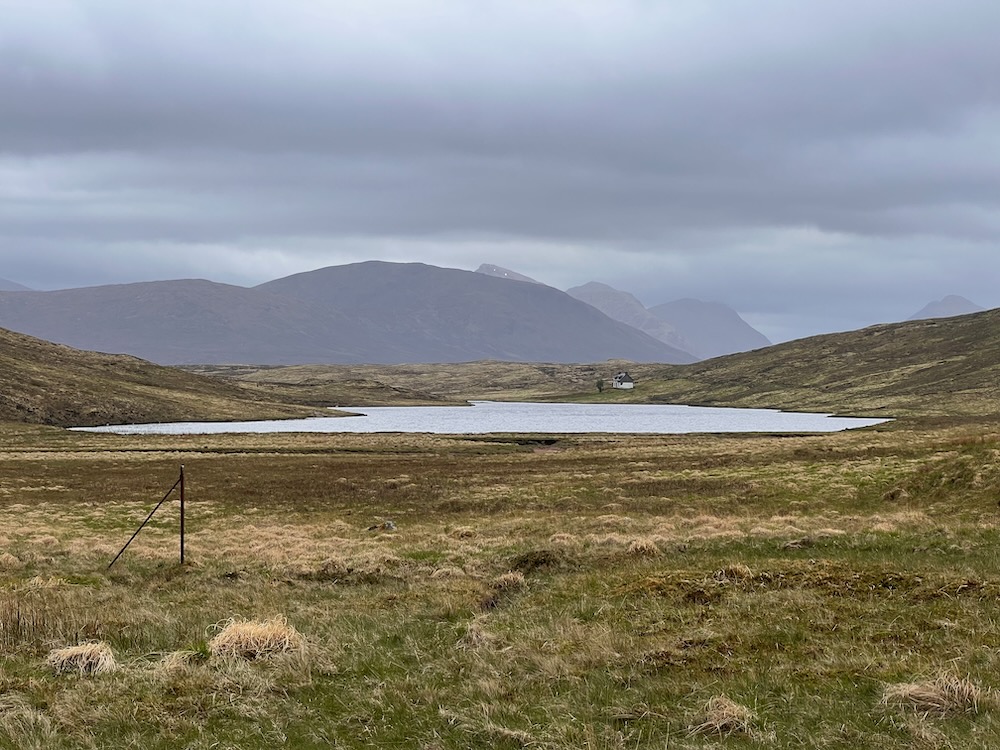 Eventually we arrived at Corrour after the misery fest that was the off piste bog I mentioned above (never again). There are only two trains that day, and I had a bit of a wait. Fortunately Corrour Station has an epic (and expensive) cafe. Lucky found a comfy chair and I checked in with the home base after a day without phone signal (which made the journey all the more meditative). I also got out my notebook. Time to record all those deep thoughts and reflections (and also put on some dry socks!)!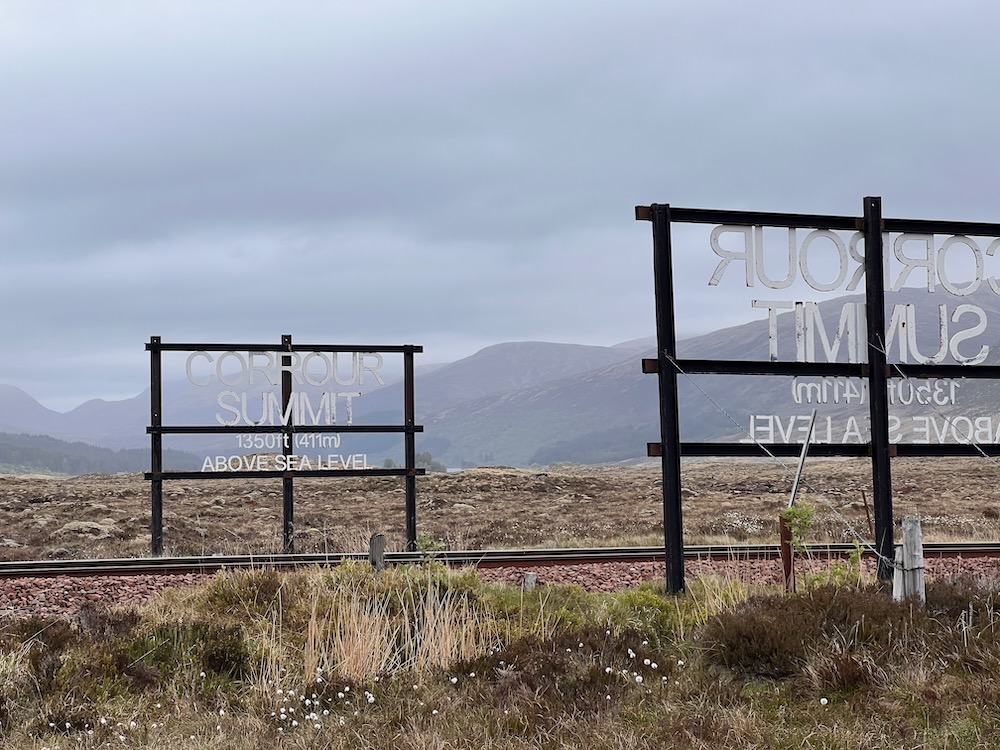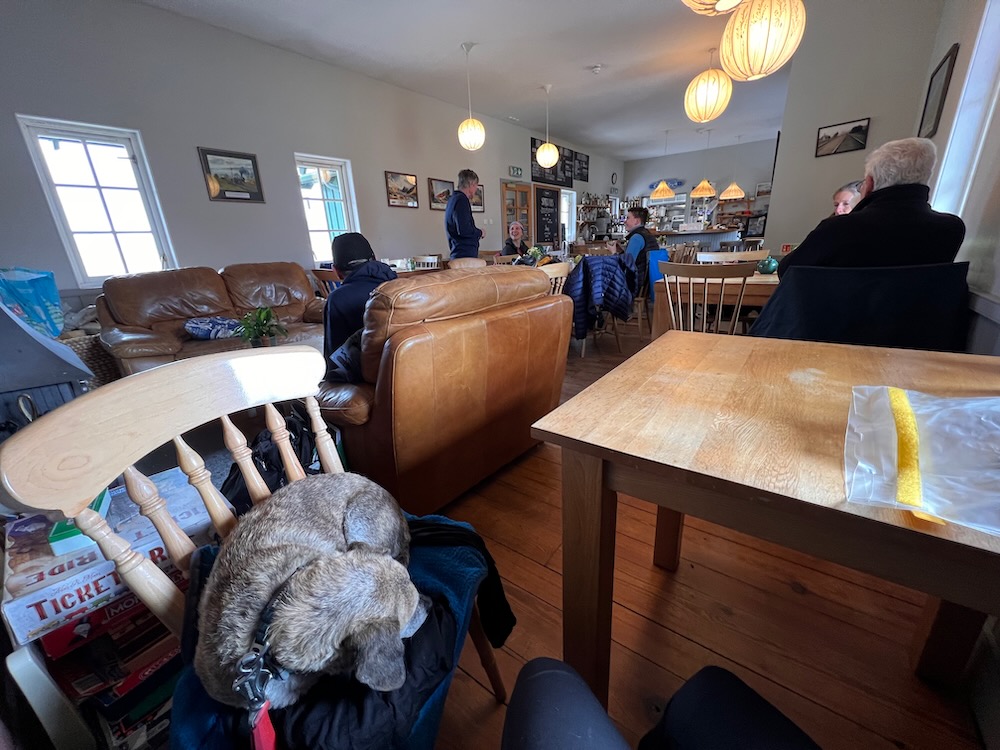 Want to read more? more useful Mamores Traverse info: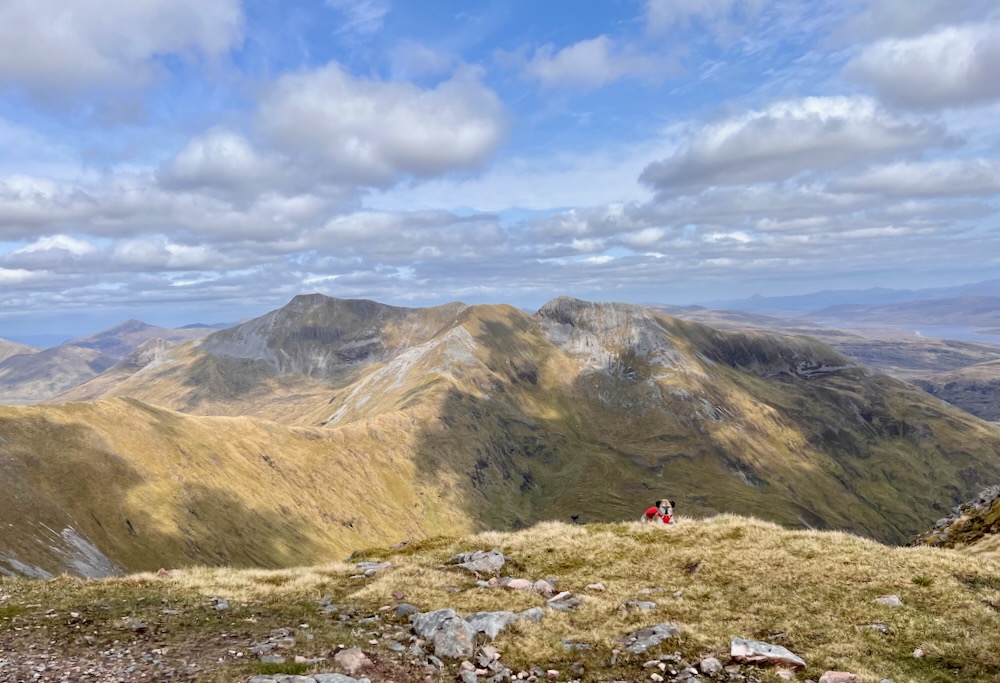 (Disclaimer: this post contains affiliate links which help contribute to the cost of running this website and providing you with awesome reviews and trip reports. Thank you for your support!)