20-22 June 2022 (check out those numbers!)
Highlights from a Summer Solstice 2022 two-nighter near Fort William. The original plan was to find a wild camp. But I was inspired by the "Overnight at Staoineag Bothy" route in Scottish Bothy Walks, which I've had on my hit list for a while now (Walk 12 if you have the book!) which involves a train journey through the highlands to a remote train station that literally plonks you into the middle of nowhere! I have a new appreciation for my new home in Scotland – from where we live, we can drive 30 minutes to the train station at Upper Tyndrum and enjoy a 2-night adventure in total remote wilderness. How awesome is that?
Day 1: Upper Tyndrum to Corrour Rail Station to Staoineag Bothy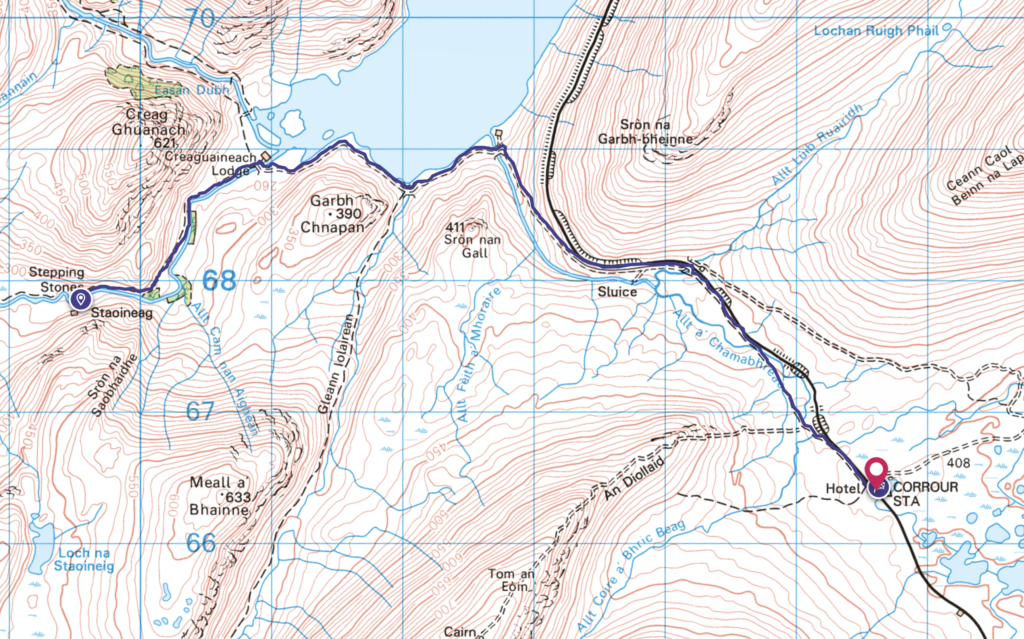 We took the train from Upper Tyndrum to Corrour Station, the highest station on the British isles at 408m and the only station in the UK inaccessible by car (there's a private road for it). Still, off the train (we were two of 4 getting off at the stop) – the other two seemed to have hooked up and headed to the Loch Ossian Youth Hostel). And as soon as the train pulled away, it does indeed feel like a totally different and completely isolated wild spot.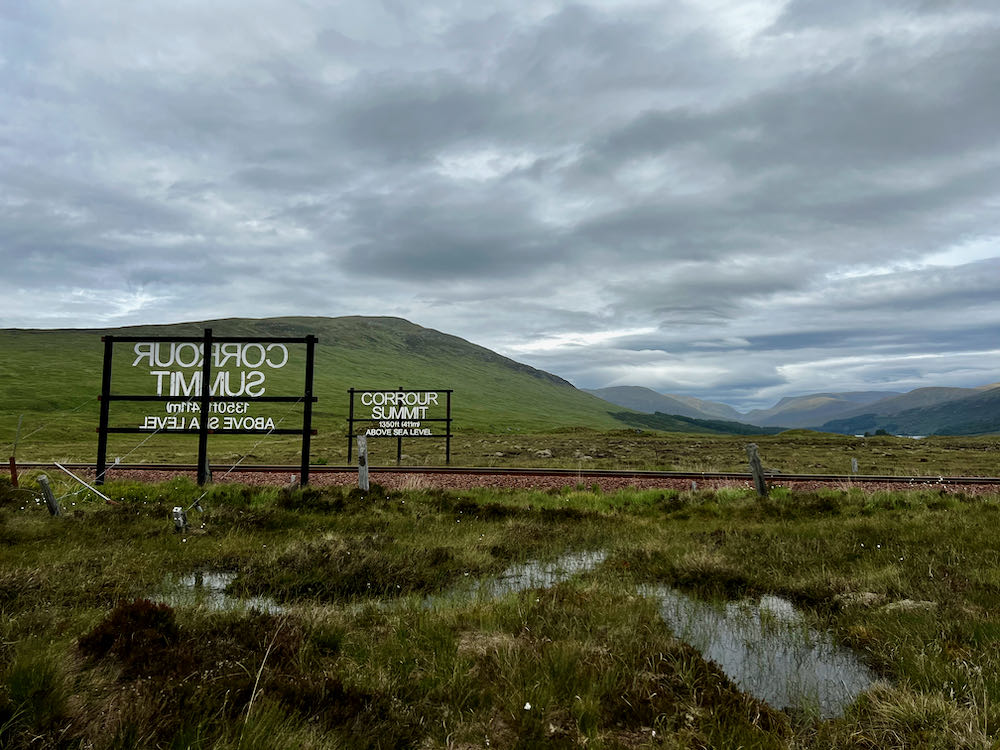 FYI: Corrour Station was the remote station used in Danny Boyle's Trainspotting:
The walk to the Staoineag bothy is pretty straightforward, following tracks and boggy trails (gaiters recommended!) via Loch Treigh with some great views of the Nevis Range in the distance.
Distance to the bothy: 8.9km, about 2-3 hours depending on your pace and how often you stop for photos.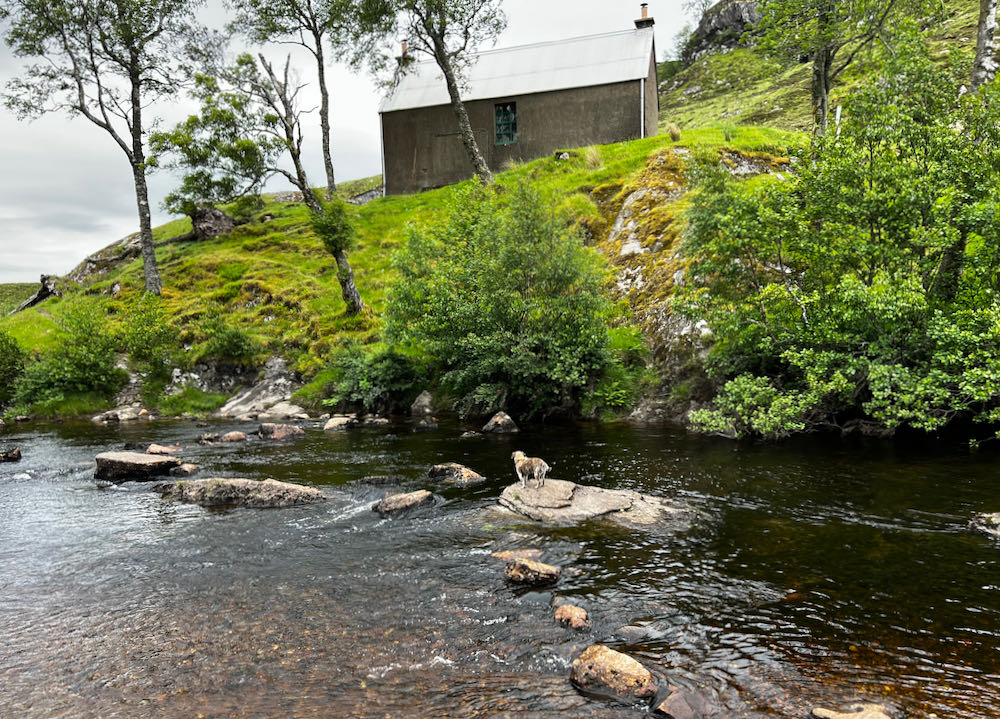 There are some stepping stones to negotiate across the river which where pretty doable.
We arrived at around 6pm and managed to scavenge some wood for a small fire and commence the bothy vibes!
Night 1 feast – everything bar the Greek yoghurt was homemade!
Dal (dehydrated)
Basmati Rice (dehydrated)
Roast cauliflower
Naan bread
Eggplant pickle
Greek yoghurt
Fresh chilli
Marmalade cake for dessert
Exciting: this was an opportunity to road test our new wild camping sleeping system including double sleeping mat, fitted sheet, and Thermarest quilt! (We'll post a review eventually!)
Day 2: Circular Route from Staoineag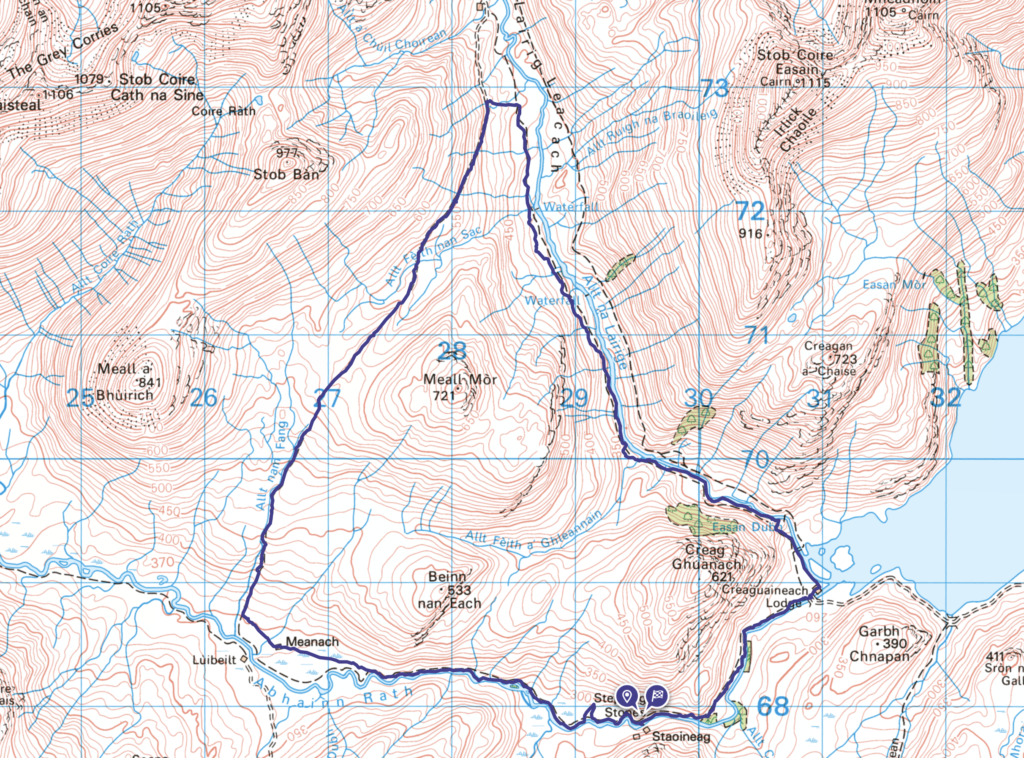 Day 2 was summer solstice official, and what better way to spend it than in nature! We started out at around 10am, stopping for breakfast at Meanach Bothy, about an hour's walk west.
Top tip: If you get to the Staoineag and its fully booked, walk on to Meanach bothy which is arguably even better. It's got a platform bed and functioning chairs!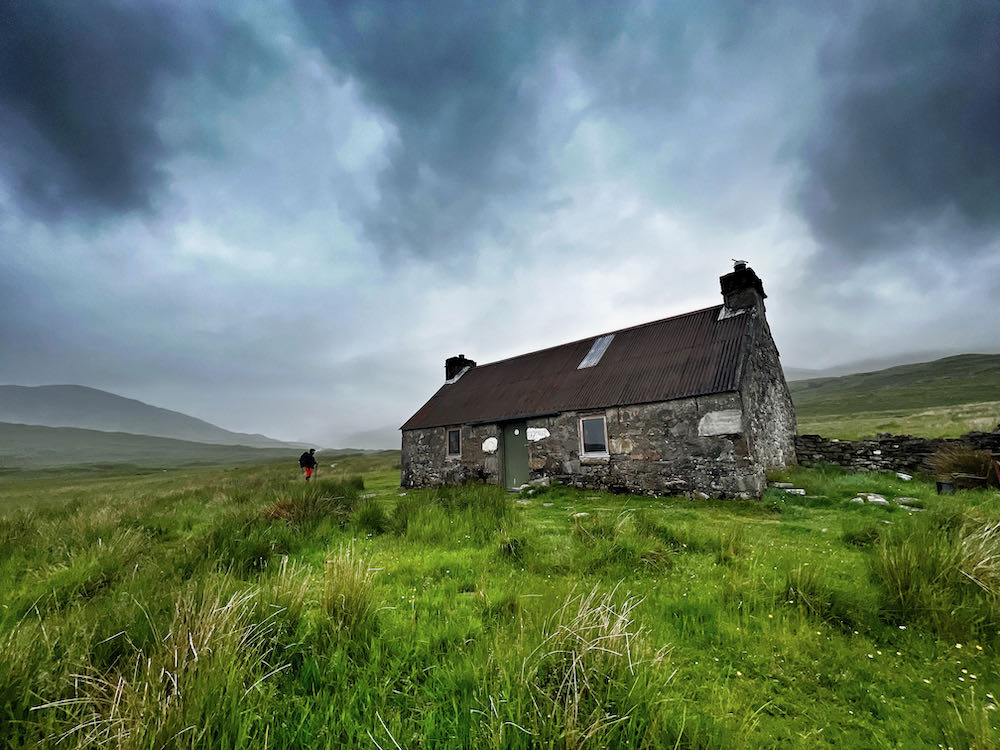 Despite it being summer solstice, we saw almost no sun as the weather was pretty poor which was why we chose this relatively low route circuit. Though misty and rainy most of the day, it was still great fun. We could see orographic clouds on the peaks and the rain come and go – watching the weather change throughout the day was part of the thrill.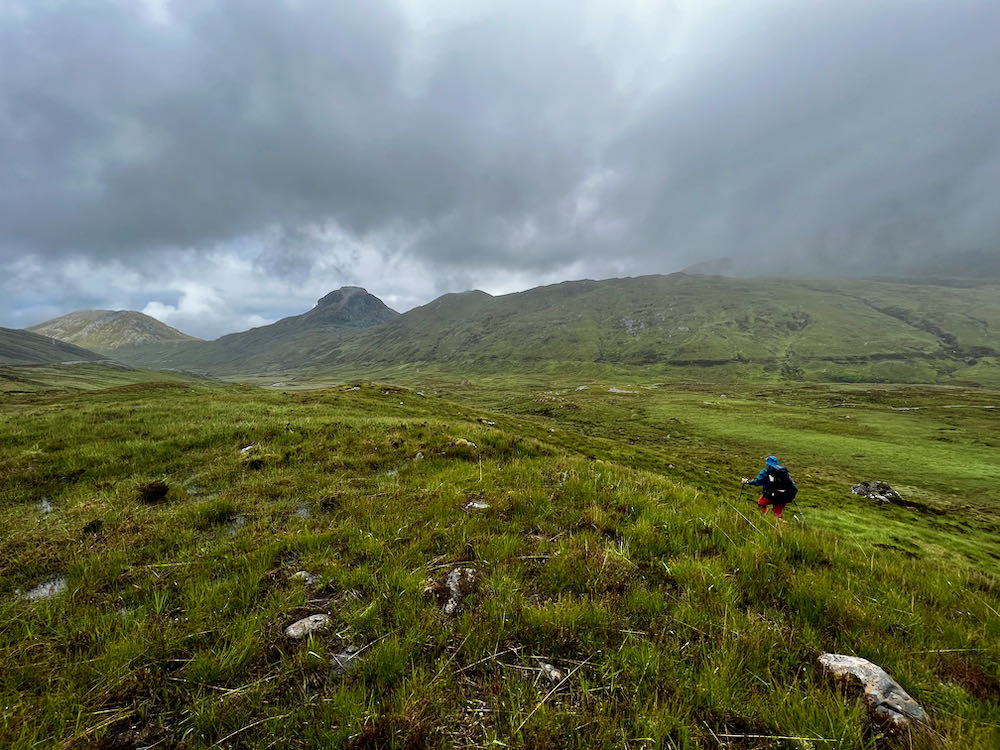 Numerous fascinating water features abound, particularly the gorge towards the end displaying interesting rock formations formed by the current.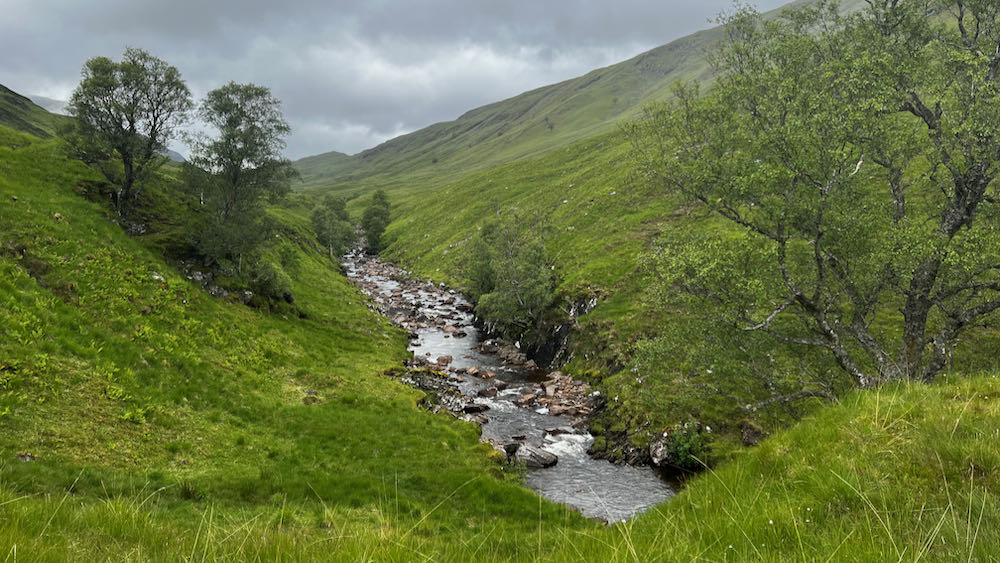 Walk summary:
17.65km (go off piste at the northern end to cut off some of the distance)
Highest point: 499m
Ascent: 361m
Descent: 389m
We got back to the bothy at around 4pm, refueled with some granola bars, then went out again on a firewood mission!
Top tip: most of the wood directly around the bothy has been pillaged but a short walk down the north shore of the river revealed plenty of dead trees! There is a bow saw in the bothy but it's pretty crappy. We highly recommend investing in a lightweight folding bushcraft saw for these sorts of trips!
We celebrated summer solstice with an epic fire, candles, and a feast!
Venison chilli which we'd dehydrated a few weeks prior (we shot, hung, and butchered a roe doe)
Mexican rice, also from the dehydrated food store
Avocado
Greek yogurt
Fresh chillies
Lime
Day 3: Staoineag Bothy to Corrour Rail Station
We got an early start to catch the 12:30pm train at Corrour back to Upper Tyndrum. We arrived in very good time and had an opportunity to try the cafe at the station which was fortuitous as we were hankering for a rest and a hot breakfast! Smoked salmon scrambled eggs proved delicious, and we couldn't resist a couple victory beers.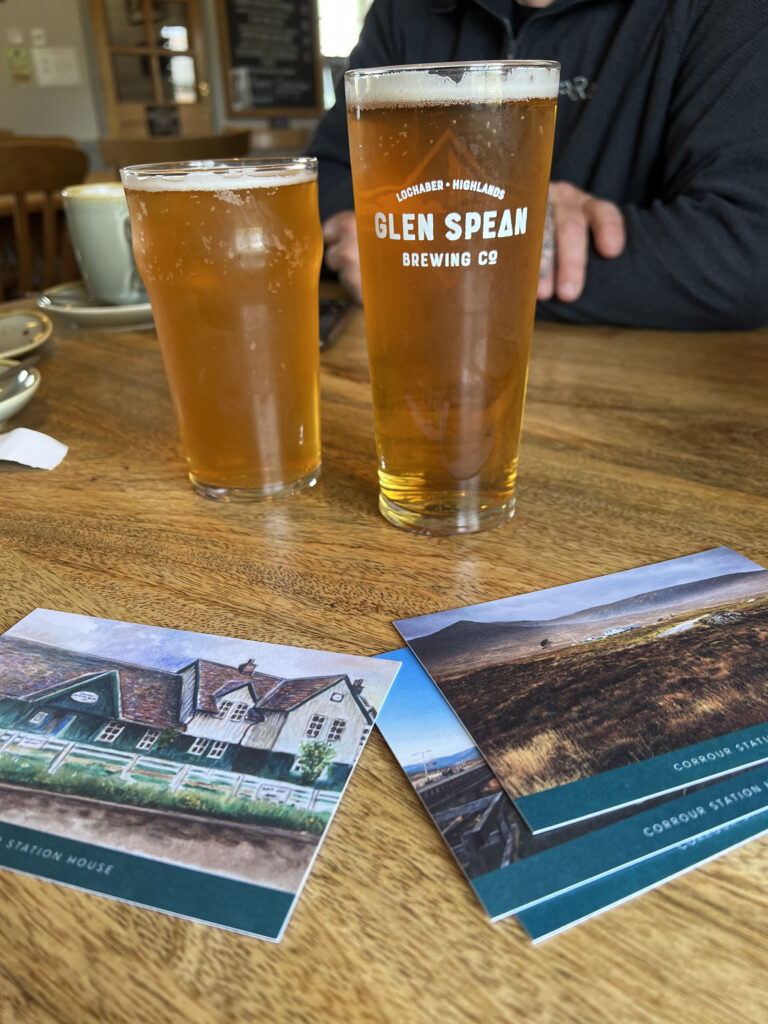 More pictures from our trip to Staoineag Bothy via Corrour Station:
[ngg src="galleries" ids="4″ display="basic_thumbnail" thumbnail_crop="0″ number_of_columns="4″]