Mark had the bright idea to go to Glencoe to do the epic Bidean nam Bian walk from the Three Sisters viewpoint and so we decided to make a night of it – our first #vanlife adventure since moving to Scotland last April! And it was so awesome I just had to write about it.
A few things to note:
It's July, #monthofbirthday (yay!), as well as peak tourist season (boo!)
Glencoe is VERY popular, particularly the Three Sisters viewpoint
We went on a weekend, guided by the forecast – we're discovering just how wet the west coast of Scotland is and you have to take advantage of good weather opportunities when they come!
We were keen on a van overnight but not so keen on crowds, so decided to try Glen Etive based on some intel from the Park4Night app and the general desire to not stay in one of the busy car parks on the main Glencoe pass.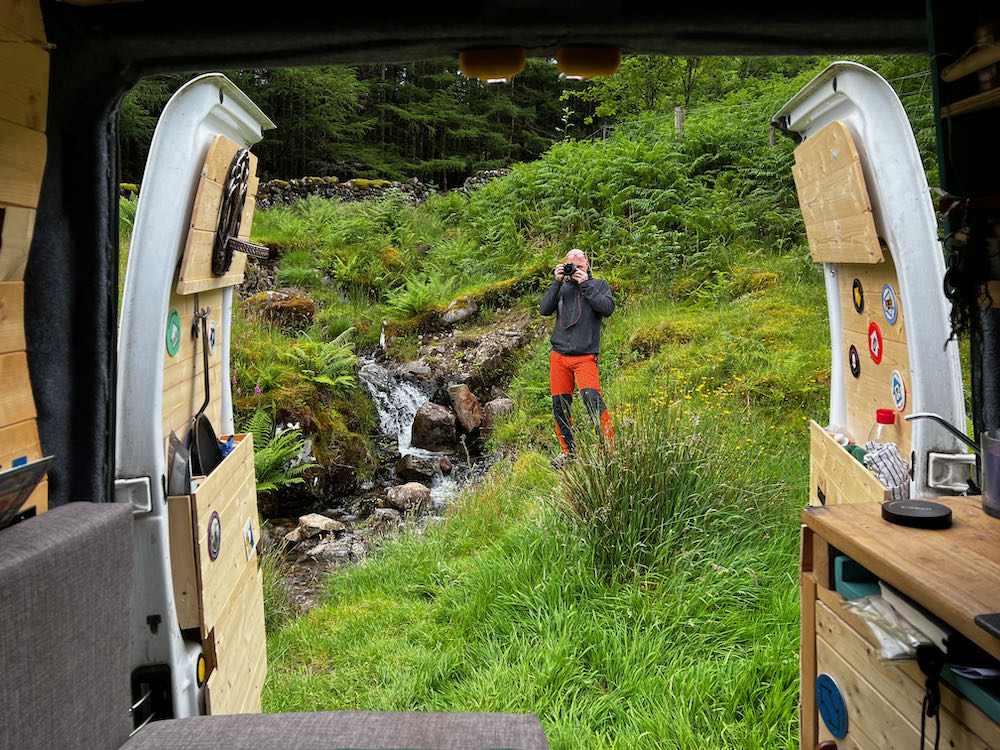 There were quite a lot of people parked up along Glen Etive, mostly camped by the river. The "done thing" seemed to be to park on the edges of passing places which was surprising. As we drove down the Glen – a beautiful drive alongside the River Etive – I started wondering if we'd find a spot. Nothing less than the best would do for our first van outing together. Then we hit the jackpot! A small parking area next to a burn (Grid Ref: NN16604 510019). Miraculously it was empty, and it stayed that a way for the rest of the night! To mark the occasion we had a gin and tonic (Tanqueray, Fever Tree Light, and grapefruit garnish) while Lucky took a load off after the taxing drive .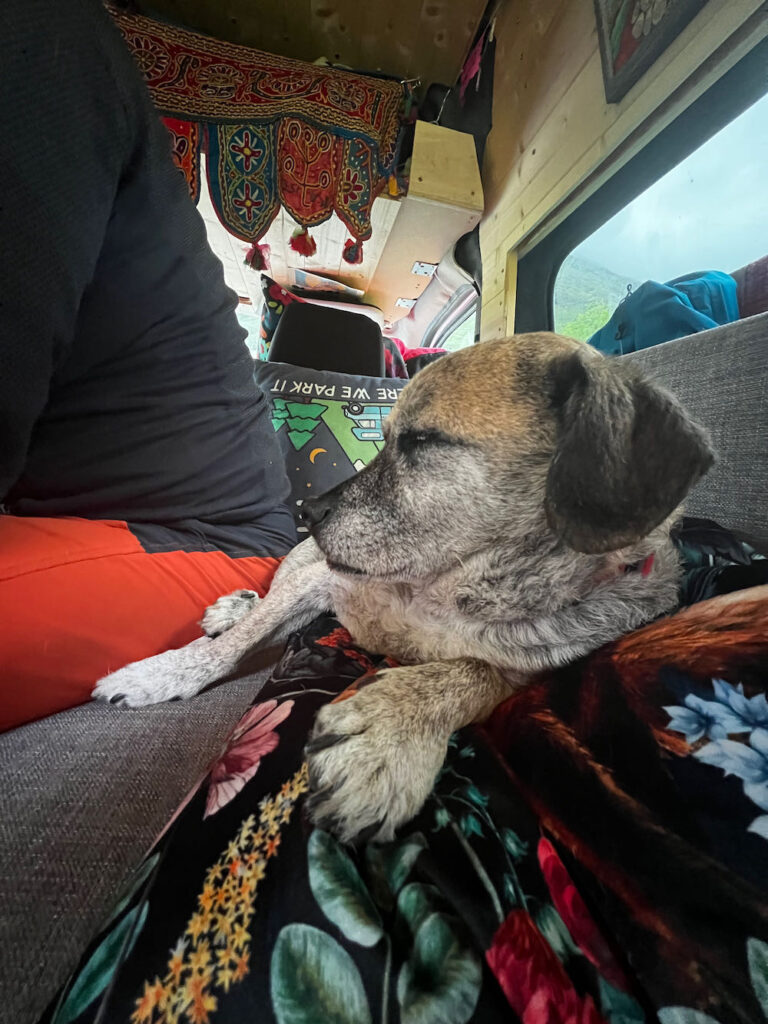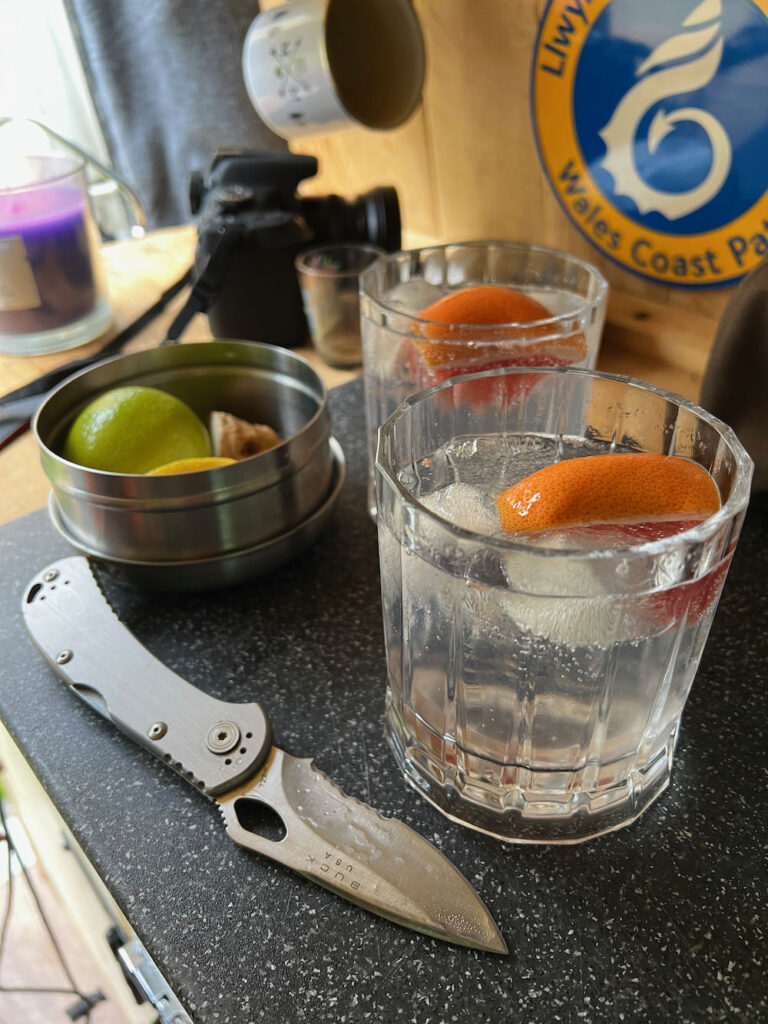 And for our first #vanlife dinner – Thai tofu red curry! Mark prepped the ingredients ahead:
Fried the curry paste and added coconut milk (I MUST share with you his bad ass Thai green curry paste recipe – stay tuned!)
Fried the tofu (coated in corn flour then deep fried – the best way to have tofu!)
Prepped some veggies
Then brought it all together in the van! It was so good I forgot to take a picture of it. Instead here's a picture of Mark preparing it – check out that tofu!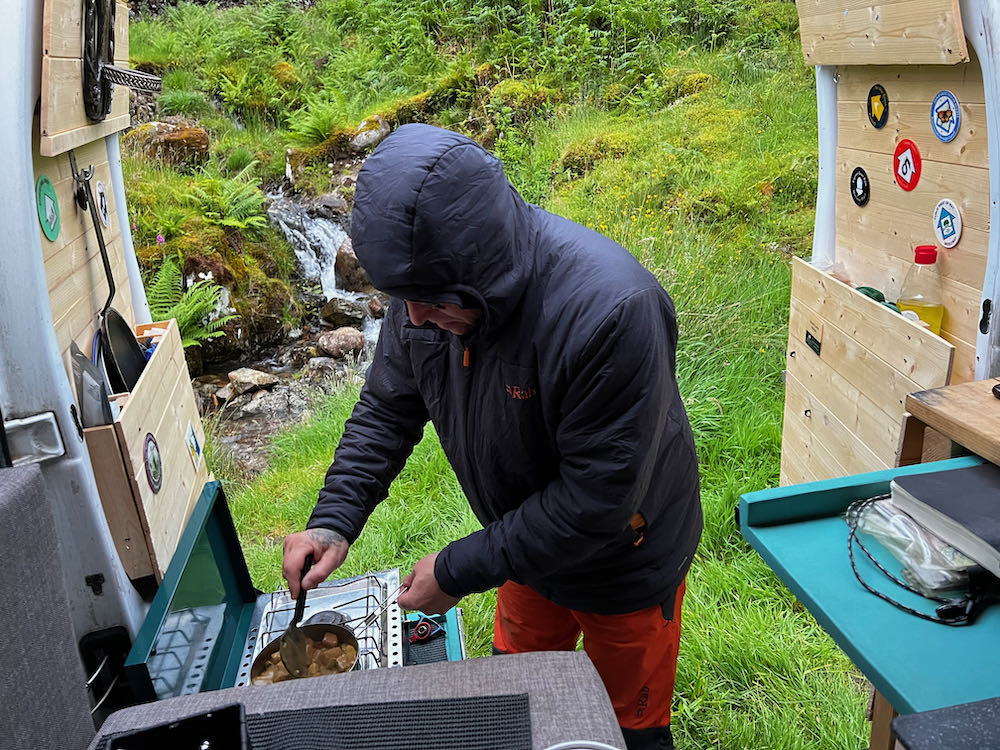 It's clear to see why Glen Etive is so popular for wild camping and van overnights: it's a beautiful place, surrounded by spectacular mountain scenery. It turned out to be the perfect place for our first van outing together. Even the midges weren't a bother (there were a few but nothing to detract from the magic!).
I've since learned that Glen Etive is a famous filming location for movies like Braveheart and Skyfall. This has contributed to a huge influx of visitors and the associated problems that come from crowds, particularly littering, flytipping, and abandoned campsites (see Cameron McNeishe's Glen Etive – Is It Being Spoiled By Partygoers?). So if you do decide to venture to Glen Etive or anywhere in Scotland for that matter, remember the leave no trace principles!
Fortunately our trip wasn't spoiled by partygoers or anyone else for that matter. We had the perfect night, all to ourselves, in a peaceful setting surrounded by nature. I couldn't have asked for a better first van night out with Mark in Scotland, and we're totally stoked for doing more! Cuz here's the amazing thing – this spot was just an hour and half from our house! Imagine all the other possibilities, within just a couple hours drive away. I can't wait. Again, as with so many things, this new life in Scotland just keeps getting better.