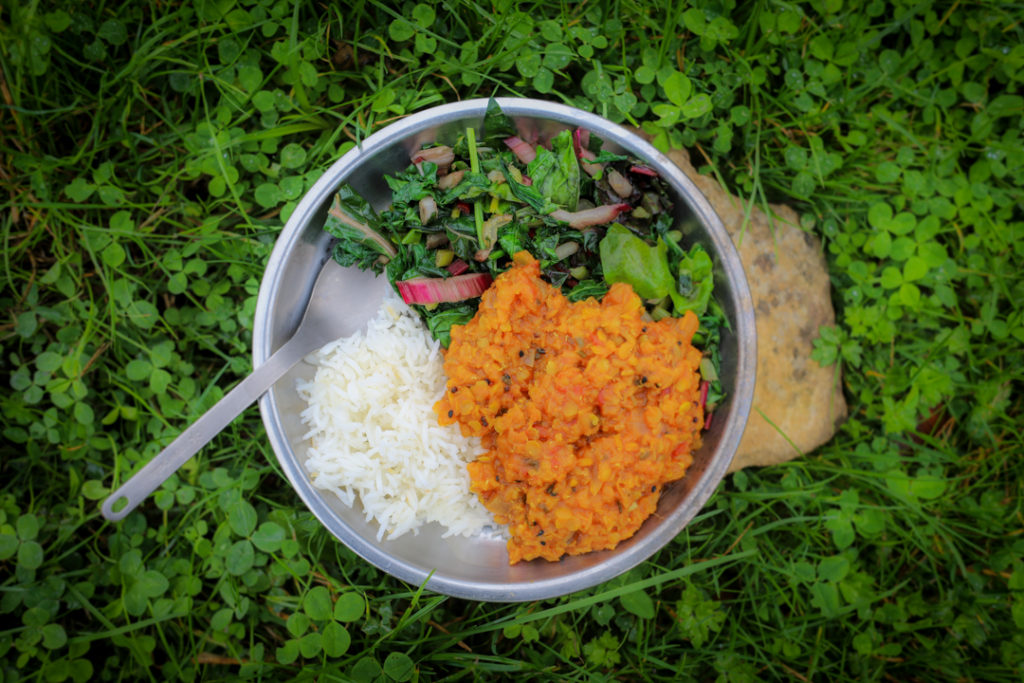 This red lentil dal is one of my favourite recipes of all time and one of the first dishes I turned into a dehydrated backpacking meal. I relish the flavours and aromas of Indian food, wherever I am, but especially out in the wild after a long day's trek.

The spices in the dal make it special – an Indian five spice blend of fenugreek, cumin, fennel, onion seeds and mustard seeds. You can buy pre-made "panch phoran" in Indian grocery stores but it's also easy enough to make yourself.

I use an Excalibur Dehydrator for recipes like this one. One of the benefits of this recipe is that you can blitz it up in a food processor after it dehydrates so that it's almost a powder. This makes it smaller and thus easier to pack. It also makes it faster to rehydrate. In this way I often enjoy it as a "soup" mid-day with a bit of sourdough bread or naan.

Benefits abound with this dal! It's highly nutritious, containing plenty of protein, complex carbohydrates, and fibre. It's also suitable for most dietary requirements being vegan, gluten-free, and nut-free.

If I'm having this as a wild camping dinner, I usually pair it with basmati rice, greens, and if I'm being fancy, some mango chutney and lime pickle I've packed in a small tupperware container.
You can add other vegetables to the dal if you'd like: cauliflower, carrots, swiss chard, and kale are all welcome additions. Just make sure they're diced finely so that they dehydrate successfully and don't take ages to rehydrate on the trail!
Red Lentil Dal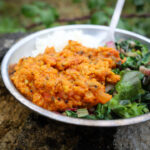 A dehydrated backpacking recipe for red lentil dal. This is one of my favourites. Works well as a soup for lunch or serve it along side rice or naan for a substantial dinner.
250 grams red lentils
4 cups water
1 teaspoon turmeric
olive oil
1 tablespoon panch phoran (see notes below)
10-20 curry leaves (optional)
1 large onion (diced)
2 cloves garlic (minced)
1 tsp ginger (minced)
400 g tinned diced tomatoes
pinch of chili flakes (optional)
salt to taste
2 cups chopped spinach (optional)
At home:
Combine the red lentils, water and turmeric in a pot. Bring to a boil then reduce heat and simmer until the dal is tender, about 20-30 minutes.
While the dal cooks, heat the olive oil in a large skillet. Add the panch phoran and curry leaves. As soon as the seeds start to pop, add the onion, garlic and ginger. Cook until the onion is soft (it should not brown). Add the tomatoes, cooked lentils, chili and salt. Cook for at least 10 minutes to allow the flavors to bend. Shortly before serving, add the chopped spinach and cook until the spinach is wilted.
Spread the dal onto dehydrator trays lined with nonstick sheets or parchment paper. Dehydrate at 63C/145F for 8-10 hours until totally dry. If you'd like, put the dehydrated dal in a food processor and pulse a few times to break it up into a finer powder. Vac pac or store in baggies until ready to use.
At camp:
Put the dehydrated dal into a pot and cover with water.
Place pot over medium heat and bring to a boil.
Turn down the heat and cook, stirring occasionally, for about 3-10 minutes, until fully rehydrated (it will take less time to rehydrate if you've pulsed up the dal before hand).
Serve with basmati rice and/or naan bread if you'd like. To really pimp your meal, bring along a little chutney, pickle, and yoghurt to garnish!
292 Calories | 5g Fat | 47g Carbs | 18g Protein
To make your own panch phoran, combine in a jar equal parts of fenugreek seeds, mustard seeds, onion seed, fennel seeds and cumin seeds. Mix well and you're ready to go!

See also this dehydrator recipe for tarka dhal as well as my full collection of vegan wild camping recipes.
(Disclaimer: this post contains affiliate links which help contribute to the cost of running this website and providing you with awesome reviews and trip reports. Thank you for your support!)