Indian dhals are a great dehydrator option for wild camping meals. They dehydrate well, pack down nicely, and rehydrate very quickly at camp. Whenever I make dhal, I make a huge batch – some I freeze for lunch leftovers or quick meals, the rest I dehydrate for my next adventure.
This Tarka Dhal is super tasty and comes courtesy of chef Erin Baker. Erin runs the Natural Cookery School near Stroud in Gloucestershire, UK and is one of my heroes when it comes to vegetarian recipes. I love that she takes her inspiration from world cuisines that naturally lend themselves to delicious vegetarian dishes. Indian is a great example of this. And when it comes to camping, Indian food has to be one of the most welcome wild camping meals, especially when the weather is cold and damp.
This recipe comes from Erin's latest book The Veg Table – Vegetarian & Vegan Recipes Inspired by Tables Around the World. My personal favourites are the Indian and Mexican recipes. The book also includes a recipe for Naan Bread with Garlic, Coriander, and Nigella Seeds that is SO good and also travels really well in a backpack. Tarka Dhal, naan, maybe some yoghurt and lime pickle? These are the wild camping dinners of my dreams!
"Dhal simply means pulse; this explains the range of different types of dhal you can get. This recipe uses channa dhal or yellow split peas to create a creamy, velvety textured dhal. Channa dhal does take a bit longer to cook, but it's well worth the effort. Tarka means seasoning. The tarka is based on lots of garlic, cumin seeds, and amchoor powder. Amchoor is made from dried mangos and gives a gorgeous lemony taste to the dhal."
In addition to being delicious this dal is packed with protein and when combined with rice makes for a hearty and complete meal, perfect refuel after a long day hiking.
A couple top tips to make the most of your wild camping dehydrated dhal:
For a dose of extra vegetables at camp without having to carry fresh ingredients, add a handful of greens such as spinach or chard to the cooked dhal at the end of cooking. You could also add small pieces of other vegetables such as chopped carrot, cauliflower, or courgettes. Whatever you do, just make sure you chop your vegetables into small pieces so that they are able to dehydrate effectively.
Serve with pre-made naan bread or cooked rice to make this a complete meal. I also like to carry along a small amount of yoghurt or toasted cashews to add extra protein and healthy fats.
For a treat, bring a small container of lime pickle and/or mango chutney to make this feel even extra gourmet!
With thanks to Erin for giving me permission to share this recipe. Check out the Natural Cookery School and buy her book!
You might also like
Tarka Dhal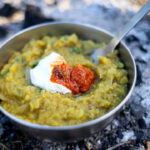 200 g channa dhal or yellow split peas
1/2 tsp turmeric
salt to taste
5 cm fresh ginger (peeled)
1 green chilli (seeds removed)
1 Tbsp ghee, coconut oil, or vegetable oil
1 tsp cumin seeds
1/2 tsp asafoetida
1 large onion (thinly sliced)
1 tsp ground coriander
1 tsp amchoor powder / dry mango powder
Optional Add Ons
fresh coriander leaves
naan bread
cooked rice
yoghurt
mango chutney
lime pickle
At home:
Soak the dhal for 1 hour, then drain and rinse. Place in a pot with the turmeric and cover with 1 litre of water. Bring to a boil and skim off any scum that rises to the surface. Reduce to a simmer and cover with the lid slightly ajar. Cook until the dhal is tender, about 1-1.5 hours, stirring occasionally. Check regularly to make sure the dhal is not sticking and add more water if needed, only a little at a time. When almost done add salt to taste. Pulses are very bland and it will take more salt than you think. Don't salt until now as this will prevent the dhal from softening.

Make a paste with the ginger, garlic and chilli in a food processor, mortar and pestle or chop/grate finely by hand. Heat a thick pan (cast iron if you have it) and melt the ghee or oil. Add the cumin seeds and asafoetida. When the seeds start to sputter, cook carefully for a minute so as not to burn then add the onion with a pinch of salt. Cook until the onion begins to turn brown; if it starts to catch, splash with a bit of water and turn the heat down a little, this will take 10-15 minutes.

Add the ginger, garlic and chilli mixture and stir, then add the remaining dry spices, stir and cook for a minute. Remove the pan from the heat and pour over the cooked dhal. Stir in, taste and adjust the seasoning.
Reserve some or all of your dhal to dehydrate. Leave until it's cool enough to handle.
Spread the dhal onto dehydrator trays lined with nonstick sheets or parchment paper. Dehydrate at 63C/145F for 8-10 hours until totally dry. Vac pac or store in baggies until ready to use. Optionally, you can blitz your dried dhal in a food processor to reduce bulk before packing away.
At camp
Put the dehydrated dhal into a pot and cover with water.

Place pot over medium heat and bring to a boil.
Turn down the heat and cook, stirring occasionally, for about 5-10 minutes, until fully rehydrated.

Serve with rice or naan, fresh coriander, lime pickle, chutney, and yoghurt if you have it.
220 Calories | 4g Fat | 35g Carbs | 12g Protein