Last winter I picked up a Thermos Stainless King Food Flask
for hiking, spurred on by cooler weather and the desire to enjoy hot food while on the trail. It's become an indispensable piece of kit for outdoor adventures so I thought I'd write a little review to expound on its virtues. Now that I've had it for a few months, I don't know how I went without it for so long – it is the best container for keeping food hot for hours. (No, this is not a sponsored post, in case you're wondering.)
My first outing with the Thermos Food Flask was on a coastal walk in Pembrokeshire around Strumble Head on a cold and breezy January day. I had made a broccoli stilton soup with some Christmas leftovers which I brought with me in the Thermos. After a few hours walking I took a break for lunch, stopping near Strumble Head lighthouse, not a soul around except me and my dog. When I opened my soup I knew then that the flask was a game changer! It totally made the scene and was so welcome on this particularly cold day!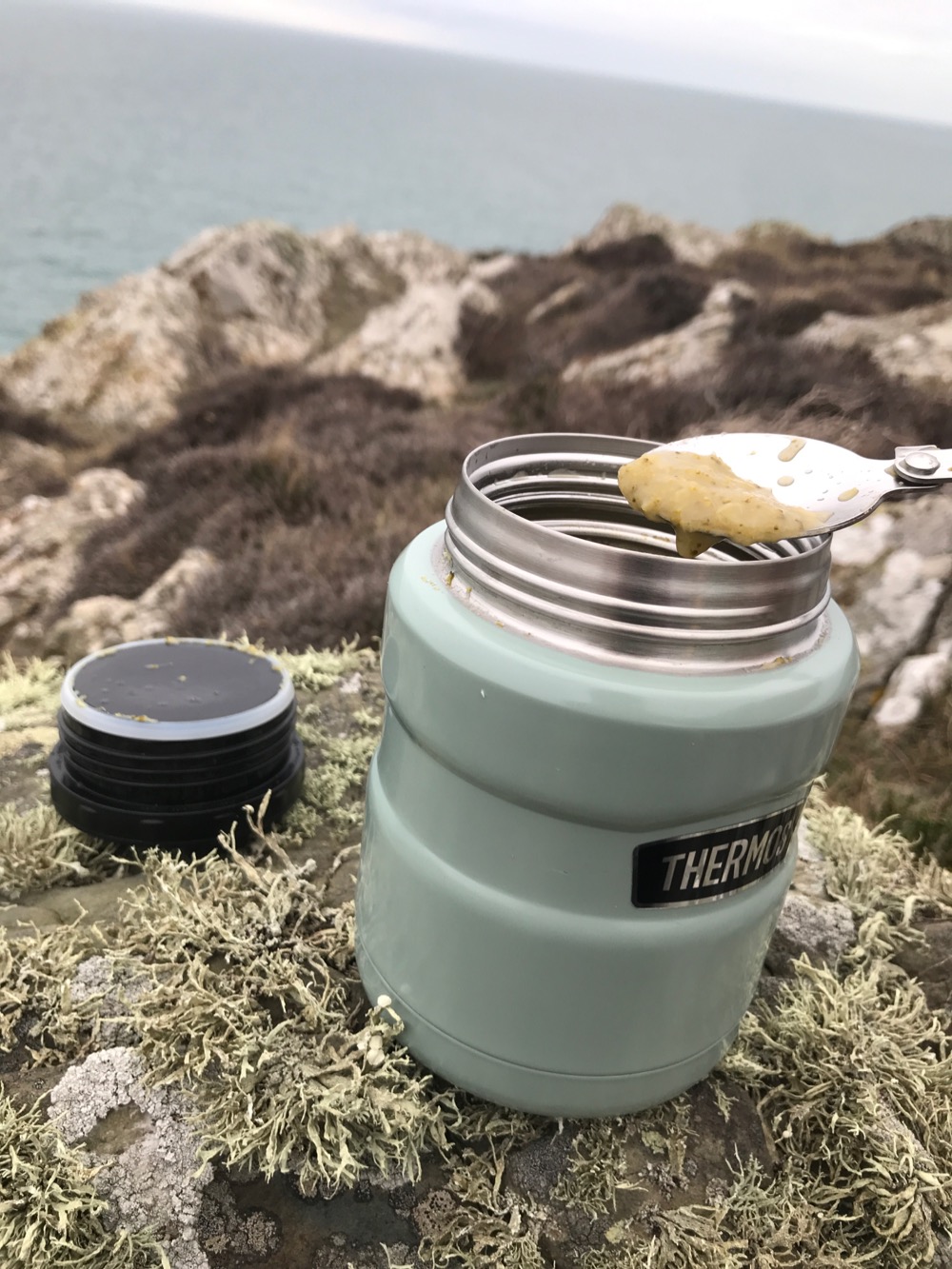 At its core functionality, the Thermos Food Flask does a great job of keeping food hot for long periods of time, making it a terrific asset for hiking. It has a built-in spoon which is pretty cool but a downside if you're left-handed (like me) as the spoon tends to collapse upon itself while you're using it. On the plus side, it's a great excuse to practice skills at being ambidextrous.
My typical move is to heat up the soup at home before I set off. It's usually at least 6-8 hours before I open the Thermos and the food has always been steaming. It seems to work best with hefty soups and stews, especially things with lots of chunky potatoes, carrots, and that sort of thing – chunkier foods tend to retain heat better and they're also far more satisfying to eat if you've been walking up a mountain all day.


Is the Thermos Food Flask good for multi-day trips? The verdict is still out on that. It weighs 380 grams so isn't exactly lightweight. Andrew took it on a 3-day trip in the Rhinogs and pretty much ate all of his meals out of it, and liked that he was able to keep food hot at camp while prepping other aspects of his multi-course meal (that's how we roll). That said, if you're looking to reduce the weight of your pack, this is probably overkill, especially if you're already carrying a stove and can heat stuff up on the fly. But for day walks, the Thermos Food Flask is brilliant.
A few key features:
Thermos® vacuum insulation technology for maximum temperature retention, hot or cold (it does work)
Duarable stainless steel interior and exterior (and multiple colours to choose from!)
Cool to the touch with hot liquids, sweat-proof with cold
Extra wide mouth is easy to fill, serve from and clean
Insulated stainless steel lid doubles as a serving bowl (or a dog water bowl)
Full-size folding stainless steel spoon (designed for right-handed people, you've been warned!)
BPA Free
50 year guarantee
Capacity: 470ml
Dimesions: 14.2cm x 9.4cm (Height x Diameter)
Weight approx: 380 grams
Where to buy: I purchased mine on Amazon

I bought my 470ml Thermos Stainless King Flask on Amazon (there's also a 710ml version). There are loads of similar food flasks out there which I'm sure work perfectly well. I went with Thermos because I already own two other Thermos brand flasks and know them to be very good. Whatever you do, if you want to amp up your hiking lunches I highly recommend acquiring some kind of wide-mouth insulated flask. It's a real treat, especially when the weather is brutal, to warm up with something hot and comforting. And to make things even cosier, take a group shelter with you – you will laugh in the face of high winds and heavy rain as you hunker safe and secure in your little cocoon feasting on a piping hot stew. Those little moments can make facing the weather a whole lot more tolerable. Sure, you might argue that you'd be better off just staying at home, but what's the fun in that?!


A few favourite things I've enjoyed from the Thermos Stainless Food Flask: