The Skye Trail is an unofficial walking route across the Isle of Skye in Scotland taking in some of the most epic landscapes of the island: wild headlands, epic ridges, towering mountain summits, eerie remains of abandoned villages, fascinating geological formations, and miles and miles of unspoiled scenery. This is the stuff that wild camping dreams are made of, and indeed Skye is a great place to go as a backpacking and wild camping trip.
In July 2019, Andrew and I walked the Skye Trail with our dog, Lucky. In this post I share our observations from the trip, including learning points, trip notes, itinerary, and general advice around wild camping along the Skye Trail and walking the Skye Trail with a dog. To see more photos visit my Skye Trail Flickr Gallery.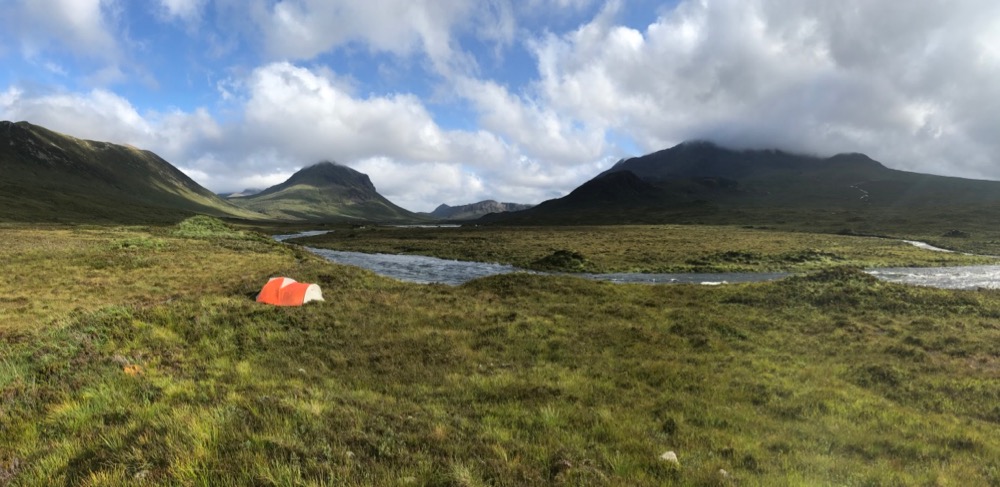 About the Skye Trail
The Skye Trail is not waymarked but relies on a combination of footpaths, road, and open moorland to cover the distance from the north to the south end of Skye.
The route according to the Cicerone guide covers 80 miles and 3985m of ascent.
We opted for a few of the higher variants so covers about 70 miles and 4,414 metres of ascent.
Useful guides
Conditions
We walked the Skye Trail in July and had great weather for most of the trip. The first 3 days were clear, still, hot, and sunny. Day 4 saw the rain come in so we took a rest day. Days 5 and 6 were variable with intermittent rain and mild temperatures. Day 7 was once again clear, hot and sunny.
We did battle with our fare share of midges, mostly during morning and evening, and were grateful to have made the investment in head nets, and Deet of course (I like the Lifesystems Expedition Deet 100+ Insect Repellent but most shops in Scotland sell Smidge which is very popular).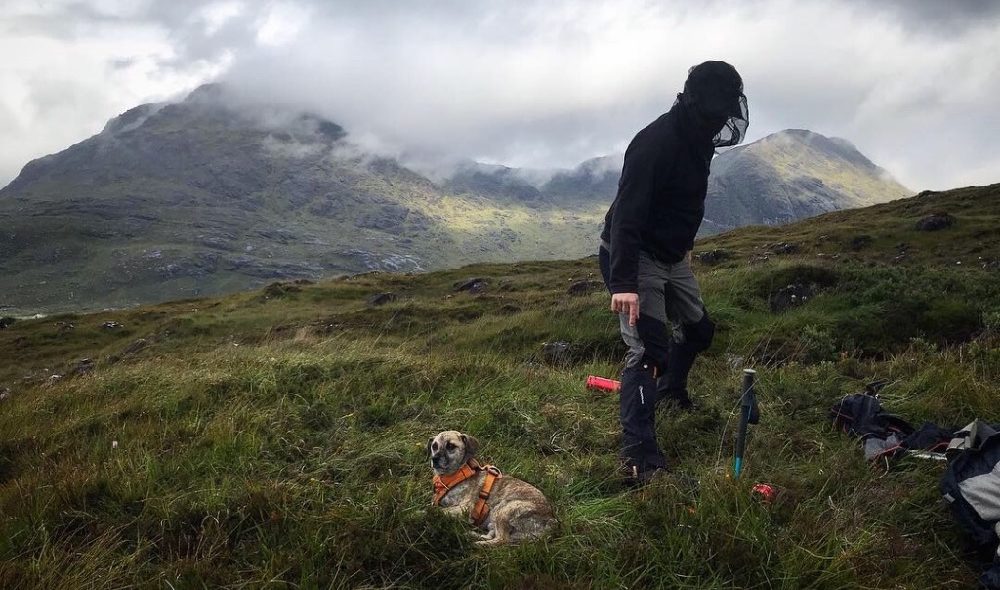 Skye Trail: Choosing a Route
As mentioned, the Skye Trail is an unofficial route with the objective of crossing the Island from North to South or vice versa. As such, there are varied options for approaching the route. We chose to do the route from North to South, but I've read other reports favouring the South to North approach so as to walk with the prevailing wind. I'm sure both directions are sensational!
A couple other key areas where you have some options are around the Trotternish Ridge and the Bla Bheinn Munro. Your choice will depend on a few things including weather and whether you're willing to carry enough supplies to avoid stopping in villages with cafés and/or shops. If you complete the Skye Trail as we did, you end up walking fewer miles but gaining more ascent (70 miles and 4,414m versus the 80mi and 3,985m detailed in the Cicerone guide).
Trotternish Ridge versus the coastal route to Portree (Stages 1-3)
There are a couple options for getting between Rubha Hunish and Portree. The Cicerone guide takes the coastal approach, where you start at Rubha Hunish and finish day one at Flodigarry (which has a campsite) and day two at the Storr car park (requiring a bus to Portree for accommodation). This cuts off the beginning and end of the Trotternish Ridge, but also takes in some great coastline. If you're at all like us, you might find some appeal in taking on the whole of the Trotternish Ridge from beginning to end – this is shown in the Harvey Map and we chose to take this approach, lured by the sense of completeness, and a love for the high road!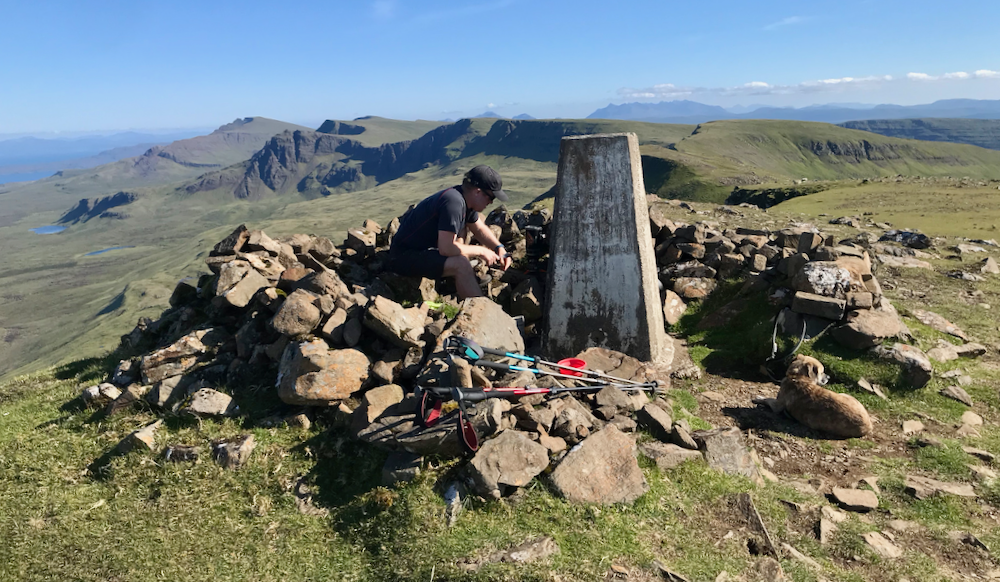 Bla Bheinn Munro versus the coastal route via Elgol (Stages 6-7)
Again we opted for the high road here and decided to take on the Bla Bheinn Munro, thus skipping Elgol which is meant to be lovely and is also a resupply point with a village shop and cafe. This choice meant we had to carry four days worth of food, which fortunately we mostly processed before the Munro. We lucked out with weather and the Munro day became the highlight of the whole trip. The views literally are "unforgettable" (see Day 7 below).

Preparing for the Skye Trail
As the book says, the Skye Trail is a "challenging backpacking route" so a good amount of fitness certainly helps. Andrew and I don't live in the mountains so don't have the kind of built-in on tap hill fitness that people get from doing mountain stuff all the time. That said, we do keep up a general level of fitness through activities such as CrossFit, cycling, and taking local walks in the Cotswolds where we live. We found that, with a decent base level of fitness, that it only took a couple days for us to become conditioned to the Skye environment; the itinerary given in the Cicerone guide was very doable.
The book also says "your enjoyment of the route will be enhanced by getting the balance right between carrying as lightweight a pack as possible while still having enough gear to be safe and comfortable". We spent quite a bit of time before the trip getting our pack weight to be as light as possible. This was particularly important because with our choice of route, our only real re-supply point was Portree, so we were going to need to carry lots of food (and food for the dog, too!). For help with reducing your pack weight, I highly recommend the website LighterPack.com. It's a great tool for cataloguing all of your gear and fine tuning your pack to avoid carrying excess weight. (Though for myself, as a 5 ft tall person, no matter what I do my pack always looks huge!)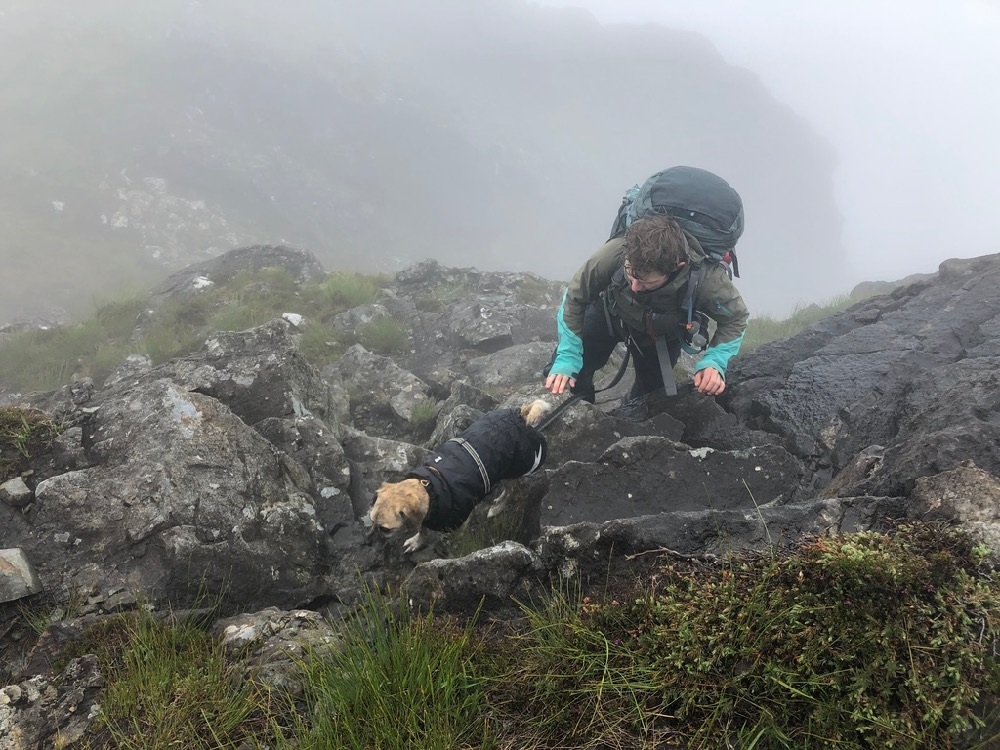 Skye Trail Navigation
Skills with a map and compass are definitely required for the Skye Trail. This is an unwaymarked route so there are no "Skye Trail" signs to reassure you you're on the right path. In fact, sometimes there are no paths at all! Map and compass skills are particularly important in poor weather and low visibility (we found this on Bla Bheinn). A GPS device or smartphone is a good backup – I use ViewRanger on my iPhone.
Logistics: Getting to and from the Skye Trail
The Cicerone guide details public transport options from Glasgow and Inverness. We opted to drive to Broadford where we planned to leave our car, then take a bus to Rhuba Hunish. I had wondered where in Broadford we could safely leave our car for the 7 or so days of the Skye Trail. Ultimately I asked our Airbnb host who graciously let us leave our car on their site. I read of another person leaving their car with a B&B, so if you do plan to drive to Skye and stay over somewhere in Broadford before starting the route, it's worth asking your host about parking options.
One other point about parking: it seems to make sense to leave the car in Broadford as the Rubha Hunish area is sparsely populated with few secure places to leave a car for days on end (as far as I could tell).
Wild Camping on the Skye Trail
It's very easy to wild camp on Skye! There are copious options along the route, and chances are you won't have any neighbours. Water shouldn't be a problem, except potentially on the Trotternish Ridge.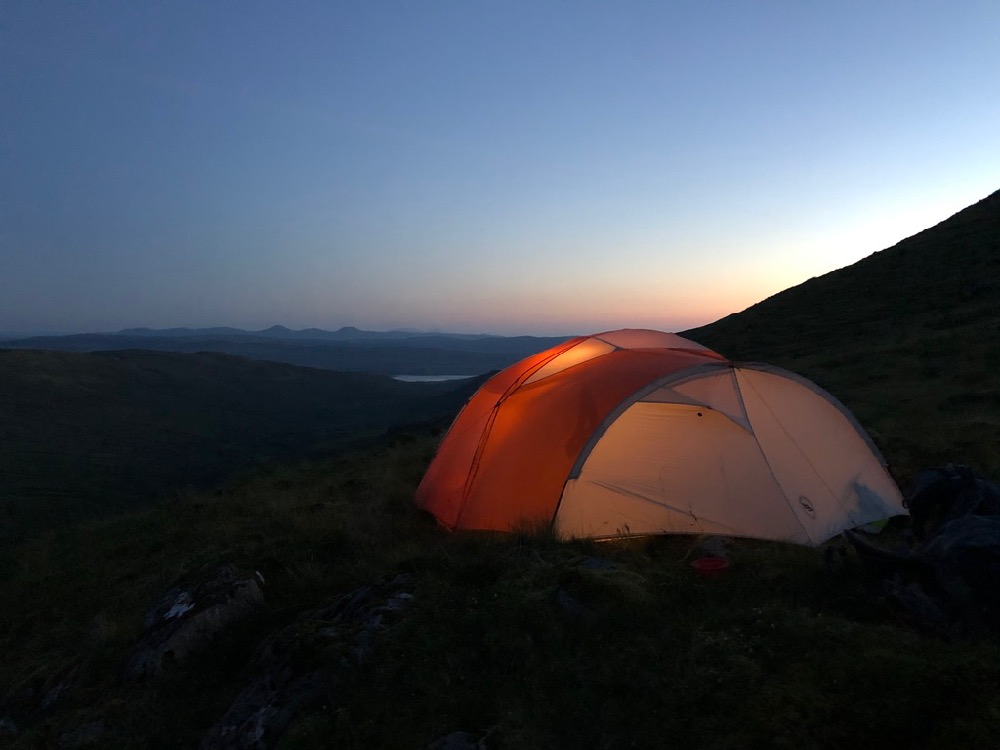 Walking the Skye Trail with a dog
We loved having our adventure dog Lucky with us! If you're thinking about taking your dog on the Skye Trail, here are a few things to keep in mind:
Busses: Both StageCoach busses and CityLink busses operate on Skye and run between all the major stops. CityLink busses don't allow dogs but StateCoach busses are generally fine (dogs are allowed at the driver's discretion).
Sheep: Many areas along the Skye Trail are croft land and are heaving with sheep! So if your dog isn't good with sheep (ours isn't) be prepared to spend a lot of time with your dog on the lead. For this purpose I'm a big fan of the Ruffwear Roamer Lead which attaches to the waist and makes it doable to keep the dog on the lead while still using trekking poles.
Fitness: It goes without saying but only take your dog if you can be confident that he or she is fit enough to walk for days and days on end. Our terrier is very fit and managed just fine but he pretty much slept whenever we weren't on the move!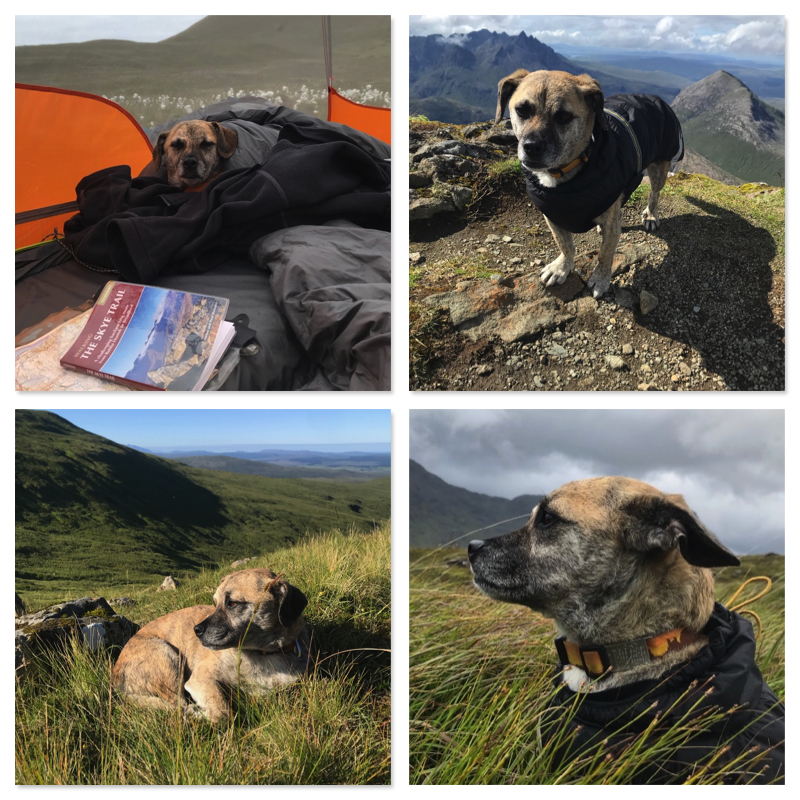 Skye Trail Trip Summary
Total distance: 70 miles
Total ascent: 4,414metres
Stage
Summary 
Stats
1
Rubha Hunish to the northern foot of the Trotternish Ridge
Distance: 12km (7.5 miles)
Ascent: 379m
Start / Finish: ~3pm / ~7pm
2
The Trotternish Ridge (Sron Vourlinn to Hartaval)
Distance: 20km (12.5 miles)
Ascent: 1417m
Start / Finish: 10am / 10pm
3
Hartaval to Portree (to finish the Trotternish Ridge)
Distance: 17.2km (10.7 miles)
Ascent: 696m
Start / Finish: 9:30am / 4pm
4
Portree to Glen Sligachan
Distance: 20.6km (12.8 miles)
Ascent: 372m
Start / Finish: 9am / 6pm
5
Rest Day
6
Glen Sligachan to Camasunary Bay
Distance: 11km (7 miles)
Ascent: 232m
Start / Finish: 8:30am / 3pm
7
Camasunary Bay to Torrin via the Bla Bheinn Munro
Distance: 8km (5 miles)
Ascent: 879m
Start / Finish: 9:30am / 6pm
8
Torrin to Broadford
Distance:  21.7km (13.5 miles)
Ascent: 439m
Start / Finish: 11:30am / 6:30pm
Skye Trail Trip Notes
Day 1: Rubha Hunish to the northern foot of the Trotternish Ridge
Distance: 12km (7.5 miles)
Ascent: 379m
Conditions: Clear skies, light breeze, dry
Start / Finish: ~3pm / ~7pm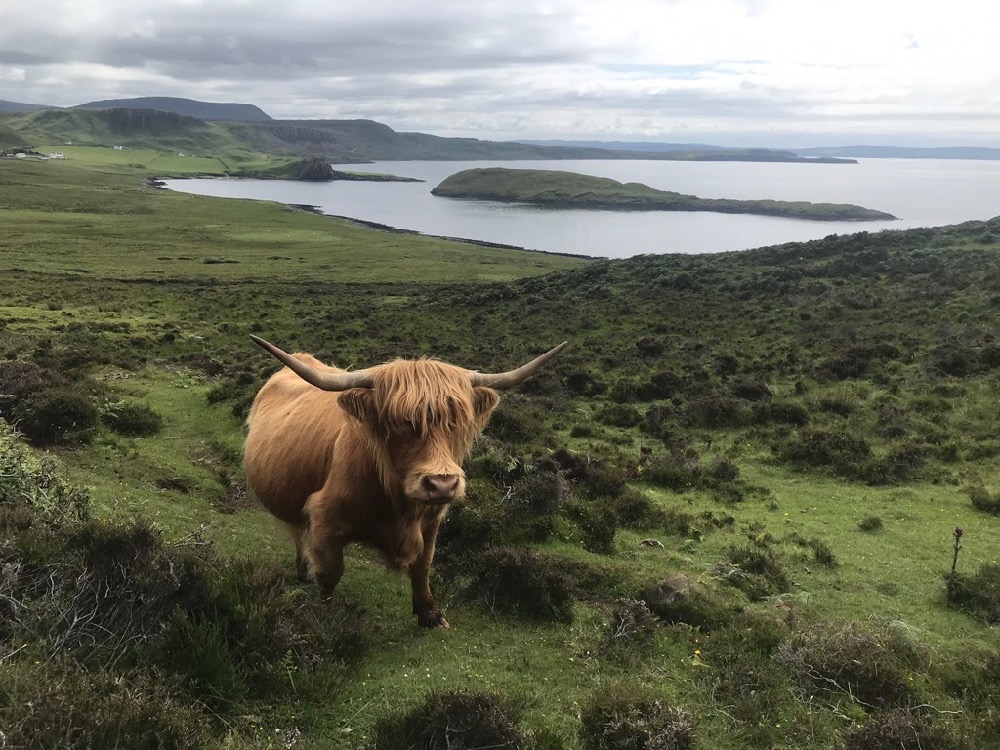 The night prior to starting our trip we stayed at an Airbnb near Broadford. Our hosts kindly let us keep our car parked at their home for our trip, which answered one of my trip planning questions: where to park our car for the Skye Trail? (See above for details.) Our plan then was to take a bus from Broadford to Rubha Hunish. We waited about 30 minutes for a bus only to discover that CityLink busses don't allow dogs (unless they're in a cage, which seems weird). Dogs are generally fine on StageCoach busses. We ended up calling around for a taxi and thankfully found one that was happy to take us and our dog to the north of the island for the sum of £97. Not as frugal as the bus, but it got us where we wanted to be, admittedly a bit later than we hoped! Top tip: if you need a taxi I highly recommend Gus's Taxi. Very friendly and our driver, Helen, was incredibly sweet with our dog.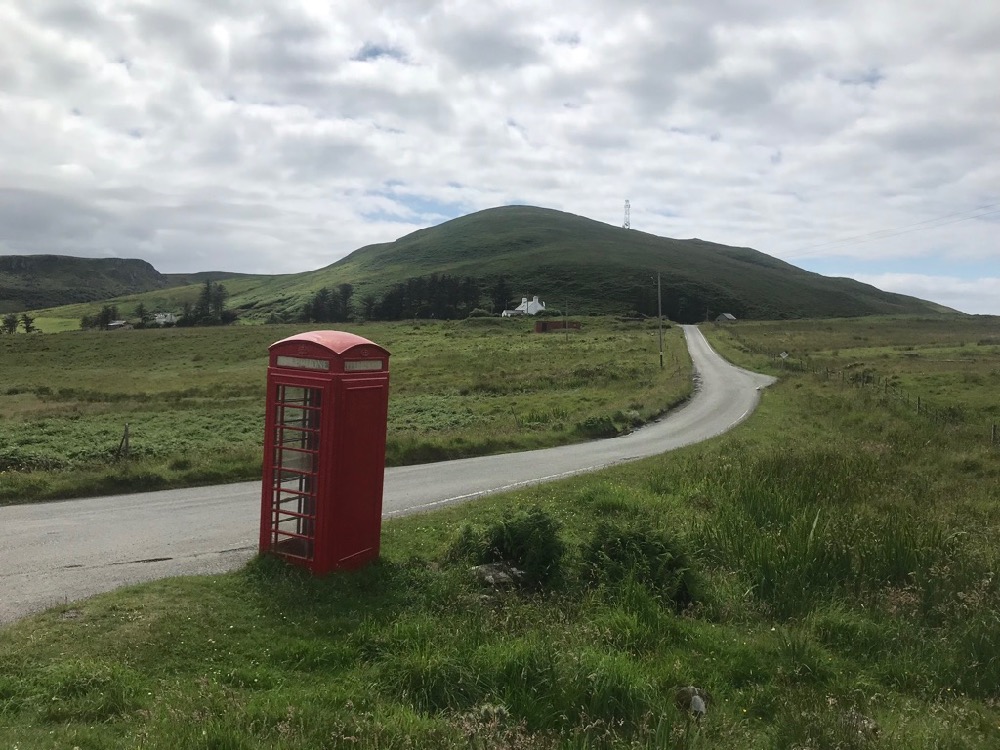 Fortunately the days are long during the Scottish summer so despite the late start we still had plenty of time to complete our Day 1 walk as planned. It begins at the telephone booth near Shulista. From here we walked north to Rubha Hunish and the iconic bothy overlooking the headland. It's an idyllic spot that was a little ruined by a nice but overly social character at the bothy who seemed overly keen on us staying to camp and have "beer and ribs" with him on his portable bbq. Needless to say, we declined the offer (that is, got away as quickly as possible).


It was well worth spending a bit of time exploring the headland, which requires a small detour down a steep but straightforward path (we stashed our big packs for this). The headland was very calm but I can imagine in rougher weather the sea would be wonderfully dramatic. This is a haven for wildlife and I even spotted a seal!


The route follows the coastline – you can take this all the way to Flodigarry or do as we did and diverge to catch the start of the Trotternish Ridge (shown on the Harvey Map). We walked south from Kilmaluag to Conista then along the river Lon Horro to just below Sron Vourlinn (the start of the Trotternish Ridge) where we wild camped for the night. As it was still there were a fare few midges and were glad thought to bring head nets along.


We fuelled up on lentil bolognese and pasta, with dark chocolate and a dram of Talisker for dessert, before crashing out and resting up for our big ridge walk the next day.
Day 2: The Trotternish Ridge (Sron Vourlinn to Hartaval)
Distance: 20km (12.5 miles)
Ascent: 1417m
Conditions: Clear skies, sunny, light breeze (amazing), dry
Start / Finish: 10am / 10pm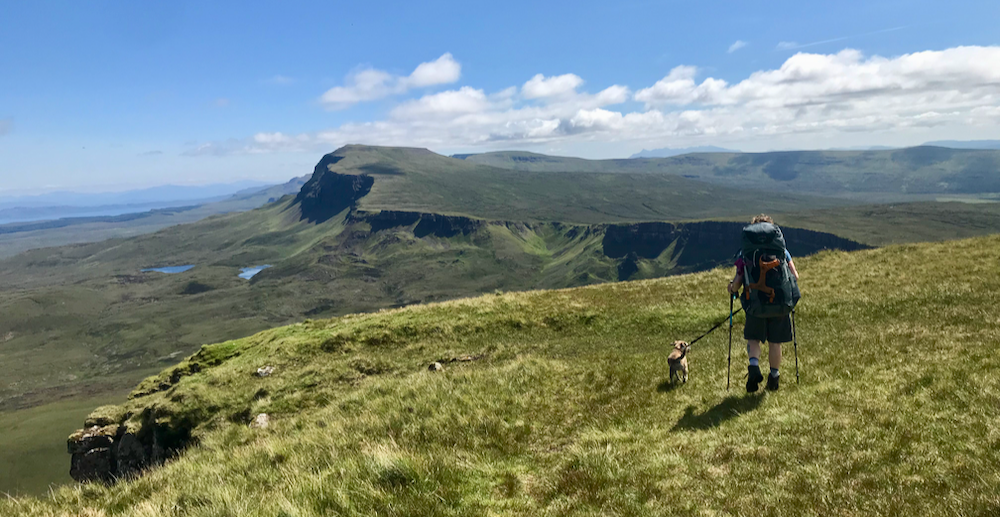 We knew from the guide book that this would potentially be the hardest day, and indeed it was – even harder than the Bla Bheinn Munro (see Day 7). The Trotternish Ridge is essentially a series of ascents and descents. There are no seriously high summits, but the overall accumulation of uphill and downhill walking takes its toll, physically, but the journey is hugely motivating, especially on a clear day. The views from the ridge are amazing, with the Cuillin mountains looming in the distance enticing you to keep moving.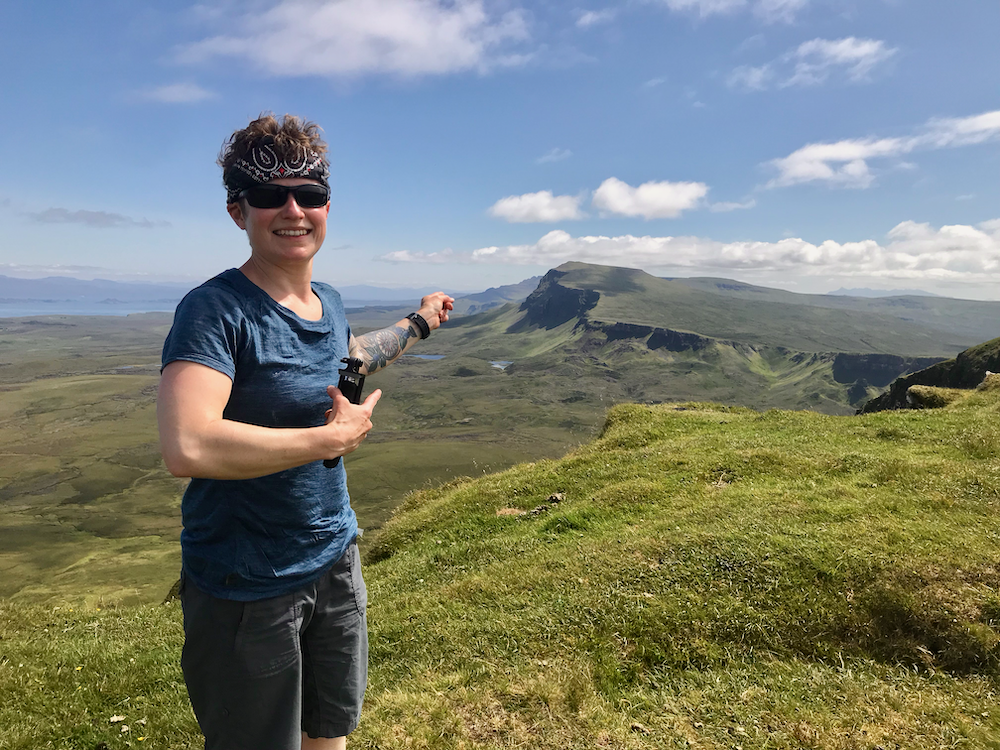 The section along the Quiraing is both dramatically wild with its cliffs and pinnacles but also quite busy with tourists.


The trig point at Being Edra has some shelter and is a good place to stop for a bit of refreshment and to take in the incredible vista.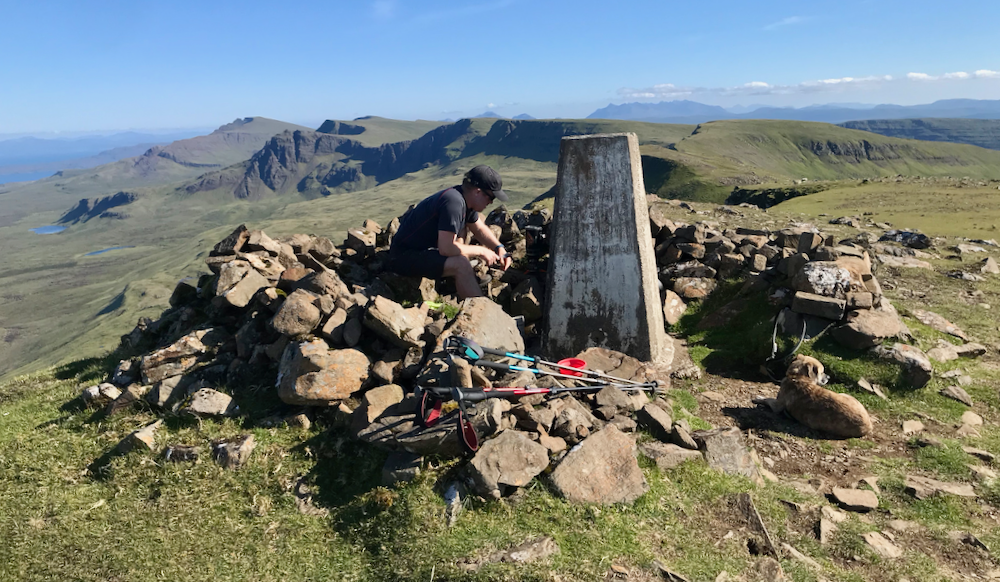 On the plus side, lots of tourists meant there was a snack van in the car park after the Quiraing where we could get a cold drink on this scorchingly hot day (and Andrew and Lucky could share a burger!). Our hope was to make it past The Storr and wild camp on the ridge.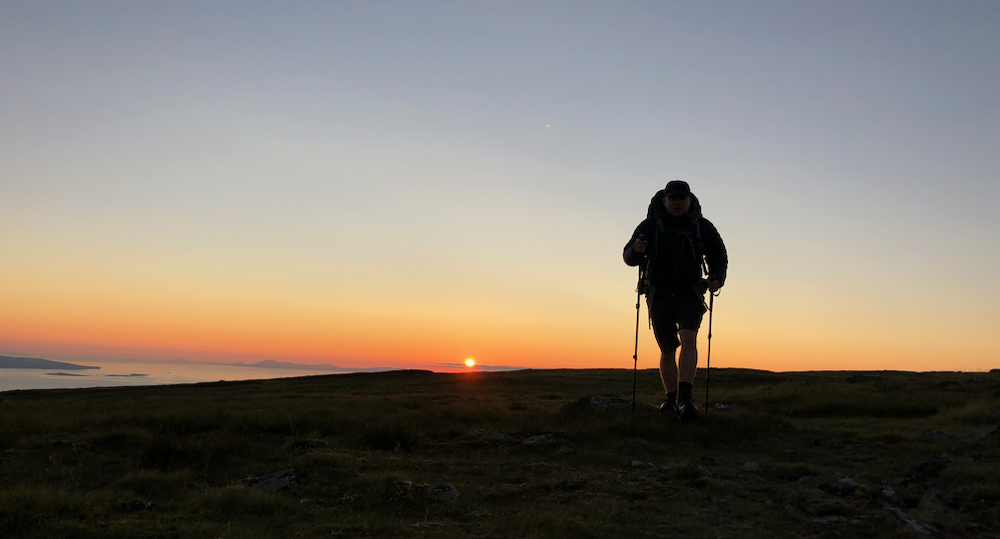 We got close but not quite, finishing just below Hartaval at around 10pm where we were relieved to find a few streams (water is scarce on the Trotternish Ridge, but the odd stream does exist – these are indicated on the map but you can't always count on them!). I saw a shooting star as we set up our tent which made the scene quite magical! After such a long day it was welcome to cozy up in the tent and have an epic sleep before taking on The Storr!


Day 3: Hartaval to Portree (to finish the Trotternish Ridge)
Distance: 17.2km (10.7 miles)
Ascent: 696m
Conditions: Light cloud, light wind (Andrew almost lost his hat), hot, dry
Start / Finish: 9am / 4pm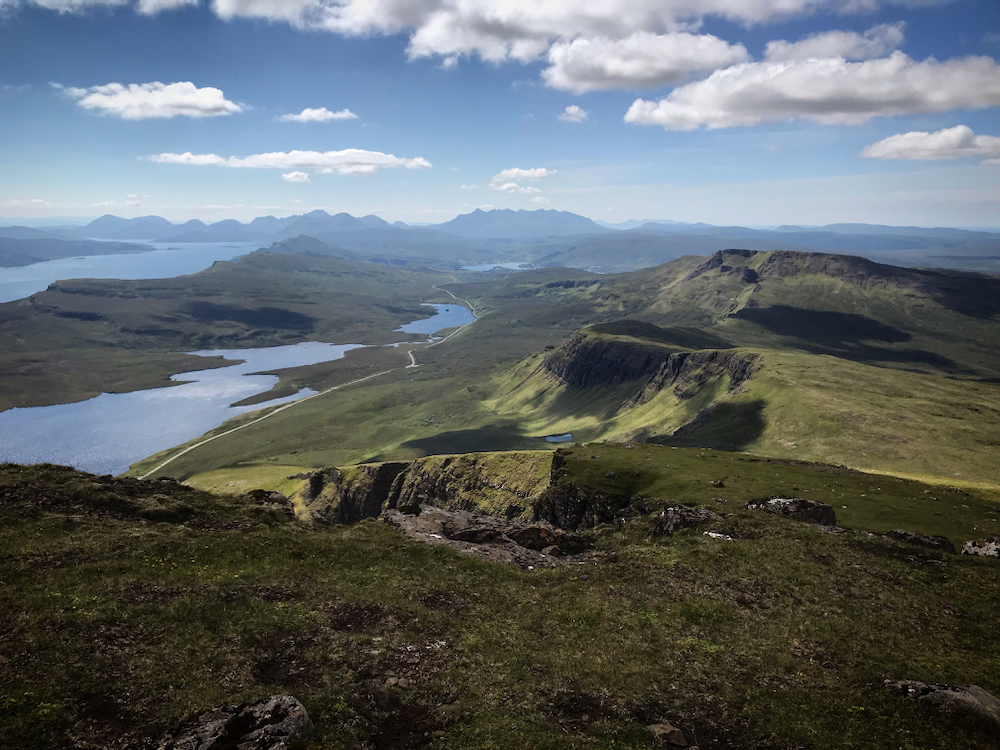 Our feet felt pretty battered from the previous day but we were excited to get moving and finish what we started. There were no paths up The Storr from our approach so we walked steeply through grass and heather for what felt like an eternity until we reached a gentler grassy incline that was like something from Sound of Music. The Storr followed soon after with its trig point and amazing views of the Trotternish and the sea beyond.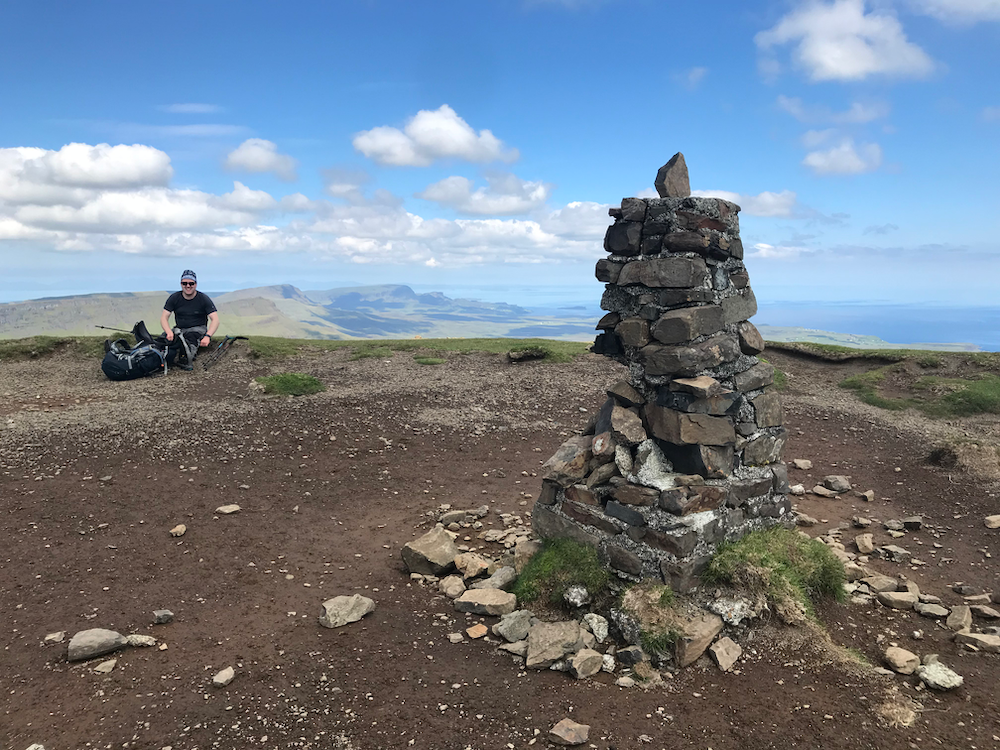 With The Storr behind us, I admit we were feeling pretty motivated to get ourselves to Portree, particularly after my suggestion that we aim to get there in time for fish & chips for lunch! We got there. For a rather late lunch! This was the only night of the trip we didn't wild camp, but instead stayed at the very good Torvaig Campsite where we could charge up our electronic devices, have a shower, and resupply at the local co-op. As foodies, this was a challenge.
Portree is the only major resupply point along the route (particularly if you skip Elgol as we did – see Day 7). We'd used up almost all of our homemade dehydrated camping food and now needed to restock ourselves with 3-4 days worth of food. There is an outdoor shop in Portree with a very limited supply of ready made dehydrated meals, however they cost about £7 per meal which adds up quickly and in part defeats the purpose of our approach! So we did a bit of math and restocked ourselves with various goodies, focusing on calorie density and of course flavour! From the Co-op we found: wholemeal pasta, tinned mackerel, muesli, oat cakes, cheese, olives, and I couldn't resist a couple green vegetables!
There is also a whole foods shop in Portree just across from the Co-Op that's a little pricy but has some nice items like quality snack bars, fancy chocolate, "High Energy Mountain Mix" (basically trail mix), and dried mushrooms!
We also had packed a 50ml mini-Nalgene bottle filled with olive oil and a few upcycled film canisters filled with dried herbs to add interest to things.
Suffice to say our packs felt absurdly heavy as we left Portree!


Day 4: Portree to Glen Sligachan
Distance: 20.6km (12.8 miles)
Ascent: 372m
Conditions: Light cloud, low breeze, dry
Start / Finish: 12pm / 9pm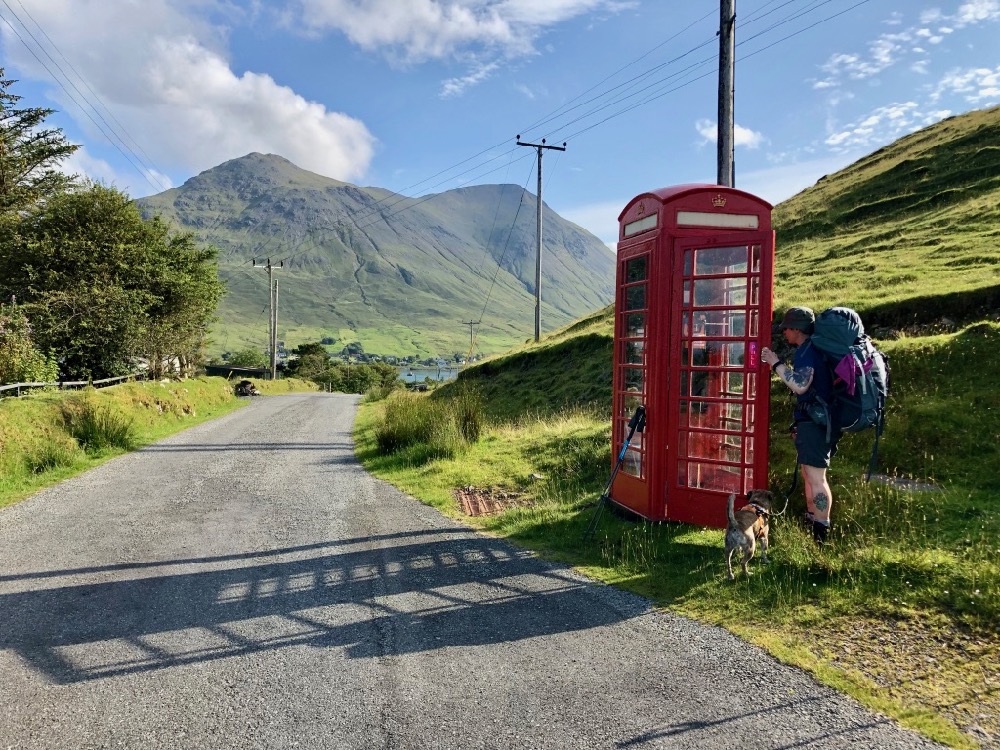 This day was pretty straightforward as much of it is on a country road. This might sound easy but I find road walking can get arduous in boots meant for mountains, the stiff soles creating a lot of impact on the foot. So by the time we reached Loch Sligachan my feet were pretty sore! Fortunately at the Loch there is a perfectly situated picnic table overlooking the Loch and the Cuillins which now seem so much closer than they did just a day ago! This was a good opportunity to take off our boots, rest our feet, and have a snack before the onward journey to Sligachan.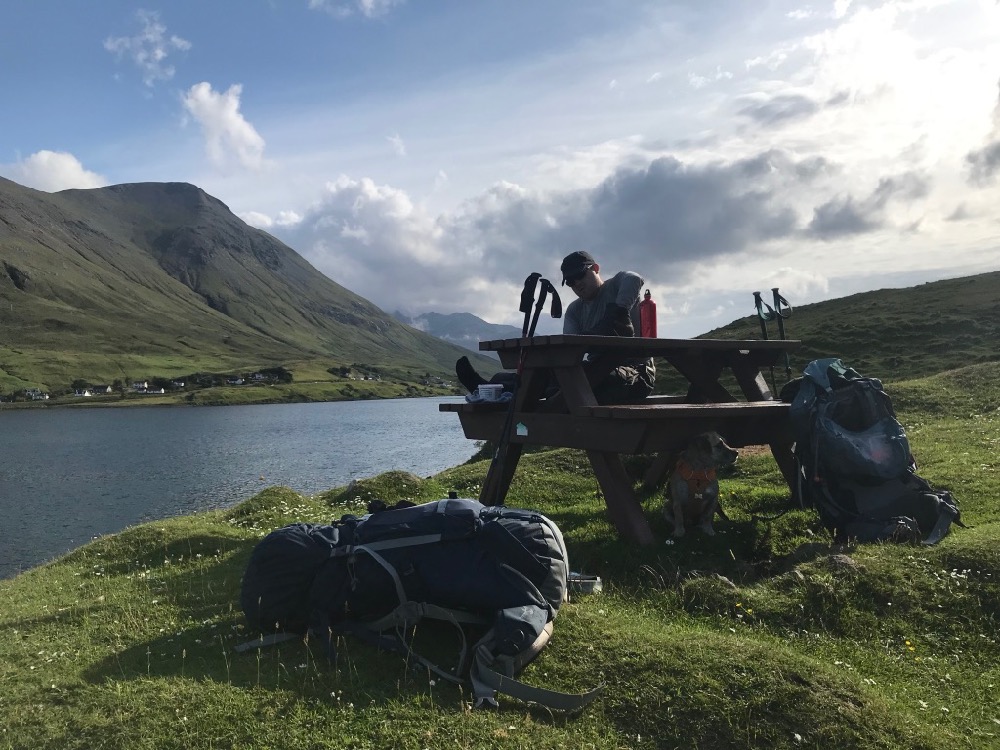 The walk along the Loch to Sligachan is straightforward and the Cuillins continued to beckon us forward.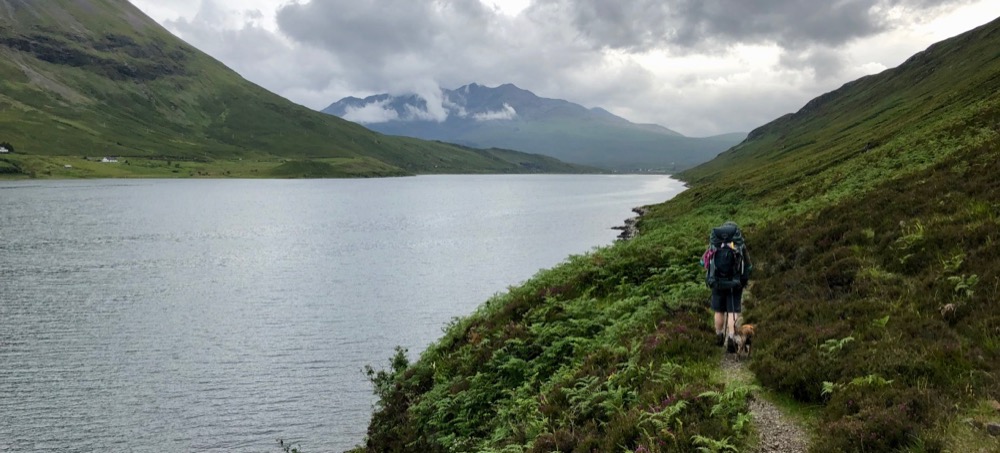 We landed in Sligachan at around 8pm and might have been tempted to stay had it not been crowded, loud, chaotic and unpleasant. So we carried on, taking note of the pub and brewery in town, then followed Glen Sligachan for about 30 minutes before finding a pitch for the night and listening to the weather come in.


Day 5: Rest Day around Sligachan
Distance: Negligible
Ascent: Negligible
Conditions: Heavy rain and wind, mild temperatures, clear in the evening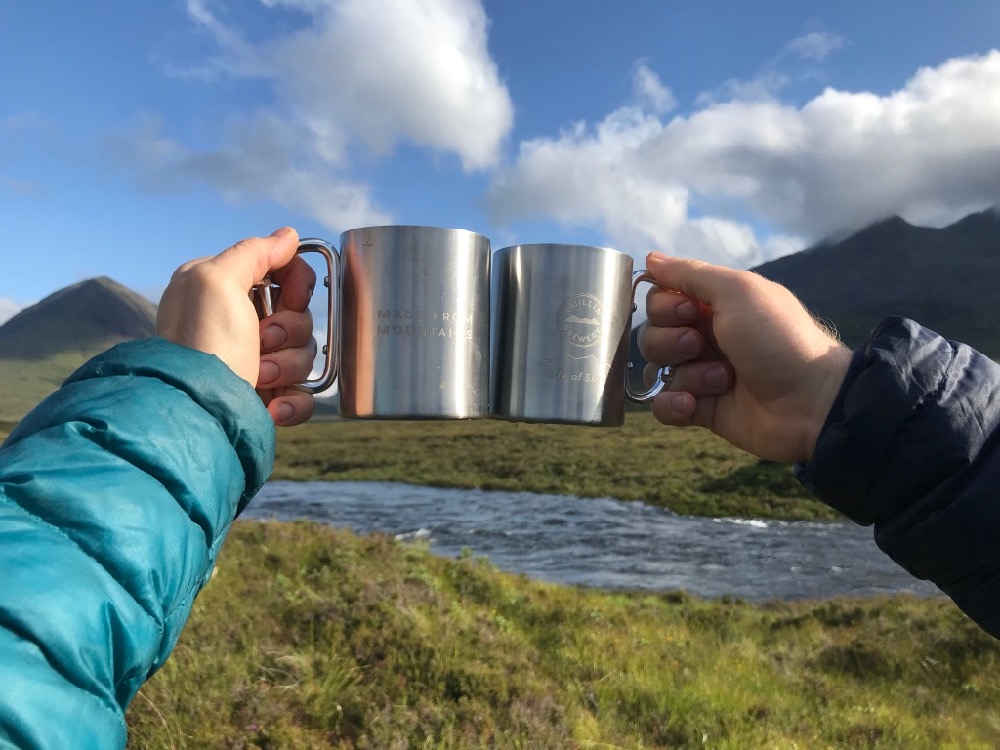 When we awoke that morning it was pouring rain and dramatically windy. I had the bright idea that we take a rest day and catch up on admin: post cards, pictures, etc. This also allowed us the opportunity to visit the brewery and pub in Sligachan!
Having seen the campsite I was skeptical about the pub "Seumas' Bar", but it exceeded expectations. The pub was very clean, dog friendly, had an insane selection of whiskies and beers, and really good food! Andrew got a venison burger with haggis and onion chutney. It was my birthday eve so I treated myself to grilled scallops with fries and a blessed green salad that was very well executed. We finished with a whisky flight, "The Island Hopper", which included Arran 10yr, Jura 10yr, Highland Park 12yr, and Talisker 10yr. Needless to say all of this cheered up a very gloomy day!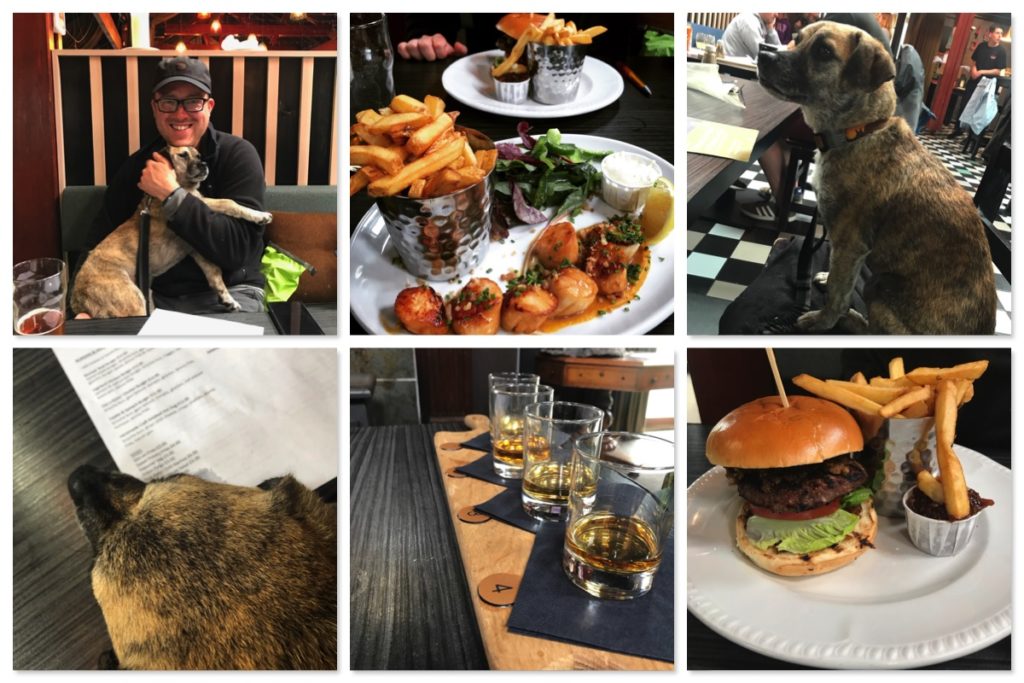 After the pub we visited the Cuillin Brewery next door. It was a small affair, just a few barrels in a small room and a couple of guys who were obviously very passionate about brewing beer. What more do you want? We picked up a selection of ales and couldn't resist their mugs with carabiner handles which turned out to be an awesome investment in both money and weight. The mugs are slightly insulated and so keep beverages hotter (or colder) for longer, a desirable prospect for most of my adventures!


By evening the sky began to clear and we were able to dry out some of our clothes before settling in for the night to try our beers and eat up some of our Portree rations, all the while admiring the epic view of the Cuillins. The only downside was the ever growing puddle outside of my tent that I had to negotiate any time I wanted to get out and pee. A wild camping problem if ever there was one.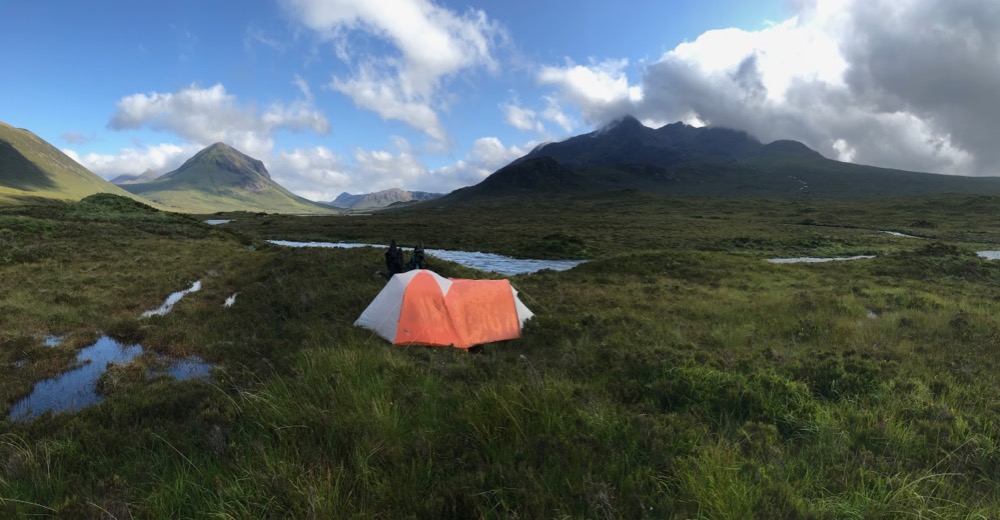 Day 6: Glen Sligachan to Camasunary Bay
Distance: 11km (7 miles)
Ascent: 232m
Conditions: Windy, intermittent rain, heavy at times
Start / Finish: 8:30am / 3pm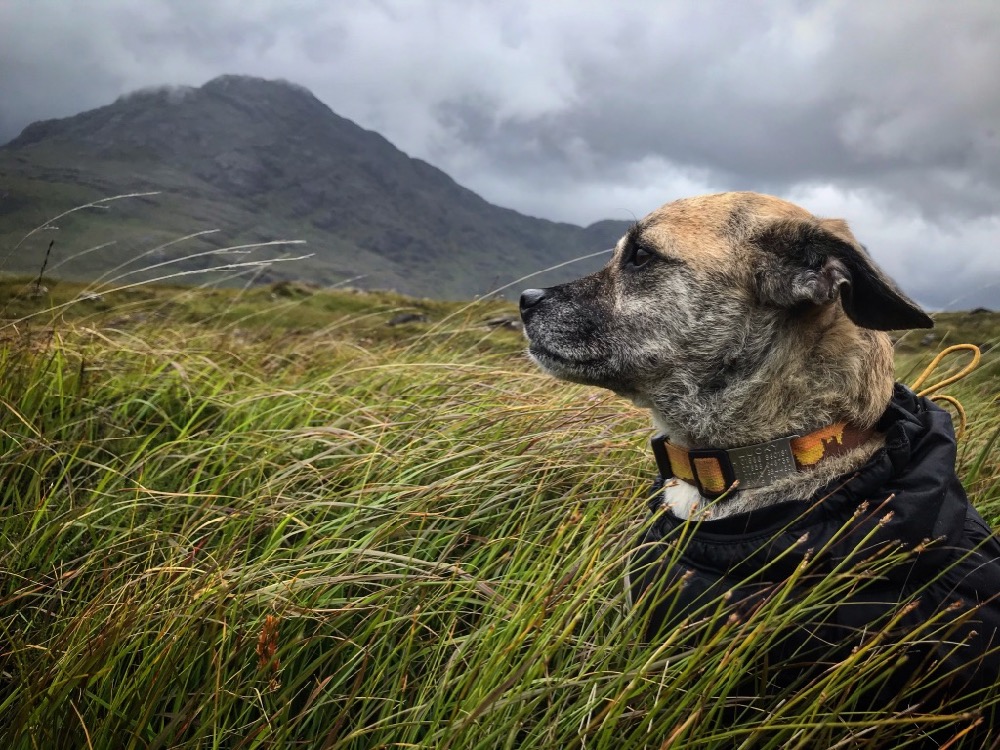 One of my motivations for the rest day – besides beer – was that the weather was looking better for future days and offered more potential for us doing the Bla Bheinn Munro. So on this day we had to make a choice: to stop at Camasunary Bay and camp (or stay at the bothy) before doing the Munro or to carry on towards Elgol, which is supposedly beautiful in its own right and has a good café. The weather wasn't looking amazing but I figured let's stop and if it's diabolical in the morning, we'll just carry on to Elgol and then Torrin on the following day.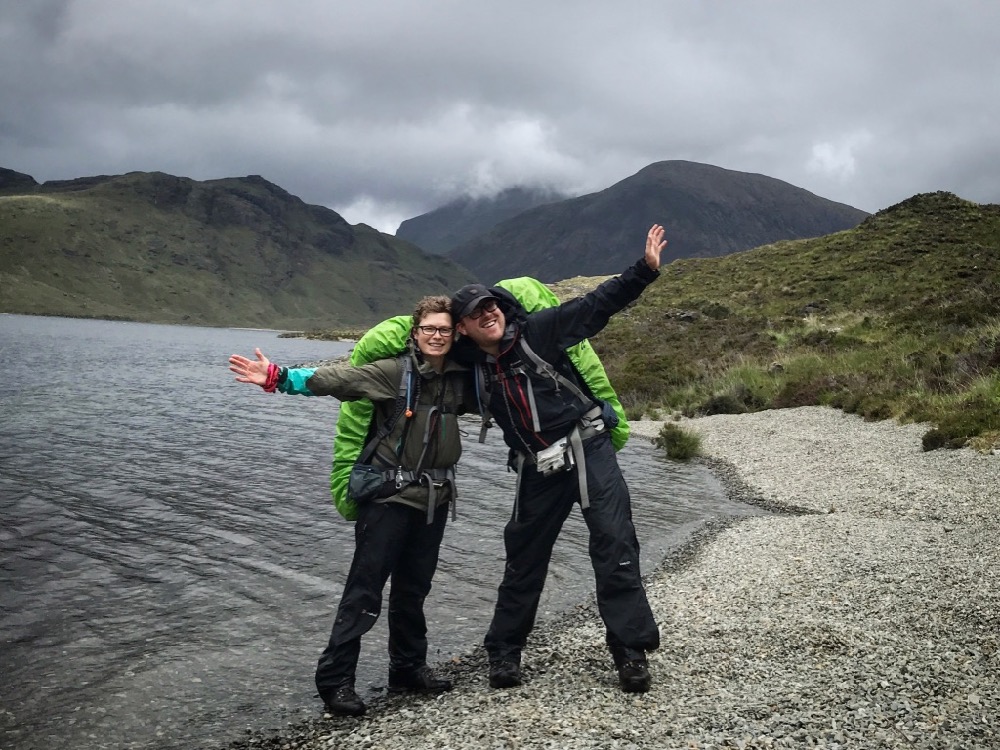 From a distance, Camasunary Bay is idyllic, surrounded by mountains with just a house and a small bothy on the shores. As we got closer to the bothy, a notable problem became astonishingly visible: plastic pollution everywhere, particularly fishing debris as well as all kinds of plastic containers. Not just on the beach but also strewn across the surrounding grasslands. The bay is owned by the John Muir Trust, a charity stablished to conserve wild land and wild places. An article on their website called Plastic Peril talks about how plastic pollution in our seas is responsible for this kind of situation:
"I have been coming here for more than 60 years, so I am beginning to gain some perspective on what blows up on the shore of this lovely bay," comments Alan Johnson, whose family has owned the land around Camasunary since 1916. "It faces due south, so welcomes whatever blows in from the Atlantic and Gulf Stream…
…The revolution in polymer science has given us a huge range of cheap, durable materials with a fantastic range of physical characteristics…It's a technological miracle which has transformed how we live. But, as with all such revolutionary developments, there is a downside. And that is what you see on the shore at Camasunary."


We arrived at the bothy at around 3pm. I didn't have high hopes that it would be available given the weather and the bothy's proximity to Elgol, but figured we would at least take some shelter and cook up some lunch. The bothy is simple: one bunk room that sleeps 15 people and one common area with two big eating tables and a counter for cooking. All of this was very welcome as the rain started to pour. Sure enough, as we cooked up some soup, people started to arrive and within 30 minutes the bothy was rammed. This day happened to be my birthday and I didn't fancy sharing it with a bunch of strangers and their pot noodles, so when we caught a break in the rain we headed out up the hill towards Bla Bheinn and found a great spot far enough from the bothy and plastic to make the bay feel like a wild private paradise.


My birthday treat was a bottle of Cuillin Brewery's Eagle Ale and some fancy dark chocolate, all enjoyed while tucked away safely in my tent. I also made some cheesy pasta and green beans with herbs de Provence, aleppo pepper, parsley, and a boiled egg (ironically made possible thanks to plastic and my 18g portable egg storage container). I occasionally took a peak outside to admire what I could see of Bla Bheinn which was mostly clouded over. Top birthday!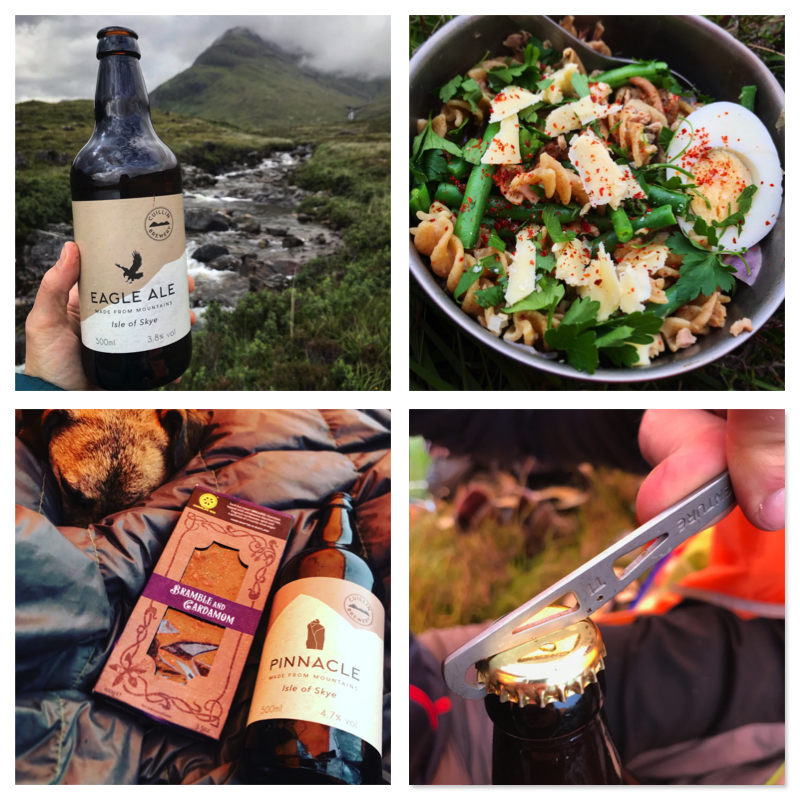 Day 7: Camasunary Bay to Torrin via the Bla Bheinn Munro
Distance: 8km (5 miles)
Ascent: 879m
Conditions: Heavy cloud, low visibility for the ascent, then clear weather for the rest of the afternoon
Start / Finish: 9:30am / 6pm


When we awoke in the morning it was still raining and Bla Bheinn was enshrouded in cloud. That said, the temperature was mild and the wind was negligible. There were also some patches of blue sky which got my hopes up so we decided to make a go of the Munro.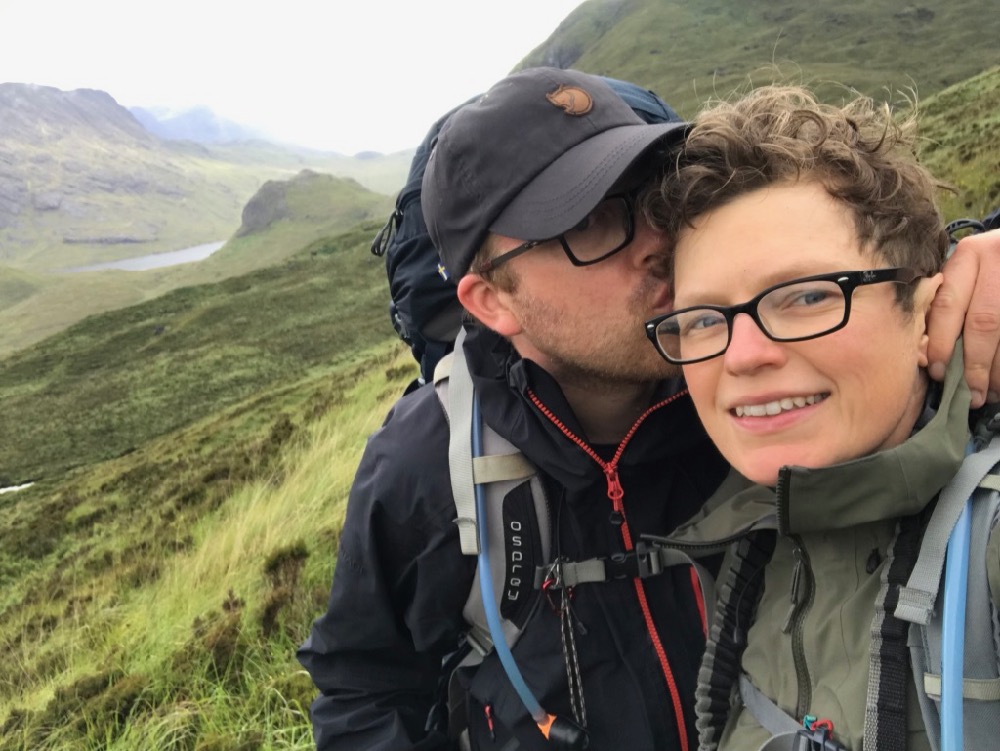 We'd eaten up most of our heavy food and our packs felt blissfully light as we started the ascent. It's a bit of a toughy as you're starting from sea level and it's basically a steep climb for 900+ meters until the spot height at 926m. Within 20 minutes of our start we were in cloud and remained that way to the very top. Bla Bheinn is mainly composed of gabbro, a rock with excellent grip for mountaineers and scramblers. As such the journey is slow going and often requires use of all four limbs (standard for Lucky). Eventually we reached the spot height after which the true scrambling began.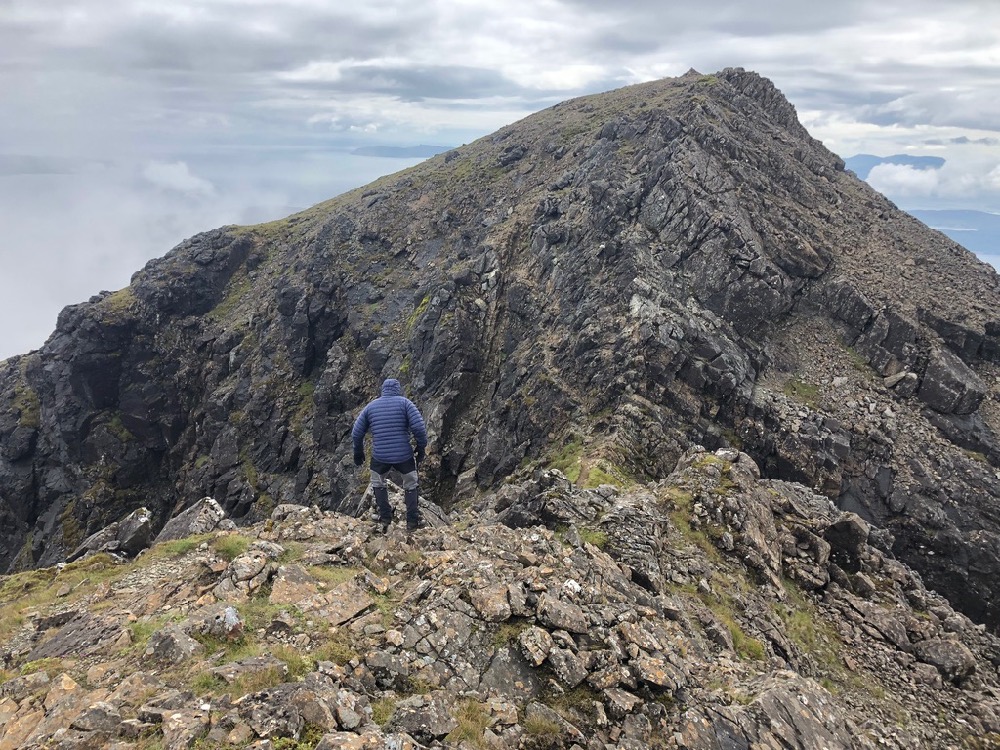 From this point, an awkward descent is required using a rake on the eastern flank (shown above after the clouds cleared, but I assure you was quite terrifying with zero visibility!). It's short lived but a bit scary, particularly with a heavy pack and a tethered terrier! Once at the bottom, it is straightforward to climb up the other side and make it to the trig point at 928m.
Like I said, we were in cloud. But the rain had stopped and it was remarkably still on the summit so we decided to light up the jet boil and have a little lunch before carrying on. A pair of friendly folks soon arrived (the first people we saw all day) and we talked about the great views!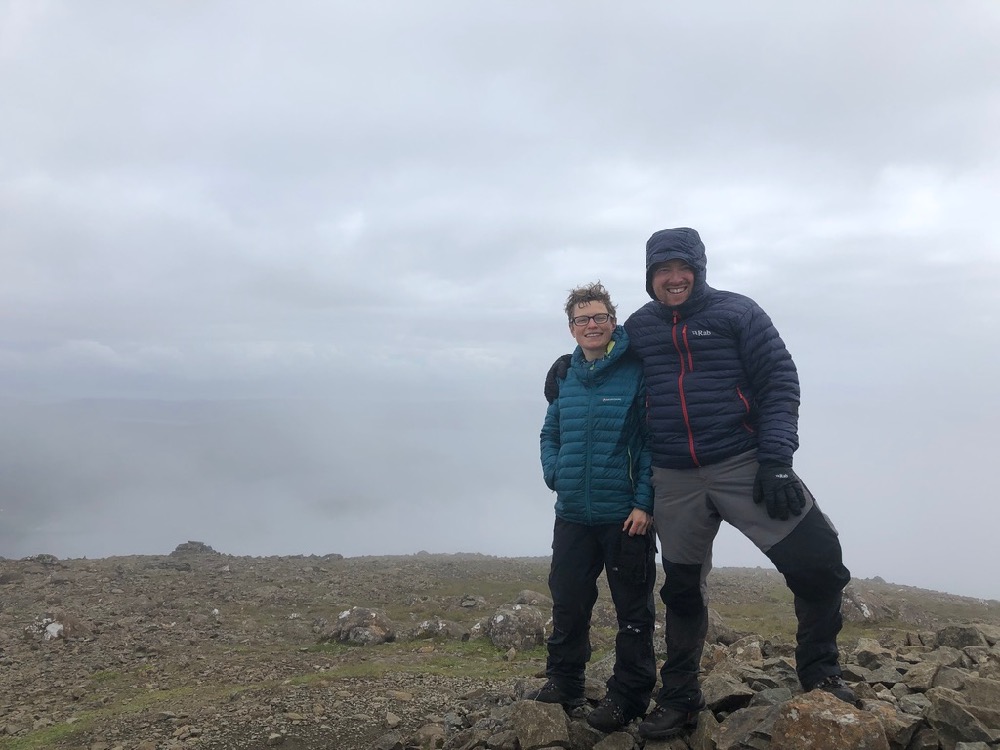 Then suddenly like magic we started to get a few glimpses of the sea through the clouds, and within minutes the cloud had totally blown over revealing the jaw dropping view of the Cuillins! It was incredible and one of the best mountain moments I've ever had. The view was somehow made better by having spent the day in cloud, with no idea what was to come.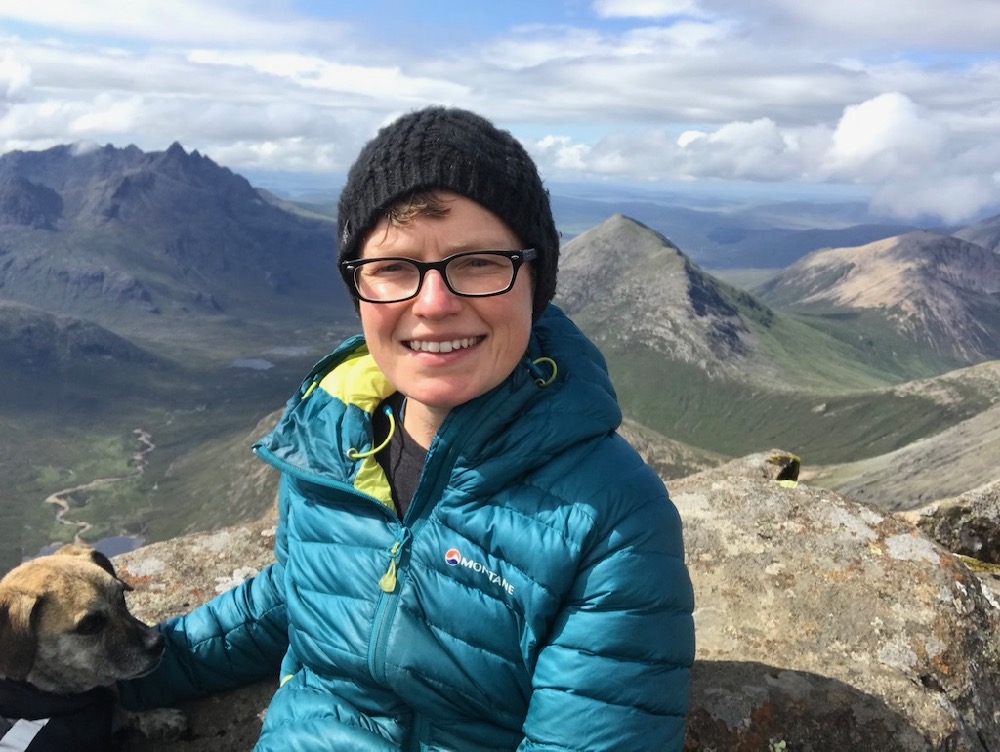 As we descended the mountain we were on a high, which was fortunate as the steep descent is otherwise hard going and monotonous! Eventually we made it to a stream where we stopped to take off our boots and socks for a while and drink some water. We then carried on to the road from which you can see the small village of Torrin. Before the village there are a few wild camping spots (and indeed we saw at least 3 other people pitched up around the place) so we found ourselves a nook of our own and settled in for the night, eating up the last of our food and grateful that Torrin had a well regarded cafe that we were looking forward to in the morning!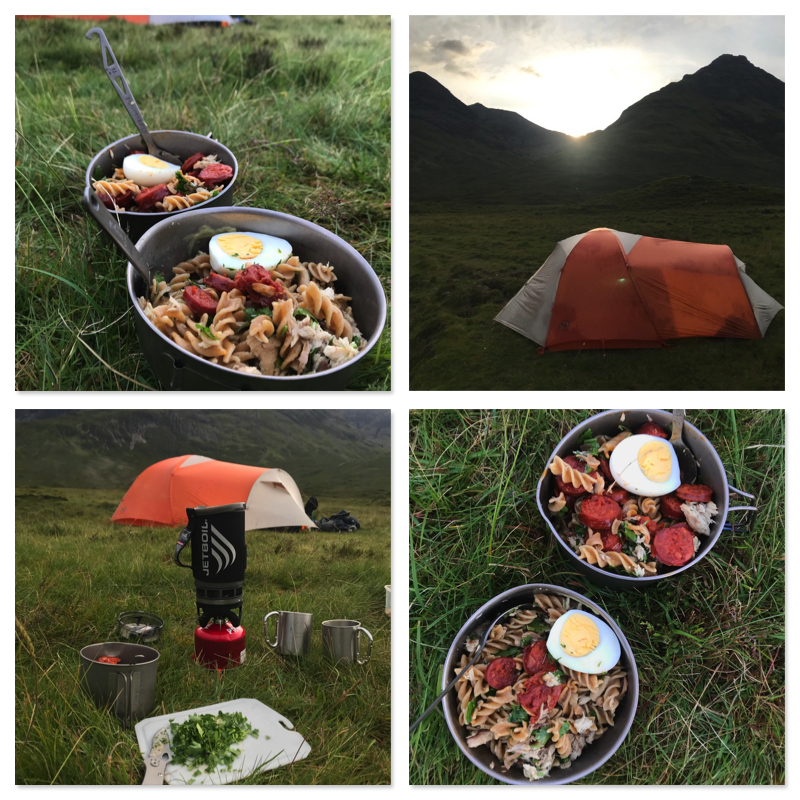 Day 8: Torrin to Broadford
Distance: 21.7km (13.5 miles)
Ascent: 439m
Conditions: Light cloud and breeze
Start / Finish: 11:30am / 6:30pm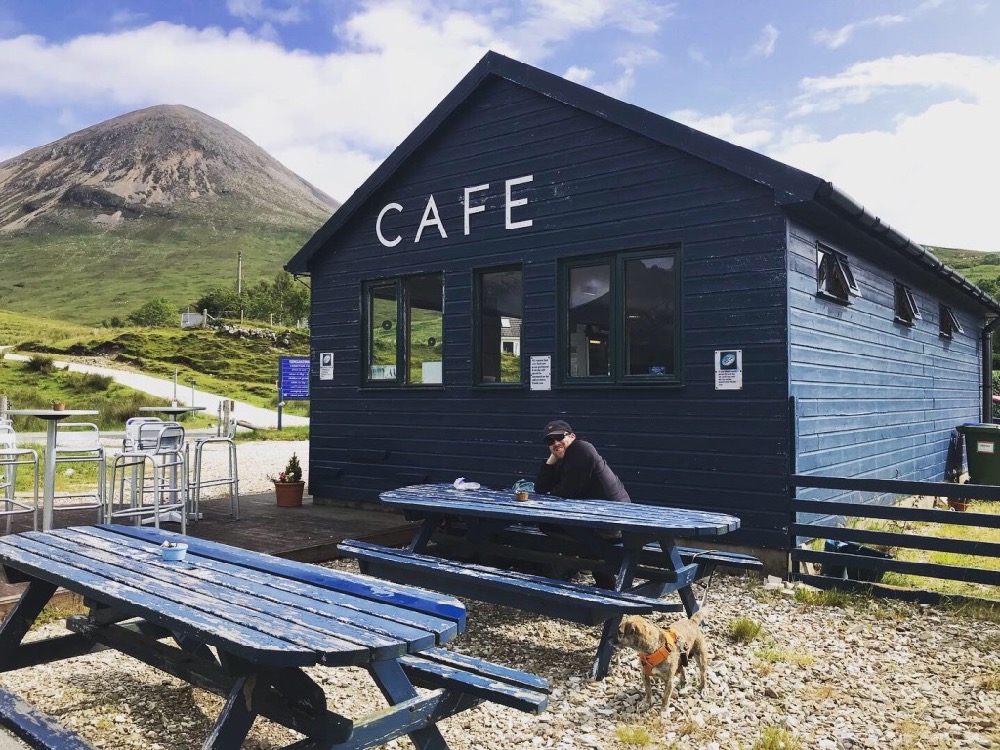 As we were mostly out of food our plan was to go to the Blue Shed Cafe in Torrin for an epic breakfast and some snacks to take away. Turns out the cafe is more of a coffee and cake kind of place – so much for that Full English! They did serve soups so we ended up having soup for breakfast and a slice of orange and almond cake. Although a little disappointed that the epic breakfast vision wasn't fulfilled, the food was of such a high quality that it almost didn't matter. Both the carrot and coriander soup and the Mediterranean vegetable soup were of a high standard, with seemingly good quality ingredients, and seasoned appropriately. The bread was top notch. The coffee was perfect. And the cake was heavenly! The staff were also great, very friendly with our dog, and helped organise a camping spot for us in Broadford. We ordered a bunch of "oaties" (like a pimped out flapjack) to take with us and got started on our last day of the Skye Trail.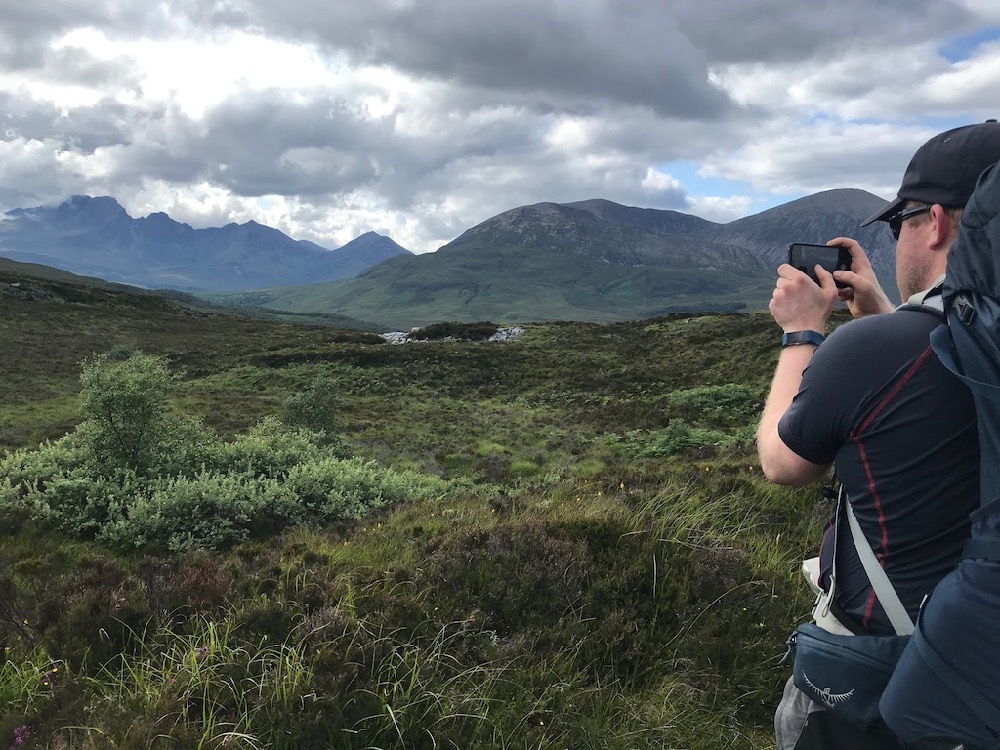 After the thrill of Bla Bheinn we had to caution against rushing through this leg of the journey. In fact, it's a spectacular and fascinating walk. It includes the remains of Suisnish and Boreraig, two villages emptied as part of the Highland Clearances in 1853. In a nutshell, the landowner Lord MacDonald evicted his tenants and burned down their homes to make way for sheep. It's all very eerie and a reminder of the dark side of human nature and the quest for riches!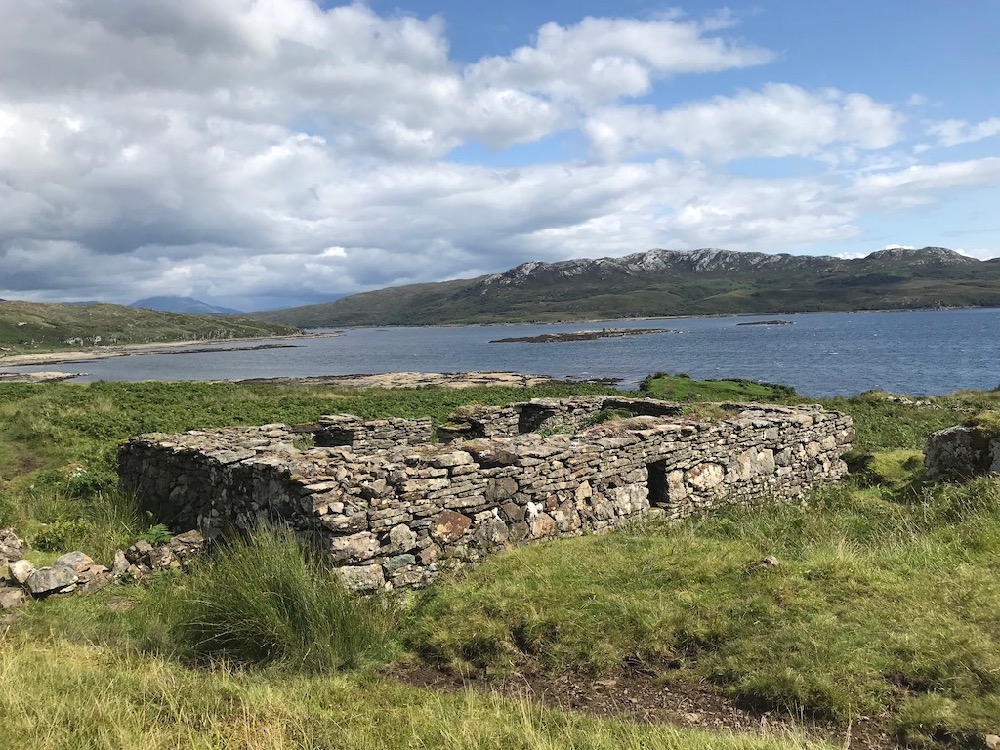 The walk also follows the remains of some marble lines, with the last stretch of the route following an old railway line that ran between Broadford and a series of marble quarries until the mines closed in 1912. Navigation is easy and the path straightforward. I suggested to Andrew that we try to get to Broadford in time for a celebration barbecue, the prospect of which spurred both of us on. We eventually got to the Camp Skye site in Broadford (our second campsite of the trip) which was a bit new and without personality but had great facilities and flat pitches. I set up camp while Andrew booked it to the Airbnb to pick up our car and a few groceries for our BBQ. The sun returned for a short while so we toasted our victory with venison burgers and a dram of Talisker, which seemed fitting. We were happy, but there was also a bit of melancholy, too, as we weren't really ready for the trip to be over. It's left us with a real love for Scotland and inspiration to spend more time in the mountains, ideally by actually living near them! I never thought I could move to Scotland – it's too far, too cold, etc – but my feelings might be changing on that one. Time to plan the next trip!


To see more photos visit my Skye Trail Flickr Gallery.