This lentil ragu with kale and parmesan is hearty, healthy, and full of deep umami flavour thanks to the inclusion of parmesan rinds during the cooking process.
In case you're not already saving your parmesan rinds, now is the time to start! When added to soups or stews, parmesan rinds elevate the flavour – like a bay leaf, but made from cheese!
This lentil ragu is low in fat to make it more shelf stable when dehydrated, so I always take some extra parmesan with me to grate on top at camp (you can use the back of a knife or a mini grater for this, or bring pre-grated cheese but I like the ritual of grating the cheese myself!).
As is, this lentil ragu is full of protein and carbohydrates thanks to the wonder of the humble lentil, not to mention a good dose of nutritious green vegetables from the kale. But to make it even more substantial, add some dehydrated rice or pasta, or serve with some crusty bread.
It's worth make a double or even triple batch of this lentil ragu – it travels well in a thermos and also freezes nicely if you don't want to dehydrate it (when I make recipes like this, usually half of it go to the freezer for easy lunches, the other half get dehydrated for wild camping meals).

Lentil Ragu with Kale and Parmesan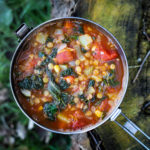 1 tbsp olive oil
1 onion (roughly chopped)
2 celery sticks (roughly chopped)
1 carrot (peeled and roughly chopped)
1 garlic clove (crushed)
175 g green lentils
500 ml chicken or vegetable stock
400 g tin of chopped tomatoes
1 bay leaf
1-2 parmesan rinds
Salt and pepper
A couple big handfuls of kale or cavolo nero
Parmesan to serve
At home
Heat the oil in a saucepan. Add the onion, celery, and carrot, and cook gently for about 15 minutes until soft. Add the garlic and cook for another minute.

Add the lentils, stock, tomatoes, and bay leaf. Bring to the boil, reduce the heat, then half-cover the pan with a lid and simmer for 25€"30 minutes until the lentils and vegetables are very soft. Add more water if needed to ensure the lentils are covered.

Add salt and pepper to taste. Stir in the kale so that it wilts that take off the heat and let cool completely. Remove the bay leaf from the ragu.

Spread the ragu onto dehydrator trays lined with nonstick sheets or parchment paper. Dehydrate at 63C/145F for 8-10 hours until totally dry. Vac pac or store in baggies until ready to use. 
At camp
Put the ragu into a pot and cover with water.

Place pot over medium heat and bring to a boil.

Turn down the heat and cook, stirring occasionally, for about 5-10 minutes, until fully rehydrated.

Top with parmesan cheese – you can bring a block and use your knife to grate it, or a small portable cheese grater (luxury). Alternatively, bring pre-shredded parmesan for ultimate convenience.
360 Calories | 6.5g Fat | 40g Carbs | 35g Protein