This sprouted buckwheat dehydrated granola (literally and figuratively a mouthful) might sound like hippy food – which it kind of is – but also happens to be super tasty and a great camping breakfast option for those who happen to be gluten free.
Despite containing the word "wheat", buckwheat is a actually a seed, not a grain, much like quinoa and other "pseudo cereals". You can "sprout" buckwheat like you can other seeds and pulses, which effectively makes them edible without cooking. This also retains various natural enzymes and other good stuff that would otherwise be destroyed during the cooking process.
I'm not gluten free, or a raw food fanatic, and I don't think eating sprouted food is going to radically change your life or health as compared to other cooked healthy foods. But I do like to include this buckwheat granola in my breakfast rotation. It's got great crunchy texture, plenty of flavour from the aromatic spices, and I really like the nuttiness of the sprouted buckwheat. It also seems to serve me well energy wise which is pretty important!
To serve, I typically mix up some water and dried milk powder and add some blueberries and/or banana (a bit of a treat on the trail but that's the way I roll!). To keep it vegan you could use almond milk powder.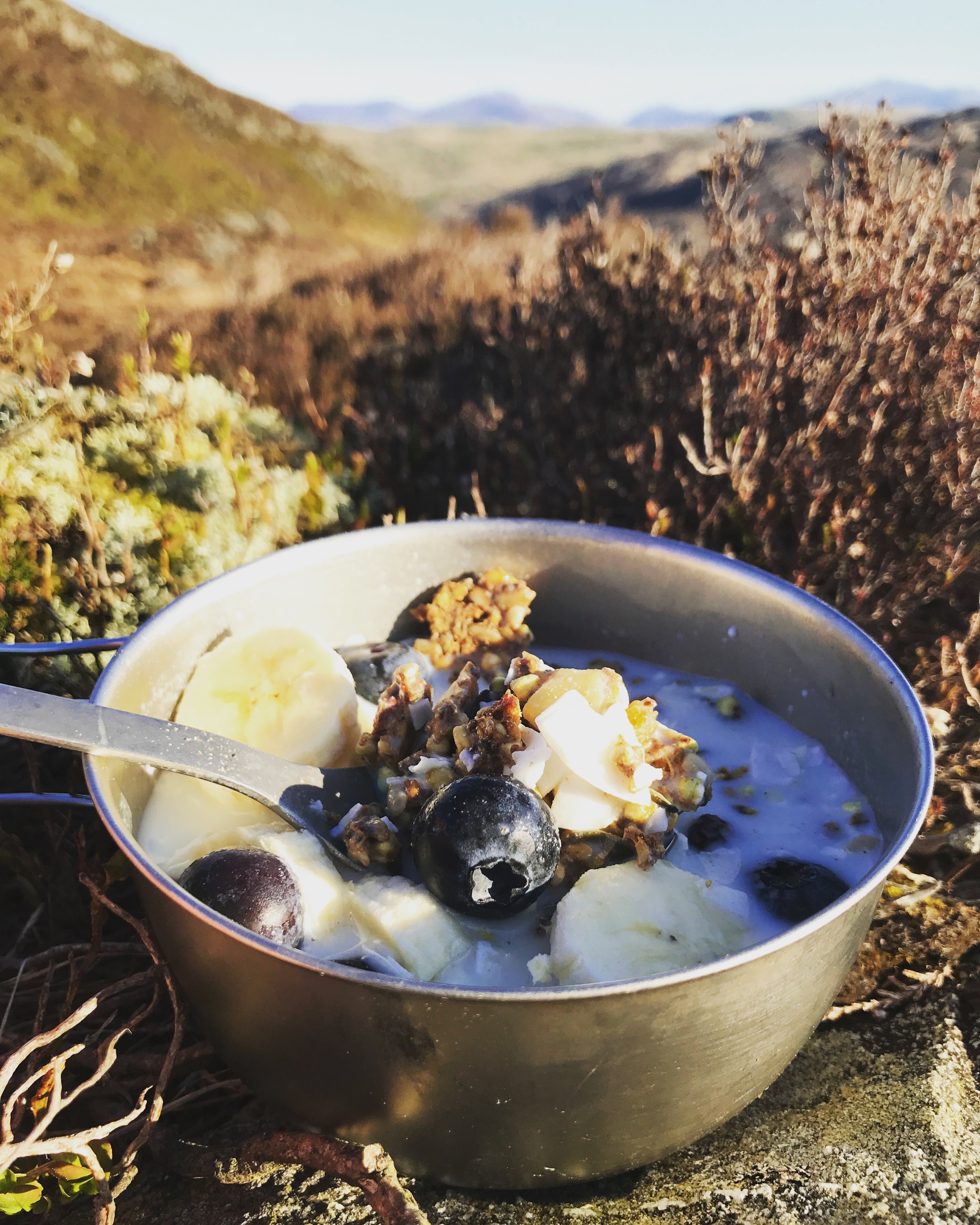 Sprouted Buckwheat Granola
This takes a bit of time but it's well worth the effort. Get started a few days before you plan to enjoy this as it takes about a day to sprout the buckwheat and another day to dehydrate the mix. Feel free to adapt the fruit, nuts, and spices to your taste (I personally like the combination of apricots, almonds, and pumpkin pie spice!).
375 g raw buckwheat
200 g dried fruit (chopped apricots, cranberries, etc)
40 g flax seeds
40 g pumpkin seeds
40 g sunflower seeds
40 g sesame seeds
200 g chopped nuts (almonds, walnuts, etc)
150 g coconut flakes ((optional))
1 large apple (cored and cut into pieces)
175 g pitted dates
1 Tbsp ground cinnamon
pinch of salt
powdered milk or almond milk to serve
At home
Soak the buckwheat for 8-12 hours. Rinse thoroughly then drain. Keep the buckwheat in a sieve suspended over a bowl and let it hang out for another 8 hours. While this is happening, proceed to step 2:
While the buckwheat is doing its thing, put the flax seeds in a bowl and cover with 1/2 cup of water. Leave to soak but do not drain: the flax seeds will form a sort of "gel" with the water.
In a separate bowl, soak the rest of the nuts in seeds in enough water to cover. Leave this for 8 hours, then go check on your buckwheat:
After the 8 hours, the buckwheat should have started sprouting (you'll see little "tails" emerging from the buckwheat). If you think they need more time, give them a rinse and let them rest again (try not to let the "tails" get too long!). Give the buckwheat a final rinse before proceeding.
Rinse and drain your bowl of soaked nuts and seeds from step 3.

In a blender, combine the dates, apple, and 1/2 cup (125ml) of water. Blend into a puree.

In a large bowl, combine the blender contents with your sprouted buckwheat, flax gel, strained nuts and seeds, dried fruit, cinnamon, pinch of salt, and coconut flakes if using. Mix thoroughly – it will take a little elbow grease to distribute everything evenly.

Spread the mixture out onto dehydrator trays lined with nonstick sheets or parchment (you'll need about three trays).
Dehydrate at 140F / 60C for about 8 hours. Remove the trays and "flip" the granola onto its other side (it will break up a bit but that's OK). Let it dehydrate for another 8-12 hours until totally dry.

10. Break up the granola and store in zip lock bags or an air tight container until ready to use. This will keep for about 1 month, or 3 months if stored in the fridge.
At camp
Mix up some milk with a bit of water and your milk / almond milk powder.
Add granola as desired, top with fresh fruit if you'd like, and enjoy!
Makes 8 servings. 
530 Calories | 23g Fat | 75g Carbs | 17g Protein