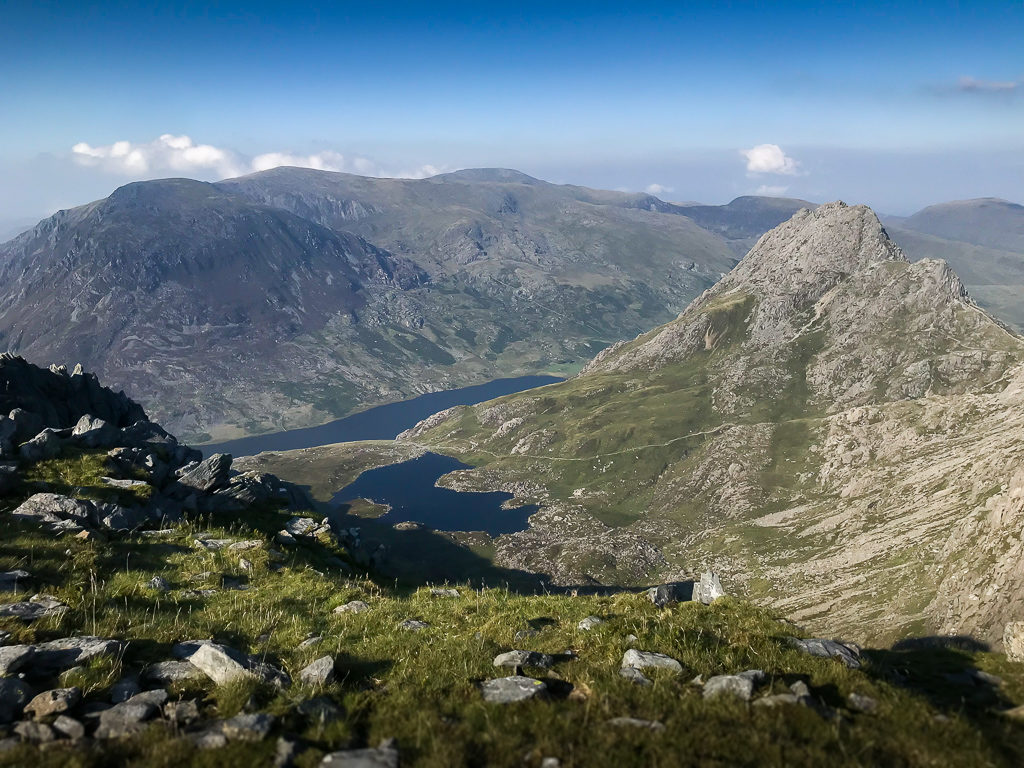 The Bochlwyd Horseshoe is a challenging all-day scrambling adventure around the Glyderau region of Snowdonia. The route includes four popular scrambles: Tryfan North Ridge, Tryfan South Ridge, Bristly Ridge and Y Gribin. I had the immense fun of completing the Bochlwyd Horseshoe with Andrew and our dog Lucky on a sweltering August Bank Holiday weekend. There are plenty of trip reports out there for this popular route (I've included a few links below). This post shares my personal highlights, as well as takeaway lessons from doing the Tryfan North Ridge with a dog.
Starting point: Various parking options along the lay-by by Milestone Buttress. Distance: 5 miles (8km). Height gain: 953 meters (3126 feet). OS Maps: Explorer OL17 or Landranger 115.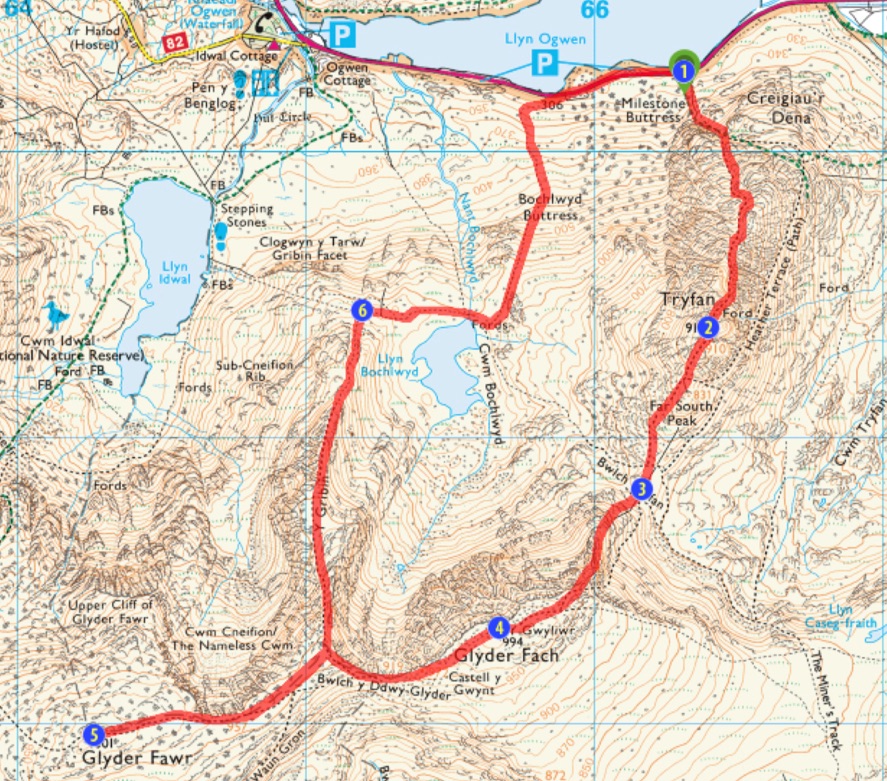 To give you a sense of the Bochlwyd Horseshoe challenge, the route is only 5 miles long with about 1000m of ascent and descent, almost all of which involves scrambling over rocks and boulders. It can take anywhere from 5-10 hours or even more, depending on your level of fitness, rest requirements, scrambling skills, and tenacity with taking photoographs. And you'll definitely want your camera for this one as there are at least three iconic photo opportunities along the route, including the Cannon Stone, the Cantilever Stone, and the "Adam and Eve" twin rocks at the summit of Tryfan.
On this particular day the sun was blazing, it was a Bank Holiday, and as you might expect, the route was fairly busy with people of all levels of ability and technical skill. It's considered a Grade 1 scramble though harder variations exist (we saw people at various points with full on climbing gear). As much as I bemoan crowds, it was also great to see so many different types of people enjoying the experience. This includes the usual people who were obviously not kitted out for mountain conditions but fortunately for them the weather was insanely kind of there was no need for waterproof boots or jackets that day!
Tryfan North Ridge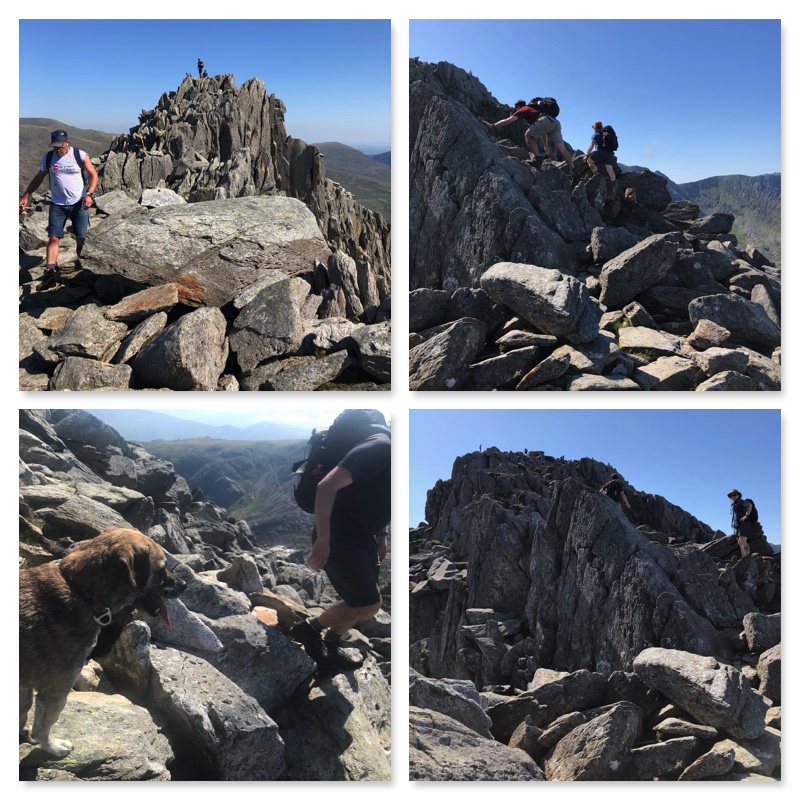 This provides the first taste of the day's exhilarating scrambles. The Tryfan North Ridge is a Grade 1 scramble with more challenging options available to the experienced scramble. In terms of technicality, this is a climb most reasonably fit people could do – indeed we saw people of all levels of ability and fitness managing just fine. But then again, were there on a hot clear day. I suspect a change in the weather would have seen many of those folks calling mountain rescue!
One of the features of the Tryfan North Ridge is the famed Cannon Stone. The first photo op of the day!
Tryfan Summit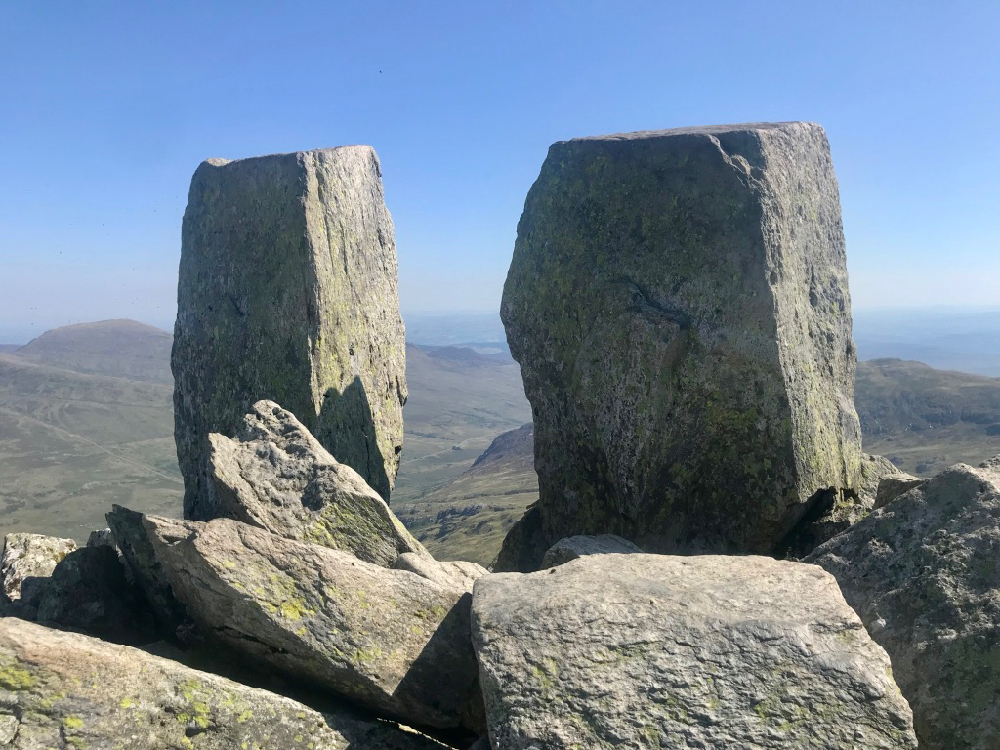 The summit of Tryfan is famous for the twin monoliths of Siôn a Siân (Adam and Eve in English), a pair of rocks some three metres high and separated by 1.2 metres. It is tradition to jump between Adam and Eve, and those who tackle this leap are said to gain the "Freedom of Tryfan". I saw a few people do this but I was stumped as to how I'd get up there in the first place! Side story: I overheard a guy telling his partner he'd have attempted this a few years ago but now that he was in a relationship it didn't seem worth the risk. How sweet is that?
As the weather was fine, Tryfan made the perfect place to stop for lunch and take in the awesome view, which we only had to sharer with a few others…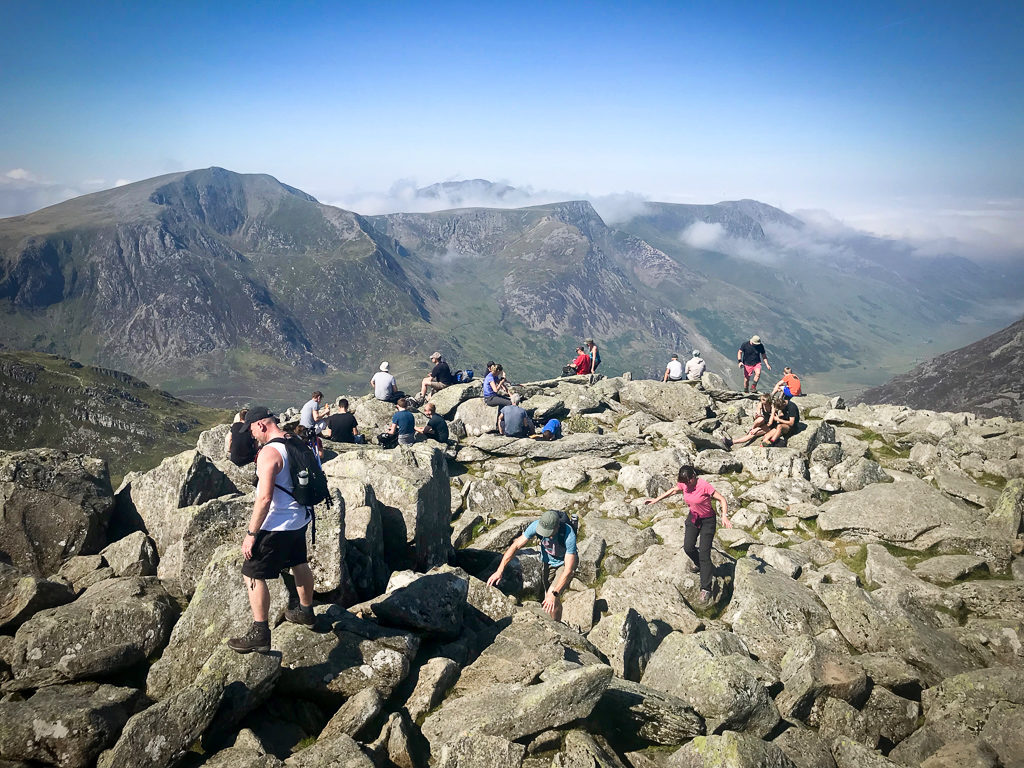 Glyder Fach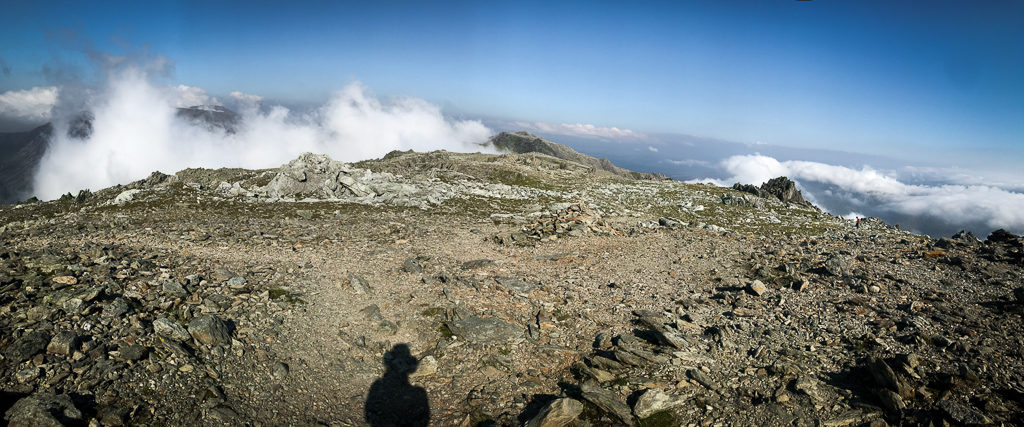 For Lucky's sake, we opted to take the "easy" route up Glyder Fach (994m) rather than the famous Bristly Ridge (more on this below). After the high drama of Tryfan, this part of the horseshoe marked a welcome change. The landscape around Glyder Fach feels like a moonscape, all rock and scree. And on this particular day, cloud rose dramatically upwards around the surrounding cliffs. Once on Glyder Fach, the going is easier as the terrain is rocky but relatively flat for much of the journey onwards to Glyder Fawr. You also have a photo opportunity at the famous Cantilever Stone.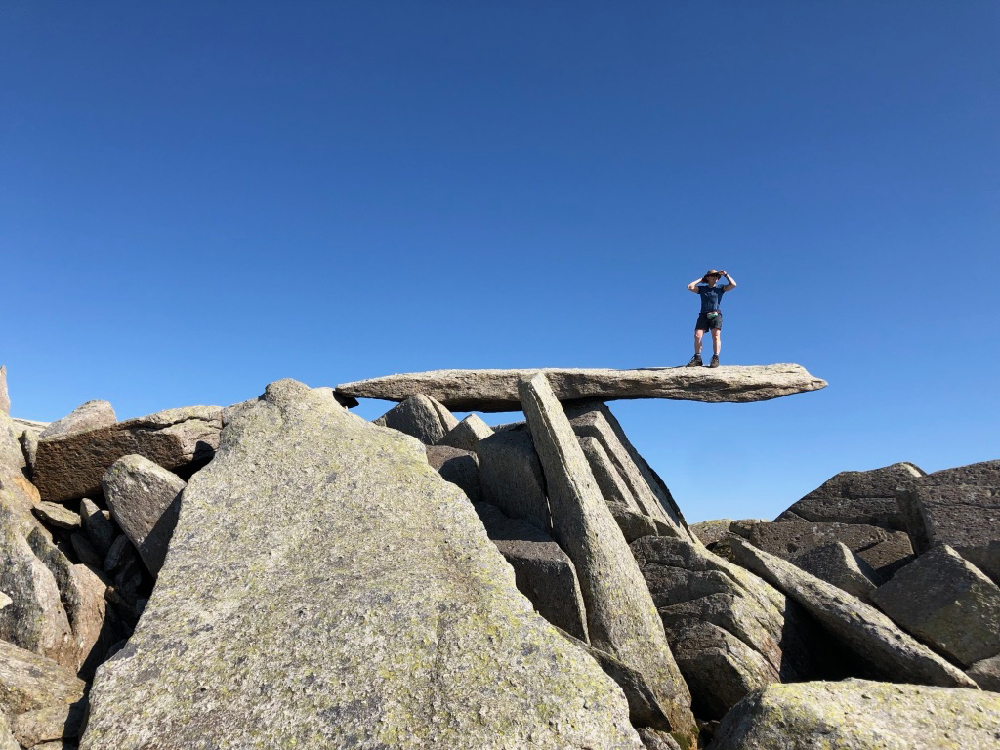 Glyder Fawr

Glyder Fawr was a high point, literally and figuratively! It is the highest peak in the Glyderau range of Snowdonia at 1,001m and was my personal favourite spot of the trip. This was in part due to lack of people, but also for the insane landscape and amazing views of the Snowdon Massif. The iconic rocky outcrops are the result of the last ice age, when a retreating ice sheet left behind a sea of jagged rocks and boulders. The word "Glyder" apparently derives from the Welsh word "Gludair", meaning a heap of stones. I can vouch for the heaps!

Y Gribin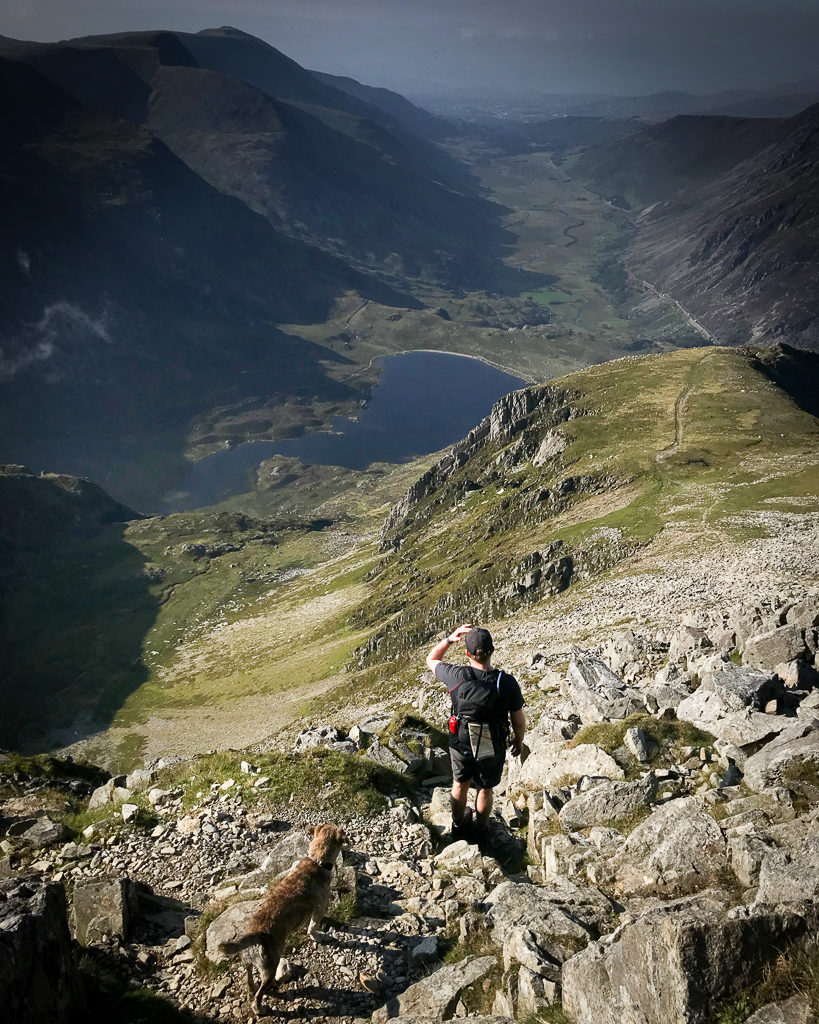 The last leg of the journey is the descent down Y Gribin, another classic Grade 1 Snowdonia scramble. The going is slow but straightforward. Towards the end of the journey we reached the lake Cwm Bochlwyd where we saw people wild swimming. It was a tempting prospect but we were nearing 6pm and looking forward to getting back to our campsite for rump steak!
The Tryfan North Ridge with a Dog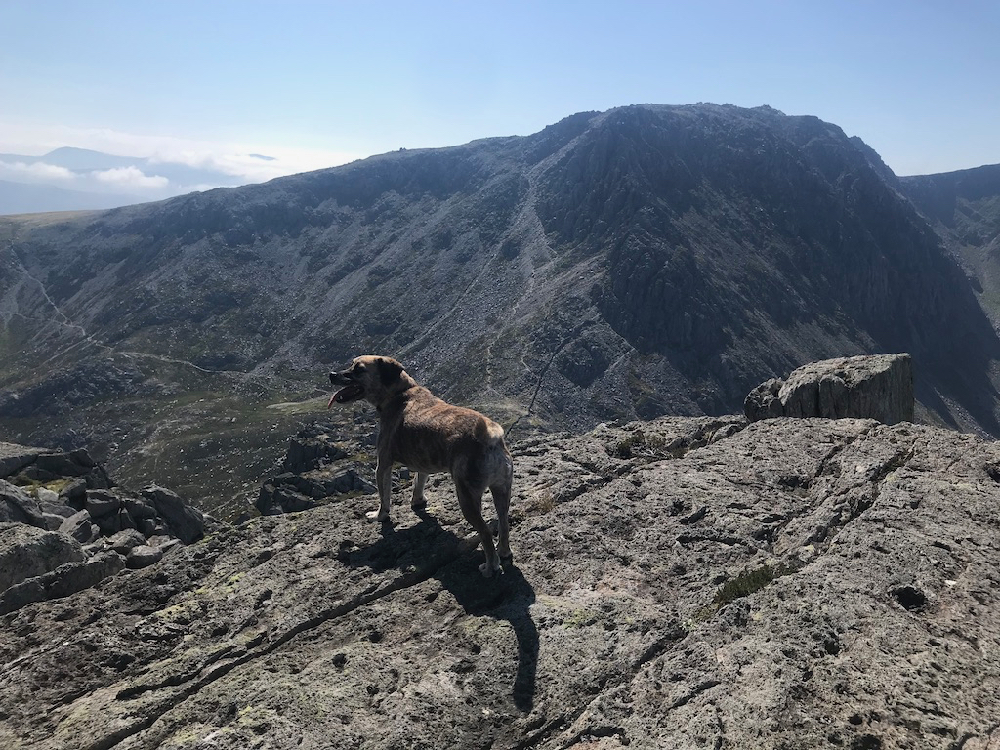 We debated whether to take our dog Lucky on the horseshoe and particularly up the Tryfan North Ridge which is notoriously challenging. We did some research and decided he could probably manage given his previous experience scrambling. A little info on Lucky: he's a four year old terrier mix with lots of energy and agility. He's done the Rhinog Traverse and Helvellyn's Striding Edge, two similarly rugged routes, so we knew he could dart around rocks and route find with little problem.
Sure enough he was a little star on the Bochlwyd Horseshoe, and very popular with passerbys who were amazed at the skills of our "little mountain dog". We did have to carry Lucky up and down a few spots and there were a few moments that he seemed stressed about what to do. We also had to take care in the heat to give Lucky lots of water and rest breaks. And then there's the matter of sheep and mountain goats, and that we have a dog that likes to chase! There were a few stretches where we had to have Lucky on the lead which was a bit inconvenient (scrambling with a dog on a lead isn't fun and can even be dangerous if you're not careful).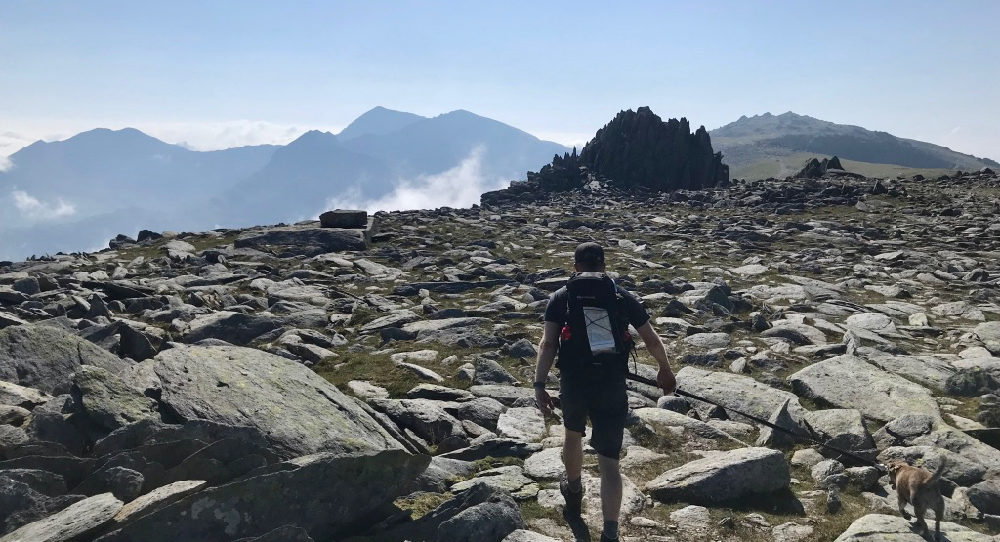 Ultimately we were super glad to have Lucky with us, but I don't think all dogs could do it. There are a lot of factors here: breed, temperament, fitness, farm animals. If you're thinking about taking your dog up Tryfan, try to get some experience on shorter scrambles first. This route is just about an entire day of scrambling which can be both mentally and physically taxing for both you and your dog so be prepared. And take lots of water!
Remember: the Tryfan North Ridge is only the beginning of this arduous day. One popular option after Tryfan is the famous Bristly Ridge up to Glyder Fach, another Grade 1 scramble. We ultimately decided that this would be pushing it. One only needs to look at it head on to see that it would be extraordinarily challenging for a dog (though there are reports that people have done this with a dog wearing a dog harness designed for climbing!). Fortunately there is alternate path up to Glyder Fach. Bristly Ridge will have to wait for another time, but I don't think it's going anywhere!
Route guides and recommended reading
*Disclosure: This post contains some affiliate links, which means Eat Sleep Wild receives a small commission if you purchase an item after clicking on one of the links. This comes at no additional cost to you, and helps to support the website in its continuing goal to create quality content for adventurers everywhere. Thanks!