This dehydrated red lentil soup with carrot and cumin is easy to make at home and quick to rehydrate on the trail. I've gotten into pureed soups like this for lunches on my backpacking trips, particularly on long arduous days. An afternoon break for something hot and wholesome can provide a welcome boost in both morale and nutrition. And as far as nutrients go, this dehydrated red lentil soup is great! Full of protein, slow burning carbs, and a fats to keep you going. It's also happens to be vegan and gluten-free.
Top tip: garnish the soup with some fresh flat leaf parsley which weighs virtually nothing and travels very well for days.
I've divided the recipe below into four portions as that suits my appetite but you may want to divide it into 3-4 portions if you're a dude or a person with substantial appetite. To make it even more substantial, crumble some oatcakes on top of the soup or enjoy it with a piece of sourdough or flatbread on the side (these grilled flatbreads are perfect and also travel well in a backpack – of course, you'll have to make them ahead of time!).

Red Lentil, Carrot, & Cumin Soup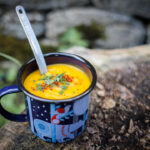 Dehydrated red lentil, carrot & cumin soup, perfect for a quick lunch or simple supper on a backpacking trip.
1/2 Tbsp cumin seeds
pinch chilli flakes
2 tbsp olive oil
600 g carrots and roughly chopped
140 g split red lentils
1 litre vegetable stock
At home:
Heat a large pot on medium heat. Dry-fry the cumin seeds and chilli flakes for a minute or two, until they start to release their aromas.
Add 2 tbsp olive oil along with the carrots carrots and fry for a few minutes.
Add the red lentils and vegetable stock to the pot and bring to the boil.
Simmer for 15 mins until the lentils have swollen and softened.
Whizz the soup with a stick blender or in a food processor until smooth.
Check seasoning and add more salt or chilli flakes.
Let the soup come to room temperature.
Spread the soup puree on dehydrator trays covered with non-stick sheets or parchment paper.
Dehydrate at 130°F/ 55°C for 4-6 hours or until completely dry and crumbly. (Check it from time to time to see if it's done.)
Let cool to room temperature, then grind the dehydrated soup into a powder using a blender or food processor.
Divide into two individual portions and pack them in zip lock bags. Store in a dark, cool place.
On the trail:
Boil 500ml water per portion of soup.
Add the dehydrated soup to the water and simmer for a minute or two, stirring most of the time. The soup should rehydrate reasonably quickly.
Garnish with more chilli flakes if you'd like. Enjoy with flatbread, sourdough, or oat cakes.
Nutrition information (per serving): 250 Calories; 8g Fat; 36g Carbohydrates; 10g Protein

You might also enjoy these dehydrator recipes that are all gluten-free and can easily be made vegan: