Shrimp and grits is a dish that hails from America's "low country". It's filling, delicious, wholesome, and easy to make with a camp stove. This is perfect comfort food after a long day's hike when all you want is something hot, tasty and substantial.
I first discovered shrimp and grits during a summer I spent in New Orleans – I was instantly hooked! Grits are a corn-based grain similar to polenta (a perfectly good substitute, particularly as grits are hard to find in the UK). Shrimp and grits is traditionally served for breakfast but equally make for a nourishing wild camping supper.
You'll need a skillet for the prawns and a pot for the grits. I use the Jetboil Flash system with the Summit Skillet which work well together here.
My approach with the prawns: carry in pre-cooked frozen prawns and have this for dinner on day one of the wild camping expedition. The prawns thaw over the course of the walk and are ready to go by dinner time. As an alternative you can use dehydrated prawns – I haven't tried this yet myself but backpackingchef.com has some instructions for dehydrating prawns for shrimp and grits.
You can use Instant Grits to save a bit of time and fuel. With instant grits, all you have to do is put the grits in a bowl, add boiling water, and stir.
In the south, grits are often cooked with cheese, particularly cheddar. In a wild camping situation I don't always (but sometimes!) have a cheese grater so usually just use my knife to make shards of cheese which I add at the end as a garnish.  I also like to add some chopped herbs – parsley and chives are especially good here and as a backpacking bonus, they don't weigh very much and will keep for a few days.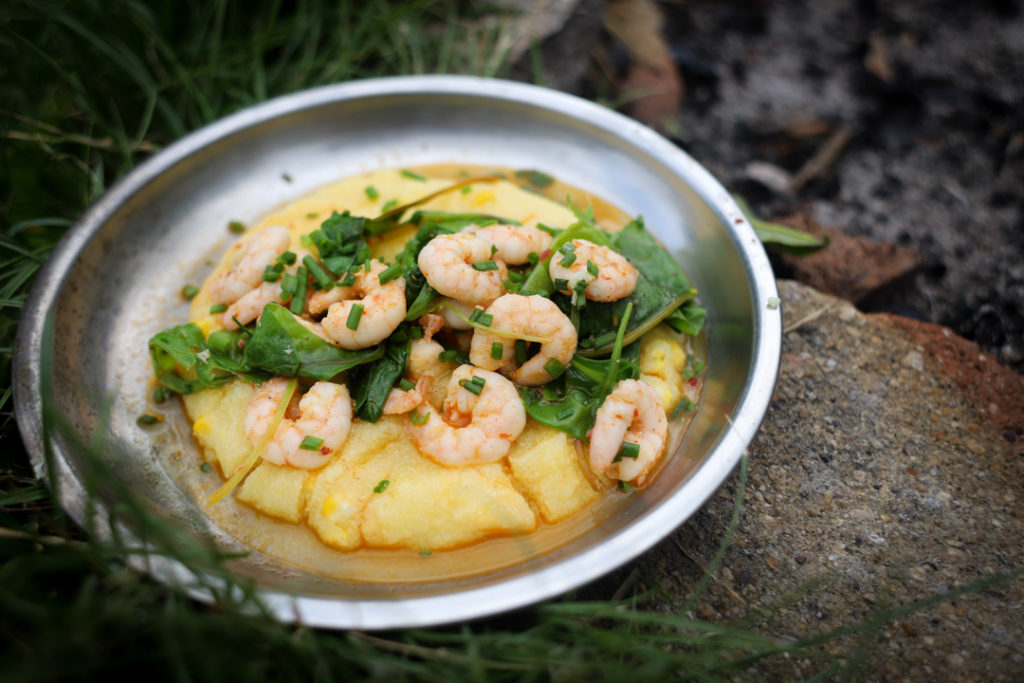 Campstove Shrimp and Grits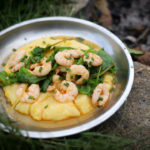 For the polenta
75 g polenta or grits (use the quick cookinig variety)
1 Tbsp powdered milk (optional)
500 ml water
salt and pepper
For the prawns
1 knob butter
1 pinch aleppo pepper or chilli flakes
salt and pepper
250 grams cooked prawns
leafy greens such as spinach or chard (optional)
Optional extras
chopped herbs
grated cheese (cheddar or parmesan work well here)
Make the polenta
Get the 500ml water boiling over your campstiive. Reduce the heat to a simmer and add the grits / polenta, powdered milk if using, and a good pinch of salt and pepper. Stir conostantly for a few minutes until the mixture has thickened. Remove from the heat and set aside.
Make the prawns
Heat the butter in your saucepan. When it starts to bubble, add the aleppo pepper and a pinch of salt and pepper. Stir for a few seconds then add the prawns.
Cook for a few minutes until the prawns are piping hot. Add a handful of greens if you'd like and let them wilt in the pan. Turn off the heat and serve.
To serve
Divide the polenta between to bowls / plates. Top with the prawns and any juices that remain in the pan. Garnish with the optional extras and enjoy!
Nutrition information for 1 serving with 40g parmesan cheese: 446 Calories; 12.5 fat; 39g Carbs; 42g Protein