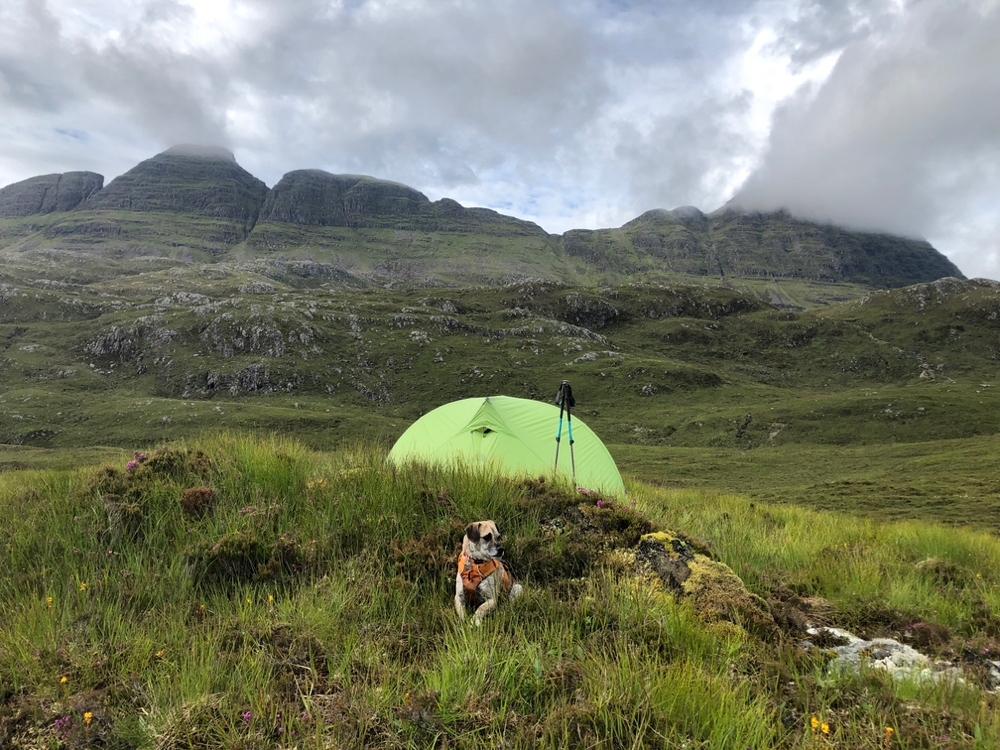 For insane mountain views and idyllic wild camping, head to Assynt in the Scottish Highlands and plunk yourself in the middle of Glencanisp Forest between Suilven and Canisp, two exquisite mountains with totally different personalities. I recommend a two nighter for this one. The two mountains are a challenge but doable in a day. Or you could climb both of them over the course of two days which would allow for plenty of time lounging, exploring, wild swimming, and cooking of course. Best of all, access is fairly straightforward with convenient parking and good tracks most of the journey.
Essentials
Getting there: Walkers Car Park at the end of the public road from Lochinver towards Glencanisp Lodge
Distance to base camp: 6.8 km (4.2 miles) – option to stay at Suileag Bothy
Height gain: 250 m (812 feet)
Height loss: 130 m (440 feet)
Climb up Suilven from base camp: 2.8km (1.7 miles); Height gain: 550m (1800 feet)
Climb up Canisp from base camp: 4.7km (2.9 miles); Height gain: 650m (2130 feet)
Total Journey: 27km (16.6 miles); Heigh gain: 1600m (5270 feet)
Recommended Map: OS Landranger 15 or OS Explorer 442.
How challenging? Tracks and well-defined path into the forest and up Suilven's main summit. No paths on the upper slopes of Canisp so good navigation skills required, particularly in poorer weather.
The Route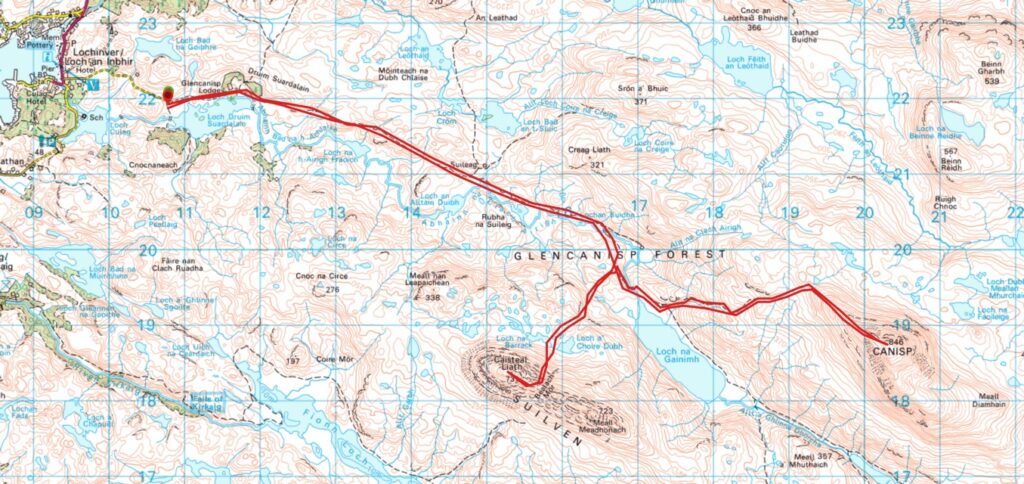 The journey starts at the Walker's Car park near Gelncanisp Lodge (donation suggested), a short drive from Lochinver (a good place to stock up on supplies). As you head out along the track you'll walk through Glencanisp Lodge, a former working estate, now home to some B&B accommodation and headquarters for the Assynt Foundation. It also has a nifty little "honesty shop" where you can grab a snack, tea or coffee, and simply pay into the honesty box (provided you happen to have some loose change on you!). This early in the trip you might not be in need of refreshment but make a note of it for the way back.
The route continues past the lodge along an old stalker's path. It's not long before the view opens up, revealing a rugged landscape of tempting lochans (trout-filled apparently) and rocky outcrops. After two miles of this you get to a junction. Turning left down a short path takes you to Suileag Bothy, a superb two-room bothy with sleeping platforms and wood burning stove.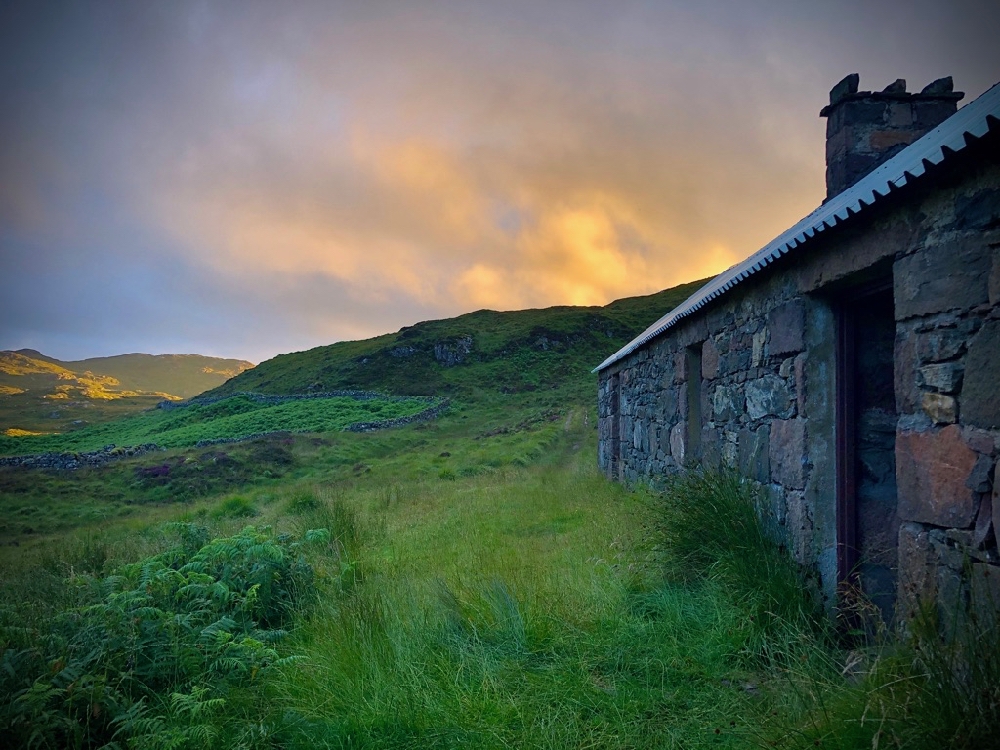 The bothy would make a superb base for exploring the area, however it was closed at the time of my visit due to Covid-19. Wild camping it will have to be! The area around Suileag is pretty boggy so not ideal for a camp, and there are better views waiting for you. Your best bet is to walk on from the main path towards Loch na Gainimh. As you get closer to the Loch, the Suilven monolith towers above (if you're lucky enough to have a view). The track follows the river Abhainn na Clach Airigh. You eventually cross a footbridge, and about 750m later, the turning point for the ascent up Suilven. Around here offers some great wild camping opportunities on one of the outcrops above the river which offer dry, flat land and incredible views. Another camping option is on the sandy shores of Loch na Gainimh. This area is also conveniently located between Suilven and Canisp, making it a great base for climbing up these two worthwhile mountains.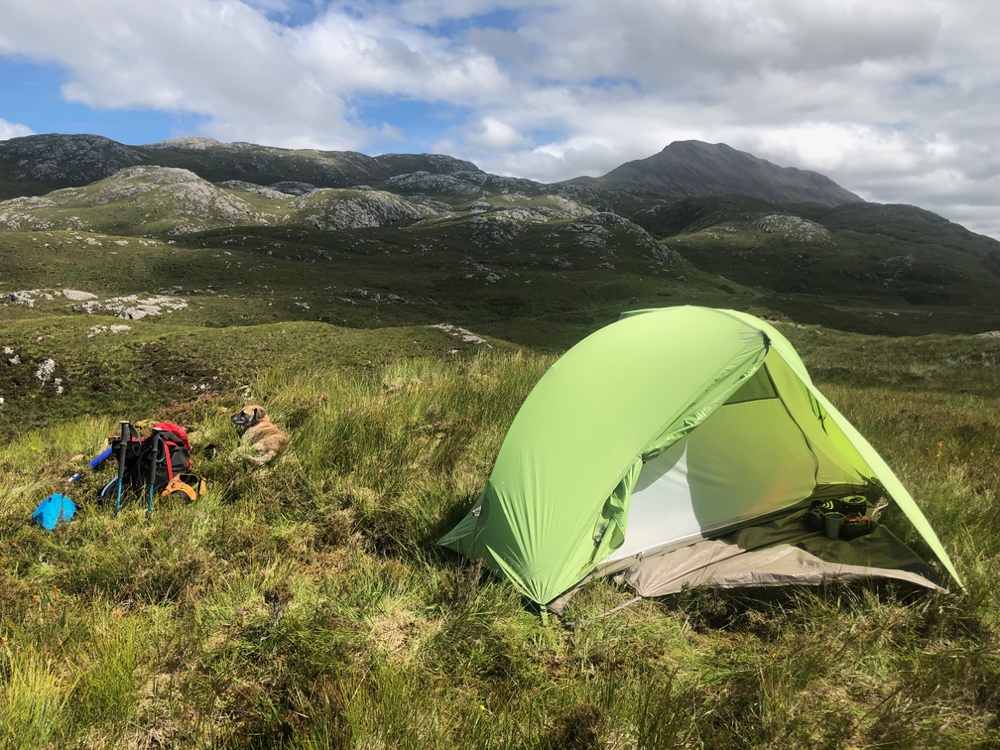 Ascent of Suilven
The path up to Suilven was once a slog, but in 2017 was relaid by the John Muir Trust. So although steep, the going is straightforward. Past two small lochans, you're finally at the foot of the final, near vertical climb. The going is slow, but after the main climb the path levels out onto a level grassy pitch (another ideal wild camping spot if you like a summit camp), and the views all around are unbelievable. The first mind blowing sight is that of the conical Meall Meadhonach, a subsidiary peak on Suilven requiring some adept scrambling skills best left for a day without the terrier.


Beyond, you could spend hours studying the myriad of mesmerising curves, lochs, and peaks (including Cul More, Stac Pollaidh, Ben More Coigach, and Ben Hope). I felt like I was looking back in time! I also couldn't help notice Canisp and started getting the itch to see what Suilven looked like from a distance. It was early (not even noon), the weather reasonably good (and getting better it seemed), so I then and there decided after lunch I'd head up Canisp for a different look at this gorgeous mountain!

"I claw that tall horizon down to this, and suddenly my shadow jumps huge miles away from me." – Norman MacCaig
A short climb takes you to Suilven's highest point, Caisteal Liath (731m). There I found myself in fog but it didn't matter. I'd had plenty of great views. And as Geoff Allan Says in his Scottish Bothy Walks book, "Whatever the weather, this is an unforgettable expedition and well worth the long drive north."

Ascent of Canisp
From my base camp, the journey up Suilven and then back to camp took about 3 hours (including stops to relish the views). It was the height of Scottish summer, so long days, and I knew I had a lot more to give. So I enjoyed a long lunch (Eat Sleep Wild Red Lentil Dal with naan bread!), let Lucky have a good nap, and then started towards Canisp along the track I came in on. The track crosses Abhainn na Clach Airigh via footbridge and continues up following a stream above Loch na Gainimh. The weather really was getting better – the sun was blazing and in the heat after my earlier exertions I found the going slow. But I took it easy, gave Lucky and I lots of water breaks, and plodded on, Canisp constantly in my view (very motivating in its own way).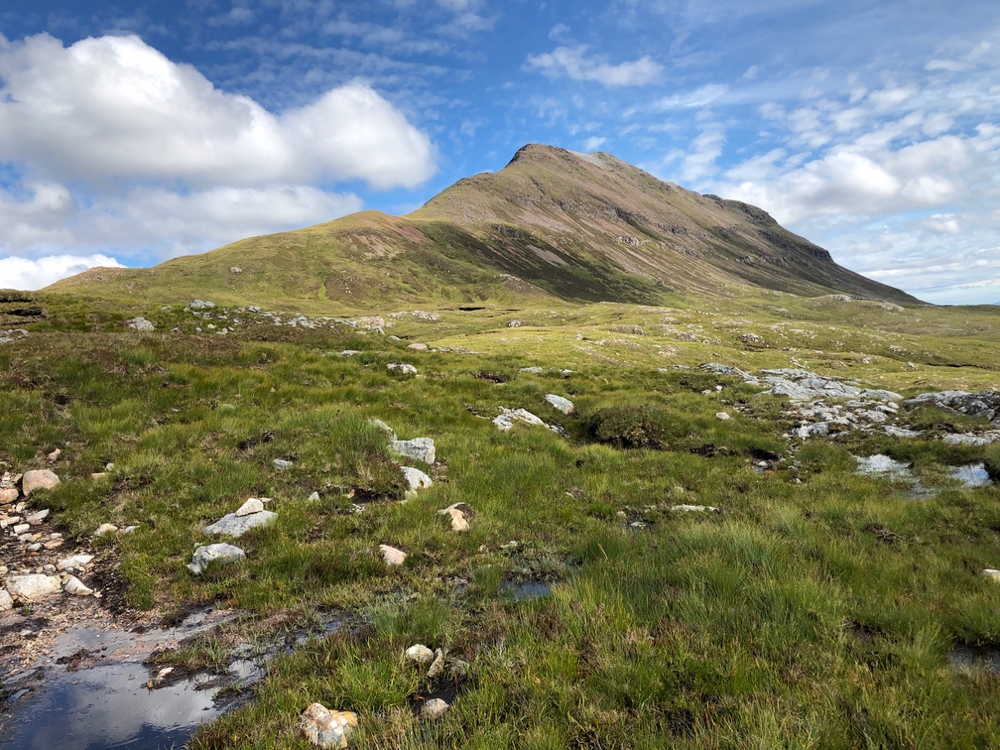 The track eventually runs out and you're left to plod across a short stretch of boggy land to get to the final climb. In good weather this is very straightforward as the summit is always in view. Poorer weather would require good navigation skills as it would be easy to stray off course in the process of dodging boggy bits. Fortunately for me the day was crystal clear so I made my way to the final ascent on the northwest side of Canisp which was way steeper than it looked on the map! (You can also ascent from the southeast which is less severe, but apparently very boggy – swings and roundabouts!) On the plus side, the ground itself was dry and grassy for the most part so pretty easy underfoot. Eventually the grass gives way for rocks and boulders. Two windshelter cairns mark the summit. On my visit we didn't need them as the air was amazingly still. Sweaty and knackered, Lucky and I plopped ourselves down for a rest. The canine went right to sleep while I carried on the day's theme of "holy shit" moments as I took in the view.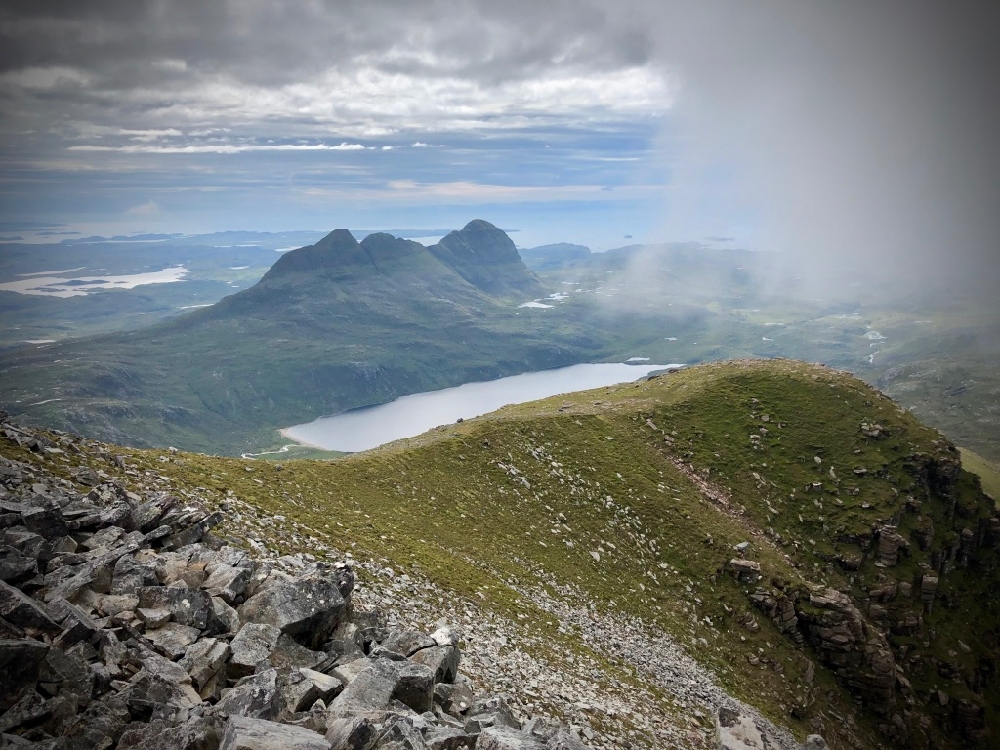 Suilven dominates the skyline, rising steeply from Loch na Gainimh. I was also taken by Cul Mor and Stac Pollaidh, two temping peaks I knew I'd have to save for another day. The best part of this experience was that I saw zero people the entire time. In contrast to Suilven, justifiably popular with day walkers and backpackers, Canisp was devoid of people, and I relished enjoying the achievement and the view in total solitude.


It was a slow walk back to camp. The two mountains combined involve about 15oom of ascent, and having been out of the mountains for months during lockdown, I was definitely feeling spent, but so so satisfied!
Wild Camping Highlights
If you know me at all then you know that I love the camping as much as the climbs! And here in this remote corner of the Scottish Highlands I found one of my best ever all time wild camping spots. Total solitude, epic views, easy access to water, flat dry spots for the tent, and did I mention the views? I had a bit of breeze in the evening which kept most of the midges away, and I was able to enjoy the evening's traditional camp stove cookout in view of the day's conquests.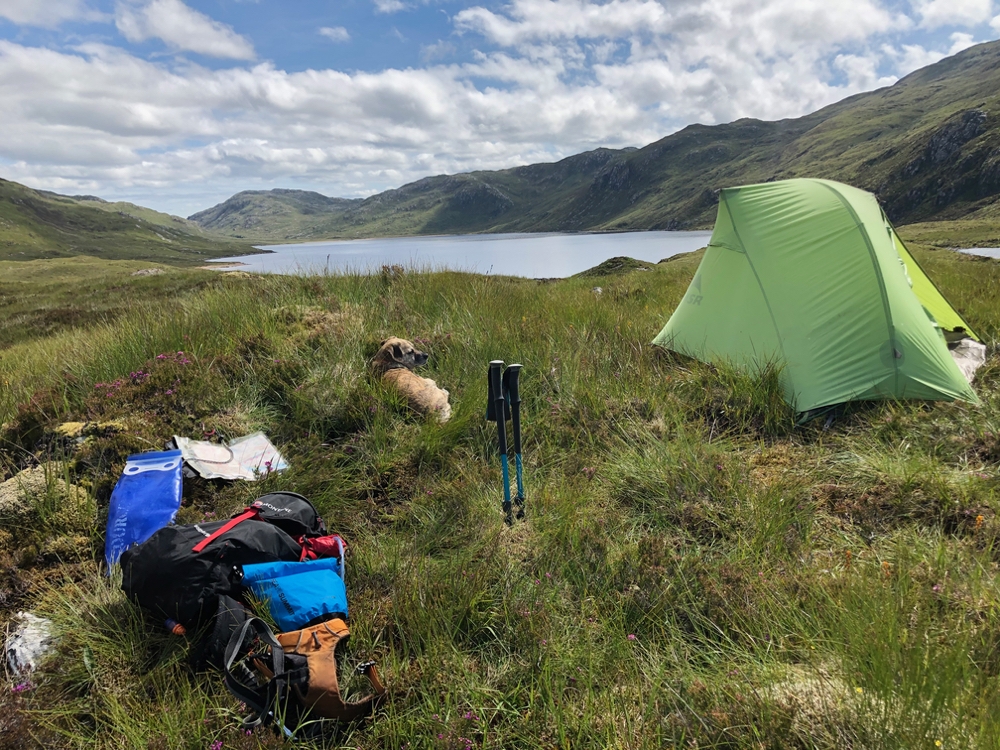 Foodie Highlights
The trip was a great opportunity for me to road test a couple new vegetarian dehydrated meals (available for purchase in the ESW Shop, just saying!). In particular the Red Lentil Dal and Black Bean and Sweet Potato Chilli. So much fun and the best part of this new venture. Loved them both but they definitely needed a little extra to make them substantial enough to hold up to the day's activities. Fine for me as I always bring along extras (dal and chapattis on the trail are soooo kick ass!) but appreciate some people like a one pot meal option so I'll be adding this to the site in due course.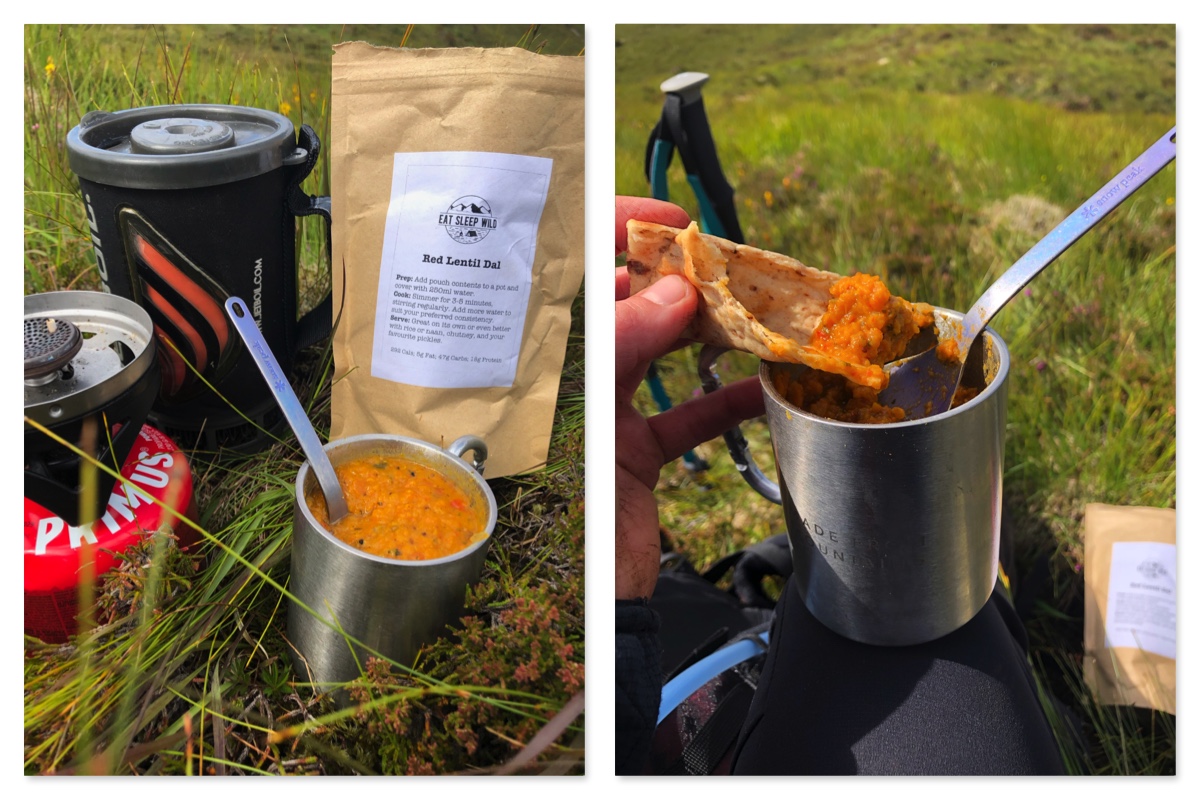 I also had my Jetboil summit skillet with me to help support my obsession with fresh veggies with every meal. (It also reminded me how much I'd forgotten about packing light while wild camping!)

Related links