This trip report details a summer wild camping trip to Shenavall Bothy with a climb up Ruadh Stac Mor, considered one of the most remote Munros in Scotland. The Munro is located in the Fisherfield Forest, known as the "Great Wilderness" as the area is wonderfully devoid of any settlements. Ambitious folks take on not just one Munro, but the entire "Fisherfield Six" (a mammoth circuit taking in all five Fisherfield Munros and a Corbett). At the time of my visit, all MBA bothies were closed due to Covid-19, so I wild camped rather than staying at Shenavall. That said, Shenavall is a justifiably popular bothy, so the wild camp may very well be the preferred option anyway! More on this below.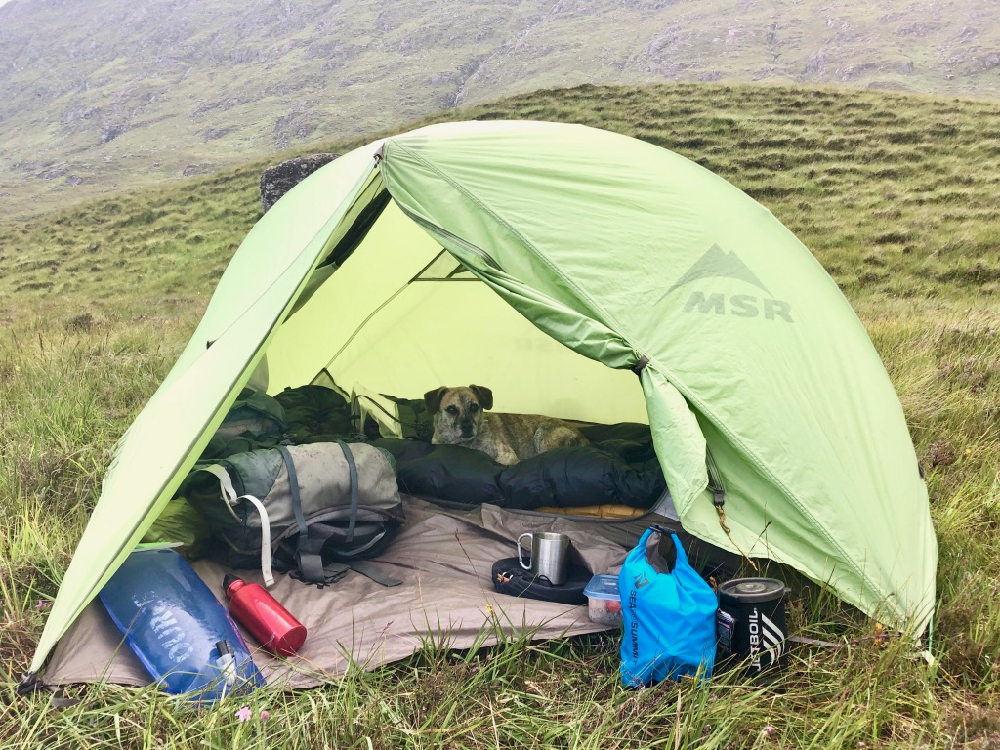 Essentials
Getting there: Car park at the layby at Corrie Hallie.
Distance to Shenavall Bothy: 7km (4.5 miles)
Height Gain: 370m (1200 ft)
Heigh Loss: 303m (995 feet)
Recommended map: OS Explorer 435
Want to do the summit? If you want to climb Ruadh Stac Mor, it's a further 9.7m (6 miles) and 820 meters (2700 feet) of ascent.
The Route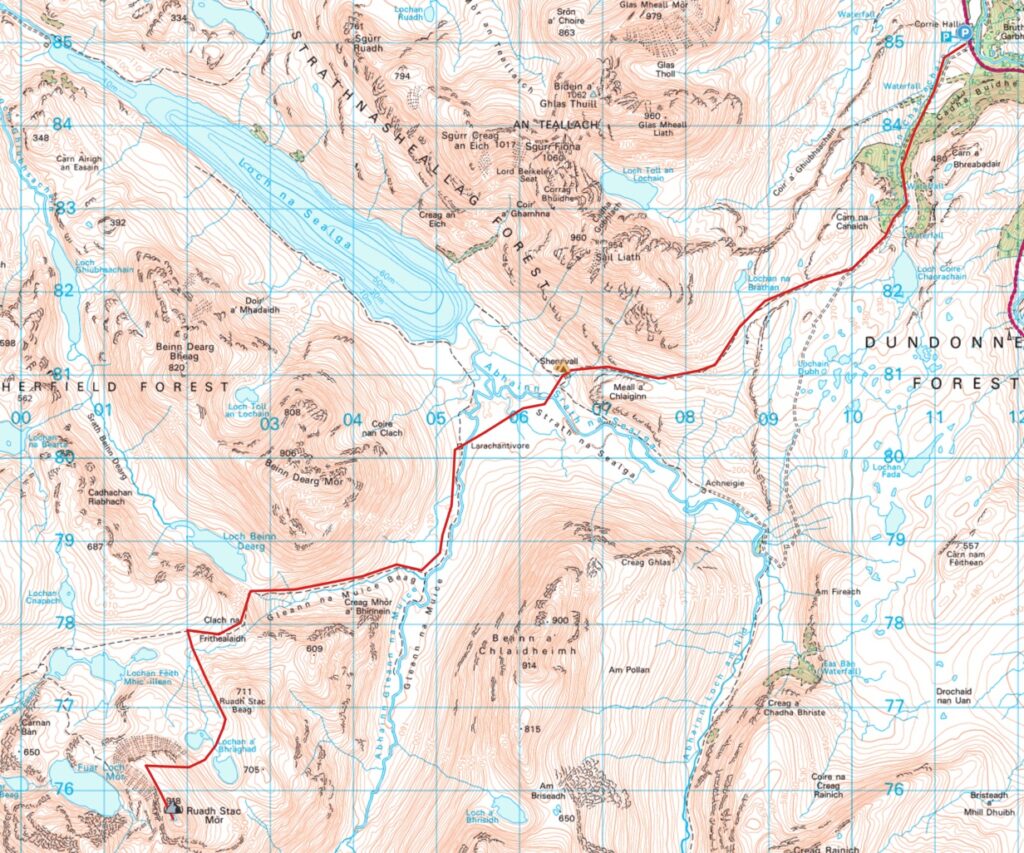 The walk to Shenavall bothy is straightforward and worthwhile in itself, following an easy track for most of the journey. The trip begins at the lay-by at Corrie Hallie on A832 (NH114851) where hopefully there will be space to park your car (the drive to the lay-bay is gorgeous in its own right). Across the road is a track with a Scottish Rights of Way signpost. There is where you're headed!
The track climbs steadily to a footbridge, and ahead, a steep (but thankfully) short climb to a cairn.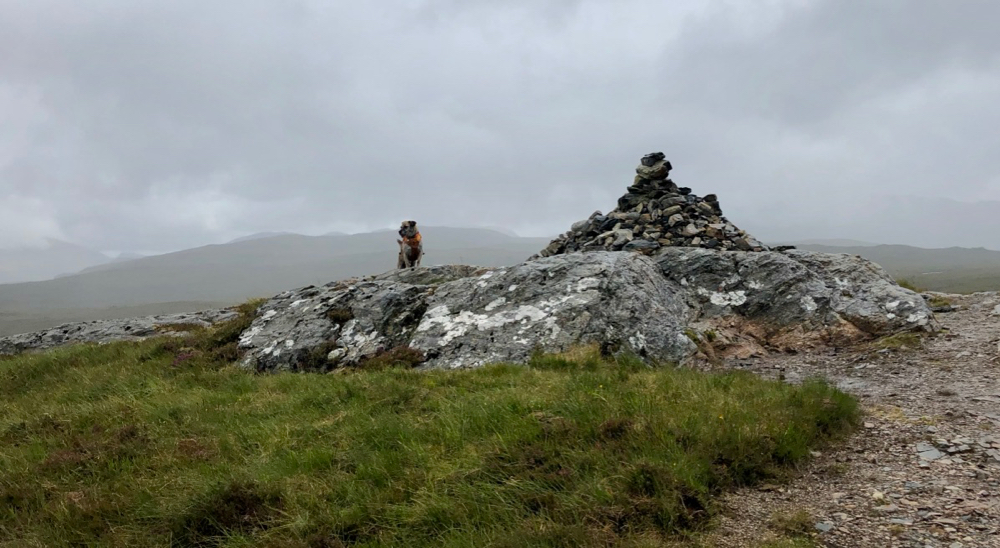 This was my first outing since pre-Covid lockdown, and I could definitely tell I'd lost some hill fitness, as well as the sensibility to pack light! (My kit included a bottle of hot sauce, a heavy book, frying pan, and myriad vegetables.) Plus side: I got to try out my new waterproof jacket.
Further on is another cairn marking a fork in the path. The right fork takes you down into the river valley of Strath na Sealga and straight to Shenavall bothy. The left fork also takes you to Strath na Sealga, a few kilometres southeast of Shenavall. There's a pleasing little alder woods here at NH088788 which would make a pleasing spot for a wild camp. You could stop for the night, before taking on the daunting Fisherfield Six, or carry on up the river to the bothy and loop back to the start from here. Or do like I did and stay for a couple nights and explore some of the farther reaches of the Fisherfield Forest!
Wild Camp near Shenavall Bothy
I'd heard of Shenavall bothy from friends and read about it from a few of my favourite adventure authors including Phoebe Smith of Wilderness Weekends and Geoff Allan of The Bothy Bible and Scottish Bothy Walks. Once here, it's easy to see the attraction. The views are insane. The hills in the distance have magnetic appeal. The "Great Wilderness" does feel exactly that, and it would be a shame not to spend a night or two immersed in these surroundings.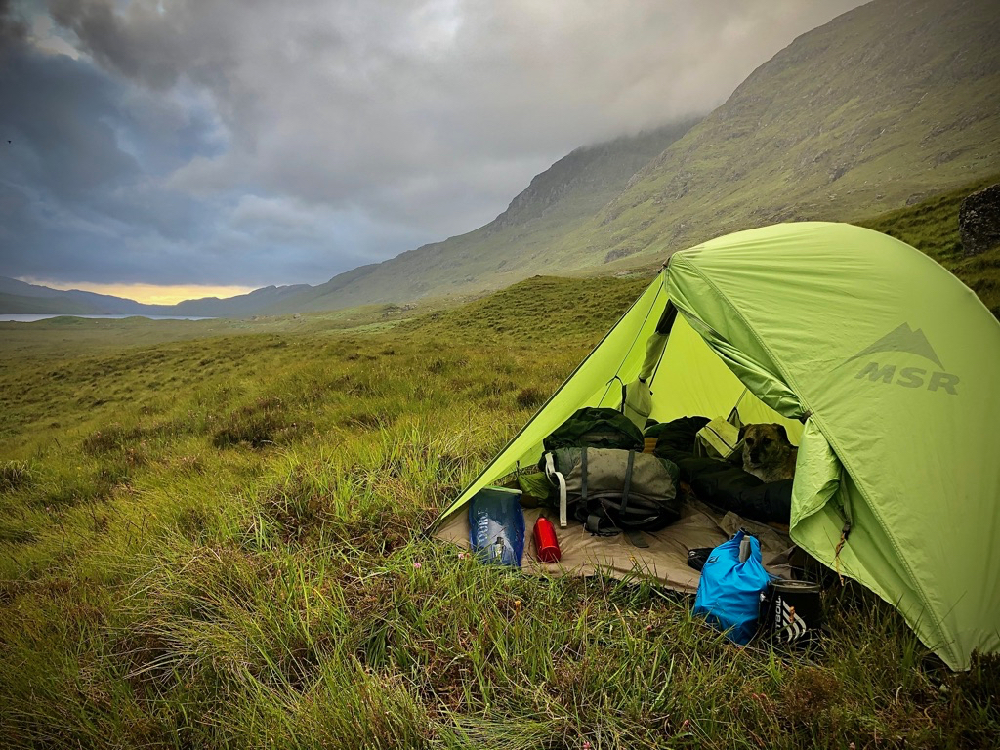 There is of course the option to stay in Shenavall, a pleasant and justifiably popular bothy in an insanely beautiful setting. At the time of my visit, all MBA bothies were closed due to Covid-19, so I chose to wild camp nearby. Despite the bothy being close, the site itself still remains popular with walkers. And after pitching up, a few other groups arrived – some staying in the bothy despite it being "closed". Others camped nearby, one group testing my patience by pitching up in view and in earshot of my tent. I don't get it, there's so much space. You walked all the way here, how hard is it to walk 5 extra minutes to somewhere more private? I might have considered saying something, but from the safety of my tent, I wasn't keen on facing the swarms of midges outside to have a go at these [probably] well-intentioned campers. I got over it. And with a view like this, it was easy to focus my mind on other things.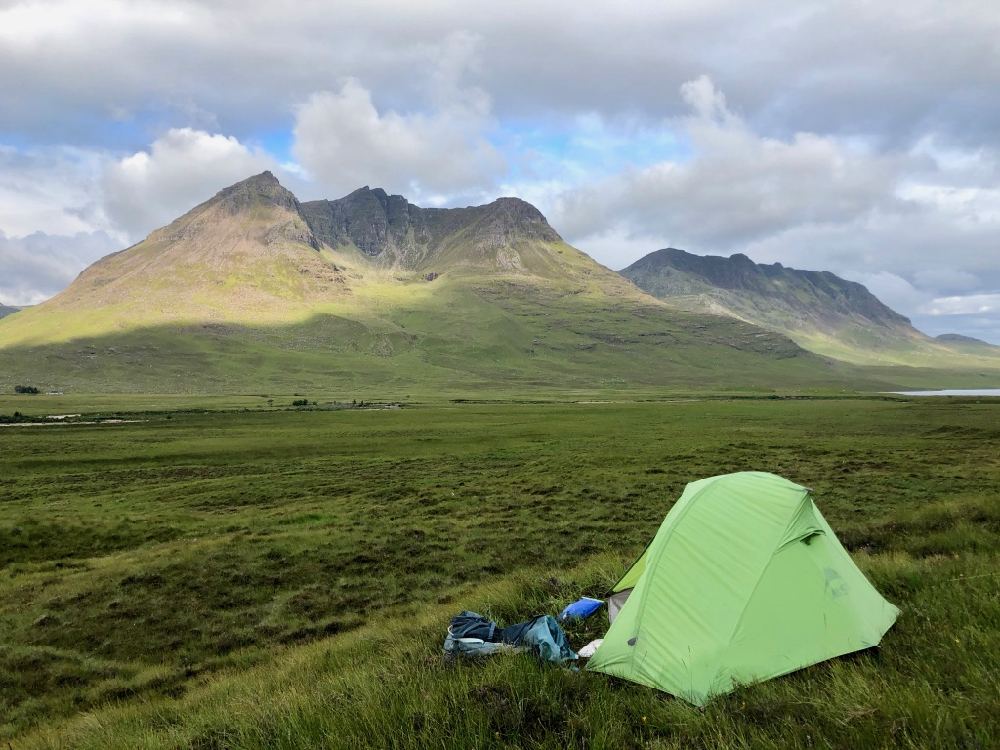 Ascent of Ruadh Stac Mor
Before setting out I had actually considered attempting the Fisherfield Six. I now realise that would have probably been impossible given the recent lack of hills in my life (see above). I decided instead to focus on my chosen Fisherfield ONE: Ruadh Stac Mor, considered "perhaps the remotest Munro in Britain". This in itself was not trivial.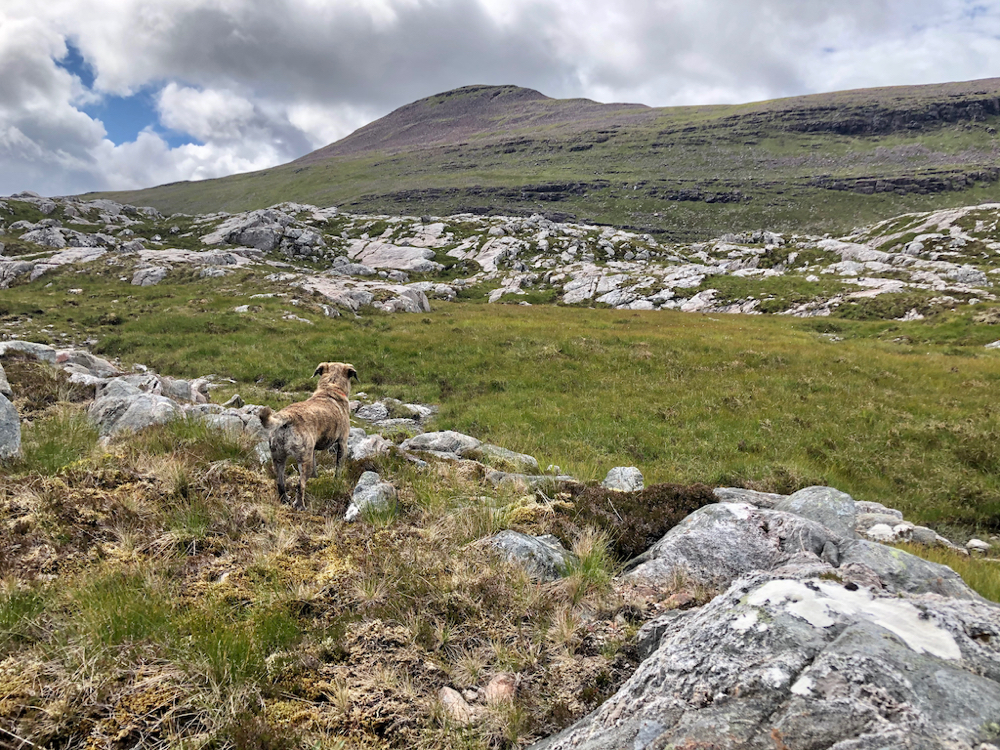 The first obstacles were two substantial river crossings, visible from the bothy. As I discovered, they are no joke, and would be impossible in spate. On my visit, the deepest parts were above my knees, and with a heavy current, care would be needed. My biggest challenge was the Lucky dog, who couldn't cross on his own – I'd have to carry him. At the first crossing over Strath na Sealga, I tried a few approaches… first taking my shoes off, but then realising there was no way I could stabilise myself across the river while carrying 15 kilos of terrier in my arms. Then I wondered if I could make it across in my boots and gaiters, but that too seemed like wet feet waiting to happen. Finally, a super fit dude with a spaniel came trundling by. I asked his advice and he agreed to help me. I learned he was doing the Fisherfield Six, so was unsurprisingly in a bit of a hurry (but very very kind). Shoes and socks off he offered to carry my stuff and I said my pack wasn't a problem, it was the dog. Without a word he splashed across with his dog, then came back, scooped up Lucky (who miraculously didn't bite him) and splashed back over with him. Shoes off I made it over myself (much less adeptly). We joked about packing sandals for next time, and he was quickly off. I still had the second crossing to come, via a trudge through a large bog (and then the same again on my way back!).
The second crossing was easier, however it took about 45 minutes of walking up and down the stream where I found a spot (about 300m north of the old farm buildings at Larachantivore at a bend in the river) where I felt I could risk dashing across in boots and gaiters carrying Lucky. When I finally made it (with dry feet) I felt victorious. After all this I realised I hadn't had breakfast. The midges at the tent were unbearable so I thought, "oh I'll just get going, get those rivers out of the way, then have breakfast!" I had no idea the rivers would be such an ordeal. My buckwheat granola felt well earned, and I hadn't even started going up hill!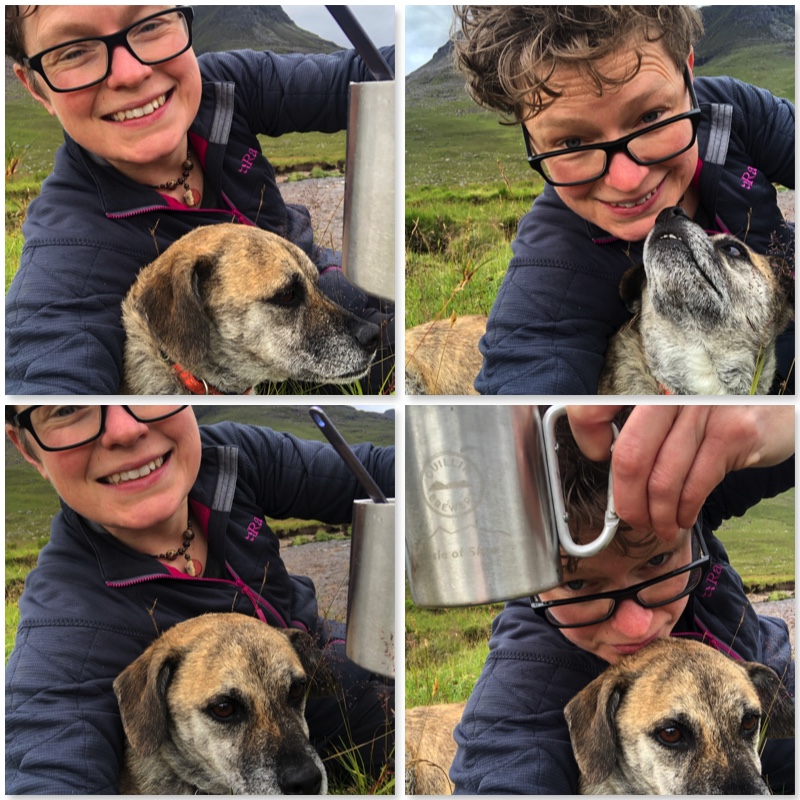 With the rivers behind me I carried on. There's a clear (but often boggy) track that follows the river south, then forks east up Gleann na Muice Beag and into the mountain pass. This is where the climbing really begins. Things level out at Clach na Frithealaidh, where you can see the summit top of Ruadh Stac Mor across two lochans and a series of gullies. The rest of the walk is off path. Good visibility made the otherwise tough going easier. I followed the left-most gully up to two small lochans, then trudged in between them through boggy ground. Then onwards and upwards towards the summit over rough and rocky terrain (grateful to have a break from bog).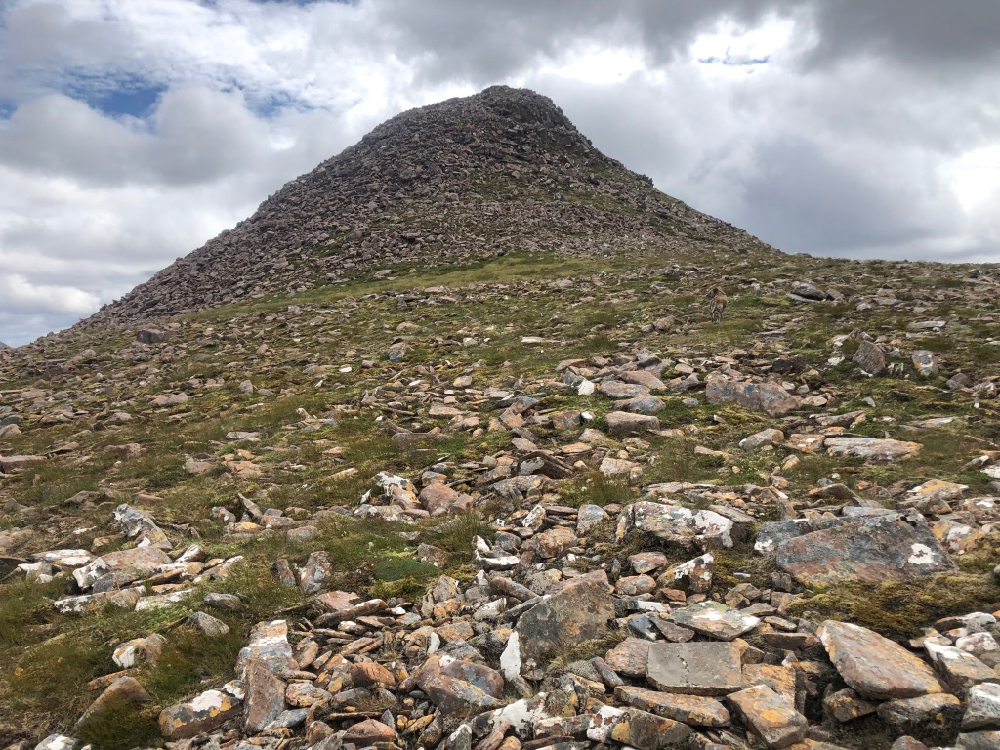 A bit of light scrambling is required towards the top which Lucky managed with ease (I did alright, too). Finally at the top, grateful for a view, I could really appreciate what this "Great Wilderness" was all about.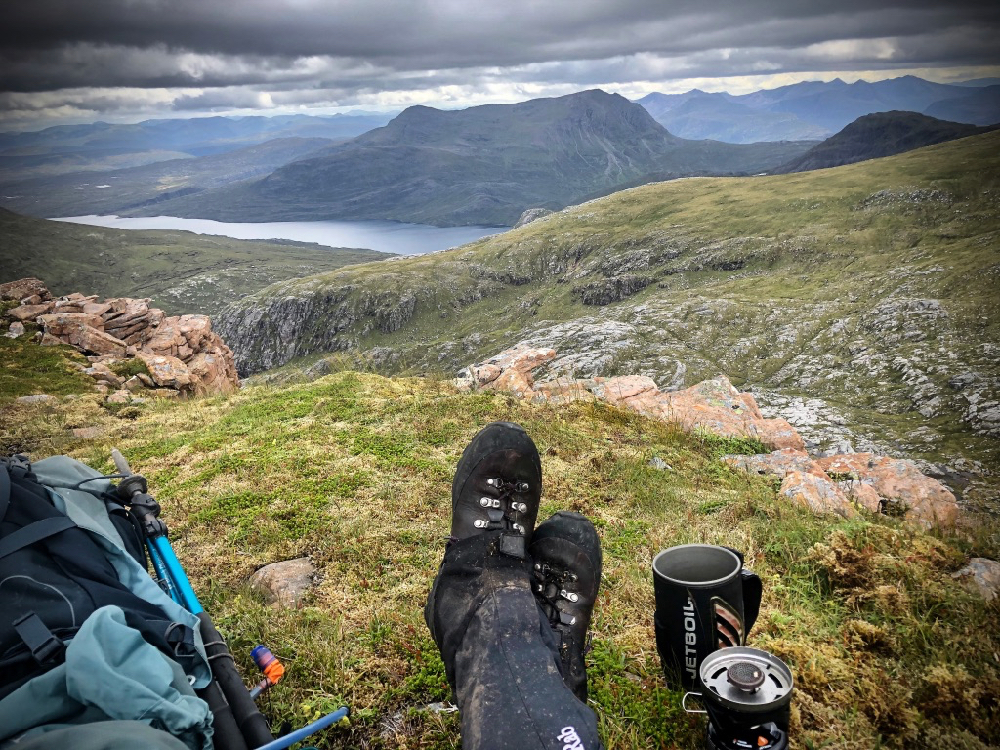 After spending some time at the top to rest, refuel, and enjoy the view, I started making my way back to the start. I was pretty tired from the journey, and laughed at myself for thinking I could have done all six summits! It was a bit of a slog back to the main track, but once there the going was cruisy and I took my time, feeling really good about my first Munro since lockdown! As for the upcoming river crossings, I was too tired to worry. My plan was to just go across in my boots and gaiters, carrying Lucky, and hope for the best. In the end I only got a little water in my right boot which didn't bother me at all. Back at my tent, grateful for a breeze keeping the midges away, I spotted the helpful stranger from earlier walking back to the bothy. The dude did the whole Fisherfield Six in the time it took me to do ONE Munro! Mega respect!
Foodie Highlights
Herein lies the crux of my overpacking issues. But it was so worth it. On night one I used my dehydrated black bean and sweet potato chilli (make your own or buy yours here) to make an epic tent burrito with sautéed cavalo nero, avocado, grated cheese (yes there was a mini cheese grater in my laden pack, too!), fresh coriander, and my Trailblazer Hot Sauce (current hot sauce addiction). The Jetboil Summit Skillet is soooo good for this kind of thing. Tacos, quesadillas, and burritos are totally up there among of my all time favourite wild camping foods, especially in summer.
On the second night I cooked up the rest of my veg in the skillet, added a fried egg, and enjoyed with more tortillas, avocado, and hot sauce. A sort of amped up breakfast taco thing (I do love breakfast for dinner).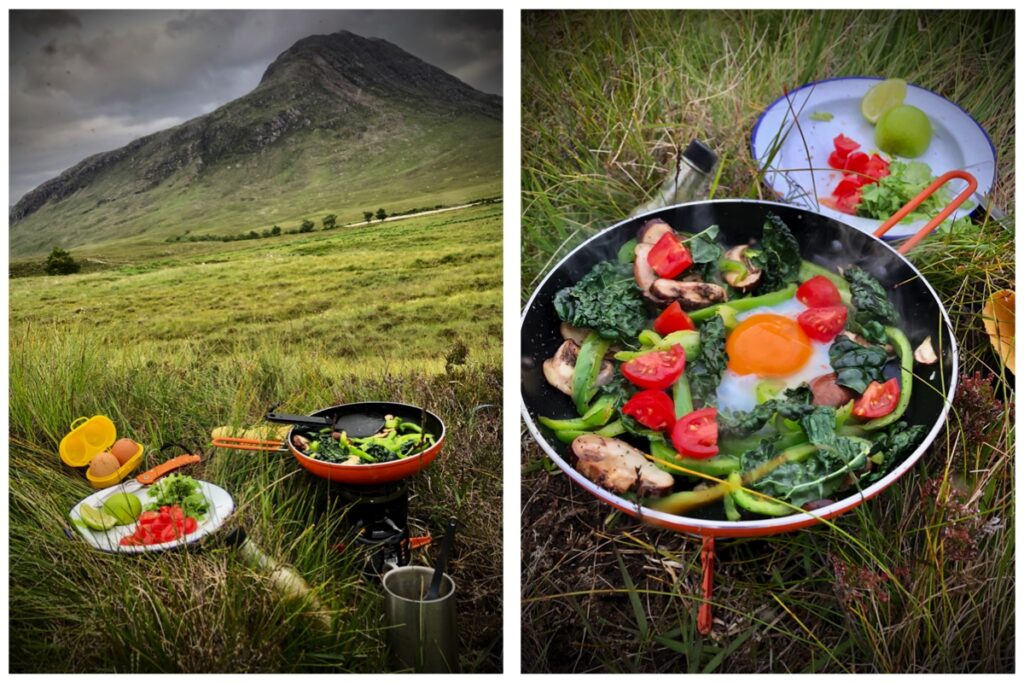 As mentioned above, breakfast on both mornings was my favourite sprouted buckwheat granola (again, you can make it yourself or buy yours here). And of course coffee. This was my first time using the Jetboil's newly designed coffee press and it was a massive improvement on the old one. Cheers!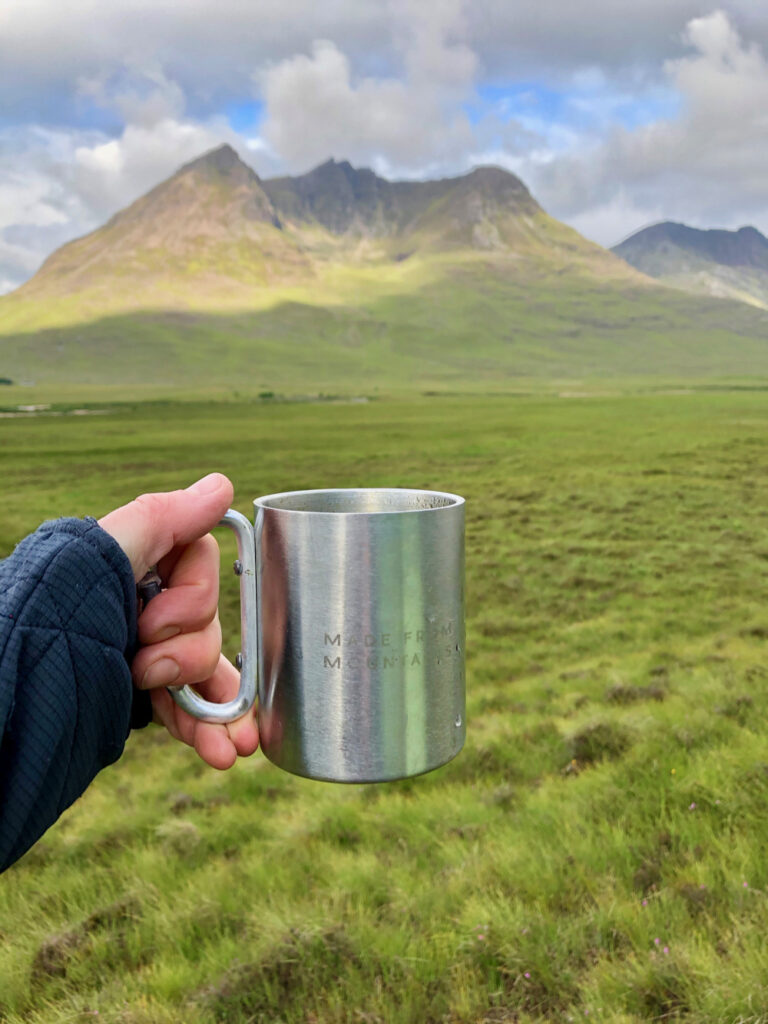 Useful links