The Jetboil Summit Skillet is by no means a necessary piece of backpacking kit. People who are happy to eat energy bars, instant coffee, and just-add-water-to-a-bag freeze dried meals will no doubt find it overkill. But for the backcountry gourmet camper, this ultralight skillet is a game changer. I've been using it for the last few months and it's become a favourite tool in my backcountry kitchen. I'm using it with the Jetboil Flash 2.0 Cooking System with pot support.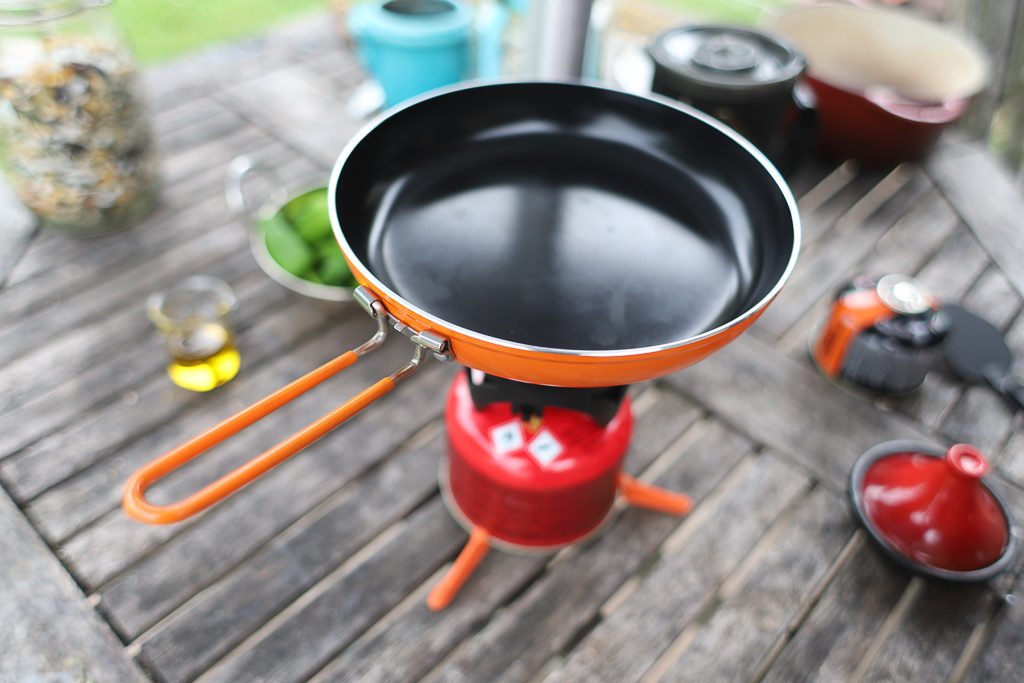 Things we like about the Jetboil Summit Skillet
Lightweight and compact. At 300g it's by no means "ultra" light, but it's light enough. The skillet comes with a spatula that fits into the foldaway handle making it easy to pack. The handle folds easily but also remains rigid and sturdy when in the cooking position.
Easy to clean. The non-stick ceramic surface is incredibly easy to clean. Nothing seems to stick to it! I can typically clean sufficiently by just wiping it out with a damp microfibres cloth.
Quality materials and thoughtful touches. Eco-friendly, PFOA-free ceramic non-stick. Varied wall thickness for even heat distribution. This means if you try to make an omelet, the whole thing gets cooked, not just the middle! The spatula also has a nifty design, with one edge that doubles as a slicer (handy for frittatas!).
More options on the trail. This of course is the big benefit. A non-stick skillet vastly increases the range of meals you can cook. The only limitation is what you're willing to carry. My favourite Summit Skillet creations so far have been omelets, fajitas, quesadillas, and sautéed prawns. You could cook a steak in this pan, or pan fry some lovely sea bass fillets, or make an epic stir fry.
A few tips:
Let the skillet warm up before cooking. It does take a few minutes. Put a drop of water in the pan to test the heat – if it sizzles you should be good to go.
Cooking fats. I recommend using something solid at room temperature such as coconut oil or ghee for easy portability and less mess. That said, if you prefer your olive oil (good for drizzling, too!), by all means go to town. (Nalgene make some brilliant little food safe bottles for such things.)
If you like eggs, grab yourself one of these nifty lightweight egg holder thingies and treat yourself to an omelet for breakfast. It's one of my favourite uses for the Summit Skillet and what a way to start the day!
Any flaws?
The only discernible flaw I've identified so far is that cooking with the Summit Skillet requires more fuel than other methods of cooking. So do pack extra fuel accordingly, and make sure to shield your stove from wind to avoid wastage.
Recipes
Where to buy?
My Summit Skillet come was purchased from Absolute Snow. You can also buy from Amazon, along with plenty of other online retailers.