It was mid-November and I'd taken a few days off well ahead of time. It had been a few weeks since I'd been on any kind of outdoor excursion, so I was eager to get out. The weather forecast was a mix of rain and cold, with snow in the forecast and more to come. As it was November, daylight would be limited – sun sets at around 4:30pm, right about the time I planned to arrive. I needed an iffy weather option that wouldn't be too arduous in the dark with a heavy pack and a tethered terrier.

I remembered hearing about bothies in Wales sometime after my first bothy experience in Scotland. In fact, there are nine bothies across Wales: one in the Brecon Beacons, five in Snowdonia, and four in Mid Wales. Fancying something a bit further afield than the Brecons but not quite as far as Snowdonia, I started researching Mid Wales, an area I had only ever before explored on bicycle. It's easy to overlook on a map, sandwiched between two huge National Parks. Why go to there?
The Green Desert of Wales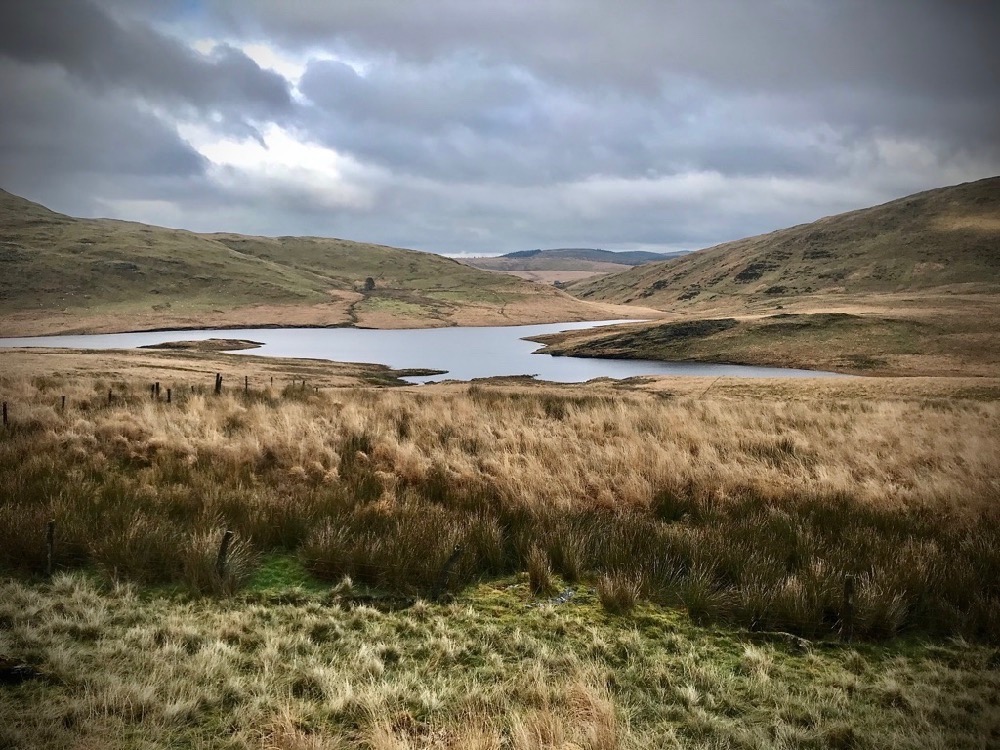 Mid Wales is dominated by the Cambrian Mountains, including the "Green Desert of Wales", so called because of its lack of roads and towns and its inaccessibility. Daniel Start, author of The Wild Guide Wales, says:
Emptiness, wilderness and water: a land of peaks, forest and lakes, the 'Green Desert of Wales' is still one of the least-frequented places in Britain. High in the barren uplands of the Cambrians lies the twisting wild reservoir of Nant-y-Moch with long shale shores, many coves and an empty road hugging its southern shores. Rising above is the hulk of Plynlimon, the highest point in the Cambrians (752m) and source of both the Severn and the Wye. The road here feels like an epic journey in itself, even in a car, but follow the tracks higher for even wilder camping. (Source: Ordnance Survey, Top 5 wild camping spots across wales)
The more I learned about Mid Wales, the more it spoke to me.
Which bothy?

I started reading up on the four Mid Wales bothies. Of all of them, the most accessible seemed to be Nant Syddion, a 1.5ish mile, "gently" uphill journey on a forestry track, with an easy parking option at Twynmar Campsite. This was also Phoebe Smith's choice of the Mid Wales bothies to feature in her Book of the Bothy for its palatial size and interesting history:
Thought to have been built in the 1930s, this massive house is the antithesis to petite Grwyne Fawr-type bothies. Sitting within Forestry Commission land, on a sloping field, it is surrounded by trees on all sides. With a total of four rooms upstairs and two sitting rooms downstairs, a similar property, if transported to southern England, would be worth close to a million pounds – if not more.
Getting there
My companions for this journey were Andrew and my terrier Lucky. We arrived at Gwersylla Tymawr Campsite just at sunset. I always have a little panic as I arrive at a new place, particularly as I assumed the campsite would be shut this time of year and we might have to find an alternative spot for the car. But I needn't worry. At the campsite there was a small parking area (likely to get full in better weather) with a £2 honesty box.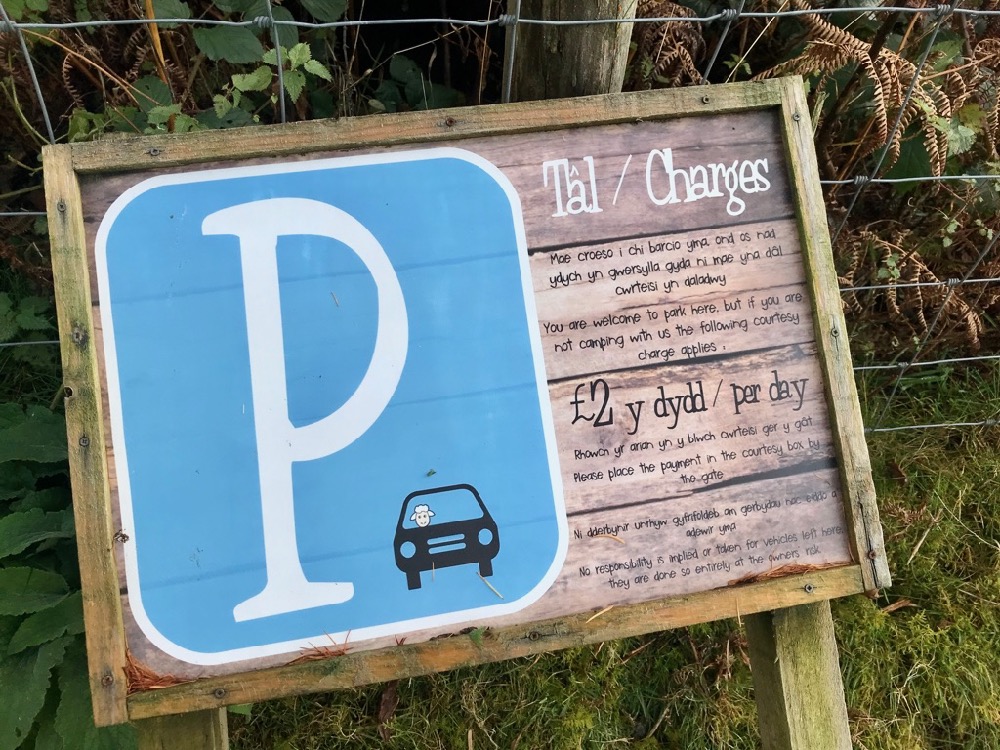 As we gathered our belongings, trying to figure out how we'd manage all our gear AND firewood, a woman who I assumed to own the farm passed by while walking her dog and we had a nice chat. She also informed us of the great news that the people at the bothy the night prior had left! So there was hope we'd have the place to ourselves….
It was a straightforward hour and a bit walk to the bothy, made slightly more laborious by all of the gear and firewood we were carrying. By the time we arrived it was very dark, and we wished we had better head torches. The bothy is set downhill from the main track and would have been easy to miss. Look out for a long barn… the bothy is soon afterwards.
The Bothy

It was 6pm when we arrived at Nant Syddion. To my delight it was empty! We ditched our gear and had a customary explore – the place was indeed huge, and a little creepy in the darkness, especially in the small empty bedrooms upstairs. We decided that the the sitting room with the wood burner would be our resting place for the trip. This was clearly The Place To Be, with a big table, a guestbook, and a shelf housing all of the treats and helpful tokens left by previous occupants.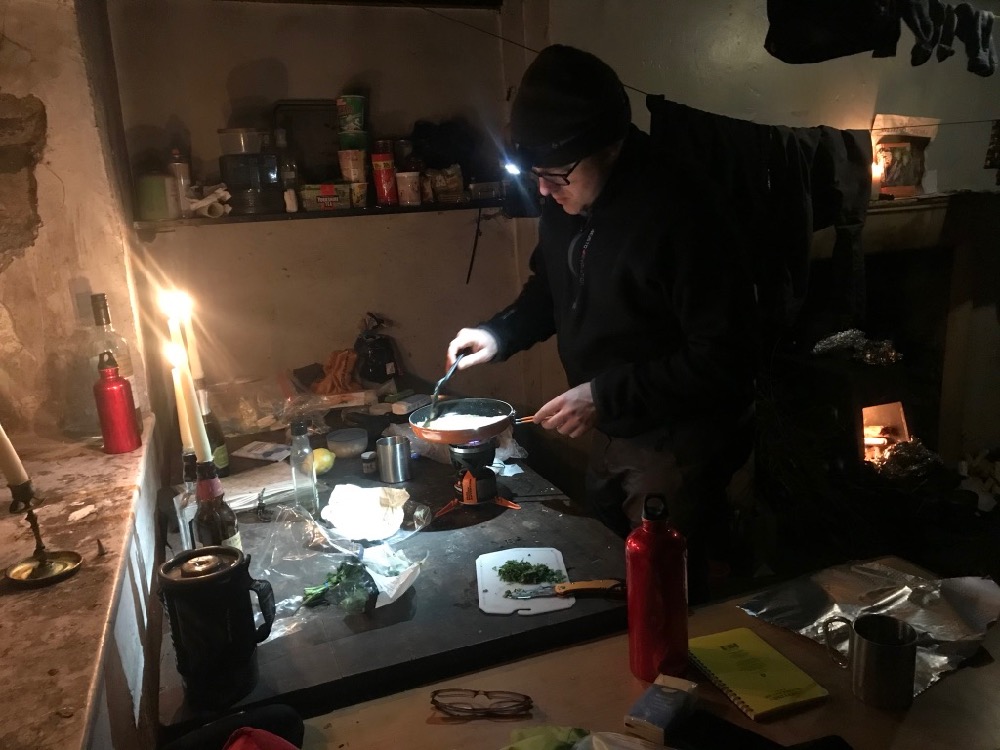 We got to work lighting candles, hanging up our wet gear, and getting the fire started. A half bottle of Prosecco was the beginning of a long litany of treats that we brought along to keep us jolly and warm throughout the evening. Other treats included:
A camembert and sourdough baguette that we warmed on the wood burner as an appetiser
A modest cheeseboard (yes more cheese) consisting of Roquefort, Comte, and Rachel (a semi-hard washed rind goats cheese)
Notebooks, guidebooks, and iPads for journalling and research
For dinner, new potatoes and tenderstem broccoli (cooked on the fire) to go alongside pan-fried plaice (cooked with the Jetboil Summit Skillet)
Marshmallows, graham crackers and chocolate – essential fixings for S'mores
A small Sigg bottle of Laphroaig 10-year-old whisky!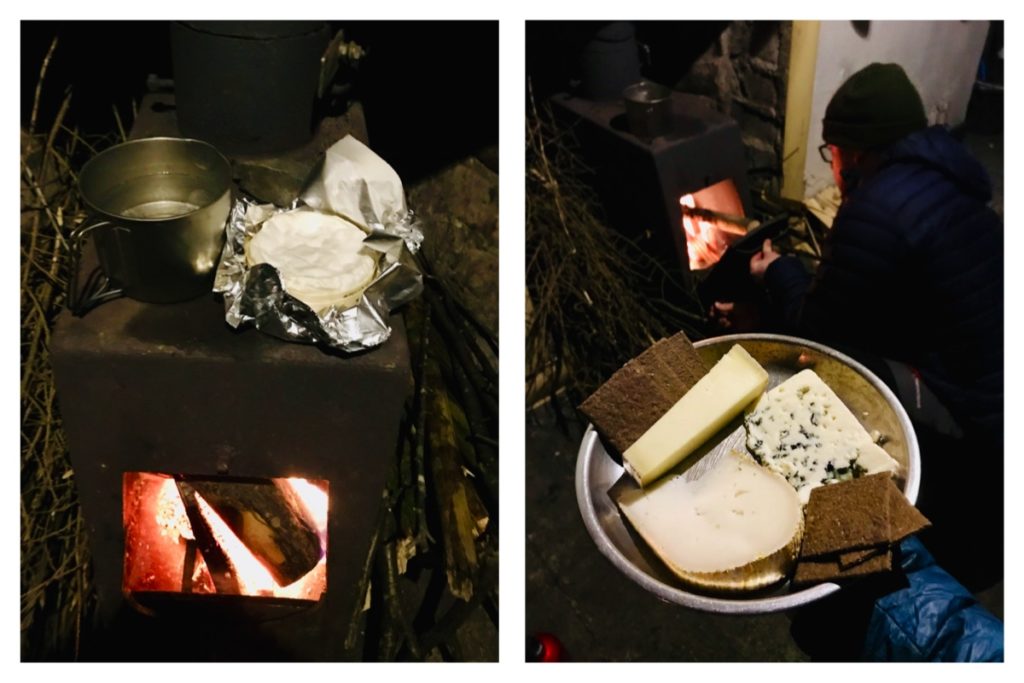 The Morning After…
By morning the rain had cleared. Daylight allowed us to see more of the bothy, which is far less creepy in the light of day.


There's an area outside for an outdoor fire where I lit up the Kelly Kettle to make coffee. There's even an outdoor loo that is in remarkably good and serviceable condition (toilet paper included).


We had plans to move on by mid morning for other adventures, so tried to make the most of our cozy hideaway while we had the time. More journalling, a small fire with our remaining wood, and a fairly epic breakfast (omelettes and sourdough toast). As we finished packing our things another group arrived, armed with food and all manners of gadgets for chopping wood! I left fixings for S'mores behind, though I admit I felt a little forlorn because they didn't seem like the kind of folks who'd appreciate it (I was picturing a family, or maybe a couple!). But I suppose that's not the point. Regardless, it definitely felt time to move on. Onwards to our next destination: a wild camp near Plynlimon Fawr, the highest point in Mid Wales (stay tuned for that trip report!).
Nant Syddion Bothy: Need to Know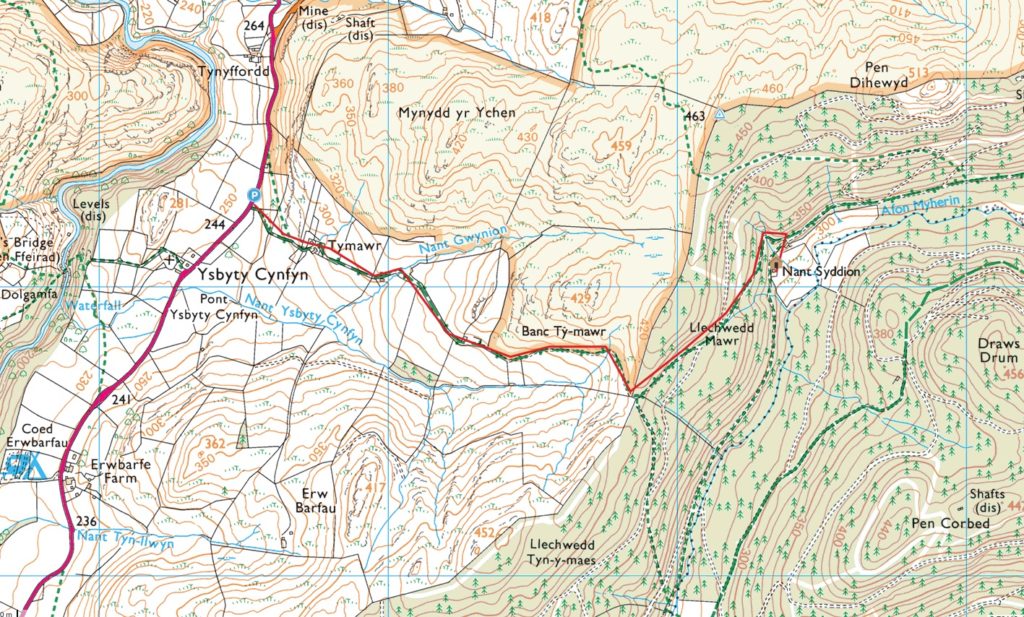 Maps: OS Explorer 213 or OS Landranger 135
Parking: Gwersylla Tymawr Camping (£2 fee via honesty box)
Grid Ref: SN 773 790
Terrain: Easy to follow farm track sand forestry tracks
Water: Stream outside of bothy (the indoor sink I've heard of in previous reports seems to have been removed)
Fire: Two multi-fuel stoves (bring your own fuel)
Building: Stone building with slate roof. Two front rooms, one with a wood burner, the other with a fireplace. Four bedrooms upstairs. There was even a reasonable clean outside loo with toilet paper!
More resources: