I've just returned from an incredible (and way too short) cycle tour of Wales. In four days I covered just over 100 miles from Chepstow to the Elan Valley following various branches of the wonderful National Cycle Route the whole way. The distance is a testament to the challenge – there are hills a plenty in Wales which made the going slow but worth the effort with every view and vista I encountered.
Cycling is hugely popular in Wales – I must have passed (and been passed by) hundreds of cyclists in lycra throughout the journey, particularly in mid-Wales. I didn't, however, see many cycle tourists like me – I only encountered three other folks on pannier-laden bicycles the whole trip. I also couldn't find a whole lot of information on the subject on the internet, which suggests to me that bike touring in Wales isn't outrageously popular.  But it should be! So I'm hoping by sharing my experience I might encourage some other people to give it a go, and offer some useful tips from my experience. A cycling holiday in Wales could be yours!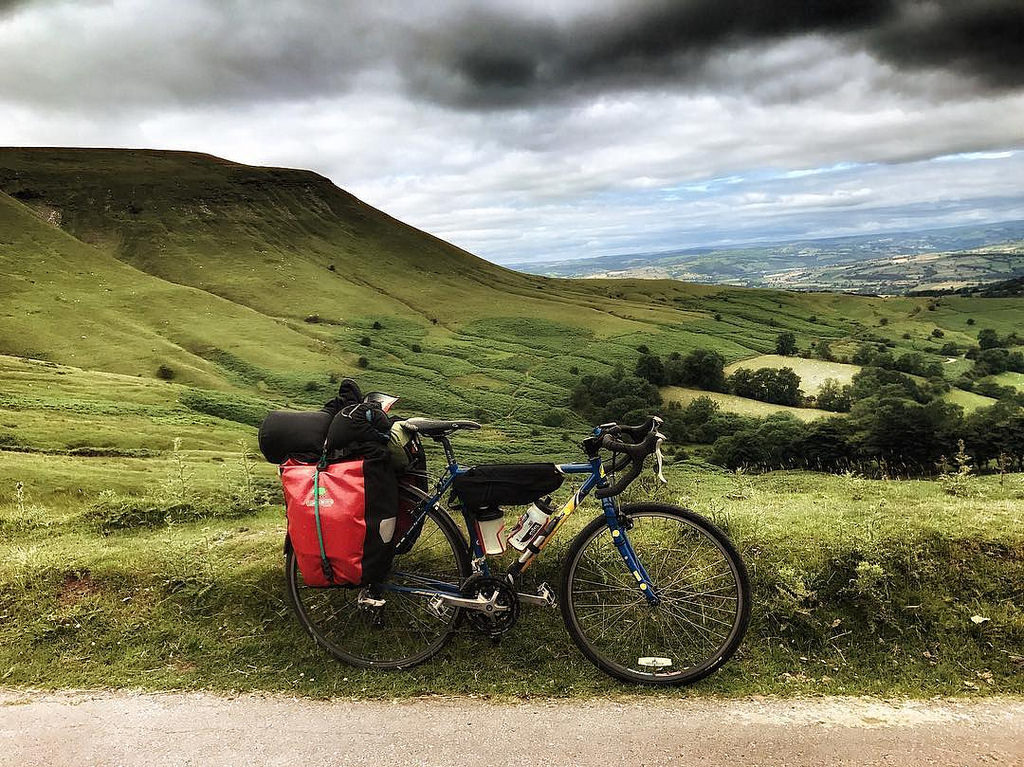 The Route: Here's to the National Cycle Route!
The National Cycle Route system covers much of Wales, from coast to mountains. As convenience would have it, I started my journey in Chepstow on Cycle Route 42 which took me through the Black Mountains, probably the hardest part of my trip. It includes Gospel Pass, the highest road pass in Wales. Exhilarating, and a pretty solid challenge especially as I only encountered this pass on Day 2 when I felt like I was still warming up!


I then connected with Route 8 which took me through Mid Wales to Rhayader. This was my favourite part of the journey. Once I left the Brecon Beacons, it seemed as if the vibe totally changed. I love the Brecon Beacons but mid-Wales felt much more isolated with very little traffic and lots and lots of sheep. I would love to come back and do all of Route 8 which runs all the way up to Snowdonia. In the end I finished in Elan Valley, a wonderful place to cycle, particularly around the reservoirs.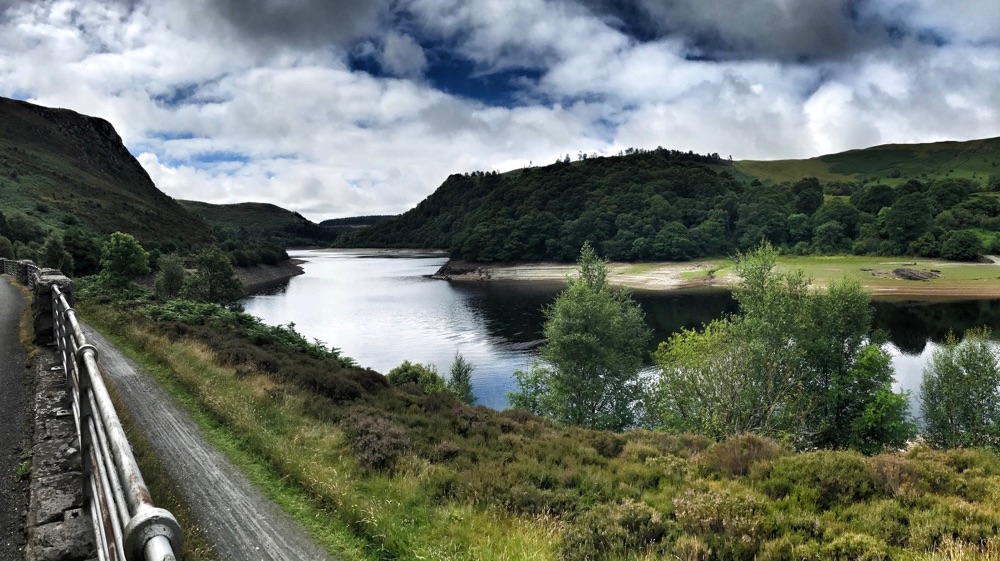 Camping in Wales with a Bike
One of the things I love about bike touring (much like backpacking) is having with me all that I need for basic survival. I had hoped to do some wild camping en route (encouraged by this guide to cycle touring with a bike). Turns out it's much much harder to wild camp with a bicycle than on foot with a backpack. With the exception of the Black Mountains, most of the roads went through farmland. And even in the Black Mountains, water is a challenge. I saw quite a few idyllic camping options on Gospel Pass, but no water.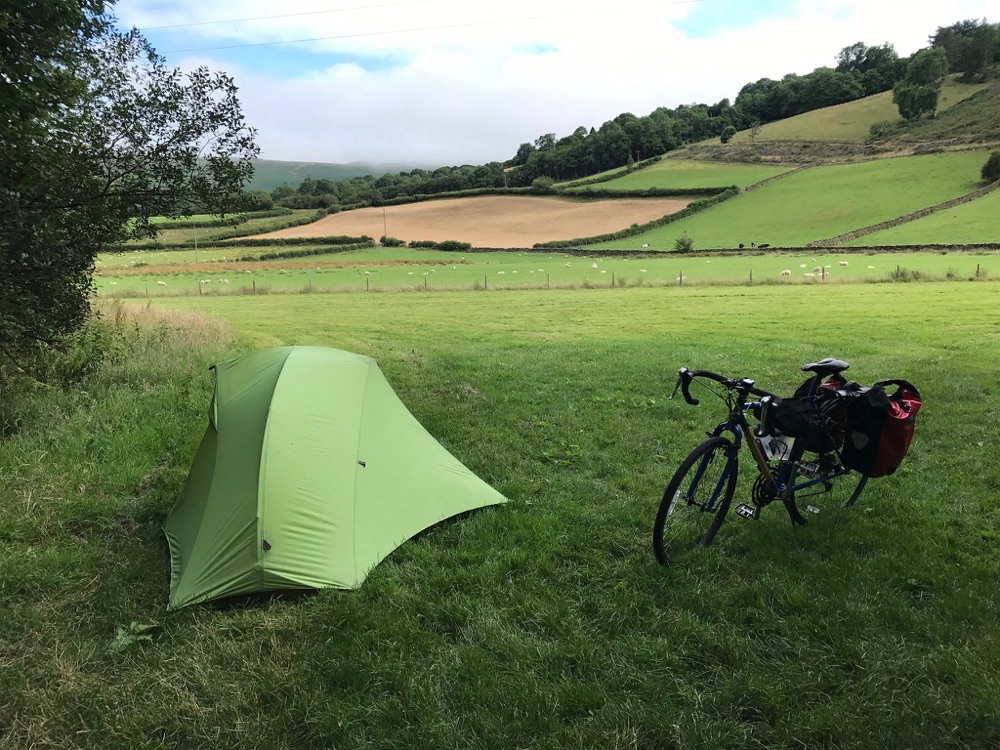 On the first night I found a field to camp in but felt entirely uncomfortable about it the whole time. I even had nightmares about creepy guys harrassing me in my tent (oddly Lucky was also in the dream but did nothing guard-dog like to protect me – I'll save the dream analysis for another time). After that I decided that unless a perfect spot came along, I'd find a campsite.
My top tip: do a little research before you set off in the morning and make a note of the campsites you'll pass that day. That way, if wild camping just doesn't feel right, you have options.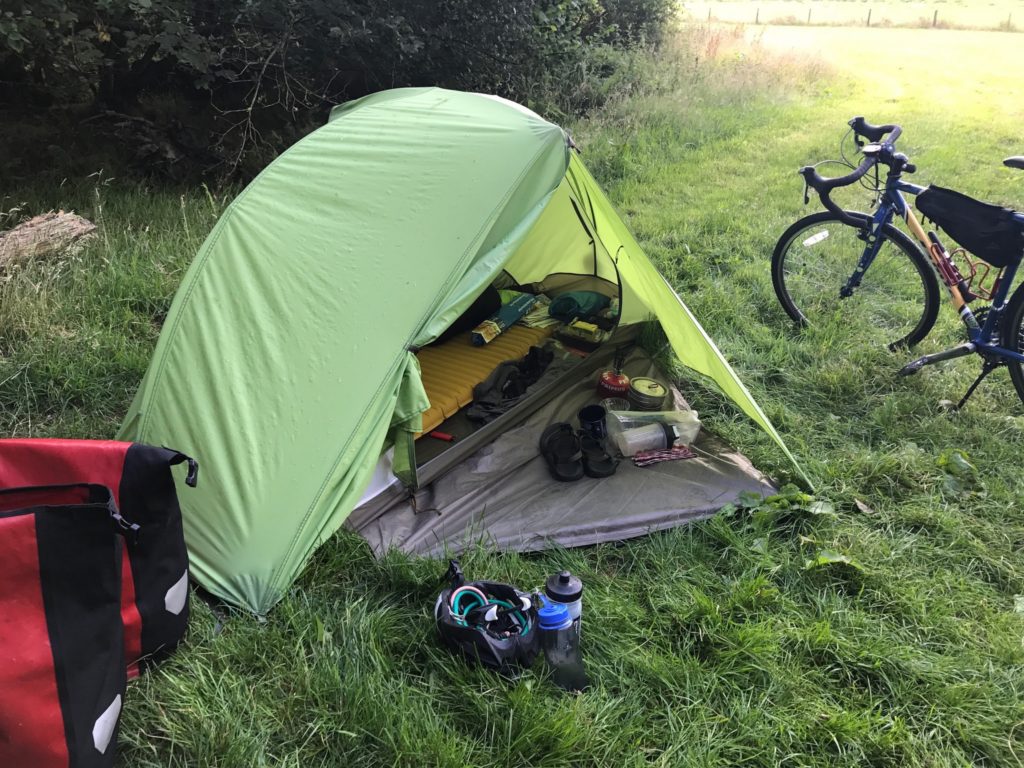 I ended up using two campsites

I wouldn't totally discount wild camping in the future. It is certainly possible in the national parks, but it just so happened that my trip timing didn't land me in any national parks when it was time to decamp for the night. I imagine Snowdonia would be full of options.
How Hard is Cycle Touring in Wales?
A little context here before I answer this one. I didn't do any specific "training" for this trip, though I do maintain a basic level of fitness by doing CrossFit, cycling into town as much as possible, and walking lots.


My last bike tour was two years ago when I cycled across France for a month. I'm probably a bit stronger now, but I'm heavier too, which seemed to balance things out! France certainly had its fair share of hills but Wales seemed even hillier, and with steeper hills too. I will admit to having to push my bike up a fair few of them! This also explains why at most I could only cover about 30 or so miles in a day (in France I would typically cover at least 50).
One thing is important to recognise here: it's all totally doable. As in France, I was amazed by how quickly my legs adapted. I didn't experience much muscle soreness at all. Certainly fatigue but that was often resolved with a rest and a tasty snack!


Something I like about this style of cycling is that it's chill. You don't have to be a hardcore athlete in lycra going as fast as possible. This isn't about speed. It's about the journey, and that often means taking it a little slow so you can enjoy everything around you! There's no shame if you can't manage a hill and have to push your bike. I mean jeez, at least you're out there doing it!
I sometimes found in France last year I would pedal and pedal until I had very little left in me – just enough to put up the tent, stuff my face, and sleep. This time I made sure I had a bit left in the tank at the end of the day so I had energy for writing, thinking, and crafting this tale of adventure!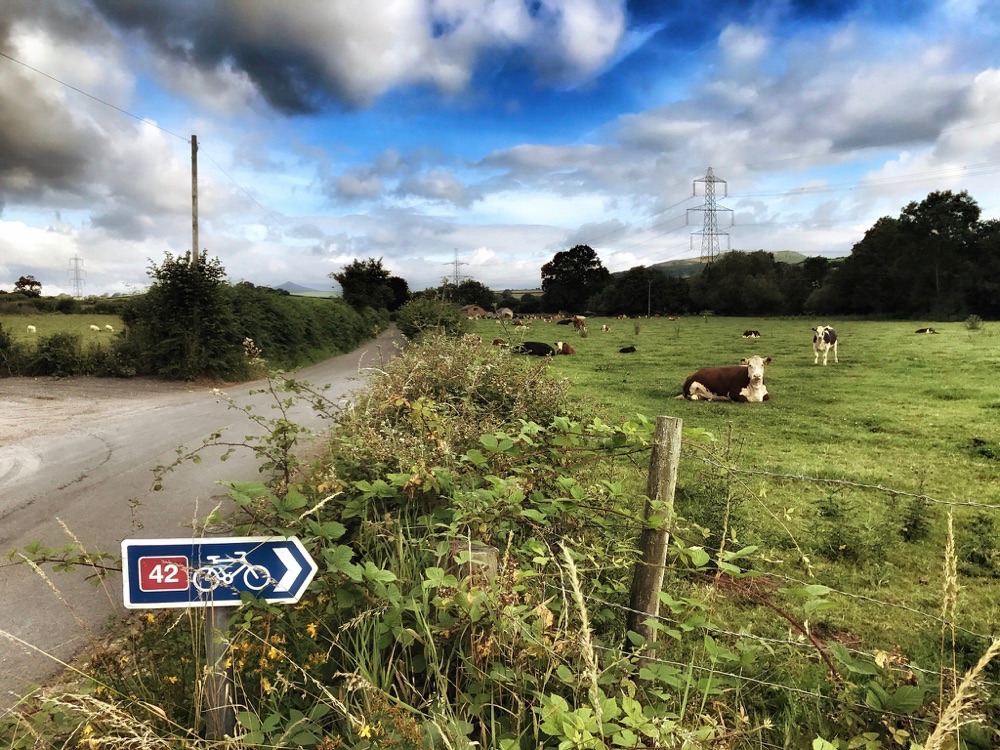 If there was one disappointment, it was that the trip wasn't longer. I find that it takes the body (and mind!) a few days to warm up to the whole mode of spending hours and hours a day on a bicycle. It felt like just as I was really getting into it, it was time to go home. All the more reason to plan another Wales cycling tour as soon as possible. I think I'll make a traverse of National Cycle Route 8 my next mission!
Trip Highlights
Other Useful Reading
For more general information on bike touring, you can read these two posts:
I also enjoyed these reads: