If you're like us, then going on an adventure usually involves a fair bit of walking, be it on a long day out up a mountain or on a multi-day trek across country (also sometimes involving mountains!).
There are two things we've found that can make or break a trip: proper foot care, and solid waterproofs. I'll save the waterproof chat for another day, but for now let's talk about happy feet. Here's our advice for taking care of your feet so you can go the distance and enjoy the journey.
Buy good boots that fit your feet
The right pair of boots for your type of foot is essential, and it's worth spending as much as you can afford on a nice pair of boots. Everybody's feet are different and there are different boots to suit different types of feet. I currently wear a pair of Meindl Bhutans for my relatively normal feet, while Andrew wears Hanwag Tatra boots that are more suitable for his crazy collapsed arch. So which boot is right for you?
The best way to buy good boots with confidence is to go to an outdoors shop  with a knowledgeable staff who can assess your feet and help you choose the best boot. We recommend Cotswold Outdoor (UK) or REI (USA).
To augment your boot you might also consider a pair of Superfeet insoles (Andrew swears by his) which can add extra support.
Also, learn to tie your boots properly. We have taken to the surgeons knot but there are numerous other schools of thought on how to lace your hiking boots. Experiment and find the best one that works for you.
Take care of your nice boots
If you spend a lot of money on nice boots then it's worth taking care of them so that they stay nice*. This not only to extends the life of your boots but also ensures your feet remain comfortable. This is particularly true of waterproofing. Take care to keep your boots conditioned and waterproofed so that you don't end up spending a day (or days) with cold wet feet.
*I should take my own advice as I am habitually neglectful of such things. Thank goodness for Andrew who is boot care / waterproofing obsessed!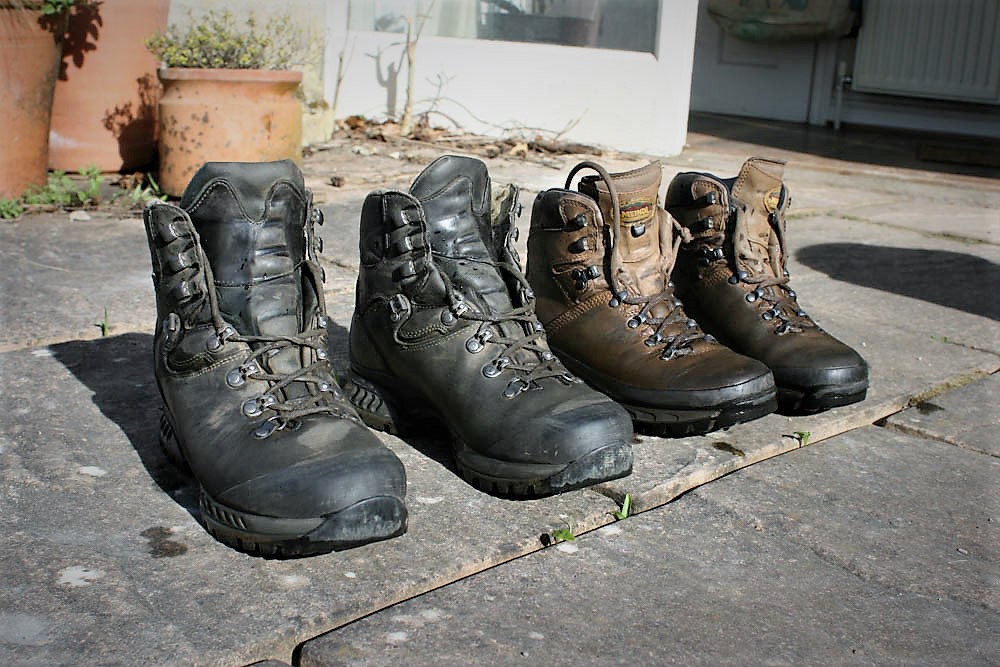 Wear Appropriate Socks
Avoid cotton of all sorts and instead go for wicking socks made from merino wool or a synthetic blend. Many people go for a two sock system, wearing one thin "liner sock" and another normal walking sock over it. The liner sock helps wick away moisture from your feet and protects against rubbing, both of which ultimately lead to fewer blisters and happier feet. We are both fans of the Bridgedale WoolFusion Trail socks plus their COOLMAX Sock Liners.
Trim Your Toenails
This one is often overlooked but essential. Trim your toenails before going out on a walk so that your boot doesn't press into your nails, which can cause discomfort, bleeding, or even toenails falling off.
Carry Compeeds in Case of Blisters
If you followed the above advice then hopefully you'll never have to deal with blisters! But hey, blisters happen, and Compeeds are the best ever blister protection system for hikers. As soon as you feel yourself getting a blister, stick on a Compede and you'll be good to go. (A band-aid / plaster just won't do.)

Treat Your Feet
After a long day out, especially after multiple days in a row, your feet will inevitably take a beating. Some people don't need extra creams and powders to keep going, but others swear by them. It's best to experiment and see what works best for you. It doesn't have to be fancy – moisturising your feet with something like Vaseline before and after a walk can be soothing and also help eliminate friction in your boots.
---
Any foot care tips I've missed? Let me know in the comments!