The Cotswold Way has long been on my hit list since I first moved to this area back in 2004 (crickey!). Eight years later and I've finally got around to it! The decision was slightly random: last November 14th was Andrew's and my two-year anniversary and we knew we wanted to spend a good chunk of it walking. We looked at doing a stretch of Offa's Dyke, or a circular walk in the Forest of Dean, but with light being an issue this time of year, I said: "Why don't we stay closer to home, hey, maybe we should start the Cotswold Way!?" And soon enough, we were off!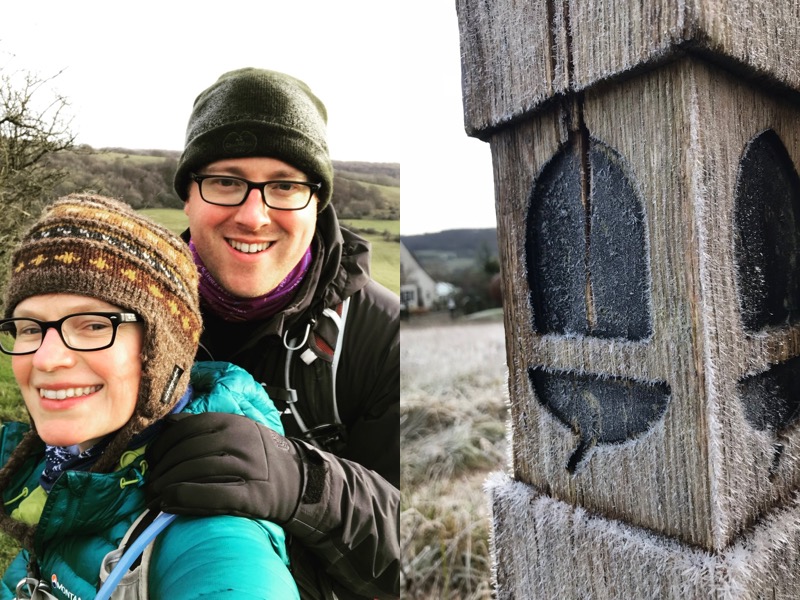 What is the Cotswold Way?
The Cotswold Way is a 102-mile (164km) long-distance footpath through the Cotswold Hills in England, running along the Cotswold Edge escarpment between Bath and Chipping Camden. By virtue of being an "escarpment" (a long, steep slope or cliff that separates two relatively level areas of differing elevations) the Cotswold Way affords almost constant views. The Malvern Hills are visible for much of the route. On clear days you can also see the Forest of Dean, the Severn Estuary and bridges, and the Black Mountains on the Welsh border.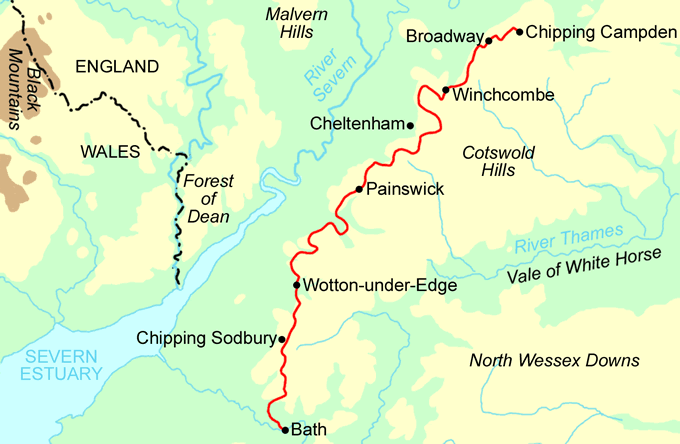 The route takes in everything from quintessential Cotswolds villages, towers, and monuments to ruined abbeys, Neolithic burial sites, famous battle sites, and plenty of uninterrupted woodland trails and panoramic viewpoints. In particular:
Cleeve Common
Hailes Abbey
Broadway Tower
Leckhampton Hill
Coopers Hill
Belas Knap long barrow
Painswick Beacon
Haresfield Beacon
Standish Woods
Dodington Park
Bath Abbey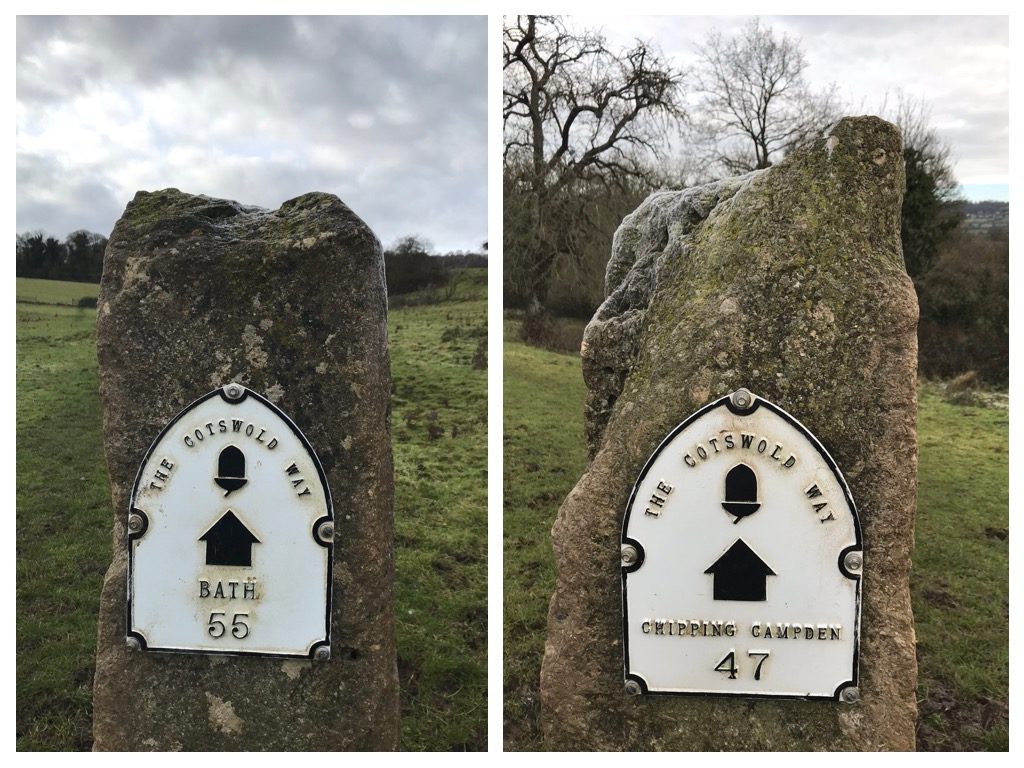 The Cotswold Way in Stages
We did the Cotswold Way in stages. We take two cars, parking one car at the end point, and taking the other car to the starting point. At the end of the walk we drive back to the starting point to collect the other car, then head home to celebrate our achievement!
It's November so timing is pretty important given the sun rises just before 8am and sets at around 4:30pm. We try to leave the house at 6:30am which gives us time to get there, have a snack, then head off into the rising sun. Going early means we can be pretty relaxed about timings and even stop for a coffee or, more British, a pint en route.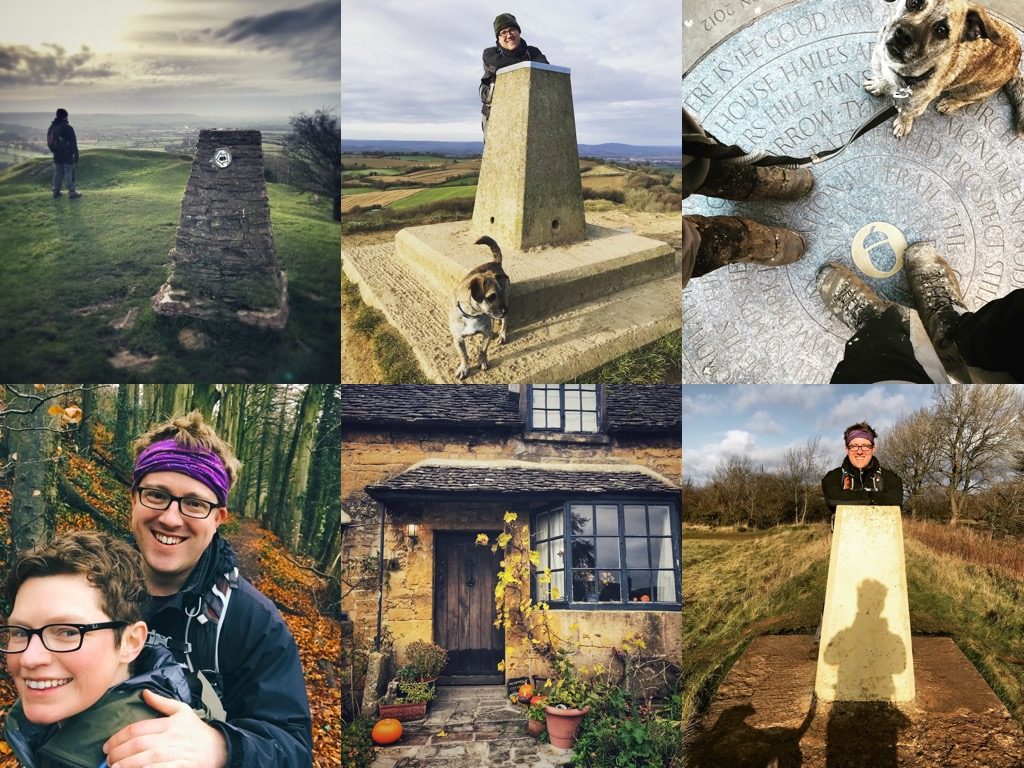 General notes about the Cotswold Way
The nationaltrail.co.uk website divides the Cotswold Way into 12 stages. We found that most stages took about 3 hours to walk. On most days we did 2 (and once 3) stages at a time, and in the end finished the Cotswold Way over a series of eight day walks.
We're actually amazed by how quickly we managed it, often ending days much earlier than we expected. It helps that the Cotswold Way is VERY well marked. There are some hills but there's also lots of plateau and low-level walking which allows you to tick off the miles pretty quickly. We sometimes found we had winter on our side – as we did this during the cold months, the ground tended to be hard rather than muddy, which made the going easier. And as a plus side, barren trees meant more great views. In fact, the only thing that slowed us down was my frequent want to stop and take a picture!
Another bonus: most of the trail is super dog friendly.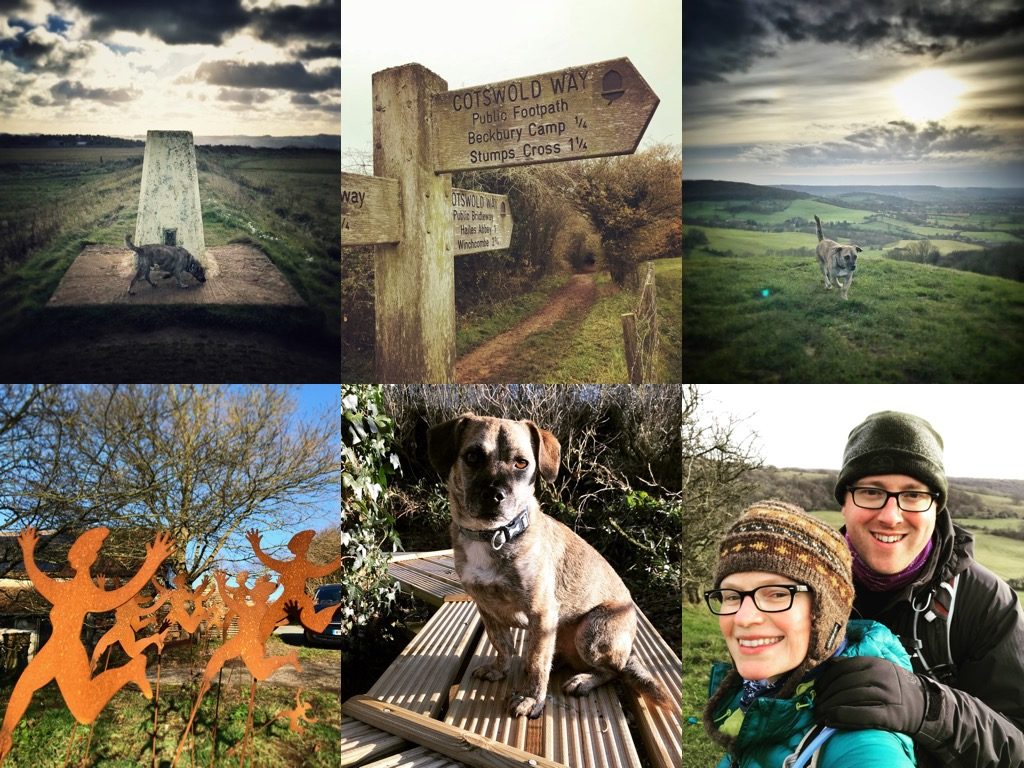 Highlights
Stage 1: Chipping Camden to Broadway
Distance: 6 miles (9.6km)
Ascent: 567 feet (173m)
Descent: 790 feet (241m
This first stretch was all about beautiful Cotswolds villages, the highlight for me being Stanton (which has a marvellous pub). The walk up to Broadway Tower is a lot of fun.
Stage 2: Broadway to Cleeve Hill
11.9 miles (17.8km)
Ascent: 1646 feet (502m)
Descent: 1155 feet (352m)
This stage would have been more memorable had the weather not been abysmal. Rain and fog for most of the day that discouraged us from lingering on such spots as Belas Knapp. We did at least get a rainbow at the start over Cleeve Common!
Stage 3: Cleeve Hill to Birdlip
15.8 miles (25.5km)
Ascent: 1652 feet (504m)
Descent: 1373 feet (484m)
This was one of our favourite stages. You might not expect this as much of the walk is around Cheltenham and then the infamous clusterfuck that is the Birdlip Air Balloon. But the scenery all the way was phenomenal with loads of high level walking allow you to see all the way to Wales. I especially loved the stretch around Leckhampton Hill and Hartley Hill.
Stage 4: Birdlip to Kings Stanley
16.4 miles (26.5km)
Ascent: 1623 feet (495m)
Descent: 2148 feet (655m)
The good times continue from Birdlip to King's Stanley, with some great views from Painswick Beacon and Haresfield Beacon, not to mention a visit to Cooper's Hill, home of the famous cheese rolling competition!
Stage 5: King Stanley to Dursley.
7.2 miles (11.6km)
Ascent: 771 feet (235m)
Descent: 951 feet (290m)
The route onward to Dursley features loads of wonderful woodland walking, and of course, more great views from the top of the escarpment. We loved Coaley Peak, and the steep climb up to Cam Long Down is totally worth it.
Stage 6: Dursley to Hawkesbury Upton
14.7 miles (23.7km)
Ascent: 1819 feet (560m)
Descent: 1459 feet (445m)
We did this walk on a snowy winter's day – our friend Rachel met us halfway in Wotton-Under-Edge and continued with us to Hawkesbury Upton. Again we were treated to mostly roadless walking, occassionally challenging due to the heavy snow underfoot, but the snow also made it more magical!
Stage 7: Hawkesbury Upton to Tormarton
7.7 miles (12.4km)
Ascent: 476 feet (145m)
Descent: 590 feet (180m)
To say this was the least interesting of all the stages probably wouldn't be fair on the Cotswold Way. Maybe our minds were on other things, or maybe there were just fewer views and vistas to inspire us to stop. The best bit is the last stretch through Dodington Park, a beautiful huge estate owned by James Dyson (bought for a modest sum of £20 million in 2003). Dog owners beware: there are signs everywhere requesting dogs be kept on leads (likely due to the large deer population in this area).
Stage 8: Tormarton to Bath
16.8 miles (27.1km)
Ascent: 1,296 feet (395m)
Descent: 1,722 feet (570m)
Shortly after leaving Tormarton you cross the M4, which somehow feels momentous and like the beginning of the end! The snow was falling as we crossed the bridge over the motorway and it wasn't long before the sound of traffic was behind us. The journey to Cold Ashton is relatively unremarkable but things pick up after that. The following climb takes you up to the site of the bloody civil war battle of Lansdown. From here the Trail levels out across the plateau, passing the promontory hill fort at Little Down and the famous Bath Racecourse. The path then emerges at Prospect Stile, where the first views of Bath can be glimpsed in the valley below. It's not long before things get more urban, as you make your way through Weston into Bath. The trail finishes at Bath Abbey, where a carved stone disc set into the pavement outside of the Abbey doors marks the end of the Cotswold Way. We toasted our victory with a swift half at The Star Inn before heading home to celebrate with champers and Indian food.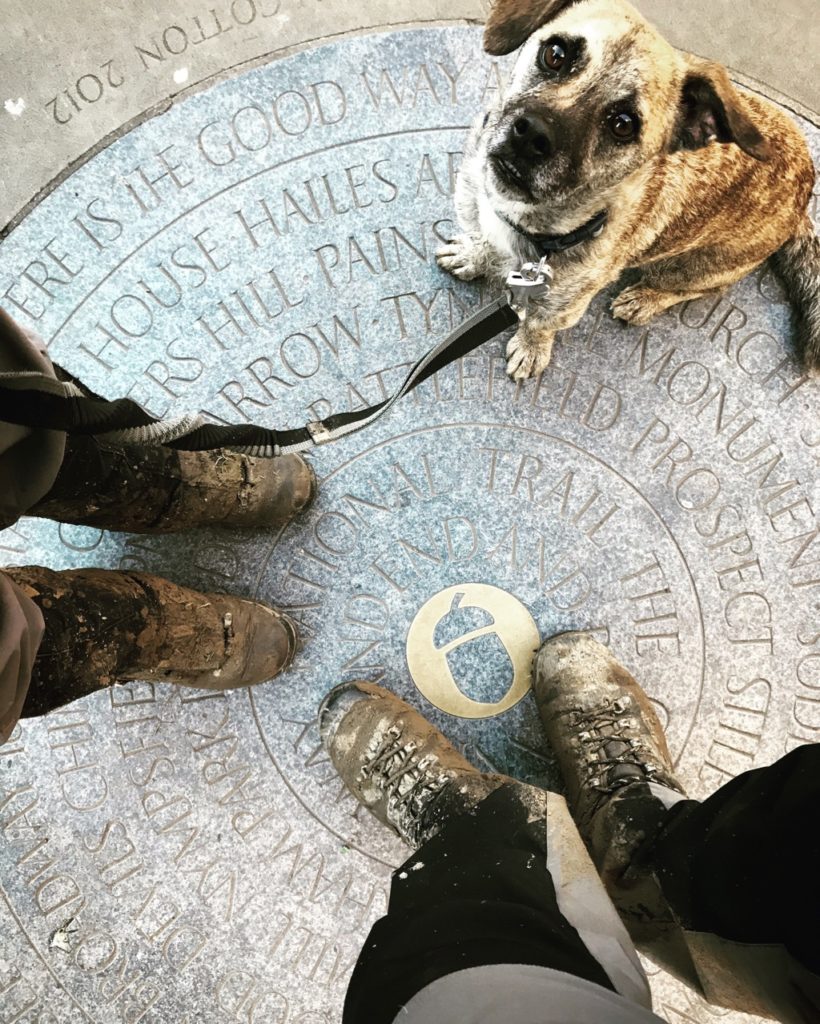 Here's a few more choice snaps from our journey:

Related links: