The Rhinogs (also known in Welsh by the plurals Rhinogydd or Rhinogau) are a mountain range in Snowdonia, known for the rugged and wild terrain. It's far less popular than other areas of Snowdonia such as Snowdon, the Glyderau, and Carneddau, and so a great place to truly get away from it all (particularly on a beautiful bank holiday weekend where many other beautiful spots in the UK would be heaving). Highlights include the mountain peaks Rhinog Fawr, Rhinog Fach, and Y Llethr, as well as the "Roman Steps",  the well preserved remains of a medieval packhorse trail that take you into the heart of the Rhinogs. There are also unbeatable wild camping opportunities in the Rhinogs on hidden lakes surrounded by mountain peaks for the ultimate in wild seclusion.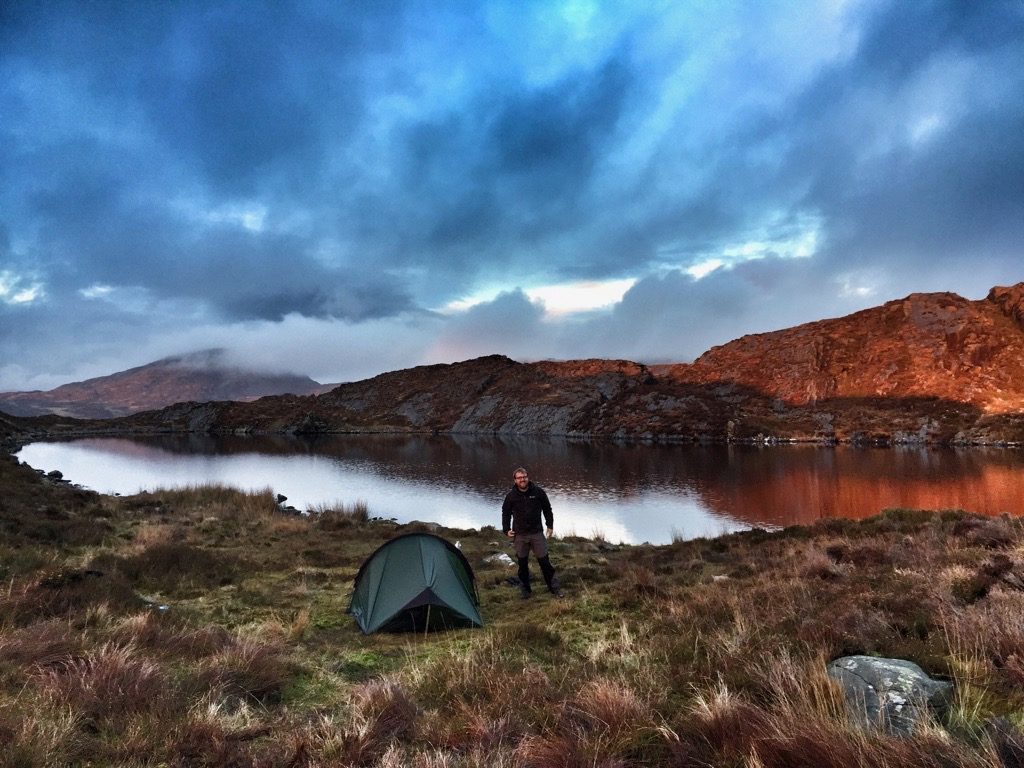 We had our first taste of the Rhinogs last year, thanks to a suggested route in our Wilderness Weekends book (highly recommended to anyone who wants to get started on their own wild camping microadventures). We learned first hand why so few people go here – the going is difficult and slow -imagine lots of rock scrambling and walking through dense heather through pathless terrain. It can take hours to cover very short distances. But the reward is in the solitude and of course the scenery. After that first taster, which covered only a short part of the range, we've always wanted to go back and do the whole thing. This May Bank Holiday we finally had the opportunity.
Practicalities
Start: Talsarnau Train Station
Finish: Barmouth Train Station (park in Barmouth – there is unrestricted parking on the main road just north of town – and take the train to Talsarnau)
Distance: 32.1km
Total Ascent: 2016m
Highest Point: Y Llethr (756m)
Time taken: We did this in 3 days / 2 nights (the first and last days being half days) but many people also do it in 2 long days and 1 night. Truly mad people do it in one day.
Weather: We were lucky to have pretty perfect weather – full sun almost the whole weekend.
Day 1
The first day was essentially a trial in getting from the Talsarnau train station at sea level and into the proper mountains. We left the Cotswolds at about 7am to arrive at Barmouth just after 10am with a bit of time to spare to get organised, have a bite to eat, and catch the noon train from Barmouth to Talsarnau (a beautiful journey that follows the Wales coastline). We were on our way walking by about 1pm with our sights set on camping either at Llyn Du at the foot of Rhinog Fawr or, if we were too tired, Gloyw Lyn just before the start of the Roman Steps (and a spot of sentimental value as we've camped there before).


The first waypoint on our mission was Llyn Eiddew-mawr (Llyn == lake for anyone not familiar with the Welsh language) at the base of the Rhinog Ridge. This to me felt like start of the real journey through the Rhinogs. But getting there from Talsarnau was a slog. The path is steep, hard to find, and often covered with brambles. We finally met up with a blissfully straightforward track that took us to the lake where we stopped for lunch – crispbread with hummus and dehydrated veggies, and sweet potato brownies for dessert.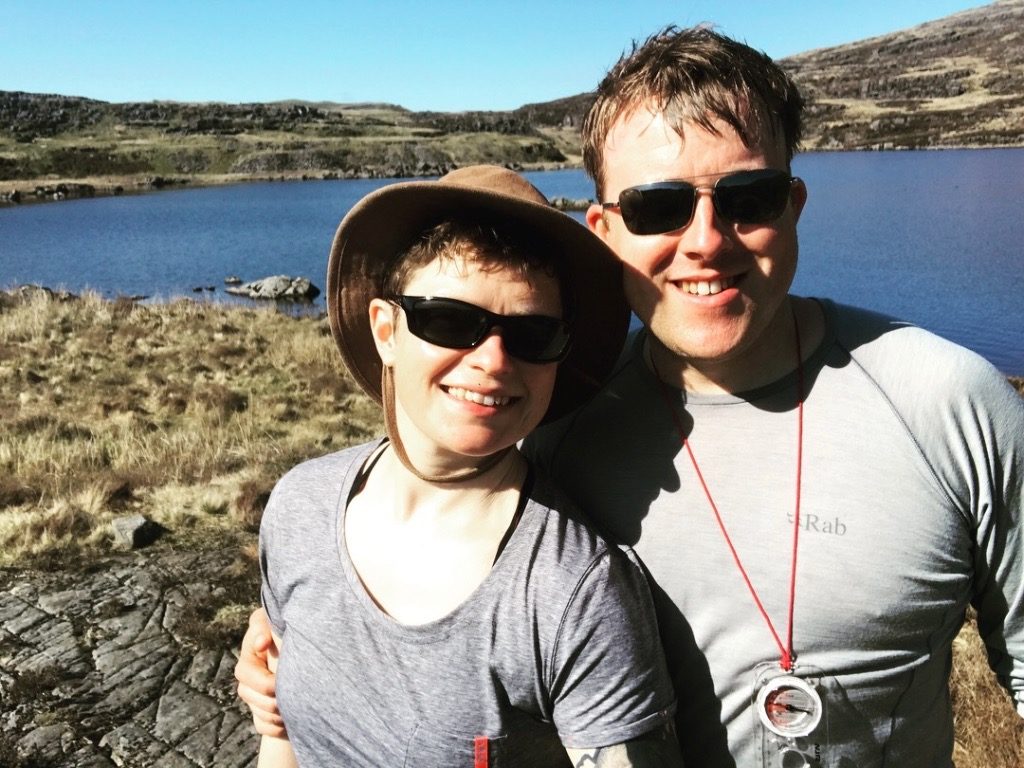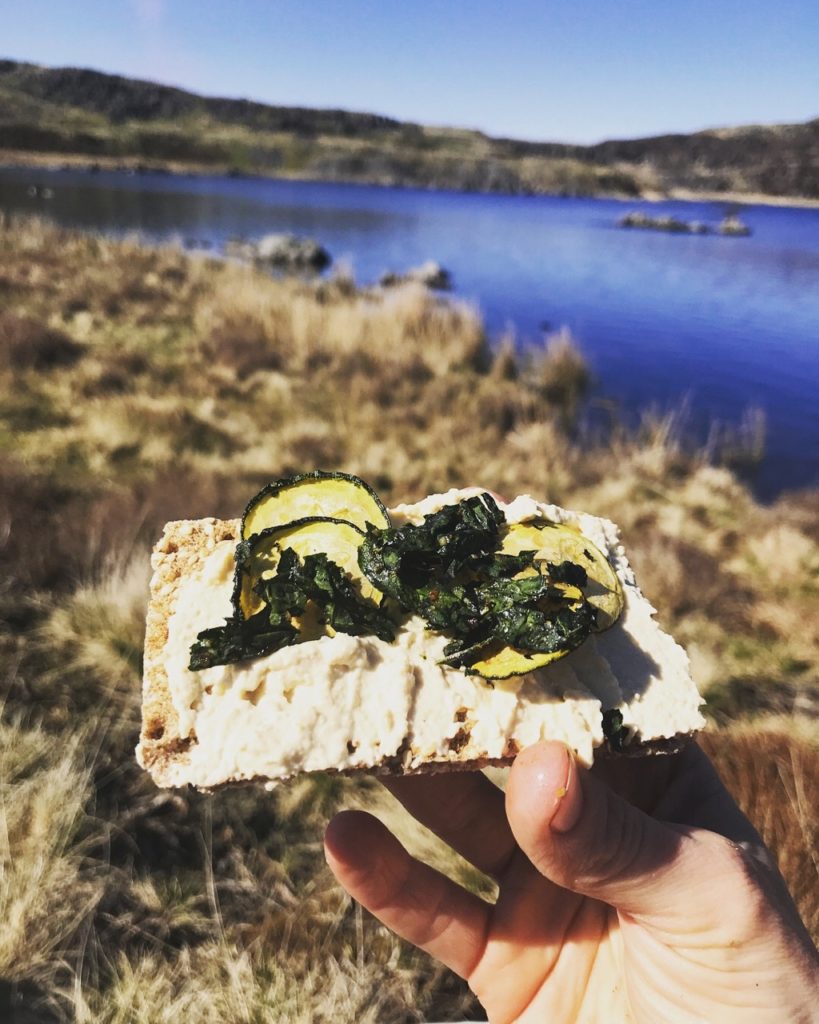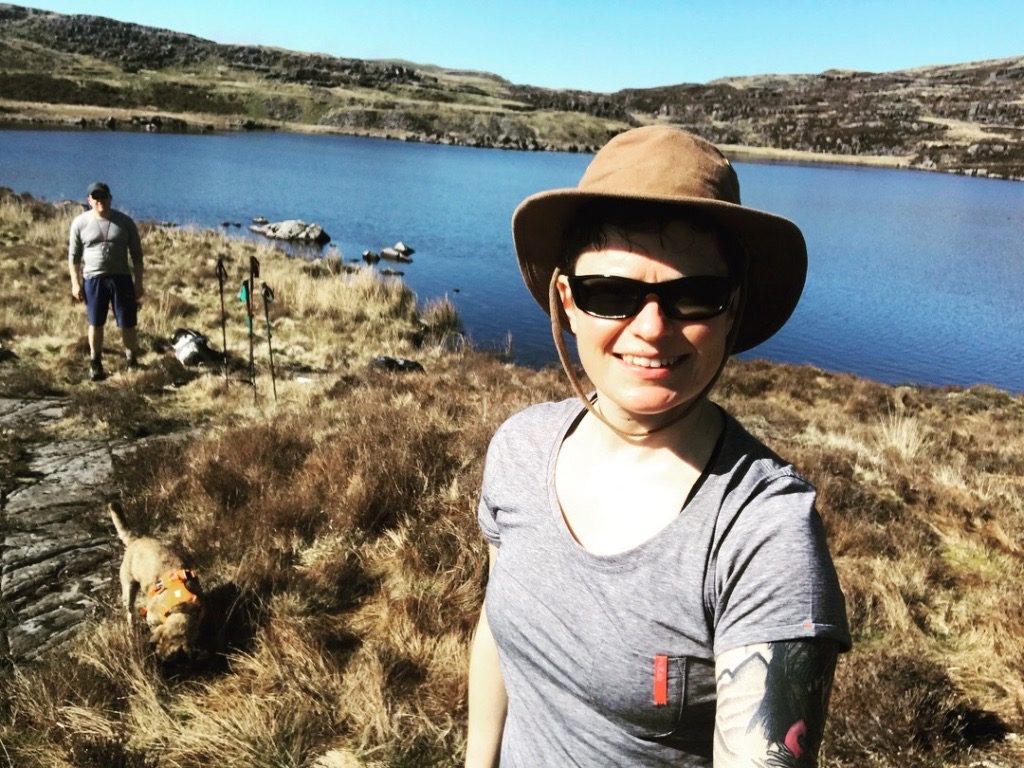 The next challenge was getting to the next lake, Cwm Bychan, which leads to the Roman Steps. There was no direct path so we had to make our way through heather walking on a bearing.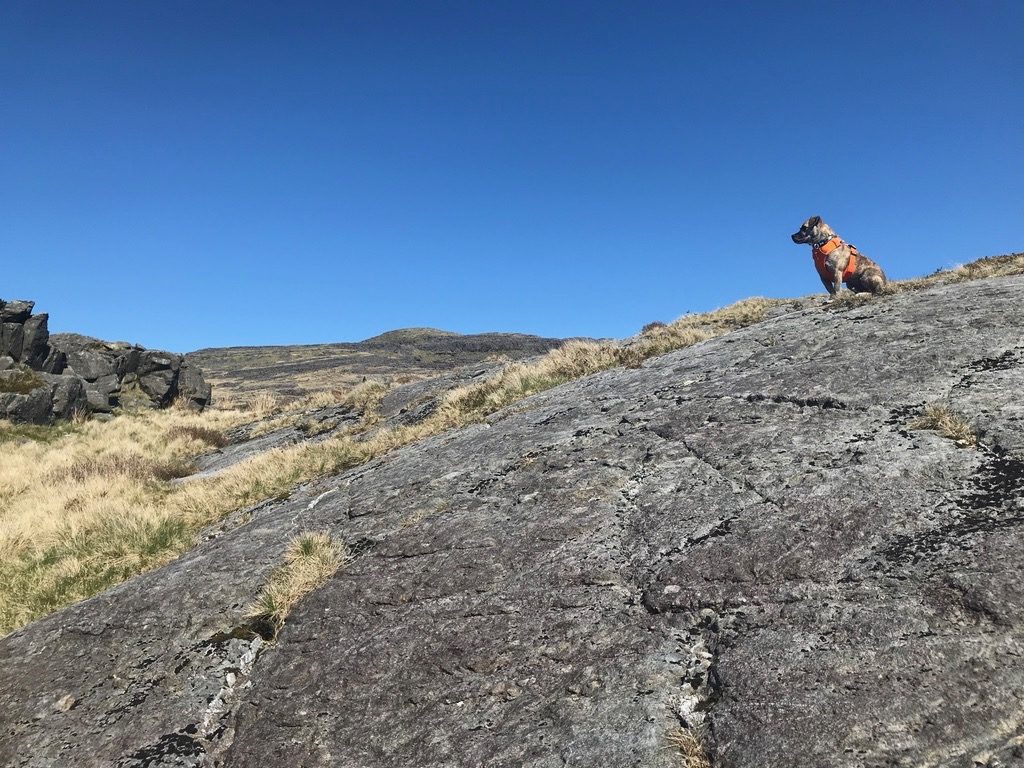 As we trudged along, there was this moment where a huge mountain panorama seemed to appear suddenly right before us – the pictures don't really do it justice but it was definitely in my top 5 "scenes coming into view" moments.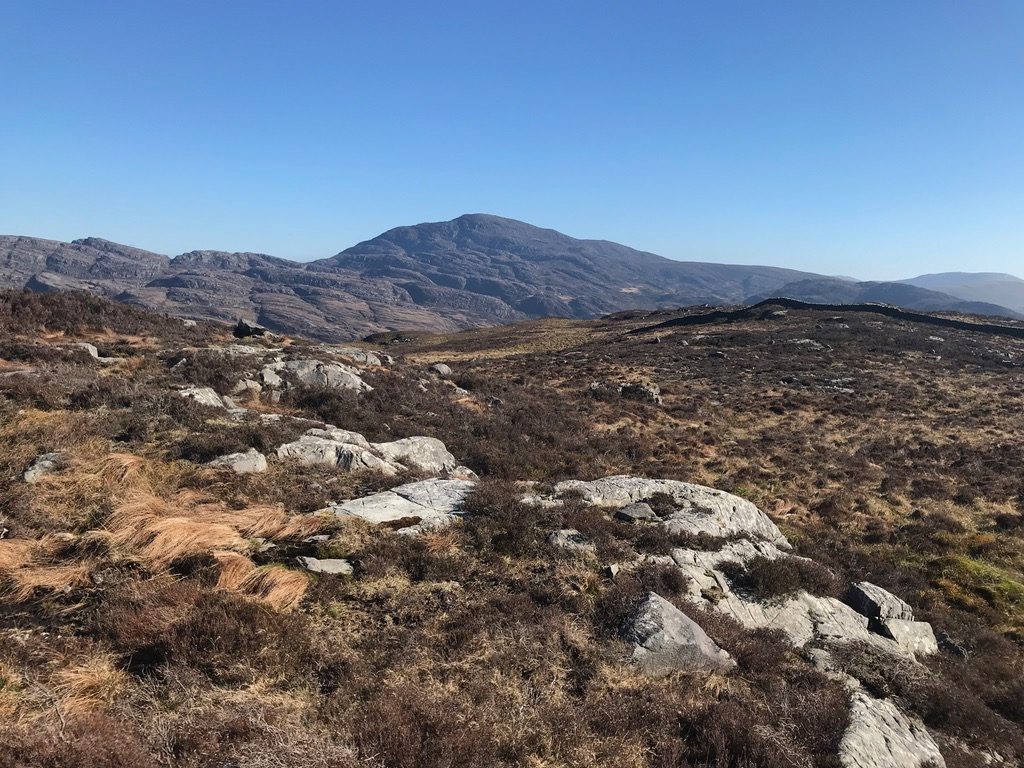 We finally made it to Cwn Bychan. Top tip: you can drive to this spot where there's a car park and an awesome back-to-basics campsite right on the lake. Pay in the honesty box at the gate and enjoy a campfire with sheep, mountains, trees, and stars for company!  So a great option for anyone who wants to do this in a more civilised fashion (or if you wanted to drive up late after work on a Friday for a weekend in the mountains).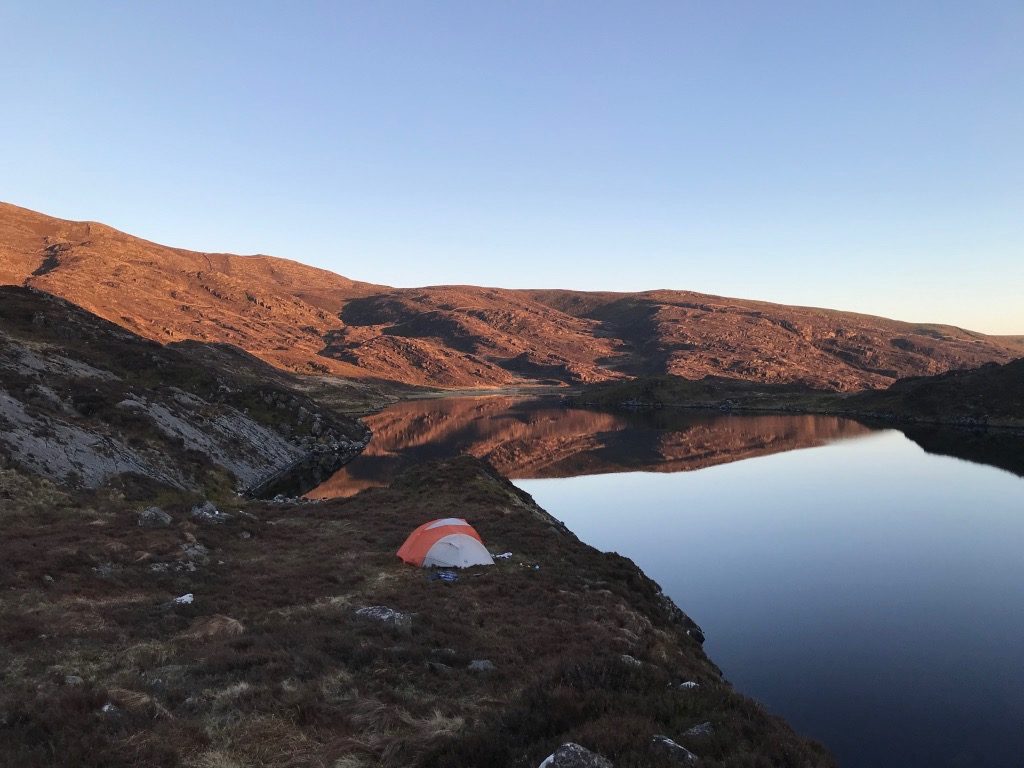 We made the call that we were indeed too knackered for Llyn Du so followed the blissfully straightforward and familiar path from Llyn Cwm Bychan to our wild camp at Gloyw Lyn. I was surprised and delighted to discover that no one else was camping at what to me is a prime camping spot: easy access to water, surrounded by mountains, with the most incredible and ever changing view of Snowdon in the distance.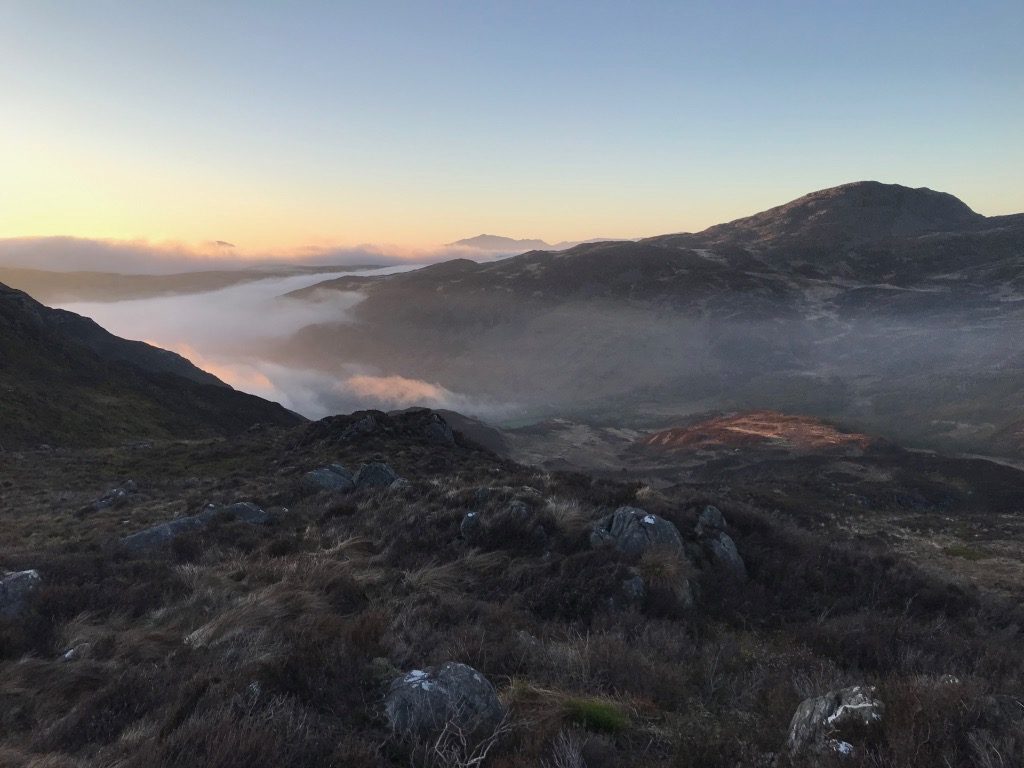 As it was 5th May, Cinco de Mayo, we brought goodies for "tent tacos" and "campsite quesadillas", plus my requisite avocados and a tiny sip of tequila for good measure.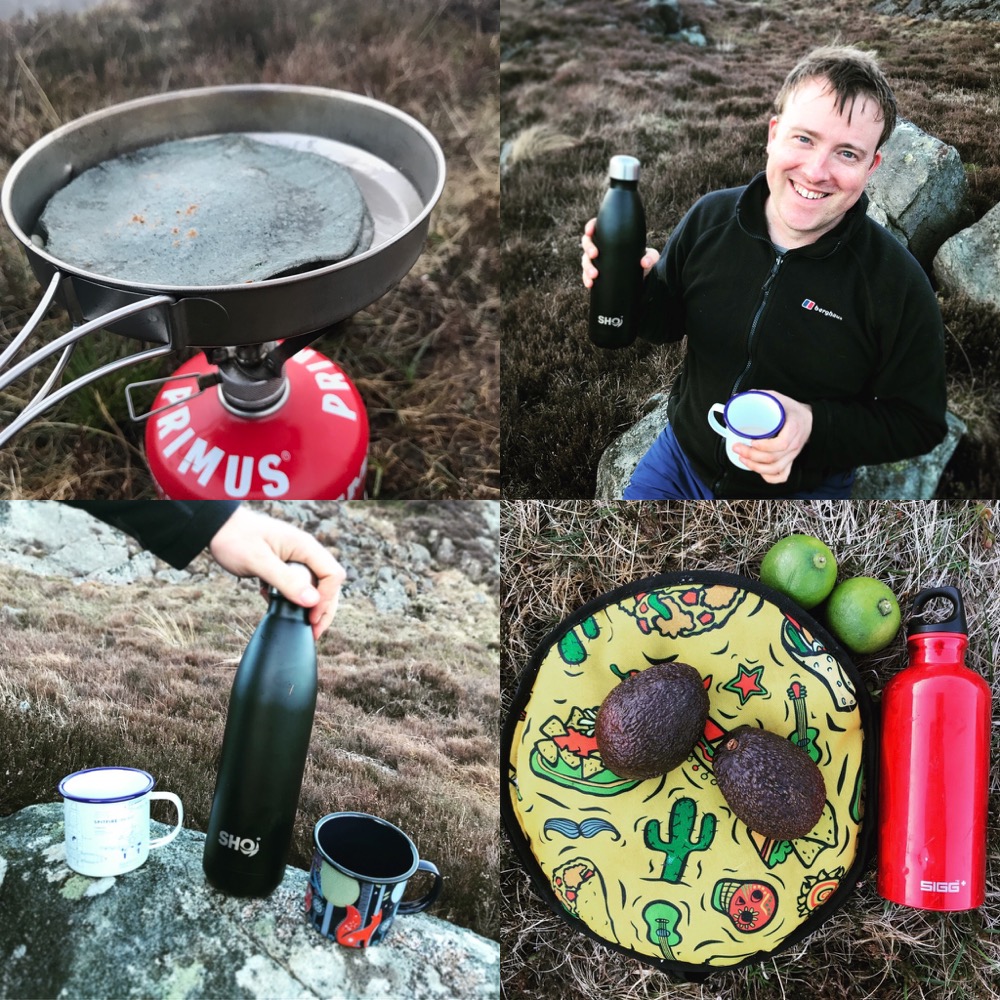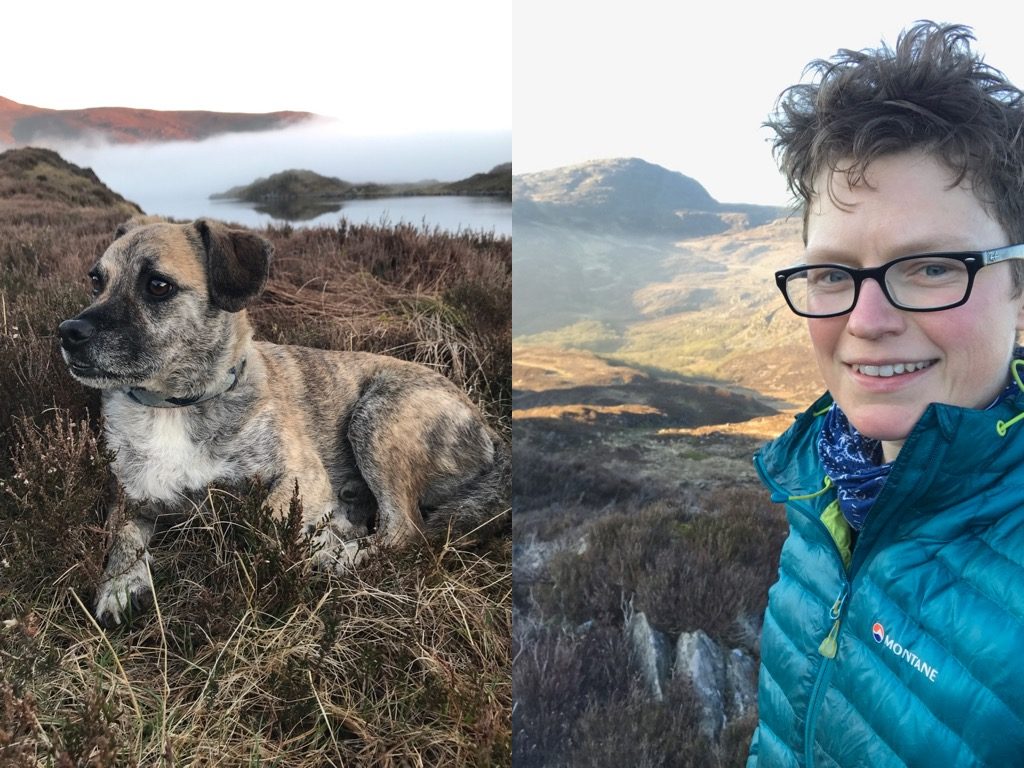 We also brought our new 750ml Sho bottle which promises to keep liquids cold for 24 hours. We are delighted to report that it works! Behold! Rosé at sunset at our camp above the clouds with a view. Well worth the extra weight. And one of many things that helped make this one of my best ever wild camping experiences.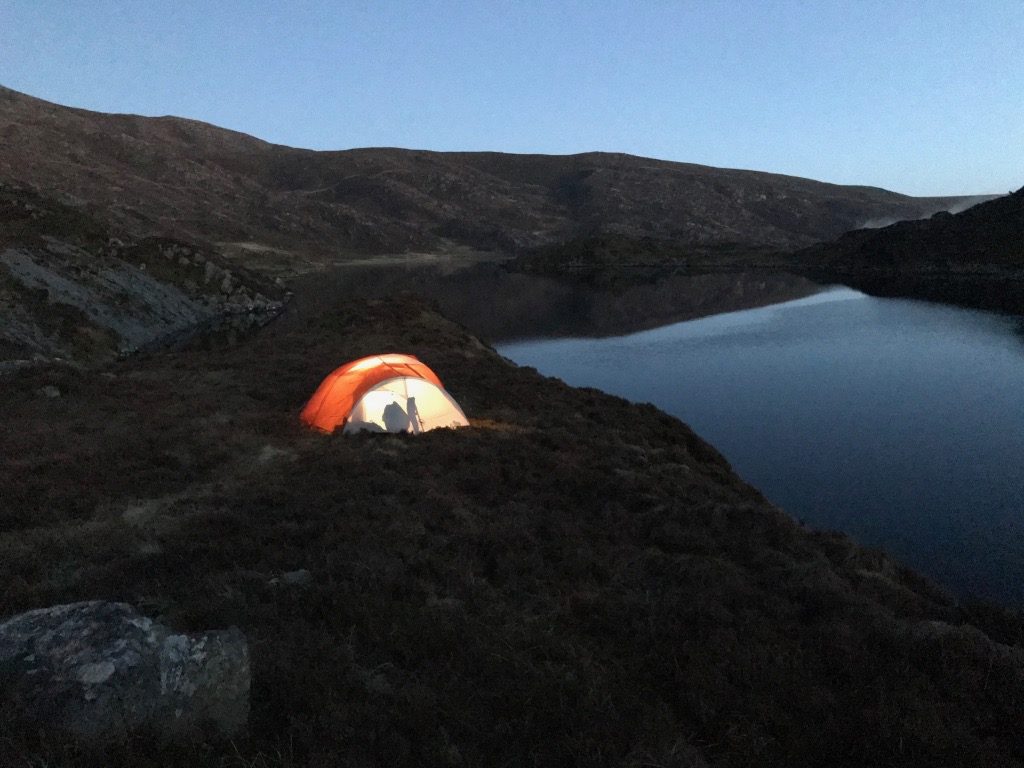 Day 2
The early light of May woke us up at about 5:30am and allowed for a leisurely breakfast – coffee, tea, and sprouted buckwheat granola – which we enjoyed perched on a rock overlooking that amazing Snowdon view that we couldn't seem to get enough of. And we needed the fuel, because what followed has to be among the hardest walking days I've known, definitely the hardest with a pack.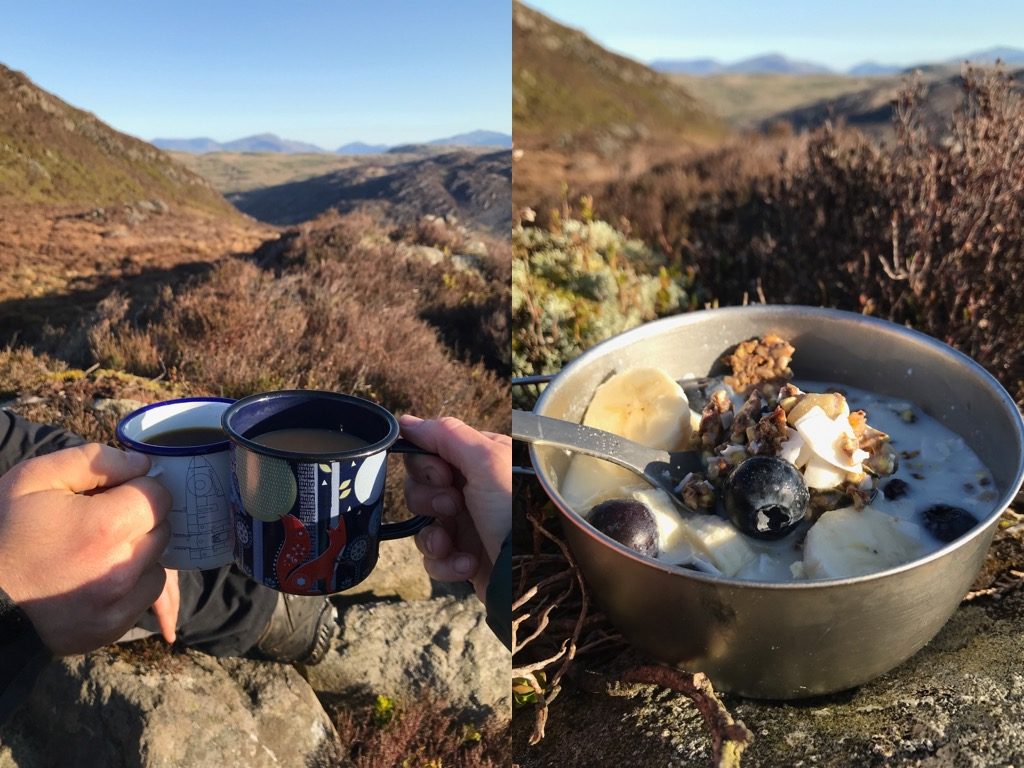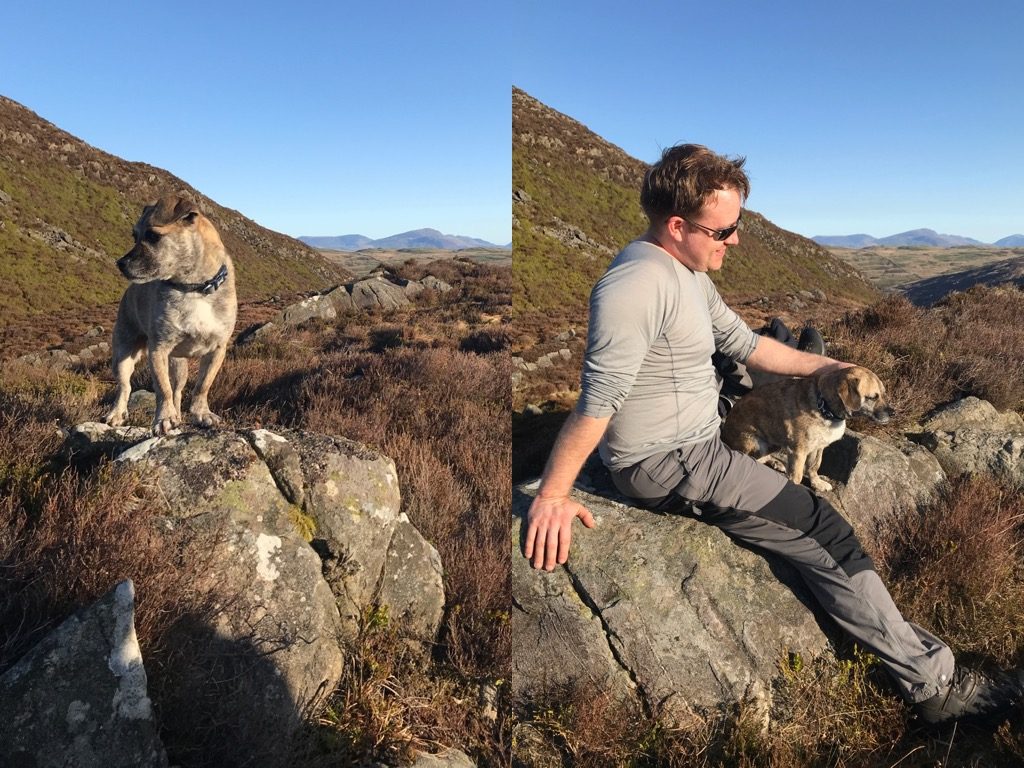 The first challenge was coming down from our wild camp and finding our original path. It seemed easy the day before but coming down it was easy to fall off track and lose the way. Eventually we got there and started our ascent to Llyn Du up the Roman Steps.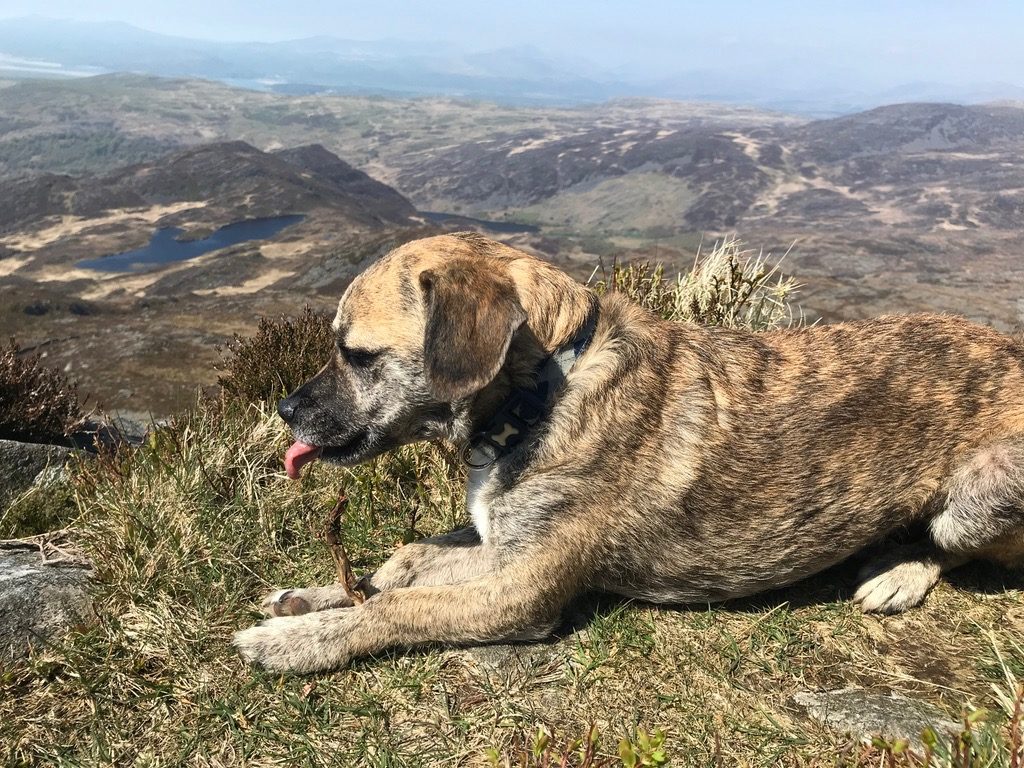 I had visions of lunching on the Llyn with miso soup and soba noodles. But the lake was unexpectedly rammed with very loud people and I MAY have had a slight conniption which resulted in my ruining the soup. Nevermind – we still had hummus! Then up we went to Rhinog Fawr, a very tough, steep, and scrambly climb. Lucky took it in his stride, but us – laden with our Sho bottle and avocados! – were a fair bit slower. We found that same loud crowd of people at the trig point up top, but I was too tired to care.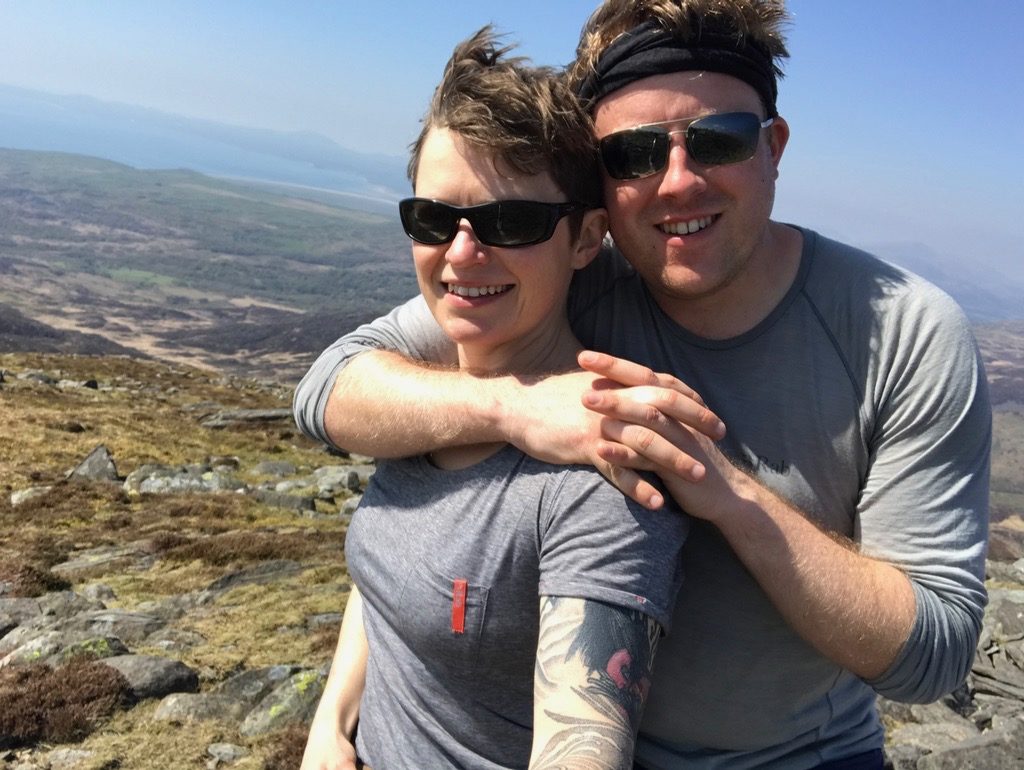 The next step was to figure out how we'd get from Rhinog Fawr to Rhinog Fach and Y Llethr, both of which you could see looming rather intimidatingly in front of us. There was no direct path indicated on the map so we'd have to make our own way. We ended up descending through a steep gully that was harder going than the way up. It took hours but we finally made it to a river at the bottom where we stopped to take off our boots and have a snack before the next ascent.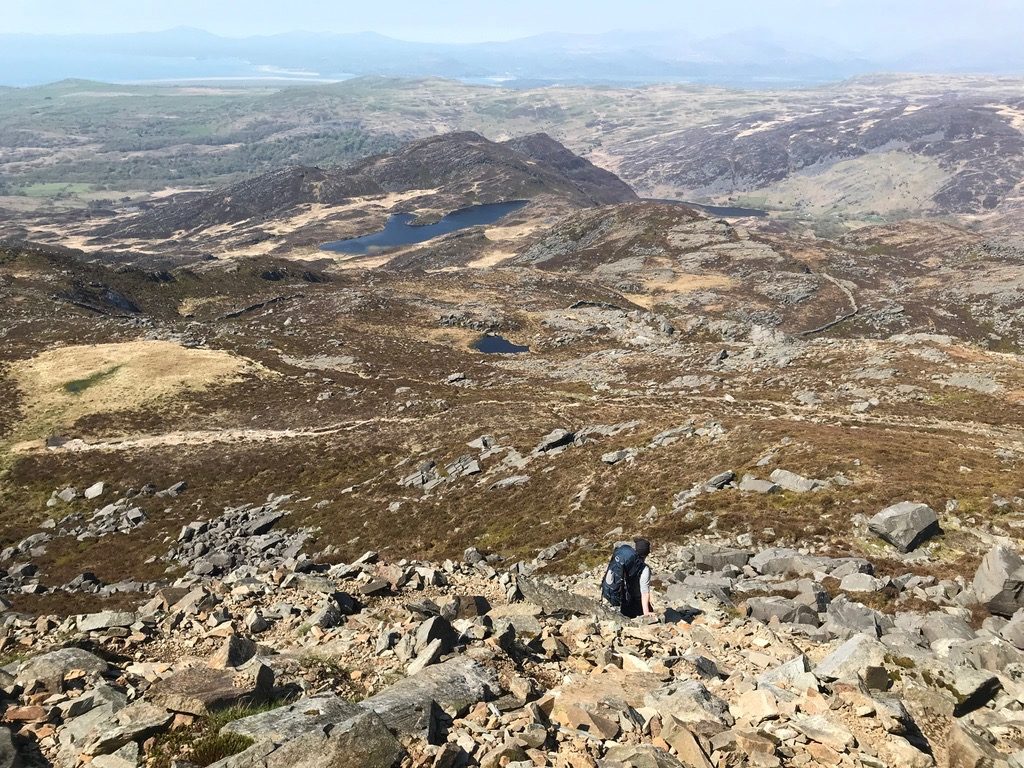 Enter one of the most insane highlights of the trips: we watched two dudes clamber down the same gully we did, and as they approached we saw they were carrying MASSIVE packs and one of the guys was actually carrying a bag of charcoal! We are by no means ultralight but these guys took it to the next level! Total respect. I have no idea how they managed those mountains without having free hands.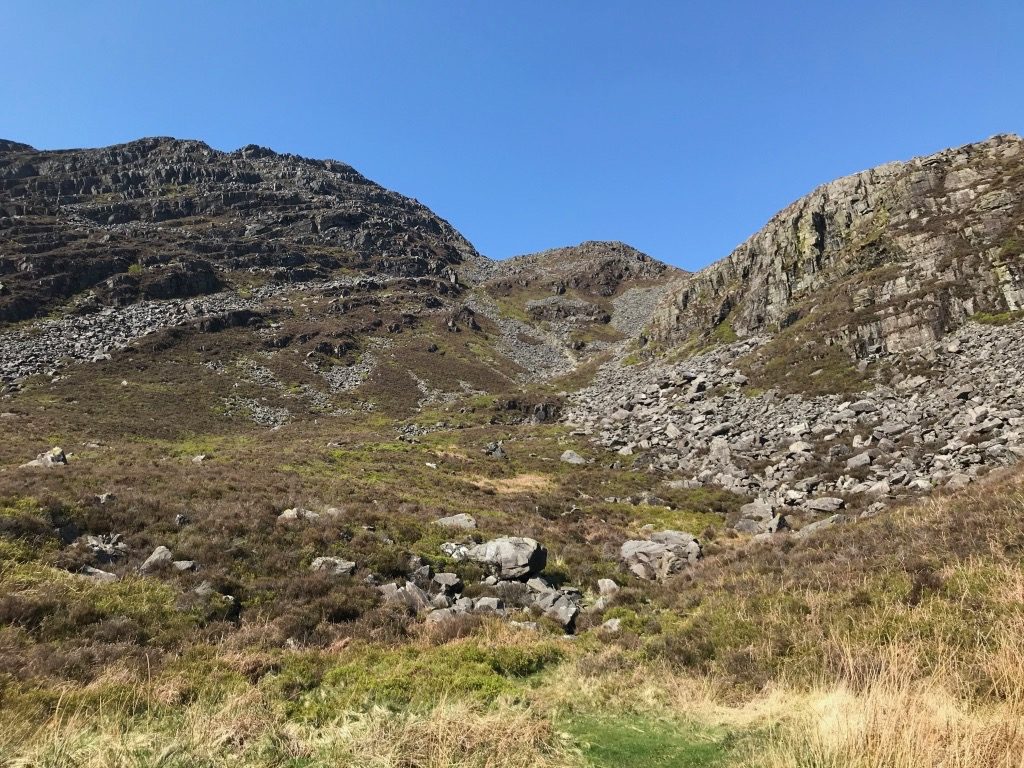 The only way forward was up and it wasn't long before we were at the shores of Llyn Hywel at the foot of Rhinog Fach, a marvelous wild camping spot – so marvelous that there were already two people pitched there, including our intrepid bbq-ers who no doubt had some exciting dinner plans. The other camper was a nice guy who seemed to share our general takeaway points: the Rhinogs are HARD with a pack, and there sure are a lot more people here than we expected (all those bank holiday adventurers wanting to escape the crowds, I guess).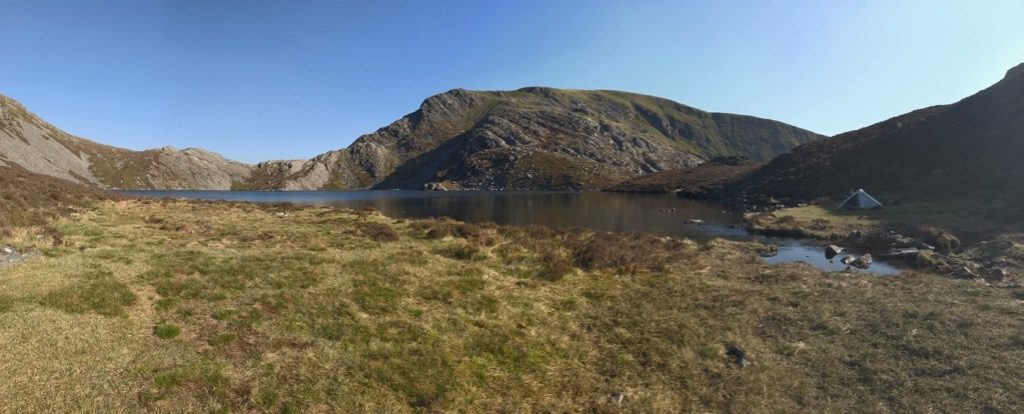 We also met a couple on a day walk who perked our spirits, particularly the guy who was definitely a fellow "to the max" person and we shared stories of craziest days out. His eyes lit up as he said, "you know I bet if you pushed it you could make it to Barmouth before midnight." Yeah, one of those people! I was grateful for the energising conversation. At that point we were tired and tempted to stop. But this would mean a much longer day on Sunday and we wanted to be back in Wiltshire in time for a barbecue of our own.
(Had we more time we would have dumped our bags and bagged Rhinog Fach, but we decided that our daylight and energy levels were both running out so we'll save that for next time.)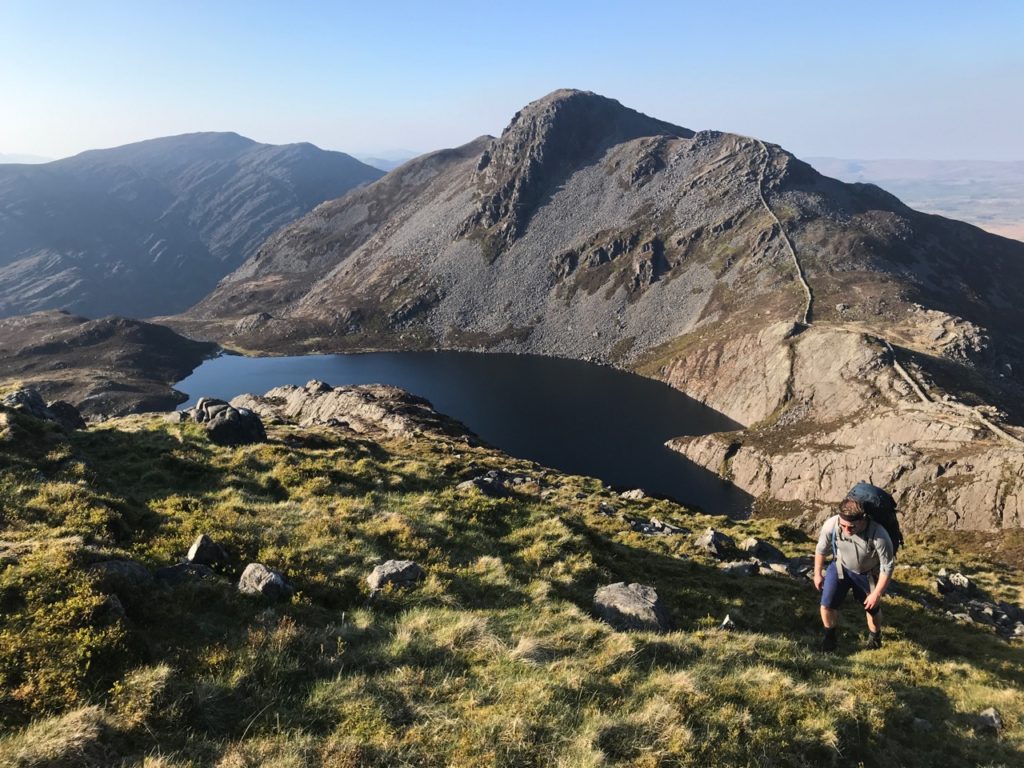 The scramble up Y Llethr was a cinch compared to Rhinog Fawr. I estimate it took about 20 minutes from Llyn Hywel to the top of the grassy peak, marked by an amazing dry stone wall that runs along the entire ridge for miles – incredible!


The next step was to walk along the wall to a small pool of water marked on the map that we hoped wouldn't have totally dried up in the hot sun. It was bliss walking along relatively flat grassy terrain, made all the better by 360 degree views of where we'd been and what would come on Day 3.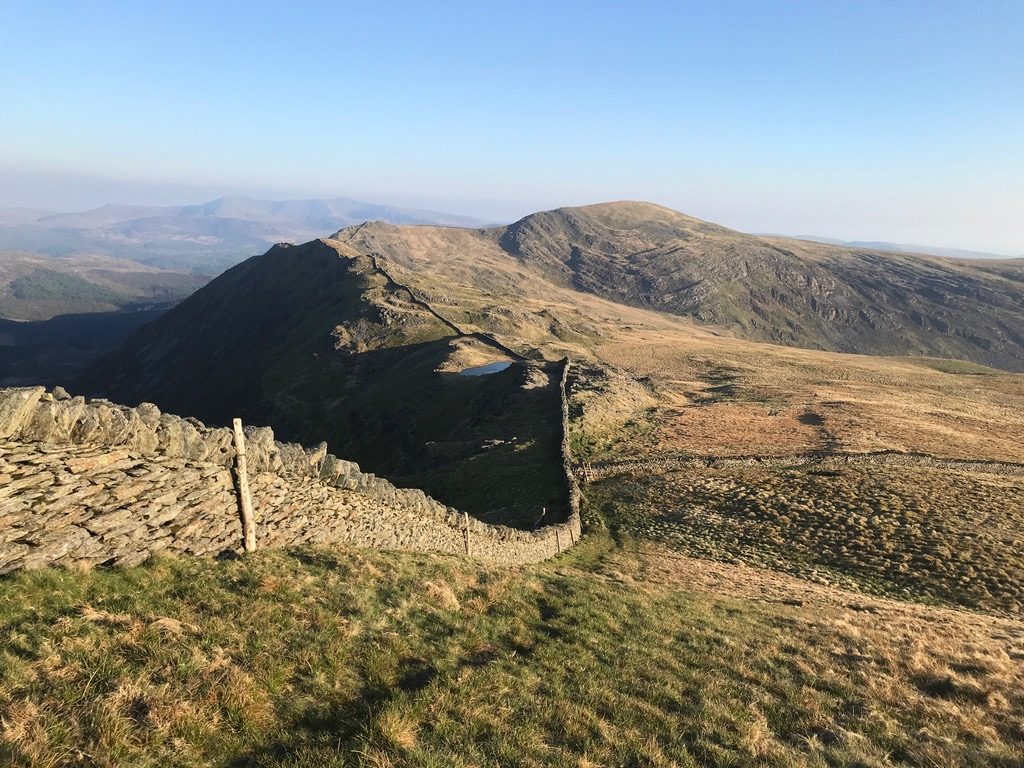 Much to our luck the tiny pool on the map was actually a small but substantial lake that would do perfectly well for our needs that night. And let's face it, by that stage our needs were pretty basic: food and sleep. We set up camp as quickly as we could, cooked up a comical dinner – I thought I had packed a dehydrated veggie chilli but the result was some kind of pinto bean concoction that we think was ful medames but who can say? We were too hungry to care, and it went well with our treats: more avocado and a Sigg bottle of Italian red.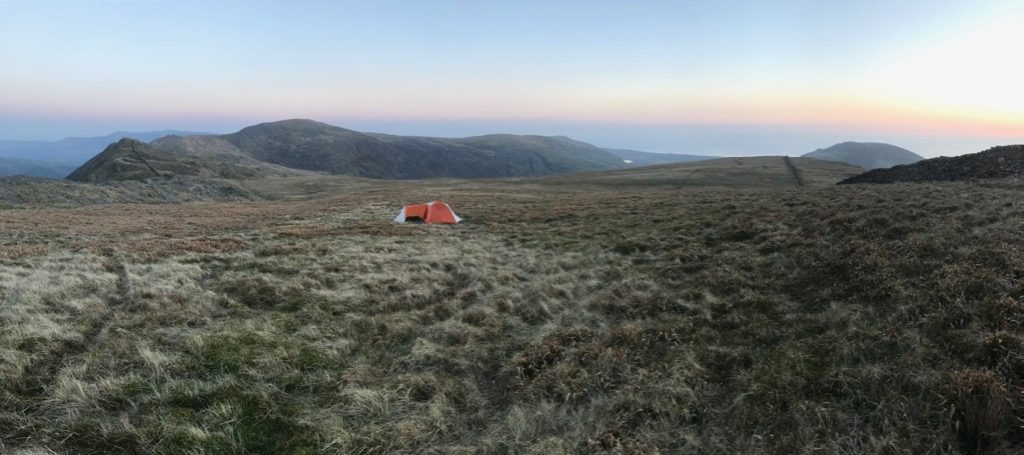 Although we were exhausted we were both incredibly proud of ourselves. This was by far the longest and hardest backpacking day either of us have experienced. But we did it without any major disasters or conniptions. It felt like a big achievement and a huge confidence booster. Exactly the things you need when your goal is to always be jazzed about the adventure at hand and the adventures to come.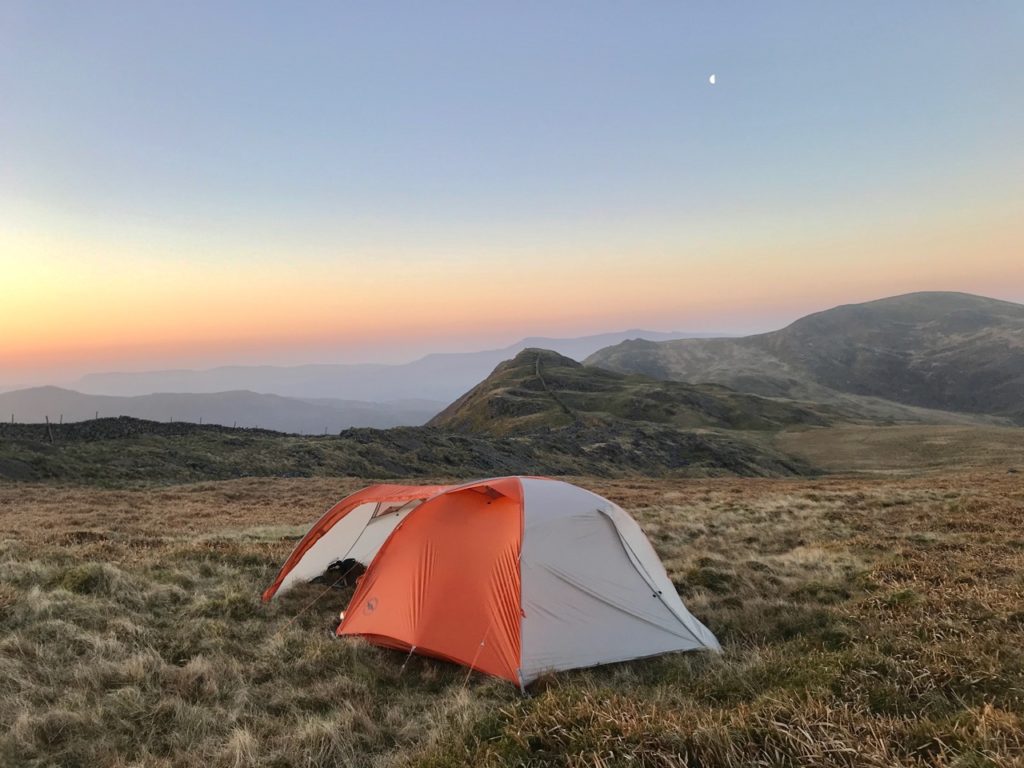 Day 3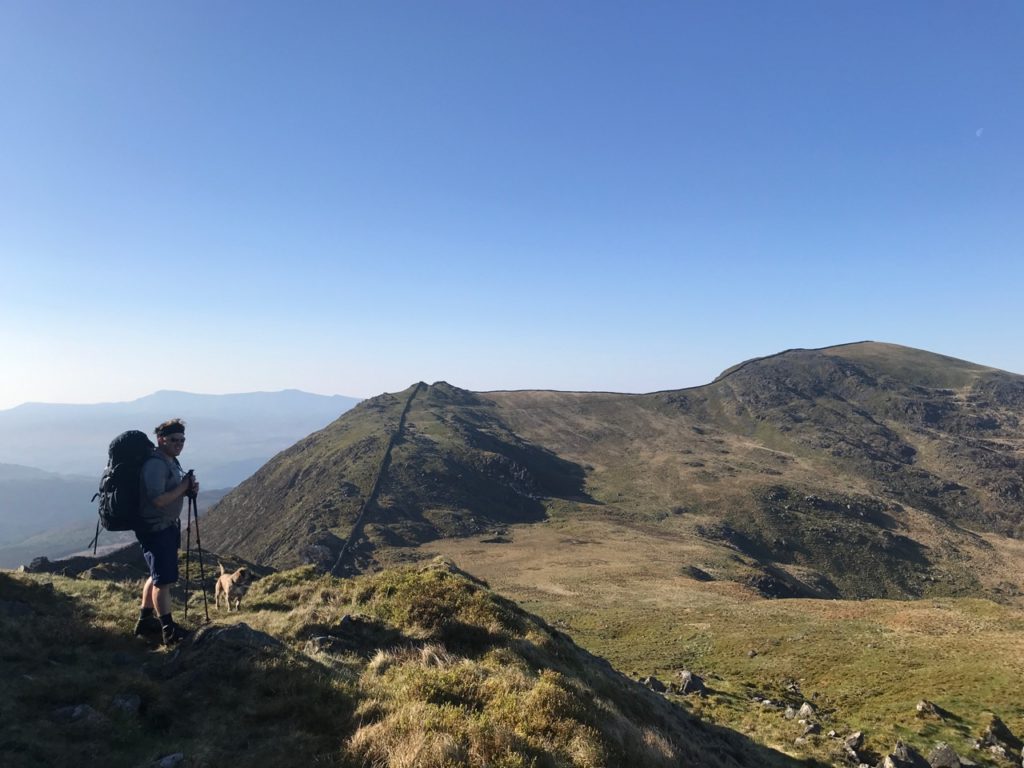 The day began with a short decent followed by our last climb of the trip… Diffwys, a piece of cake compared to the two days prior. Mentally this felt like the last major waypoint on the way back to the car, a state of mind which made the rest of the morning challenging as we still had several hours of tough walking before we'd get back to Barmouth!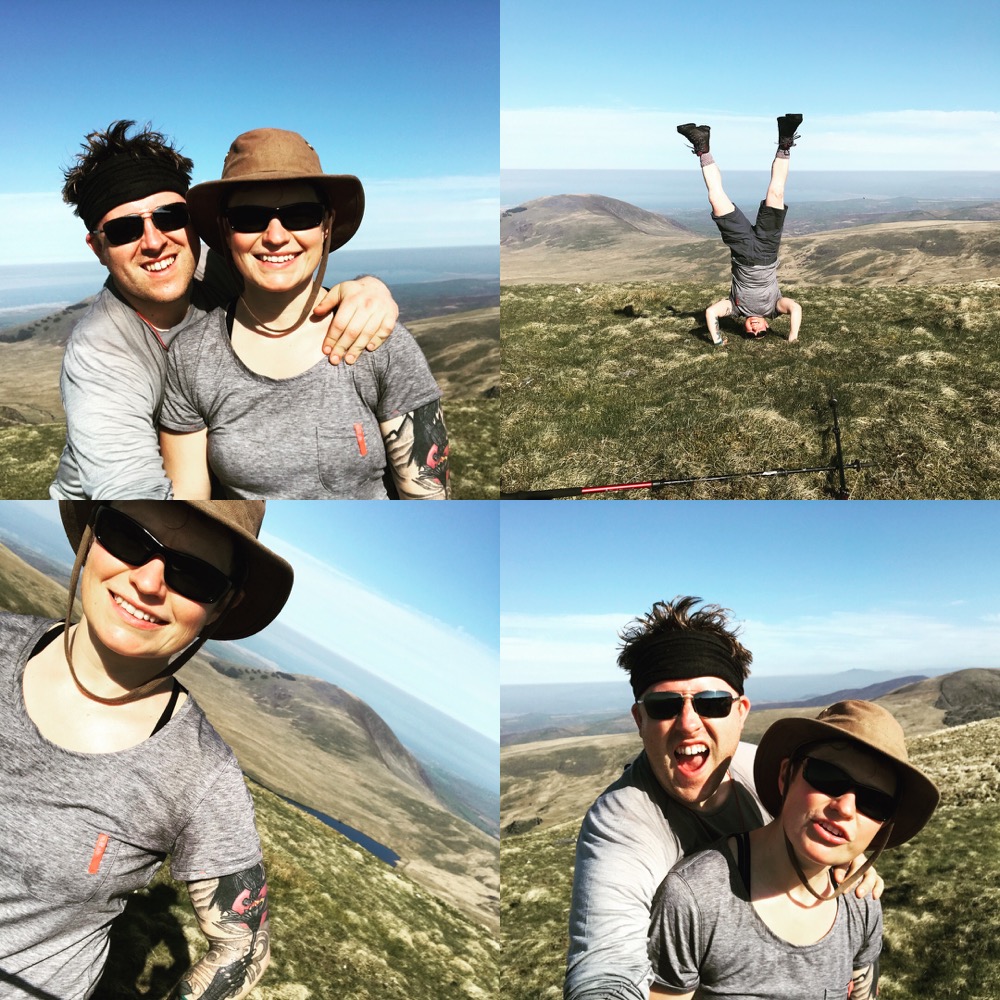 The track remained blissfully grassy and easy going for a short while until we began our descent down steep farmland. It was incredibly hard going, walking without a path down an uneven surface for what felt like an eternity. It probably took over an hour to get down to the track that led to Barmouth which, though easy, seemed to take longer than we expected. It was definitely a case of being mentally done.
When we finally hit an actual a road, leaving just another mile or so back to the car, I finally said, "right, off come the packs… one of us stay here with the dog, the other one of us will hustle it back to the car". Turned out I was the one who did the hustling, but it felt great to be speeding along unencumbered, and even better to be back in the car on the way home to enjoy our own barbecue and celebrate our victory over the Rhinogs!
Recommended reading: