Notes from a one night Lake District wild camping expedition in Borrowdale, camping near Langstrath Beck and taking in the summit of High Raise (762m) just north of the Langdale Pikes. This was not an ultralight expedition – and it was all the better for it!
Essentials
Getting there: Parking can be challenging in the Lake District. We were given permission to park in one of the fields at the very friendly Chapel House Farm Campsite near Stonethwaite for £5 per night. The campsite itself is basic but very nice, and worth an overnight in itself (£9 per person per night). 
Distance: 16.2km (10 miles) 
Height Gain: 881m (2890 ft)
Time: Completed over a leisurely 24 hours with lots of breaks for snacks and views. This loop could also be done as a day walk – allow 8-10 hours (though you could probably mission it in 6 but why would you want to do that?!). 
Recommended map: Lake District BMC Harvey Map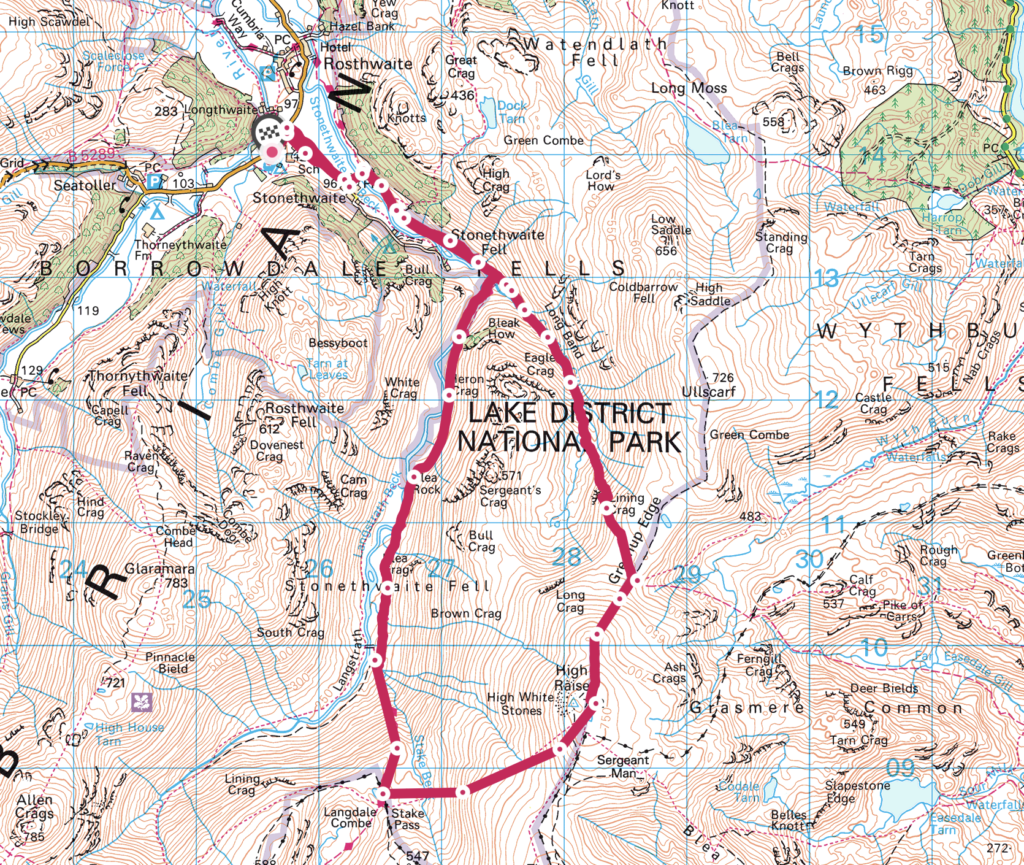 I'd been trying to arrange a wild camping expedition all summer with my friends Donovan (superstar food and drink taster and the genius behind the excellent Light Bulb Coffee roastery and coffee van) and Jessie (mega talented Swindon-based musician, singer, teacher, and fellow nature lover). With September setting in, it seemed like we were running out of opportunities to get out while we still had plenty of good light and the chance for some t-shirt weather. We finally managed to time it to coincide with my drive back from Scotland and given the logistics, I suggested we meet in the Lake District.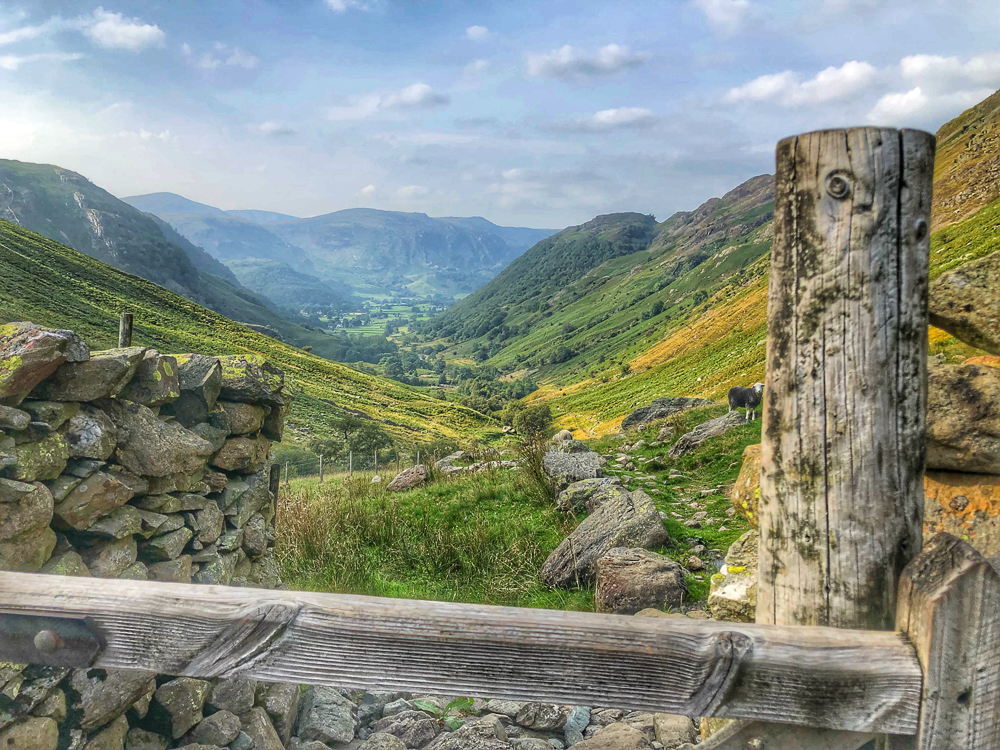 I don't know the Lakes as well as I do other parts of England, Wales, or Scotland, so I turned to the always helpful Wild Camping UK group on Facebook for some advice. I'd heard that the Lakes are immensely busy at the moment (one of the reasons for my lack of familiarity), so was keen to find somewhere quiet with low footfall. I got some great suggestions and eventually took the tips from this generous group member on heading to Borrowdale…
I'm having the best week of weather for wild camping in the Lakes. It's cold in the valleys in the early hours but v hot on the tops – water planning is everything. Try basing out of Borrowdale, great sites on the ridge from Bessy Boot, thru Glaramara to Allen Crags and a lovely site between Stake pass and Rossett Pike with views of Langdale and langstrath. The top of sour milk Gill in seathwaite below base brown has loads of potential with the added bonus of an easy route to green and great gables. There are lots of wild campers at the more popular tarns but the main ridges and hanging valleys are mostly clear for camping.
The original plan was this:
Meet at Yew Tree Farm in Borrowdale for a civilised lunch and to review the route
Park up somewhere suitable for the night
Last minute gear sorting
Head out wild camping for two nights
However the plan quickly changed as the afternoon progressed. The Lakes were indeed as busy as I'd heard, at least on the roads. Parking was impossible, including at Yew Tree Farm, a B&B and tiny cafe in the tiny village of Rosthwaite whose dominant feature on that day was a heaving National Trust Car Park. I also didn't have any phone signal to update my pals and suggest an alternate meeting point. I was also left wondering where on earth we'd park our vehicles over night for the wild camp.
With no where to park, I drove on. Down the road I spotted Chapel House Farm campsite – I had a good feeling about the place, so I parked up and found the owner. It was a Saturday, so no hope of finding a pitch for the night, but I thought Sunday might be a good option. Not only was he able to accommodate a Sunday stopover, but he also said we could park our cars in his neighbouring field overnight while we went wild camping that evening, charging a bargain price of £5 per night per vehicle.
I had just enough time to walk from the campsite to the intended lunch meeting, where I rather frantically informed Jessie and Donovan of the new plan! We grabbed some lunch to go and took it back to the parking field to review our packs, plan some food, and make a start. By this point it was getting close to 5pm. I didn't have a specific route in mind as to what we'd do, but figured we could walk up Langstrath Beck which looked to have good wild camping potential with a water source and also several options depending on how ambitious we were feeling.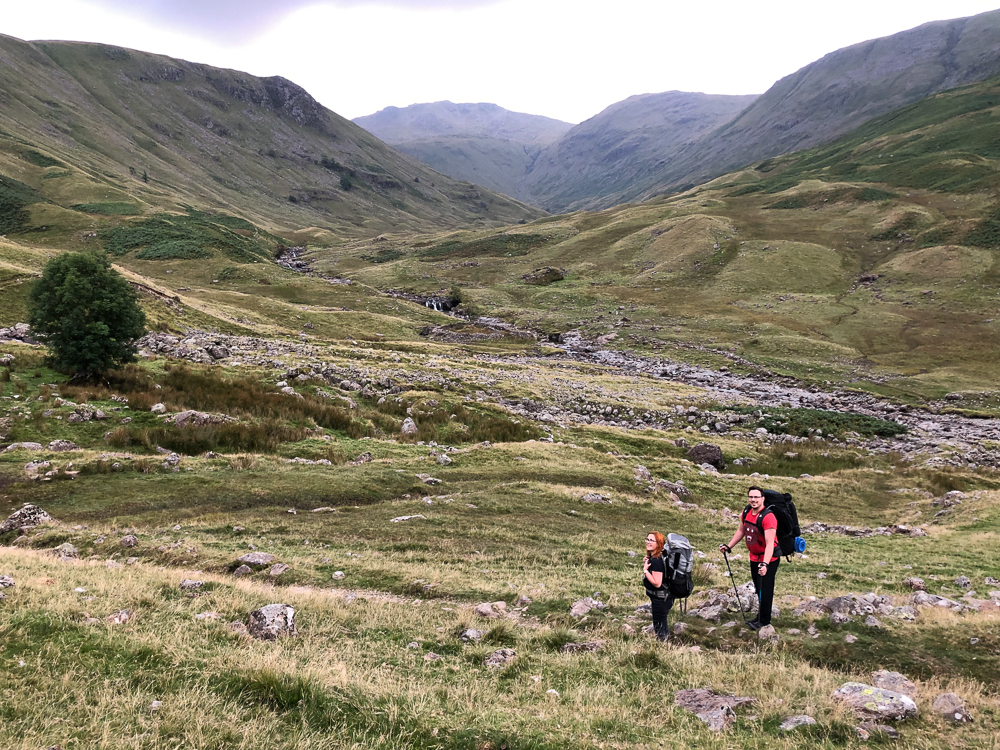 Our bags were VERY heavy. This is what happens when you go wild camping with foodies (and a professional barista!)! Among the things ladening our packs:
Donovan's coffee making paraphernalia including portable grinder and china cup
Various vegetables and fruits including: peppers, onions, garlic, mushrooms, tender stem broccoli, kale, limes, coriander leaves, apples, flat peaches
Four eggs
Two bottles of wine (white for apero and a red to go with food, and for cooking with – of course)
Eat Sleep Wild dehydrated Chilli non Carne (perhaps the only nod to lightweight food prep)
Cheddar cheese
A bottle of my "Sribasco" hot sauce and a jar of pickled peppers
Jetboil summit skillet, plates, and a good knife
Picnic blanket
Following Langstrath Beck towards Stake pass, we passed a father and young son duo camped up on the river. Otherwise the path was quiet and as predicted, there were plenty of opportunities to camp. We originally had our sights set on climbing out of the valley before pitching our tents, but as we left late and were keen to enjoy a bit of daylight at camp, we stopped halfway up Stake pass on a (mostly) flat spot overlooking the valley. Time to eat and drink all the heavy stuff weighing down our packs!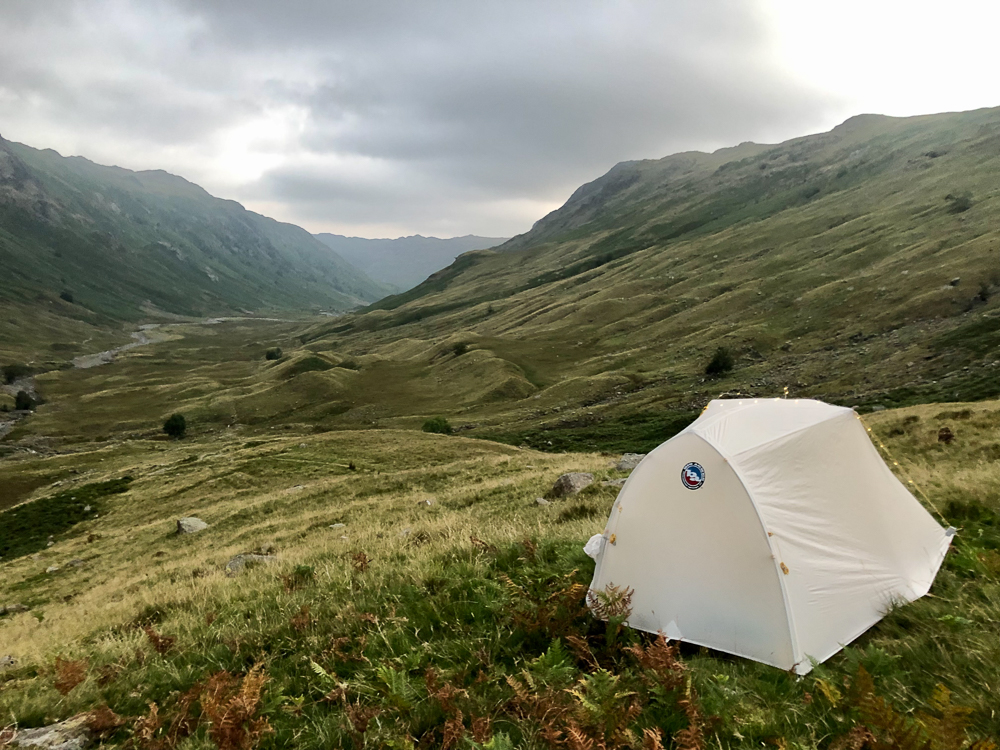 One of my favourite quotes of the trip, by Donovan, while sat on the picnic blanket making guacamole: "I bagged this moment!"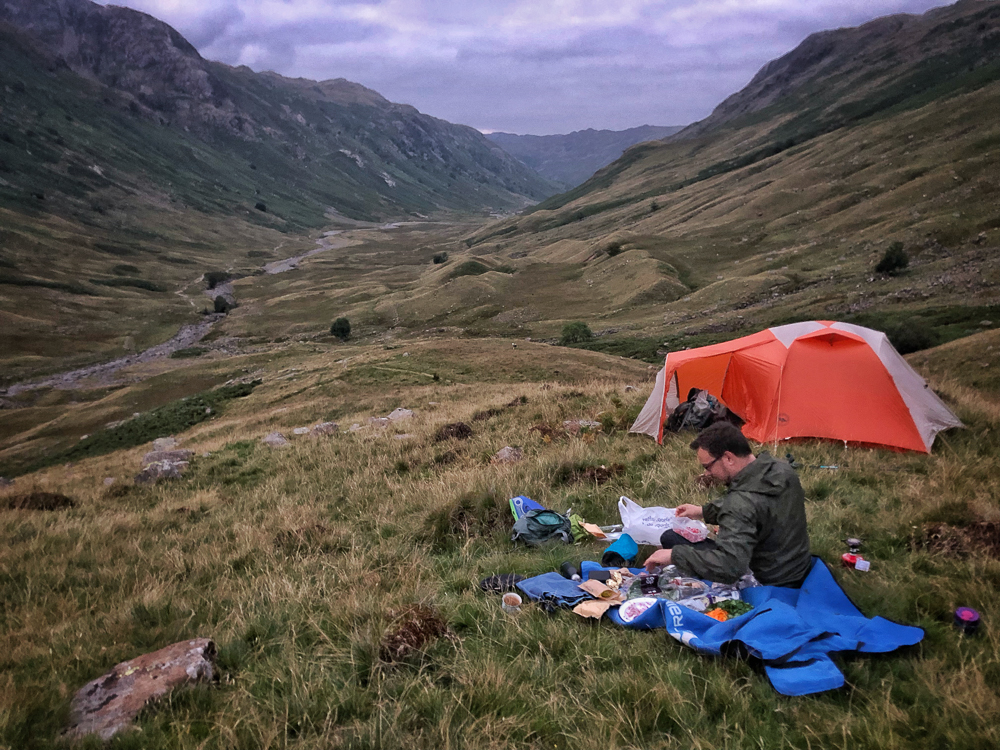 We dined hugely on campstove quesadillas filled with my dehydrated Chilli non Carne (buy in the shop or make your own!), grated cheddar, and fried peppers and onions, served with the aforementioned guacamole and drink pairings. No photos, as we were to busy scoffing, and also watching a tiny light in the distance on top of Stonethwaite Fell – another wild camper, or a ghost?!
We did grab a few photos at breakfast: the leftovers turned into a sort of camp stove shakshuka. Much laughter ensued when I managed to crack an egg straight into my boots (and yes I was wearing the boots).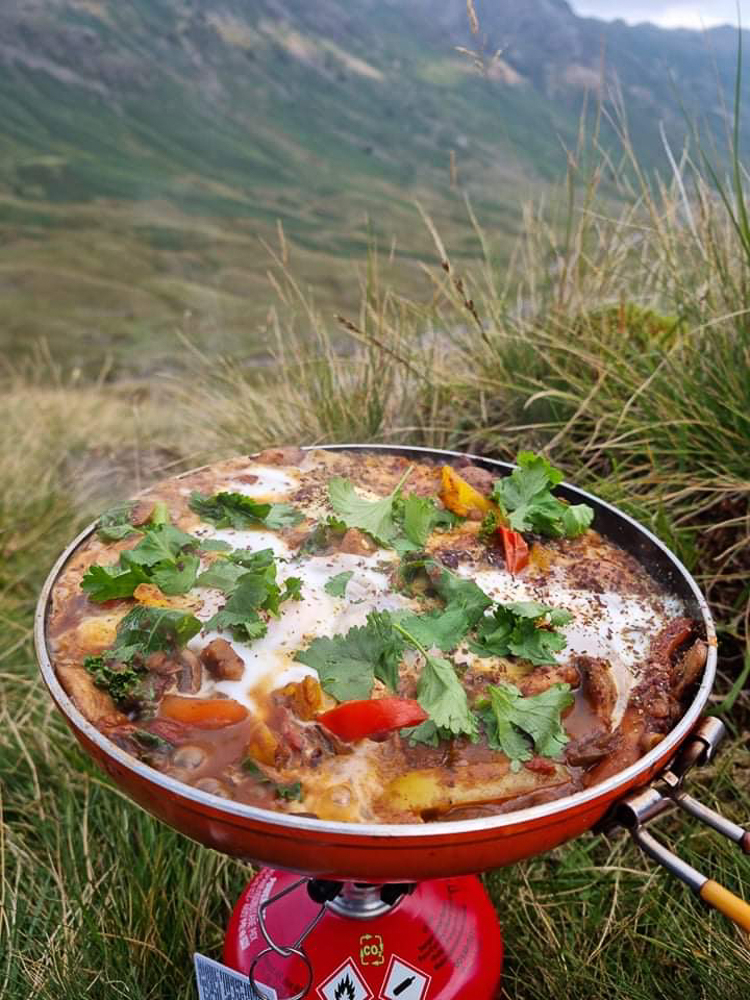 We packed up and continued walking up the steep Stake Path, with much lighter bags now! Out of the valley I offered a few options for the onward journey and we ended up settling on a loop back via High Raise. This required an off piste slog up another steep hill. No problem for these guys who turned out to be natural backpackers!
We eventually got there and continued to lighten our packs by devouring some hummus, flatbreads, and colourful vegetables. All while taking in some stupendous hills of Scafell Pike, Great Gable, and beyond.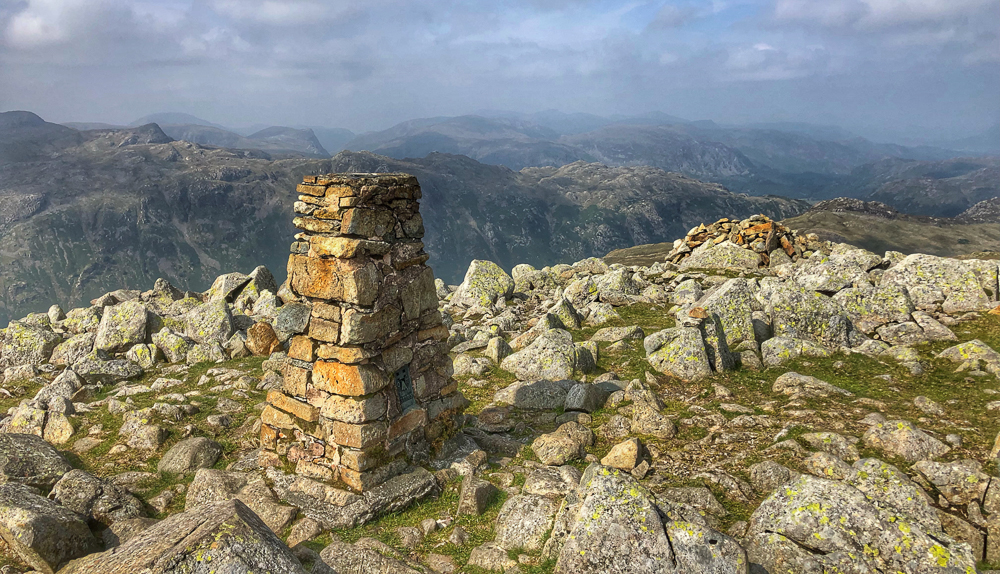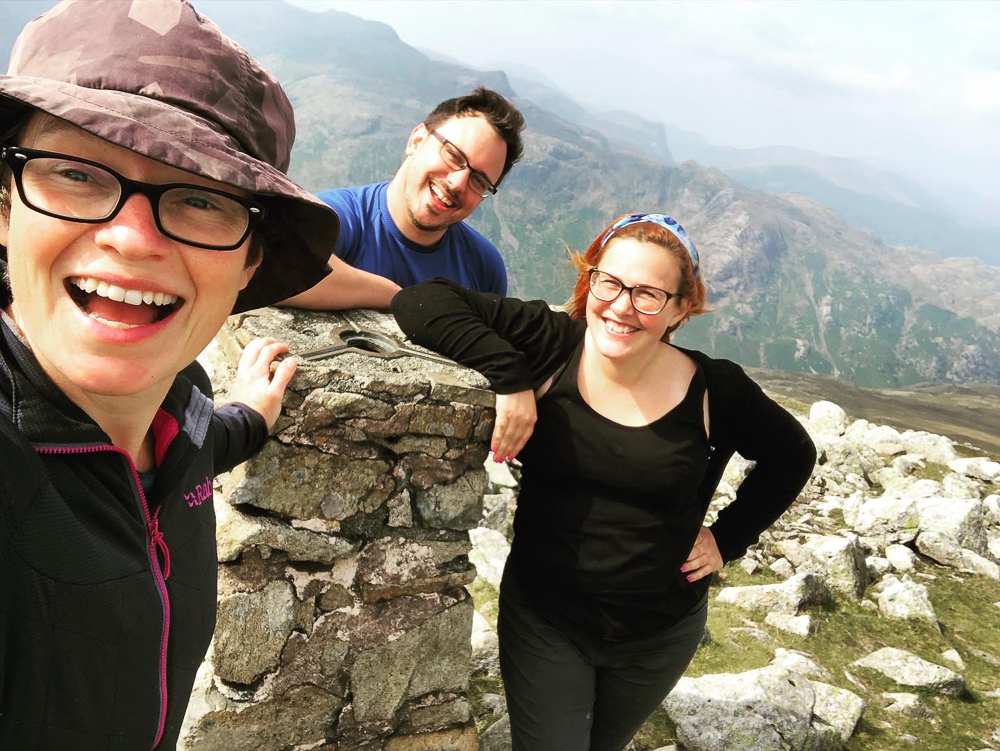 As is so often the case, the walk back down the hill was the hardest part. The one nighter turned out to be a good idea as I think it was probably our limit in terms of time, distance, and of course pack weight! Back at Chapel Farm Campsite we decamped, showered, enjoyed a celebratory local beer, and enjoyed a bean and chorizo stew before passing out for the night.
My big takeaway from this trip is that I'm way too much of a scrooge about the Lake District! As a lover of solitude and wild places, I always assume the Lake District will be too busy to enjoy it. And while there certainly are busy areas of the Lake District (and from what I hear some problematically busy areas for wild camping – particularly the major tarns), there are clearly plenty of paths less traveled. The kind people from Wild Camping UK gave me a few other areas to consider which could make for some good autumn and winter exploring. So stay tuned for more – you can keep up to date with new posts by subscribing to the newsletter (you can add your email to the form at the bottom of this post!).
More pictures…