I'm a sucker for a high point, and Ryder's Hill at 515m is the highest point on southern Dartmoor. This became our target on a cold but clear New Year's Eve. There are several marked footpaths up to this remote hill on Holne Moor, but we decided to approach it from our base near Yartor Down. This made for a pretty long day, but we were rewarded with some quality solitude, beautiful wintertime views, a bit of off piste navigation practice, and a little Type II fun. (For a shorter, less arduous day out, check out the Holne Moor and Snowdon route in the excellent Dartmoor Pathfinder Guide, our original inspiration for heading to Ryder's Hill.)
Essentials
Getting there: Free carpark at Yartoor Down.
Distance: 22km (13.5 miles) 
Height Gain: 660m (2167 ft)
Time: Allow 8-12hours (depends on weather, going can be slow in wet conditions)
Recommended map: OS Explorer OL28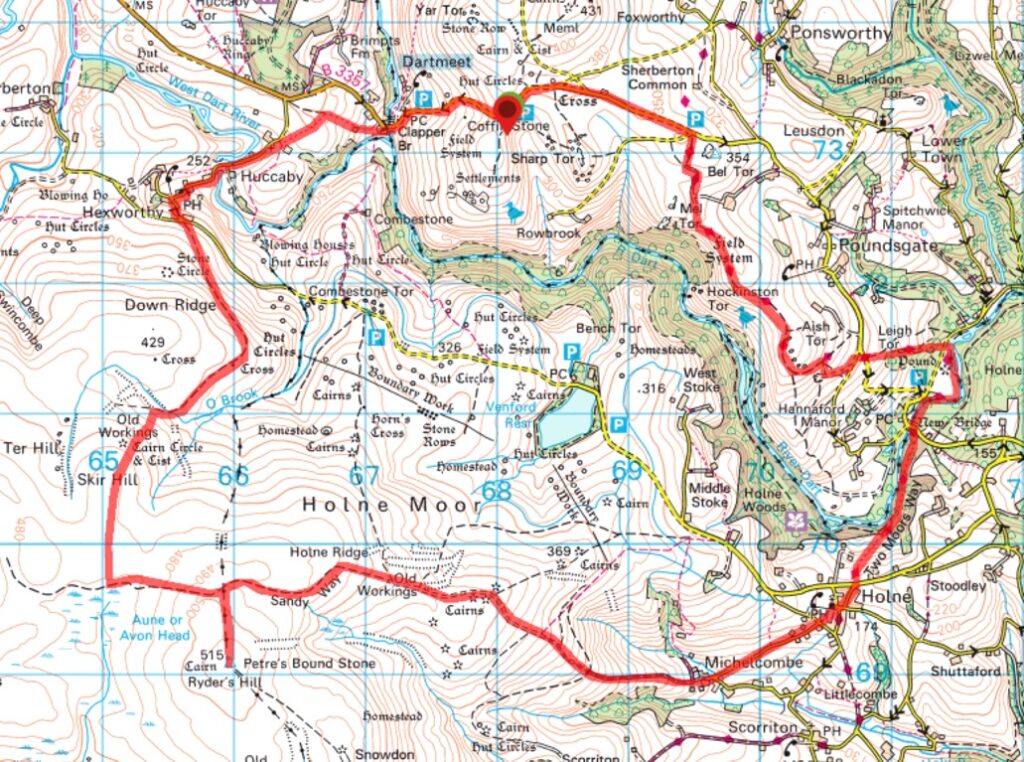 The first challenge was to get from our spot on Yartoor Down to the other side of the River Dart and onto Holne Moor. It looks easy enough on the OS map. A short journey down the road took us to Dartmeet, where a bridge crosses the River Dart – easy! But to get onto the moor we also needed to cross an inlet that connects the River Swincombe to the River Dart. Upon inspection, this crossing was near impossible. I say "near" because while we stood there deliberating what to do, bundled in our warm winter attire on this cold January morning, a fell runner in shorts and a t-shirt came down obviously with the same intention as we had. After a quick check of his map, he went for it, a current of raging water up to his chest, and off he went on the other side. I'm just not that hardcore.
We opted to walk further down the road (a pleasant quiet lane) to the comfort of Hexworthy Bridge where we crossed the river and then finally onto the moor via a track at Hexworthy.
The going is easy at first, down along an old mining track that eventually runs out. Then it's across the open moor uphill through what seems like an endless slog of tussock. It was with great relief to finally meet the east-west path that crosses just below Ryder's Hill. Heading west, the path eventually intersects another path that leads due south to the summit, marked by a trig point and two pillars. The short pillar is inscribed with an "H" (for Holne) and is also known as Petre on the Mount. The taller one has a "B" for Buckfastleigh and is also called Petre's Bound stone.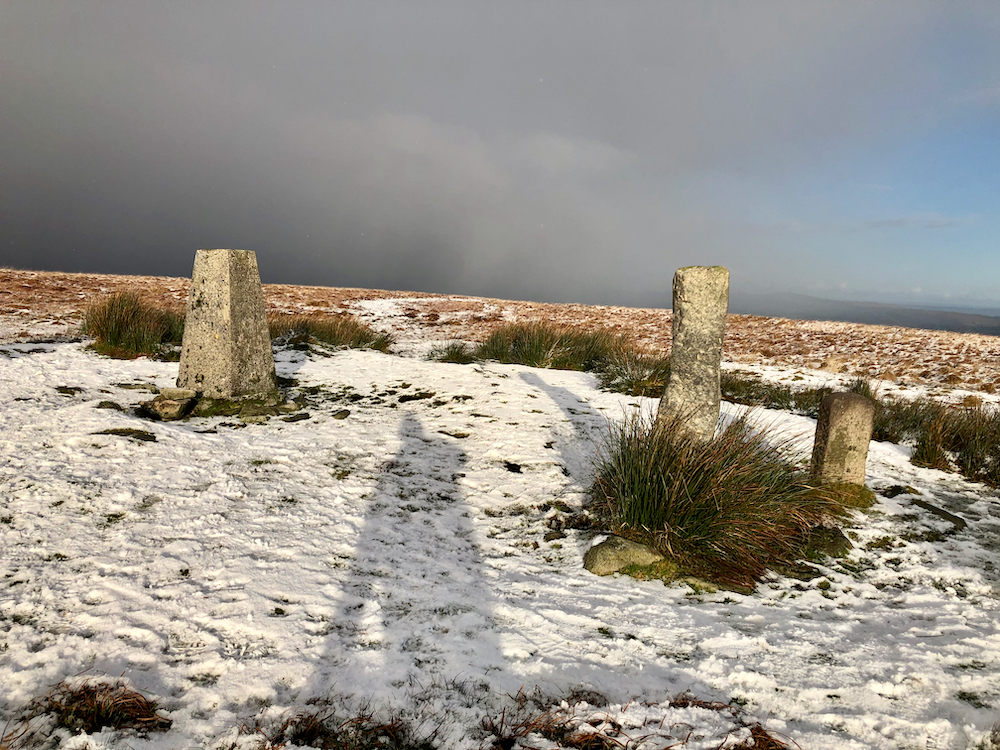 On this January eve we had a bit of snow which added to that great sense of remoteness and isolation I love about Dartmoor. We weren't without company – we met a fell runner and his two dogs at the Ryder Hill trig point, and heading back, an older male duo and their border collie.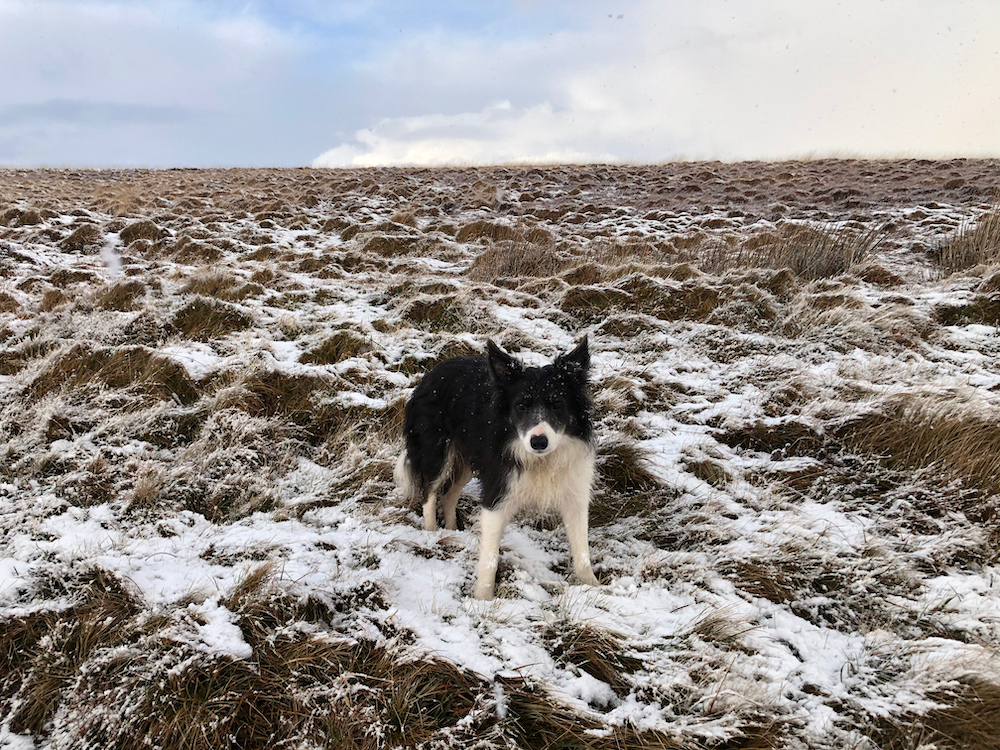 By this point it was about 3pm and we had a long way back to the car – at least 3 hours, almost entirely uphill. The impending darkness caused a bit of anxiety on my part (visions of marching through wretched bog in the dark and cold). But mostly, we were both tired – we'd been out six hours and the going was tough, particularly as we hadn't been out in the hills much due to lockdown limitations. So we had to muster some mental gusto to push on to the finish (what choice did we have? Time to embrace the Type II fun).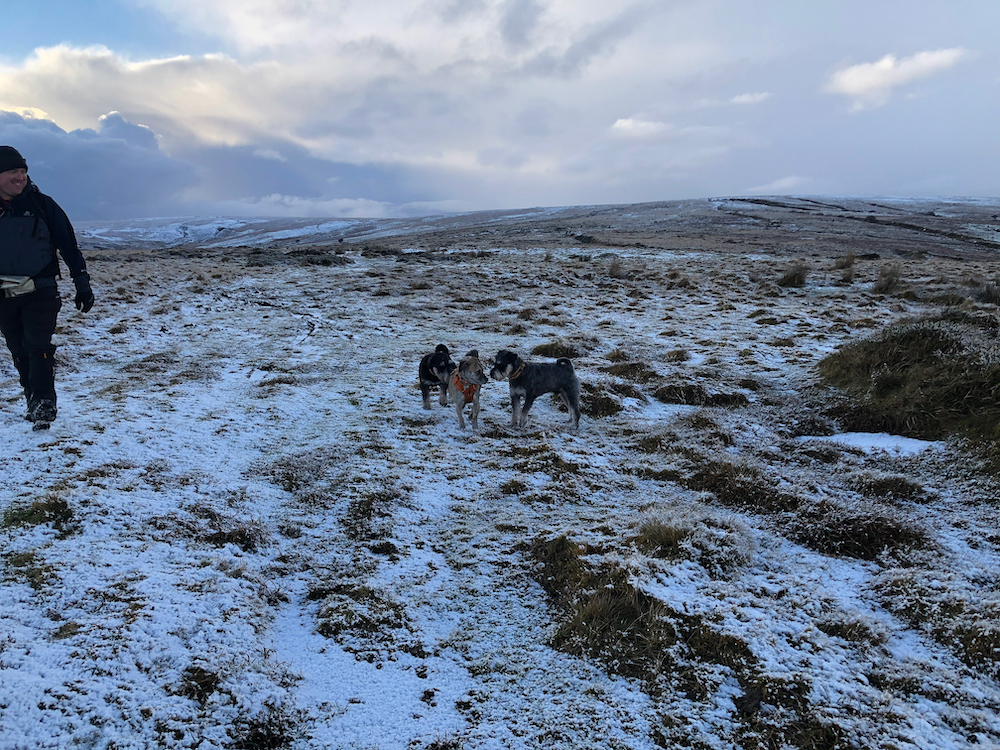 We had originally planned to walk up the road back to the car, but there was enough traffic to put us off. Instead, we followed the Two Moors Way to Bel Tor and the road the short stretch of road back to the van. Fortunately, this stretch of the Two Moors Way was very straightforward along a wide track. My earlier anxiety was about losing the path in the darkness and a point when I felt too brain fried to navigate off piste in zero visibility. When I discovered the path easy, I relaxed into the walk and started focusing on how we'd celebrate our achievement and ring in the new year. (Gin & tonics and barbacoa tacos, in case you're wondering!)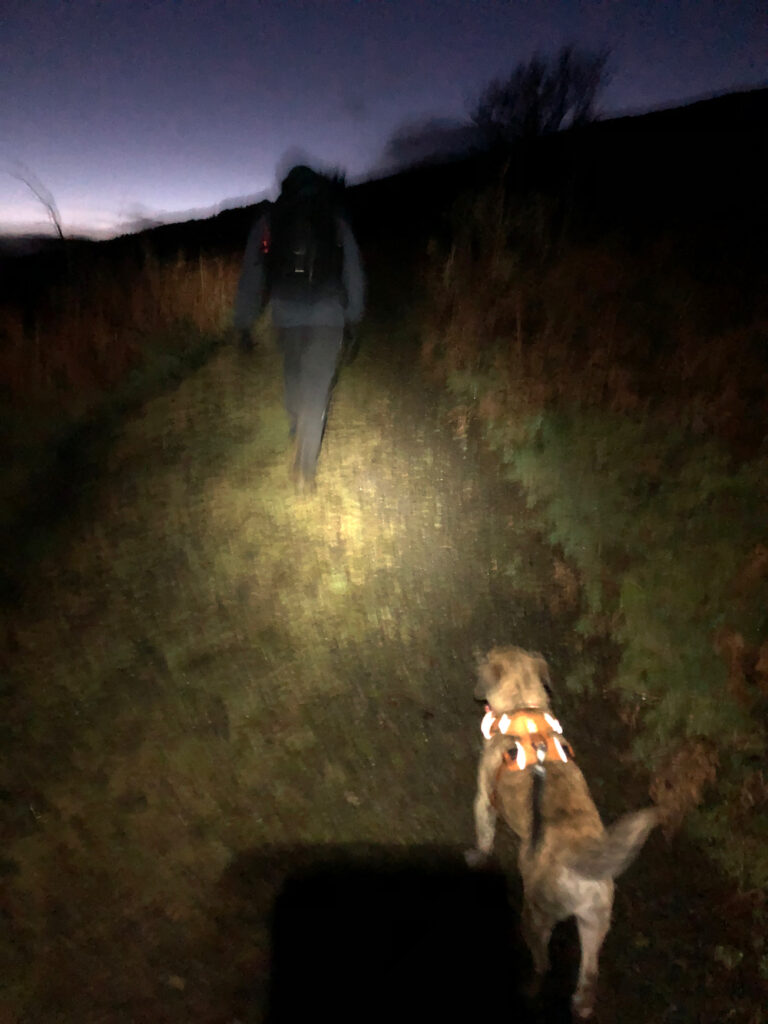 Although the walk was much longer and tougher than we planned, we both felt great for having done it. It felt like an achievement after so long at home. Lucky was a champ the whole way. And it fuelled our appetites for an evening celebration – more so celebrating our first campervan trip than the new year, but I'll take a celebration anywhere I can get it.
As with the rest of Dartmoor, there are superb wild camping opportunities in these parts. I look forward to coming back for an overnight on the moor, perhaps when there's a few more hours of daylight on my side!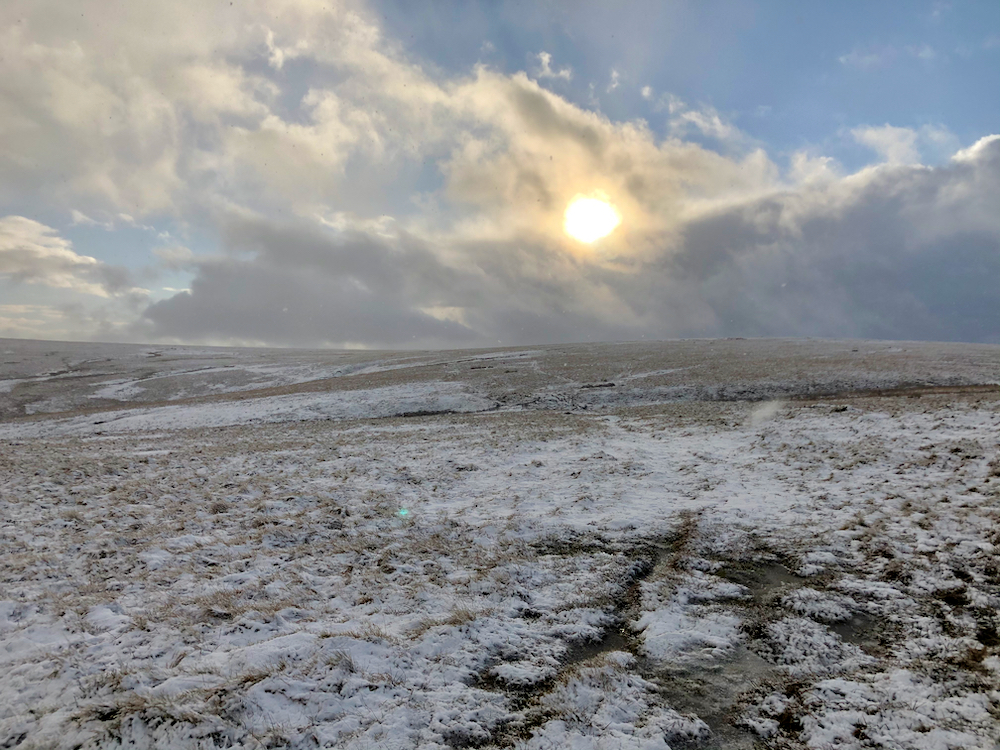 Relevant links: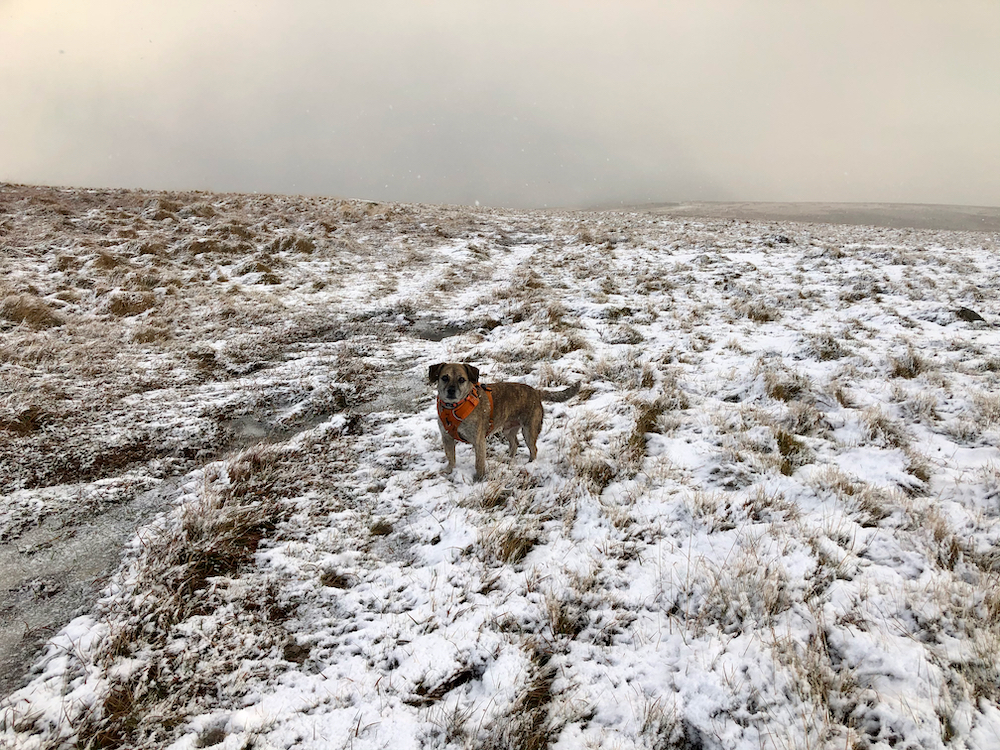 This post contains affiliate links to support the continued creation of Eat Sleep Wild content and products. This just means that if you purchase something from one of the links above, I get a small commission from the sale at no cost to you. Feel free to reach out with any questions!