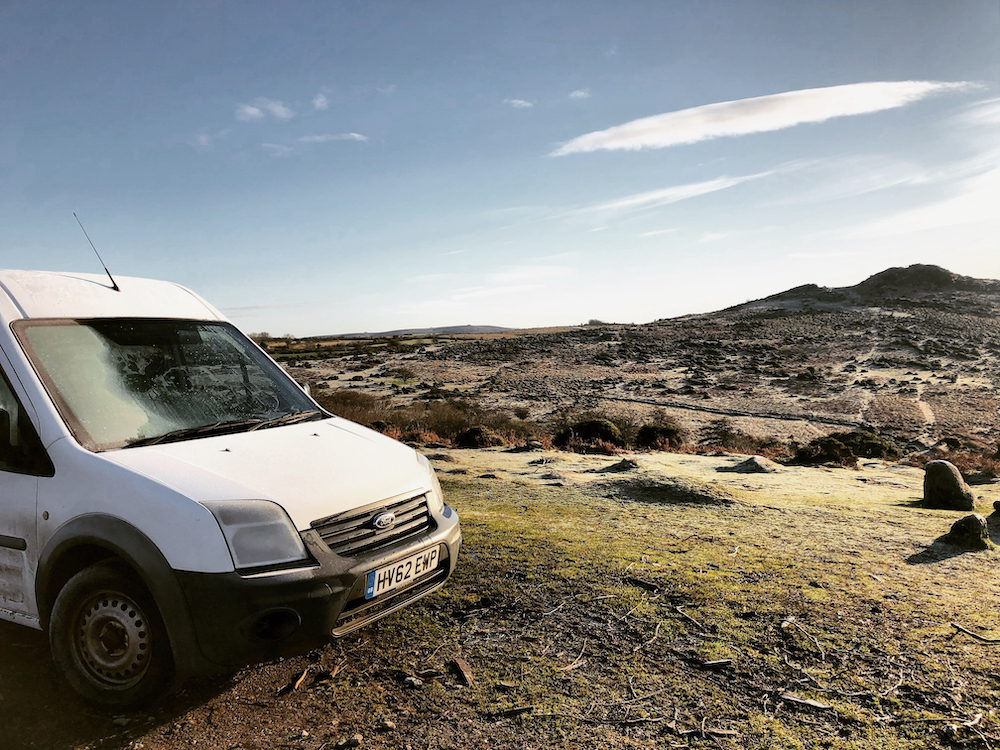 Our Ford Transit Connect campervan conversion project is far from finished. So behold the concept of Minimum Viable Camper (MVC*), our version of the camper with just enough features to be usable for a night out. Frankly, I could sleep in anything, but as our overnight was destined to be in winter, there were a few things I wanted to have in order: 
Van cleaned and gutted (done)
Basic level of insulation (done on the floors, walls, and ceiling; more on this below)
A nice floor to sleep on (done)
The van at this stage is basically a mobile tent. No built-in storage or electrics, but a passable shelter where we (hopefully) wouldn't freeze to death. 
Destination: Dartmoor! 
We took the Connect on its maiden voyage to Dartmoor on 30th December – 1st January 2021, a fine way to ring in the new year if you ask me! We chose Dartmoor for a few reasons: 
Dartmoor is awesome all times of year! 
It was one of the places we could legally go given lockdown restrictions
It's not too far from where we live in the Cotswolds, but far enough. Perfect for a couple night's getaway. 
Dartmoor is awesome!!
This was by no means glamorous campervanning. With no furniture or storage, we were left using a series of plastic boxes to try to stay organised.  It was remarkable how quickly the van filled up!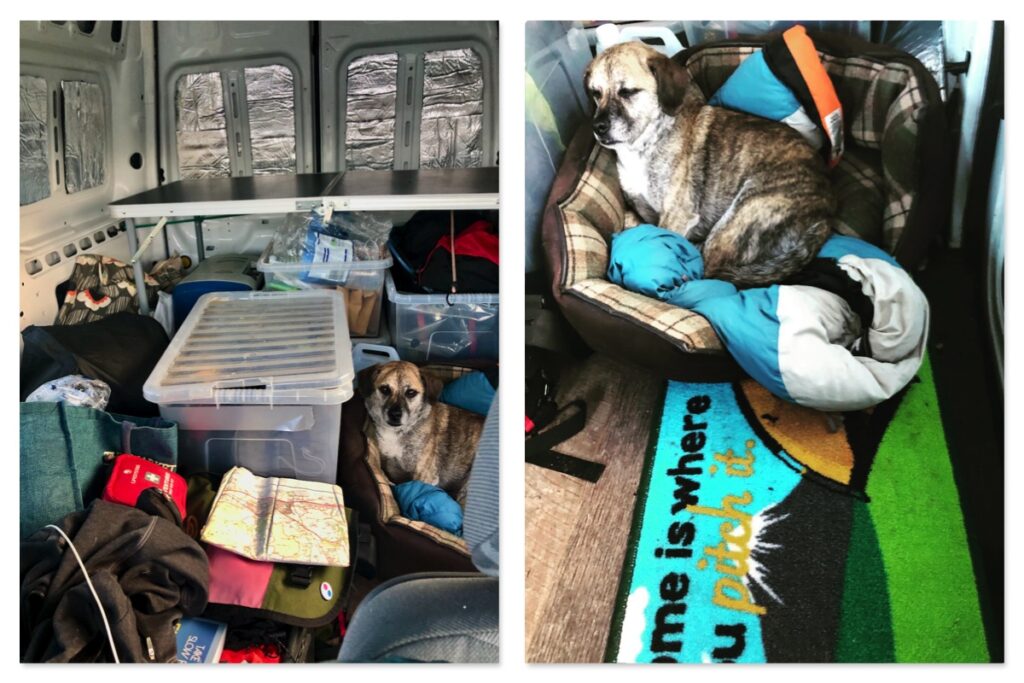 The trip definitely helped bring focus to some immediate priorities as we continue with the van build:
Storage. The experience made me very eager to get some basic storage solutions into the van to avoid all the boxes, which effectively meant we had to shift things around anytime we wanted to do something (cook food, change clothes, or sleep). 
Bed. Although we were perfectly comfortable sleeping on the van floor on our air mattresses, it will be luxurious to have a built-in bed ready to go. Inflating air mattresses is one of my dreaded tasks, especially when you've been out all day and just want to crash out! 
Privacy curtains. When the sun sets and the lights go on, anyone who passes by can see into the van. Privacy curtains for both the front and side windows are essential! This will also aid with insulation, more on this below…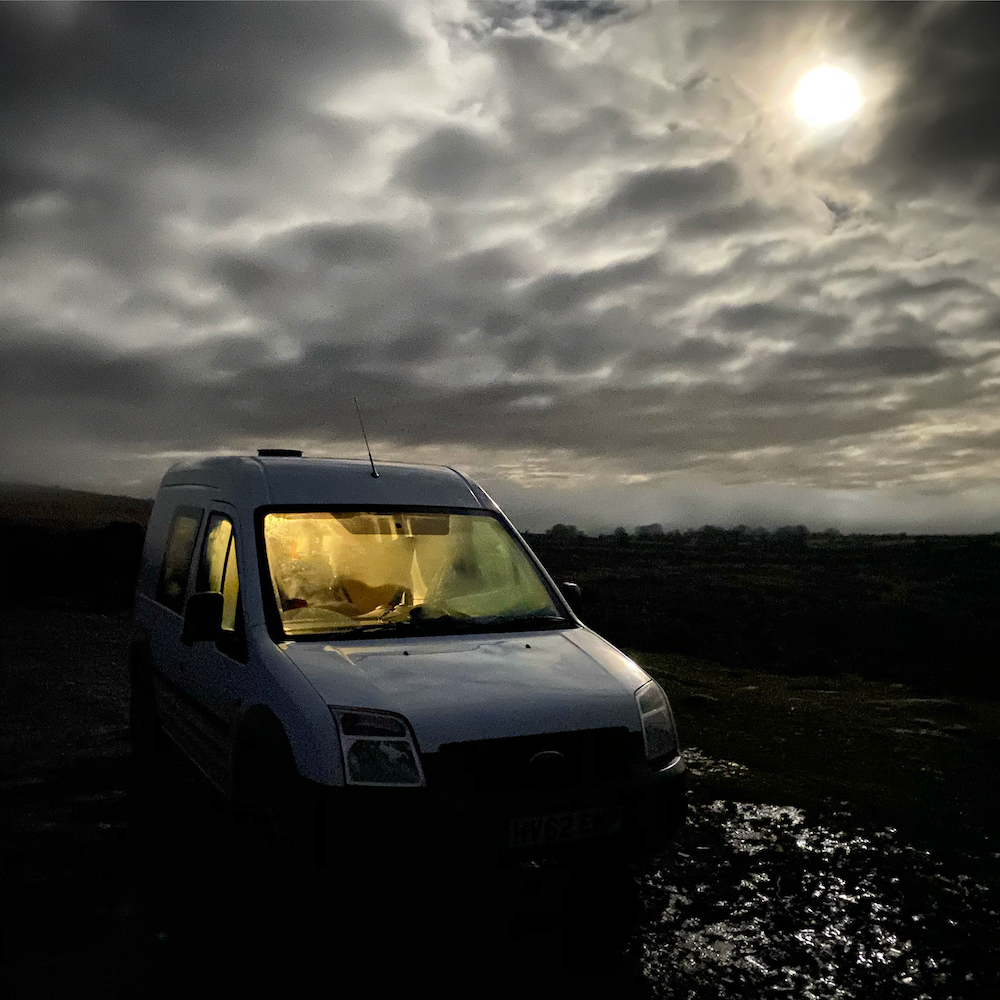 Warmth. Sub-zero temperatures made for magical frost and snow, and also a chilly night! I confess to running the engine a couple times in the evening just to make it more comfortable for sitting around, cooking, and hanging out. Blankets and down jackets made things cozy, and I was just warm enough in the sleeping bag to enjoy a restful night's sleep. That said, I'll be adding some extra Dodo Fleece insulation to the gaps in the walls, and insulated privacy curtains over the window will help, too. A portable heater might also be installed further down the line.
Electrics. Leisure battery, lighting, wiring, etc. We made due with a portable Goal Zero LED lantern and small battery packs, but for longer trips a leisure battery will be essential. This needs to be sorted sooner rather than later as we can't install any walls until the wiring is in place.
Cleanliness / tidiness. I definitely need some solutions for keeping the van clean and tidy while travelling! During the damp and muddy British winter it was super easy to make a mess. So… where to keep muddy boots and clothing? Where's the best place for rubbish? (Not under the van as we almost drove away without it!)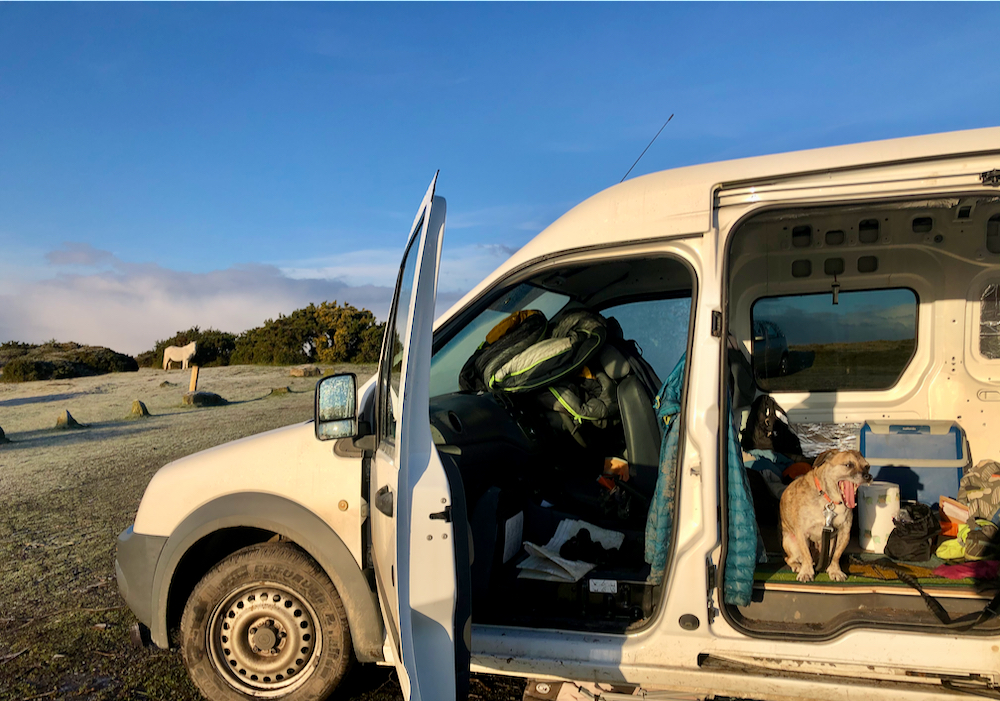 Other thoughts…
Space. The nice thing about going out in an empty van is that you get a real sense of the space and how you'd like to use it. This can inform storage planning going forward. We both like to cook so we'll definitely need to put in systems to allow us to both sit comfortably in the van and participate in cooking. I also enjoy writing so will want some kind of fold-down desk where I can put my laptop. 
The hound! Another top priority is making sure Lucky has a safe place that's his own, both for the journey and when we finally stop for the night. I have a doggy seatbelt for the front seat but that does me no good if I have a [human] passenger with me. 
Parking in Dartmoor. I can tell already that there's going to be a knack to overnight. We were pretty lucky on this occasion. We ended up at a sizeable car-park on a background. A couple other vans were parked up there but there was plenty of space to find our own corner and it offered a little mental security that this was a "done thing". I only realised upon leaving the car park a large-ish sign that read overnight parking is not allowed anywhere in Dartmoor National Park. See dartmoor.gov.uk: "You cannot park your motorhome or campervan overnight in laybys, at the roadside, or in car parks under National Park Byelaws." I'm not entirely sure why we and the other campervans weren't moved on. No one available to enforce the byelaws over a holiday period? Tolerance during the quiet season as long as you're not a nuisance? I don't know. But in the future I will definitely be seeking out alternative parking – as I've mentioned, Dartmoor is awesome, and I don't want to be one of those people who give campervans a bad reputation. If anyone has any experience with this I'd be eager to know! (Comment below or get in touch with me on Instagram or Facebook.)
Campervan cooking. This of course deserves its own section….
Campervan cooking
For lack of a built-in kitchen, we made do with the trusty jetboil to cook up a couple delightful meals in the campervan! 
Night 1: Indian fish stew and Cauliflower curry. I had a couple Desi Curry Kits that come with pre-prepped spices, onion, garlic, and ginger. While I'd normally do everything from scratch at home, a little extra convenience is very welcome when cooking in a limited space. These kind of curry kits reduce prep and cut down on messes while still enabling a tasty meal with quality fresh ingredients. 
Night 2: Barbacoa Tacos!!! Before the first lockdown we'd had our sights on a camping trip for Andrew's birthday and had pre-prepped and vac-packed some superb beef barbacoa to take with us. Then lockdown hit, the plan went on hold, and the barbacoa was sequestered to the freezer. We were pretty excited to finally enjoy them and they felt a fitting way to celebrate New Year's Eve and especially our first van adventure. They were made extra welcome by the epic walk we took that day (more on that later).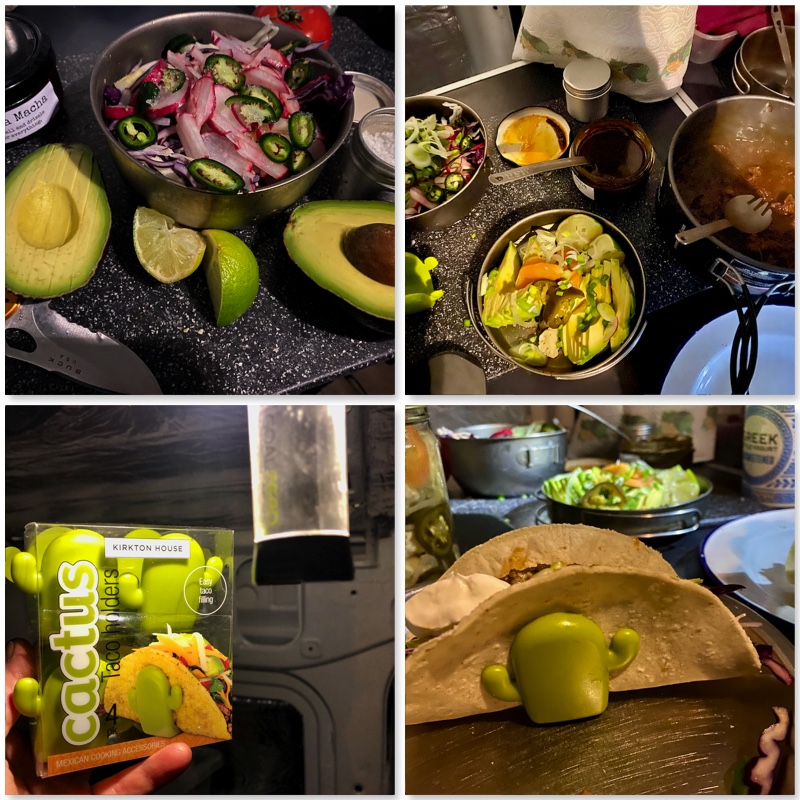 Again, super handy to have a pre-prepped meal. All we had to do was heat it up in the Jetboil Group Pot and warm tortillas in the Jetboil Summit Skillet (yes, I love my Jetboil gadgets!). I of course brought along tortillas, avocado, and our ESW Trailblazer Hot Sauce and Salsa Macha. The leftovers made for awesome breakfast tacos the next day.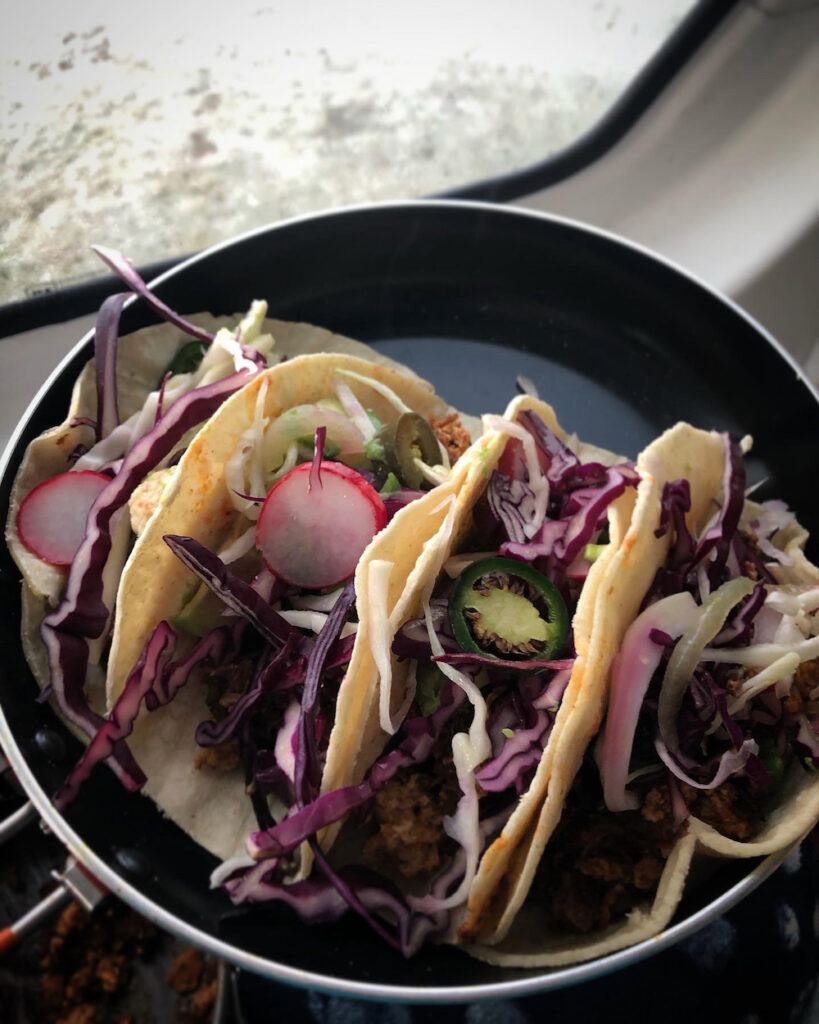 Roll on phase 2 of the camper! You can read more about this project over in this blog post: Ford Transit Connect Campervan Conversion.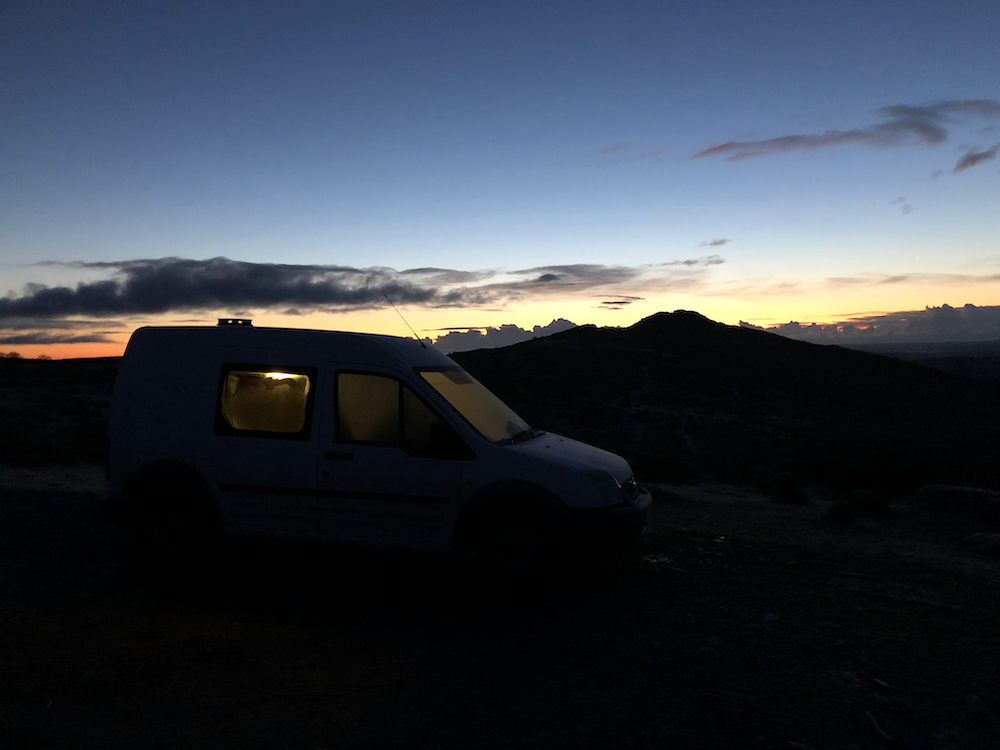 * The MVC is inspired by the MVP concept often used in software development. A minimum viable product (MVP) is a version of a product with just enough features to be usable by early customers who can then provide feedback for future product development. A focus on MVP development potentially avoids lengthy and (ultimately) unnecessary work.