This post documents my Ford Transit Connect camper conversion journey. I started the project in September 2020 when I sold my car and bought a 2012 Ford Transit Connect long wheel base high roof panel van with 55,000 miles and a lot of potential. I'll keep this post updated along the way. Use the links below to jump to various sections:
Backstory
In 2019 my current car, a Ford Fiesta, was on its last legs. I really wanted a campervan but simply couldn't afford it without taking out a loan. In the end I compromised on a Ford Fiesta van (basically a hatchback with a huge boot and no back seats). I thought I could turn this car into a sort of super-mini camper. The problem was: once I put all my gear in the car, there was no way I'd be able to sleep in it without some major modifications and probably a roof box. On the plus side, the van was really handy for making local deliveries particularly when I was doing supper boxes during the Covid lockdown.
In July 2020 I took a holiday to Scotland. This was right after lockdown, when campsites and Airbnbs were able to re-open. My plan was to do a bit of hiking and wild camping with the occasional campsite or Airbnb where I could wash up and sort my gear. As I discovered, due to the situation, campsites and Airbnbs were either totally booked, closed, or obstructively expensive. I love wild camping, but wild camping by necessity is a whole different situation. I kept thinking how much better things would be if I'd had a camper van. Don't get me wrong, I had some awesome adventures (which you can read about here and here) but a van would have been an incredible asset on those days when I just wanted to read, plan, or simply escape poor weather.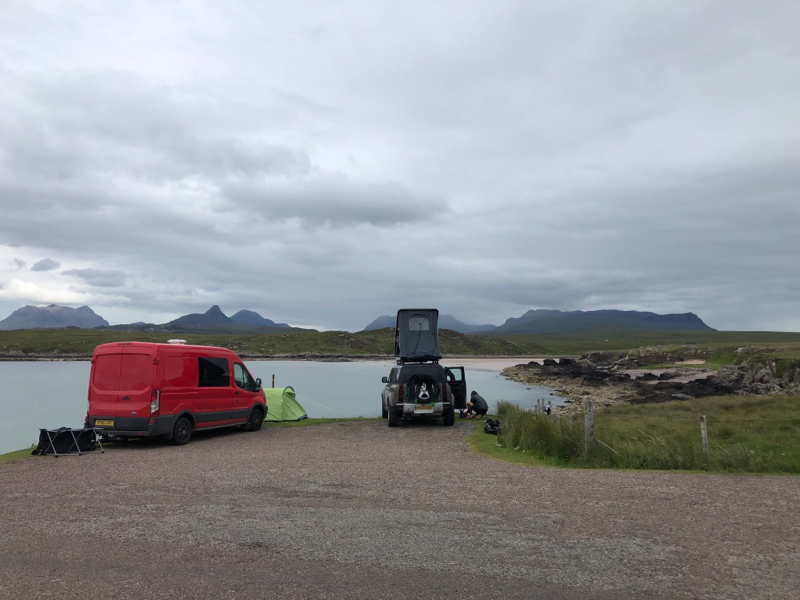 When I got back from Scotland I fell into a rabbit hole of research. My Ford Fiesta still had relatively low miles – selling it would give me a good chunk of change to put towards a van. With impatience spurring me on, I impulsively took the car to We Buy Any Car and miraculously got more than I paid for it! And having sold my car, I had to replace it!
When I first started looking, I focused on vans that had already been converted. I have very few DIY or automotive skills and the idea of doing this myself was really daunting. I quickly learned there was no way I could afford a ready-built campervan, or at least one that didn't need a lot of work. Small panel vans, however, were within reach of my budget. And the more I thought about it (and the more I researched and watched YouTube videos) the more confident I felt that I could largely convert a van myself. It would also allow me to customise the van to suit my unique needs (more on this below).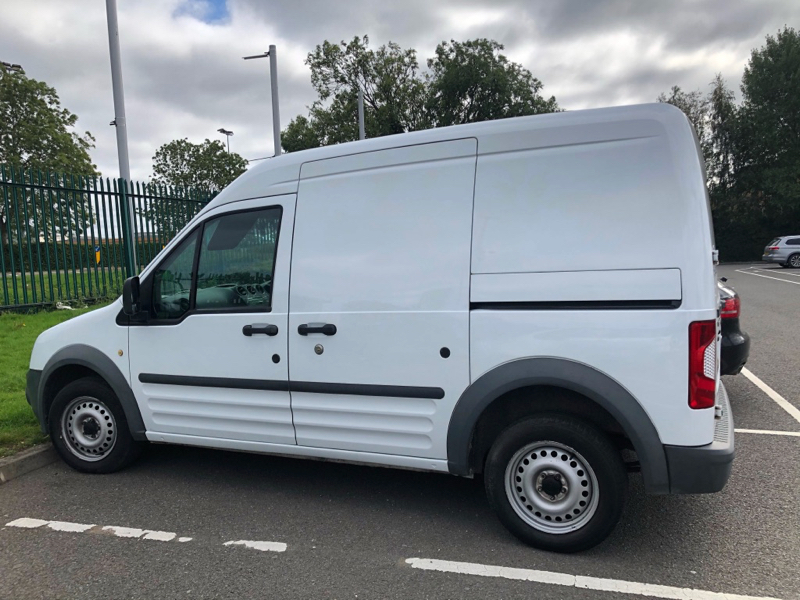 Within a few days of selling my car I came across a 2012 Ford Transit Connect with long wheel base (LWB) and high roof at a price I could afford. Victory! Let the Ford Transit Connect camper conversion begin…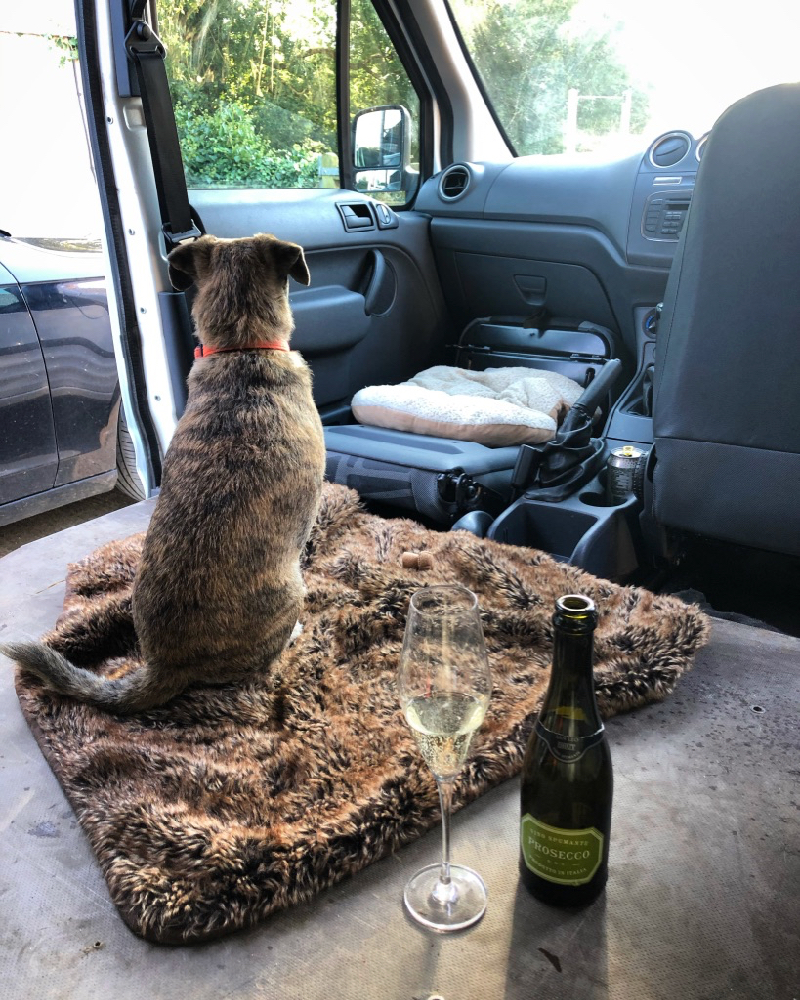 As previously mentioned, I had pretty much zero DIY skills going into this. Every step can feel like an eternity as I'm having to spend lots of time on research, learning how to use a particular tool, and getting to grips with my total lack of storage! This is definitely a good project for learning patience. And also the virtues of the Ford Transit Connect Haynes Manual.
Pros and Cons of the Ford Transit Connect Camper Conversion
The Ford Transit Connect is pretty small by campervan standards. You can't quite stand in it, and the LWB model is JUST long enough to sleep in for most normally proportioned people. There are only two seats, so it's really only an option for the solo traveller, couple, or close friends.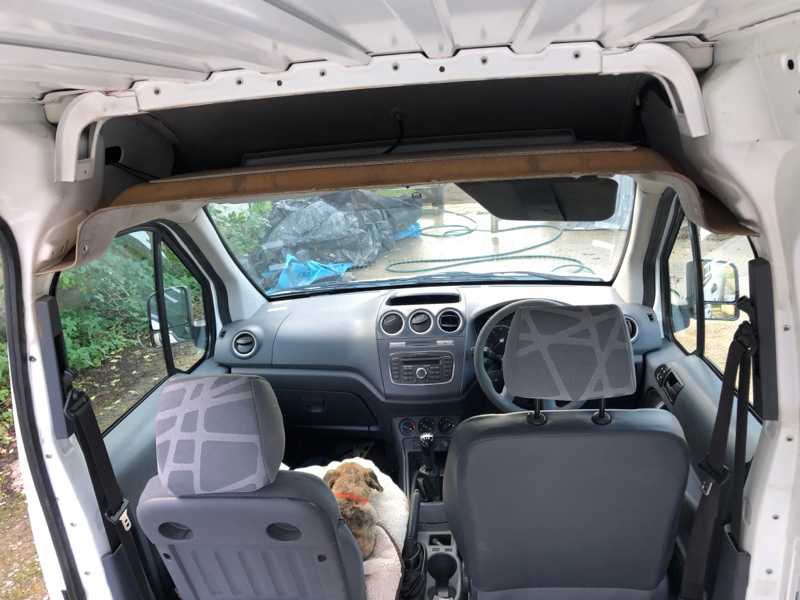 However, being smaller makes it generally more affordable, and also easier to drive.
Don't let size discourage you; there are plenty of people converting small vans like Ford Transit Connects, Citroen Berlingos, and Fiat Doblos. The web is full of inspiration. Here's a few posts I found in my research that helped me see the possibilities and settle on a small camper for this project:
 

 

View this post on Instagram

 
My camper van use case
I have a few unique use cases for the Ford Transit Connect beyond just a campervan. It's worth noting as they'll play in role in planning the layout…
Commuting / errands. This is my only vehicle so in addition to adventures, I'll also be using it to get around locally.
Wild camping and weekend adventures. Drive up to Snowdonia on a Friday evening, spend the night in the car, then set off for the weekend on a backpacking mini-adventure. I'll need space to store all my gear. Also, security will be paramount if I want to keep the van parked somewhere for a few days!
Longer trips. My hope is that the van will enable longer trips where I can mix up outdoor adventures with time spent in the van working, writing, and planning. I also plan to devote a small area, probably on the rear doors, to a mobile pickle bar / backcountry larder where I can display stuff from the Eat Sleep Wild shop!
Phase 1: Gutting and Cleaning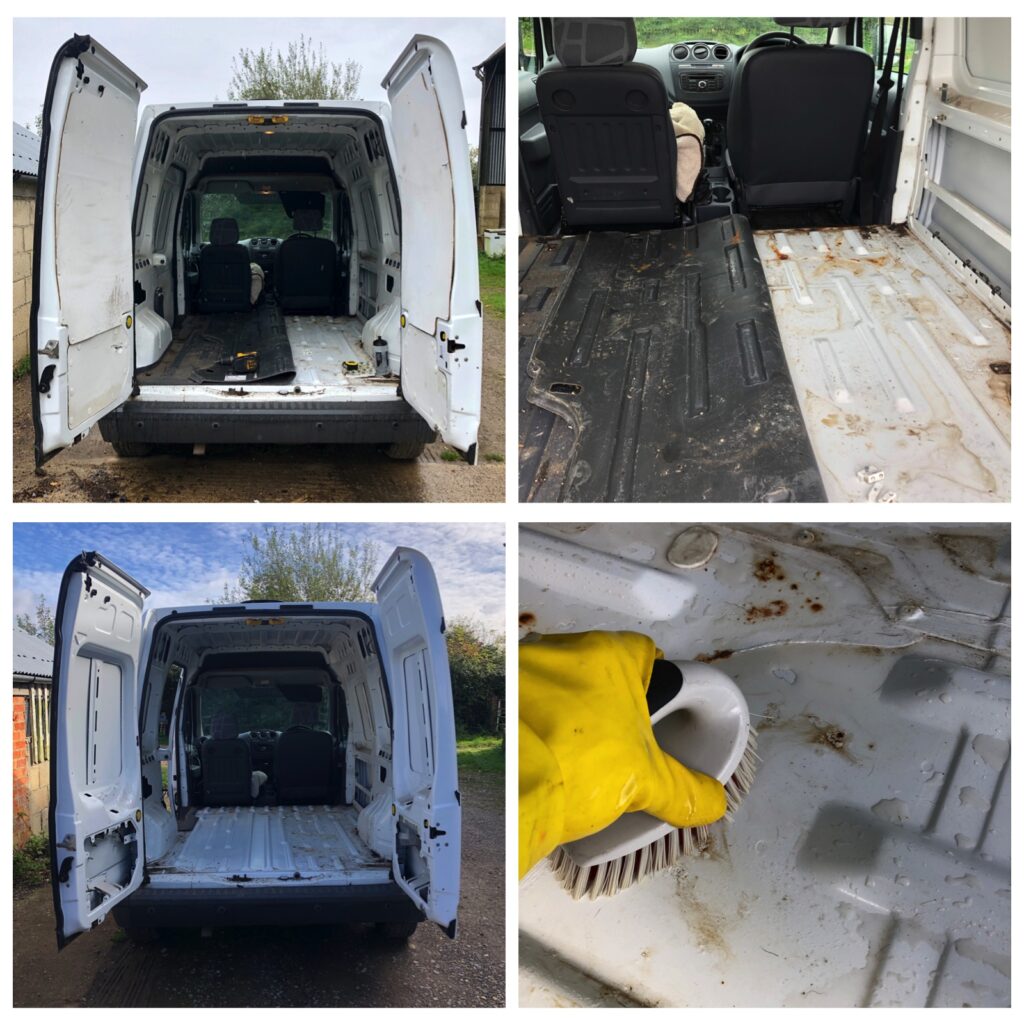 Probably the least fun part of the whole project but absolutely essential. This involved: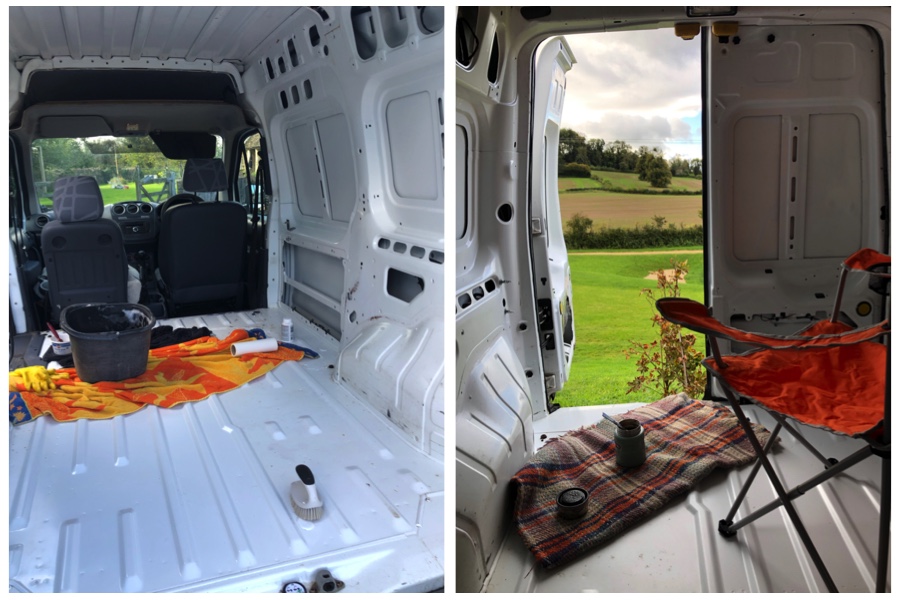 Fortunately the interior wasn't too bad in terms of dirt and rust. When I took up the floor and walls it became clear that the previous owner had a black dog! The hardest part of the whole thing was cleaning out all the dog hair (which I still keeping finding). I bought a cheapo cordless wet/dry car vacuum that really helps keep up with messes. Luckily the rust wasn't bad and largely superficial.
Phase 2: Floor sound proofing and insulation
While doing my research I came across a series of YouTube videos from Combe Valley Campers that were incredibly useful for this project. On their recommendation I went with the Dodo Dead Mat Duo, a product designed for van floors with combo sound deadening and insulation in one. A few key benefits: it's easy to install, and it's very low profile. This is a good thing – the Ford Transit Connect is very small so space saving every step of the way is paramount. One roll of Dodo Dead Mat Duo JUST fit the van floor and took just an hour to install.
Note: I bought all of my sound deadening and insulation from the Sound Deadening Shop. Highly recommended – great products and really great customer support if you have any questions. I certainly had a few – largely around vapour barriers and condensation – they came back to me with loads of detail which made me feel much more confident in what I was doing.
HOW TO VIDEO: How to Professionally Fit Floor Insulation To Your Camper
Do I need to worry about a vapour barrier? 
I asked this of the folks at the Sound Deadening Shop to which I received this helpful reply: 
In short, a vapour barrier is fitted to stop warm moist air of the interior mixing with the cold outer air or metal panels and condensing. The result being either panels running with water or insulation getting damp. So you could argue it is always safe to fit one, indeed it would never do any harm. 

However reasons it may be overkill or not really required:

1) You have a smaller day-van or two season camper, rarely used for cooking, showering with lost of moisture or in very cold situations.

2) All the your panels are covered in a waterproof closed cell foam (its own vapour barrier) minimising condensation.

3) You have used waterproof or non absorbent materials throughout the build.

4) You have plenty of ventilation to help air circulate

So if someone is prepared to go belt & braces i would never stop them fitting one, its always a nice insurance policy to zone off the interior. However if not a full 3-4 season motorhome it can be a little over the top, especially when the van already has good waterproof or non absorbent insulation like yours.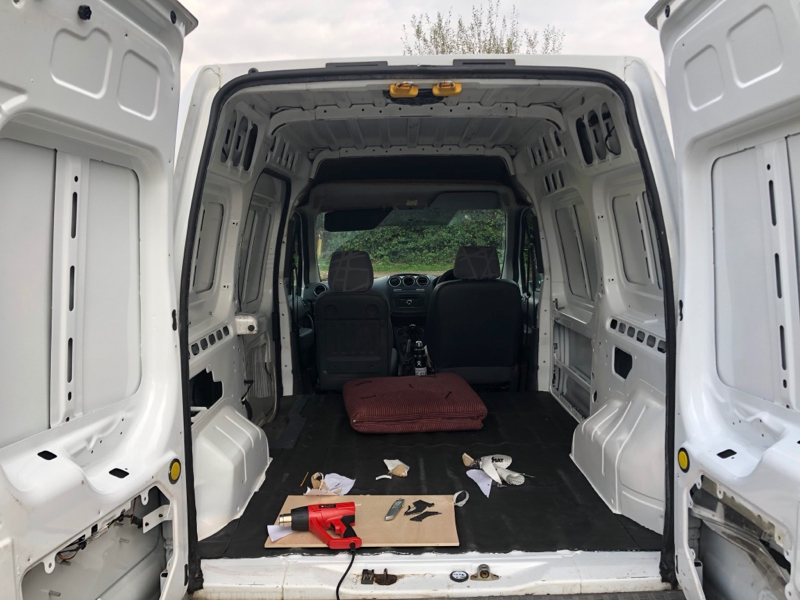 Phase 3: Flooring
The insulated floor was covered first with plywood to provide a stable base, then laminate flooring for practical style and protection.
I went with 9mm plywood for the floor which so far seems to provide sufficient stability without taking up loads of height. The old floor provided a useful template. We traced the old floor onto the plywood, cut it out with a jigsaw, then sanded everything down. Luckily it fit the first time!
HOW TO VIDEO: How to professional fit a fly floor in your camper
Phase 4: The bed!
I built a slide-out slat bed popular with small camper van builds. It's not perfect but it works and I'm stoked to make more furniture! You can read all the deetz in this post: my tiny camper slide out bed.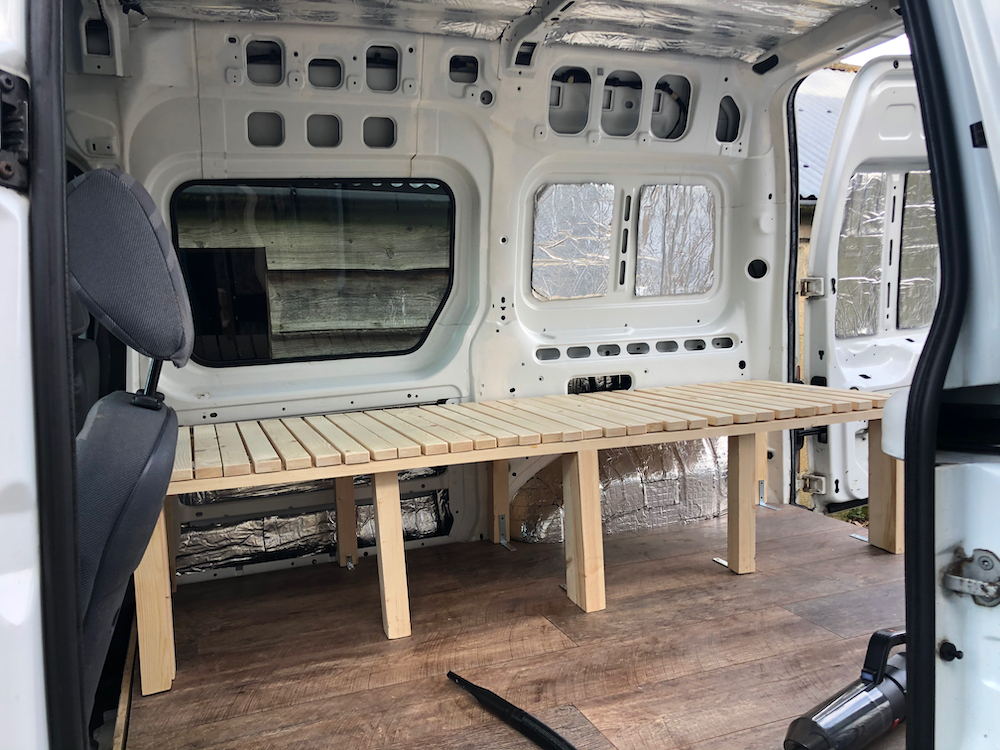 Phase 5: Where did that window come from?
You might have noticed in the picture above that the van suddenly has a window! (Two actually, one on the wall and one on the sliding door.) I did NOT do this myself. I actually struggled to find anyone who could do this – many camper conversion specialists were either fully booked, or didn't work with small vans (weird). I was grateful to finally find Conrad from Van Window Installations Telford via a Facebook group. Friendly guy, top job, and he even came to my house in Wiltshire to install it.
Next Steps
There's so much to do – from furniture and shelving to electrics and ventilation – it's easy to get lost and overwhelmed. To help manage things we're using a Trello board to break down this Ford Transit Connect camper conversion into small manageable steps. Here's what's next on the agenda.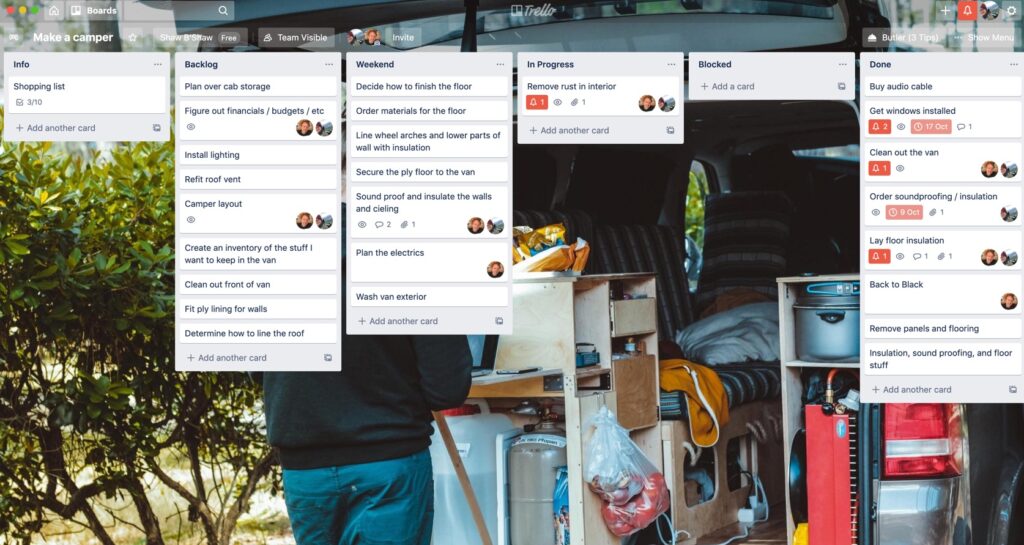 Materials and Costs
The nitty gritty! Since purchasing the vehicle I've had to have some mechanical work done such as new tyres and resolving some annoying issues with the diesel particulate filter (DPF). I've also had to spend a lot on basic tools as I pretty much only had a couple screw drivers and a hammer to work with! I've invested in quality products that should hopefully last for years and years, so I'll consider that part an investment. However you frame it, a Ford Transit Connect camper conversion isn't a cheap project (though definitely less expensive than converting larger vans!). But if all goes well the rewards will be priceless!
| | Total Cost |
| --- | --- |
| Materials | £ 338.27 |
| Mechanical work | £ 540.91 |
| Tools | £ 434.85 |
| Van | £ 6,186.00 |
| Grand Total | £ 7,500.03 |
| Item | Cost | Category | Date |
| --- | --- | --- | --- |
| 2012 Ford Transit Connect (used, 55k miles) | £ 5,800.00 | Van | 27 Sep 2020 |
| New tyres | £ 315.91 | Mechanical work | 28 Sep 2020 |
| Ford Transit Connect Haynes Manual | £ 16.67 | Tools | 30 Sep 2020 |
| Hycote XDFD717 Ford Frozen White Spray Paint | £ 10.99 | Materials | 04 Oct 2020 |
| Safety Glasses | £ 9.99 | Tools | 04 Oct 2020 |
| Work Gloves | £ 12.98 | Tools | 05 Oct 2020 |
| Hammerite Kurust rust converter | £ 10.40 | Materials | 06 Oct 2020 |
| Van Windows | £ 386.00 | Van | 07 Oct 2020 |
| Wire brush set | £ 4.80 | Tools | 08 Oct 2020 |
| Bosch Wire Wheel | £ 3.72 | Tools | 08 Oct 2020 |
| Stanley Knife | £ 6.42 | Tools | 08 Oct 2020 |
| Car Vacuum | £ 32.99 | Tools | 08 Oct 2020 |
| Small Van Extreme Bundle (sound proofing and insulation) | £ 144.99 | Materials | 09 Oct 2020 |
| Dodo Mat Duo (floor sound proofing) | £ 89.99 | Materials | 09 Oct 2020 |
| DPF diagnostic and forced regen | £ 90.00 | Mechanical work | 09 Oct 2020 |
| Einhill Classic Heat Gun | £ 25.00 | Tools | 11 Oct 2020 |
| Hammerite White Metal Paint | £ 17.00 | Materials | 11 Oct 2020 |
| Drill Bit Set suitable for metal | £ 11.00 | Tools | 11 Oct 2020 |
| UniBond Extreme Repair Sealant | £ 12.00 | Materials | 11 Oct 2020 |
| Cartridge Gun | £ 5.00 | Tools | 11 Oct 2020 |
| G Clamps | £ 20.70 | Tools | 12 Oct 2020 |
| Jigsaw Blades | £ 13.00 | Tools | 12 Oct 2020 |
| Masking Tape | £ 2.50 | Materials | 12 Oct 2020 |
| Tapping Screws | £ 1.34 | Materials | 12 Oct 2020 |
| HSS 75mm Drill Bit | £ 4.00 | Tools | 12 Oct 2020 |
| Sandpaper | £ 9.00 | Tools | 12 Oct 2020 |
| 9x1220x2440mm Plywood x2 | £ 49.06 | Materials | 12 Oct 2020 |
| Makita Drill / Driver Accessory Kit | £ 24.99 | Tools | 13 Oct 2020 |
| Makita Combi / Impact Driver Twin Pack | £ 179.95 | Tools | 13 Oct 2020 |
| Bosch Orbital Sander | £ 42.95 | Tools | 13 Oct 2020 |
| 100pcs Sanding Discs | £ 11.69 | Tools | 13 Oct 2020 |
| DPF Clean | £ 135.00 | Mechanical work | 19 Oct 2020 |
Disclaimer: this post contains affiliate links which means I earn a small commission when you click on a link and make a purchase. Every little bit makes a difference to keeping this site going, so thanks so much for your support!