Adding a bed to the Ford Transit Connect was a big exciting step forward in the camper project! A place to sleep AND to store a few things. The result is by no means perfect, but for someone who has never built a single piece of furniture in her life*, I was pretty pleased! I went with a pull-out slat bed design which seems popular for small camper vans. Here's a few takeaways and useful tips for anyone else looking to do something similar…
Bed build tools
Wood – I used 47x47mm kiln dried timber for the legs and 47x22mm for the frame and slats – not totally convinced by this choice (see below)
Self drilling metal screws
Self tapping wood screws
L-brackets
Power drill
Impact Driver
Jigsaw
Handsaw
Set square
Tape measure
Rotary sander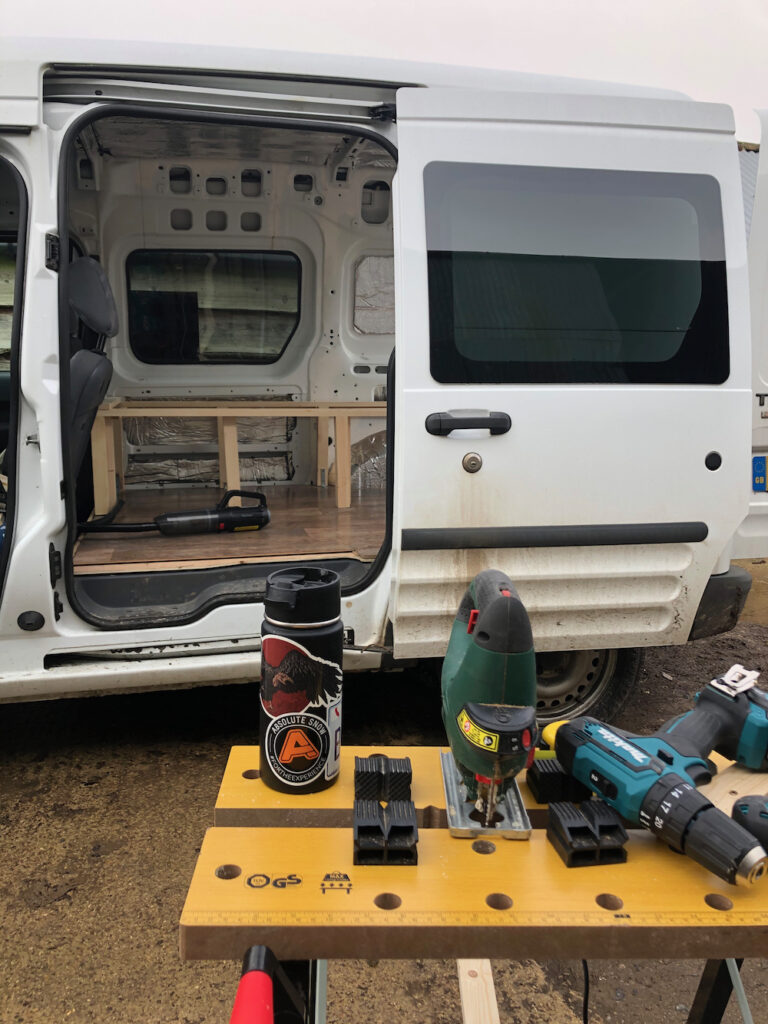 The basics…
The camper bed came together basically like this:
Build the main frame of the bed.
Build the frame for the slider.
Realise I made a load of mistakes and then correct them
Attach the bed frame to the wall and floor of the van
Attach the slats
Make more mistakes
Troubleshoot
Resources
It took a while to get my head around how the slide-y bit would work. Others have explained this better than I have so here are a few posts I found useful:
Challenges
One of my biggest challenges was figuring out how to secure the bed to the van. I've seen previous builds use battens to attach the bed to the wall, but I am quickly learning that there are no flat surfaces in the FTC! For example, the wall of the van below the window is slightly recessed from the wall around the wheel arch. I ended up adding two horizontal beams: one below the window, and one above the wheel arch. As a bonus, the shorter beam also acts as a support for the bed frame.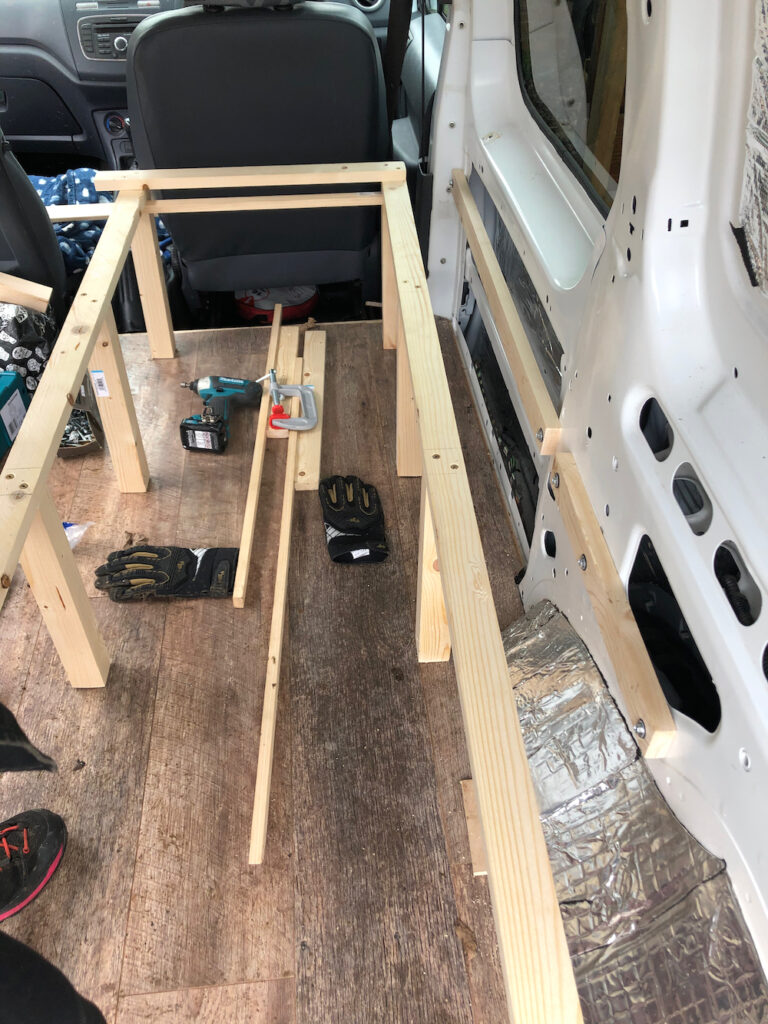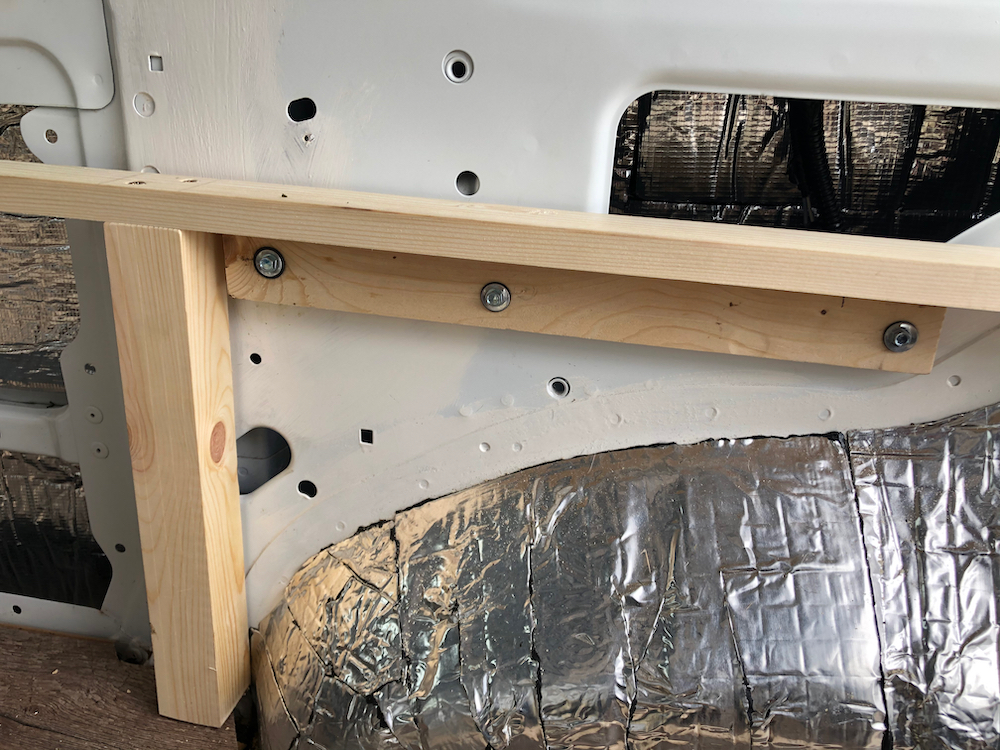 I finally secured the bed to the wall and floor with L-brackets. At last, something in this job that was easy!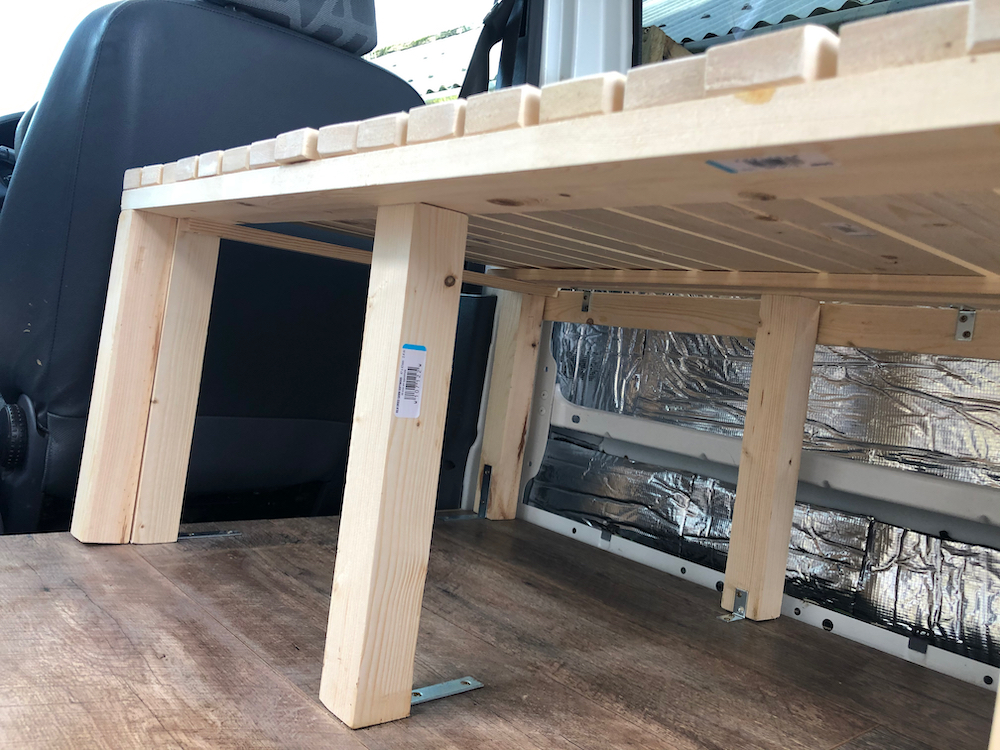 Learning points
In hindsight I would have gone with more robust wood for the frame. I ended up having to add extra legs to feel confident enough that it wouldn't collapse under me. I also found the wood prone to splitting, so I had to manually countersink all of my screws which was a beast of a job.
Bear in mind the front seat. I should have made the bed just a tad shorter. Now when I slide my seat backwards, it bumps into the top of the bed frame. Oops.
Use a set square and hand saw, and NOT a jigsaw on the legs. With the jigsaw it was impossible to get a perfectly flat edge on the legs. It wasn't a massively big deal on the main bed frame – since it gets attached to the floor you can essentially correct for any slight imperfections in the leg position. But it was very noticeable with the slider. We ended up re-making the legs using a hand saw and set square to get a perfectly flat edge.
Leave clearance in the sliders where they attach to the movable beam. As you can see from the video above, I need to "help" the frame along when sliding out the bed. This video describes using washers to add that clearance – I didn't get it at the time but now that it's done I see the point. (I may get around to fixing this someday!)
So, it's not perfect. But overall, I'm pretty happy with the result. I built furniture! And I've overcome my anxiety around drilling into the van! Now I feel unstoppable. Next step… order a mattress and test this thing out!
* A slight exaggeration. I did build some furniture once. Behold, my lemonade stand – I can't say this photo gave me much confidence that I'd be able to pull off this campervan build, but I seem to have come along in the last 30+ years (having good tools helps!):