Of all the van conversion projects I've completed so far, the one that's had the most positive reception is my DIY camper cushions for my pull out camper bed! It seems that making camper cushions is a bit of a dark art – from sizing and cutting the foam to making cushion covers – so I thought I'd share my experience. These are the first cushions I've ever made, and I'm mighty pleased with how they turned out! These cushions were made for a 2012 Ford Transit Connect but the techniques could be used for pretty much any vehicle and any size and shape of camper bed / couch.
Tools and materials
Materials
Tools
Sewing machine (borrowed)
Good fabric scissors (cost varies but you can get a decent pair for less than £15)
Fabric pens (£5.99) or chalk for marking fabric
Seam rippers (£5.99) to easily undo a seam if you make a mistake, which you probably will – it happens!
The most useful guide ever
Sewing machine: borrow one!
The number one tool for this job was a sewing machine which I borrowed from a friend. Trust me – there are loads of sewing machines and generous people sitting about! I acquired my machine by putting a post on Facebook asking if anyone had a sewing machine I could borrow. Two people got in touch to offer me a sewing machines that they weren't using! So it's definitely worth asking around, or trying to get one second hand. (Once you have a sewing machine you will realise its myriad uses!) Also you don't need to be an expert seamstress to use one… I hadn't sewed in years and years but the instructions with my borrowed machine were enough to get me going.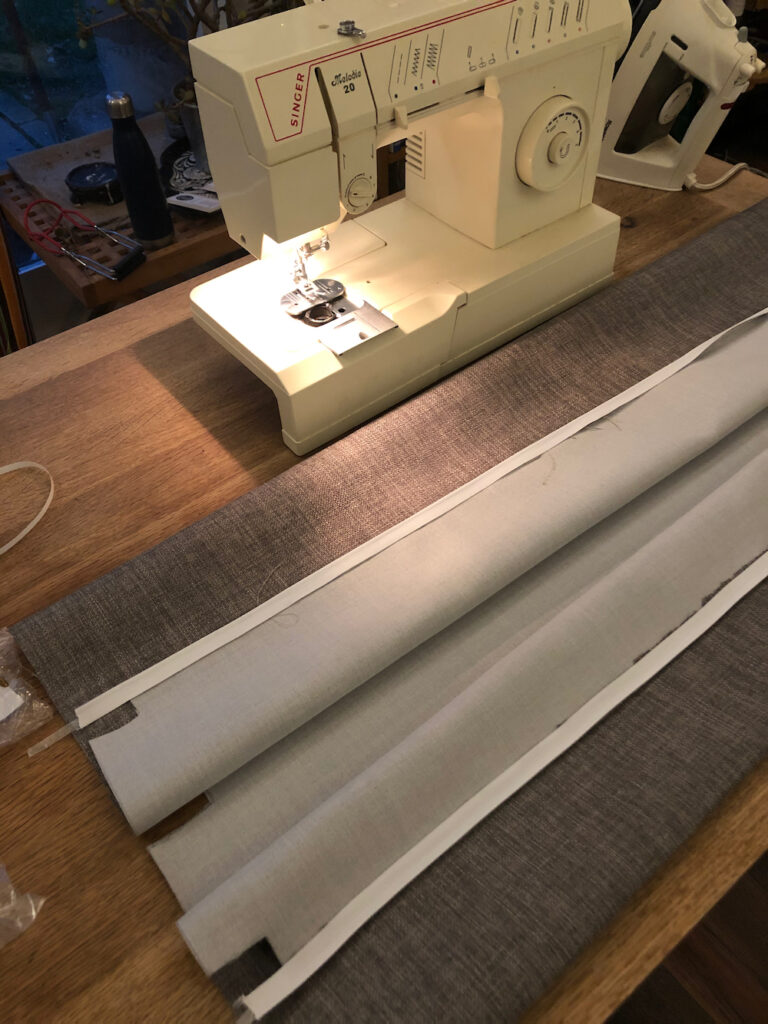 Buying foam for camper cushions
I did a lot of Googling on this and asking advice in the Facebook FTC Group (an invaluable resource). Many people opt to buy large pieces of foam, or a pre-cut mattress (for a futon, for example, and cut them to size their self with an electric knife. I then came across efoam.co.uk which sells foam of all types cut to any dimension (we'll forgive them the horribly outdated website). It was reassuring that the website had a drop-down menu to "choose foam usage" to ensure I didn't pick the wrong thing. The quote for my foam was £126.96 which seemed very reasonable and avoided the labour having to measure and cut foam (and the cost of buying an electric knife – who owns one of those?).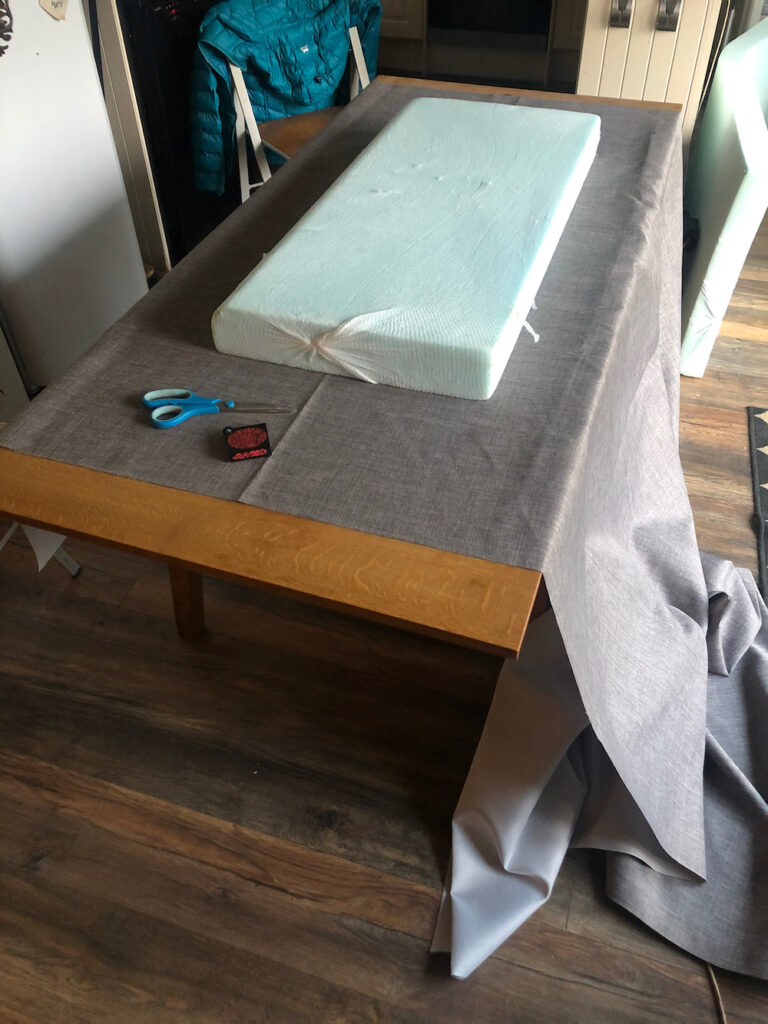 What thickness? Given the size of the van (small) I went for a 3″ thick foam which is probably the minimum you could get away with (it remains to be seen how long it will stand the test of time).
I opted to buy one long piece of foam for the base cushion and two pieces for the back cushions. This has turned out to be pretty handy as I can use the back cushions more modularly… I use one for my back, put the other on the floor for Lucky to hang out on!
The dimensions will of course depend on the size and shape of your bed. I have a slide-out bed so measured the base cushion to be the size of the bed when in couch-mode, and the back cushions make up the width for when the bide was pulled out.
2 cushions 16in x 35in x 3in
1 cusion 24in x 70in x 3in
The 20 Minute Box Cushion
Confession: I did not make these cushions out of my own ingenuity. This whole job was made WAY easier by my discovery of The 20 Minute Box Cushion by Sailrite (an American brand specialising in sewing supplies for the home and boats (!) – they apparently started the business making sails!).
Their handy calculator lets you input your desire cushion dimensions and it calculates the foam and fabric size for you (you might want to use this calculator before you go buying your foam). FYI: you need to cut the fabric smaller than the foam so that the foam sits snuggling in the cushion cover. This can be hard to get your head around, but the calculator figures it all out for you.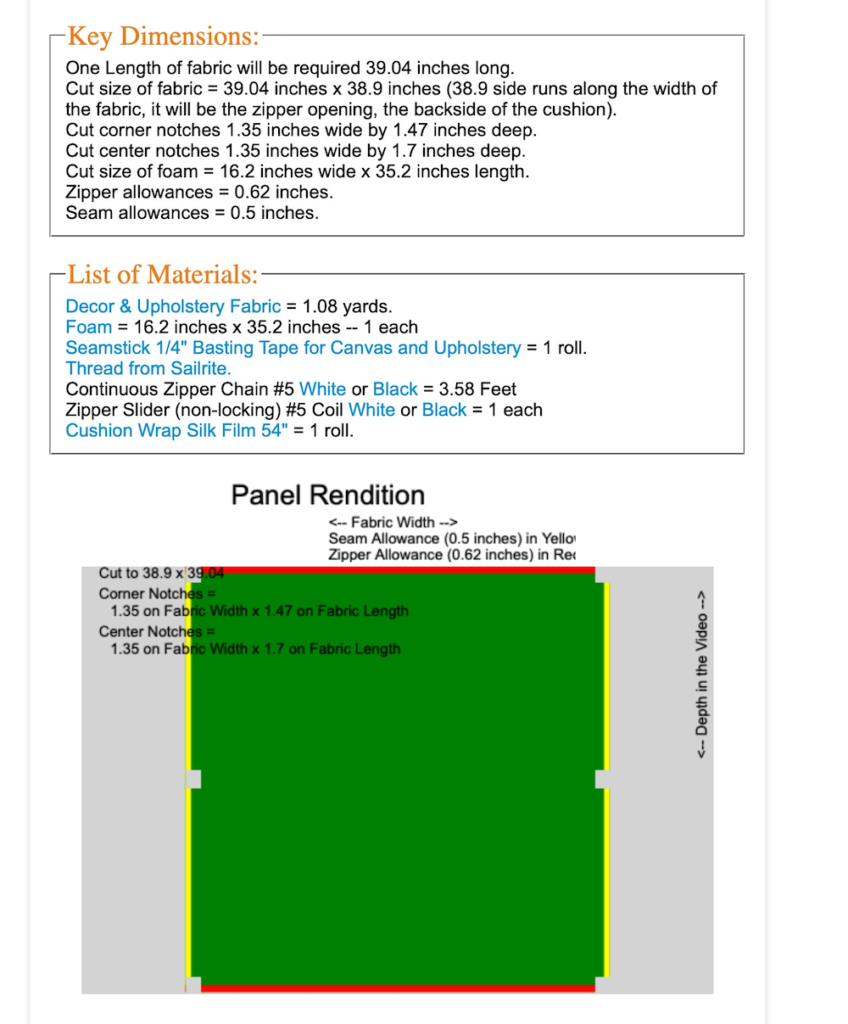 Pair this with their excellent video above (with occasionally amusing audio voiceover) and you'll see that these cushions are totally doable by pretty much anyone with a small amount of patience and dexterity.
This project was a huge confidence builder for me. I now want to sew more things! Hopefully this has given you some confidence, tools, and techniques to make your own cushions, too. Let me know how it goes!
Useful links