An off piste route up Pen y Fan via Cwm Crew, an isolated glacial valley with loads of geological interest and very few people. Don't let the distance fool you – the round trip is less than seven miles but the going can be arduous making for a challenging but supremely rewarding day out. Here's a few quick notes from our adventure…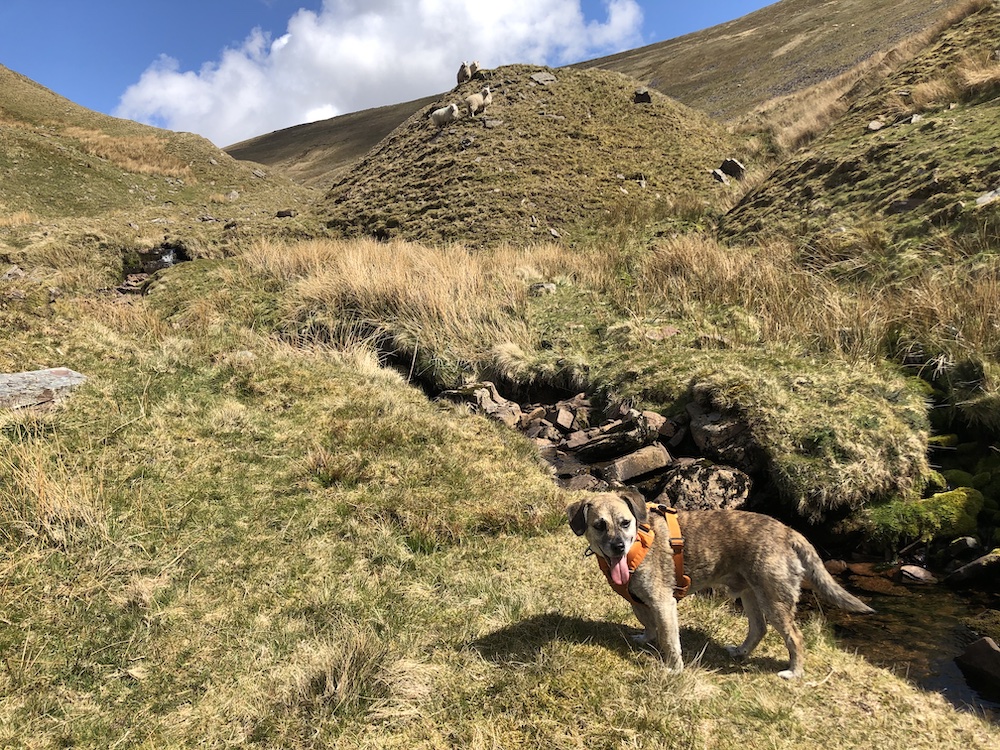 Essentials
Getting there: Layby at corner of Forestry Commission plantation off A470 (SN 992 173). Note: you must walk north on the A470 for about 10 minutes past the plantation to get to the start of the walk. Fortunately there's a wide verge!
Distance: 10.9km (6.8 miles) 
Height Gain: 503m (1772 ft)
Time: Allow 6-8 hours
Inspired by: Walking on the Brecon Beacons (Walk 23), Andrew Davies
Recommended map: OS Explorer OL12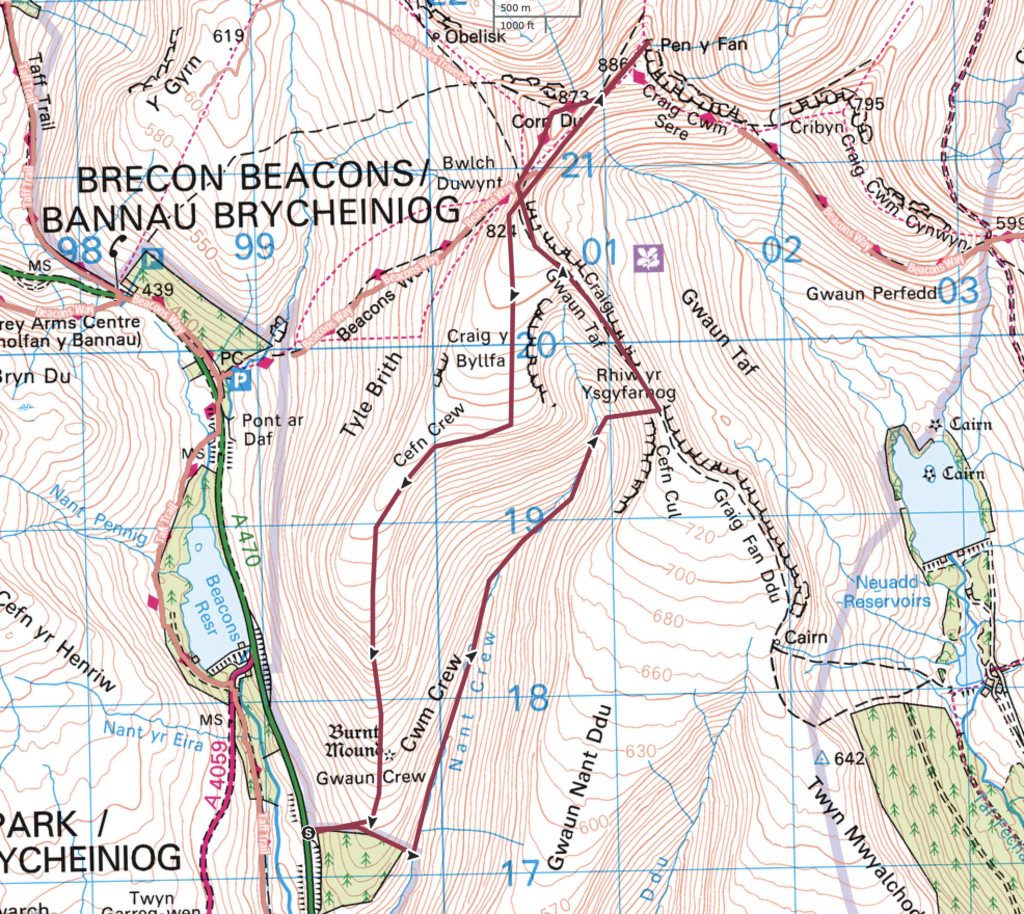 Highlights
This was one of my most memorable days out in the Brecon Beacons, thanks largely to the humour and unparalleled endurance and intelligence of my comrade and fellow food entrepreneur, Simone of Bumpkins Bakes. But also, the science! Pen y Fan was really just a bonus here (and not that much of a bonus given all the people who flocked there on this beautiful day). The real appeal was Cwm Crew, an isolated glacial valley with a purportedly "isolated" feel and lots of geological interest. The stuff that all of my walking dreams are made of.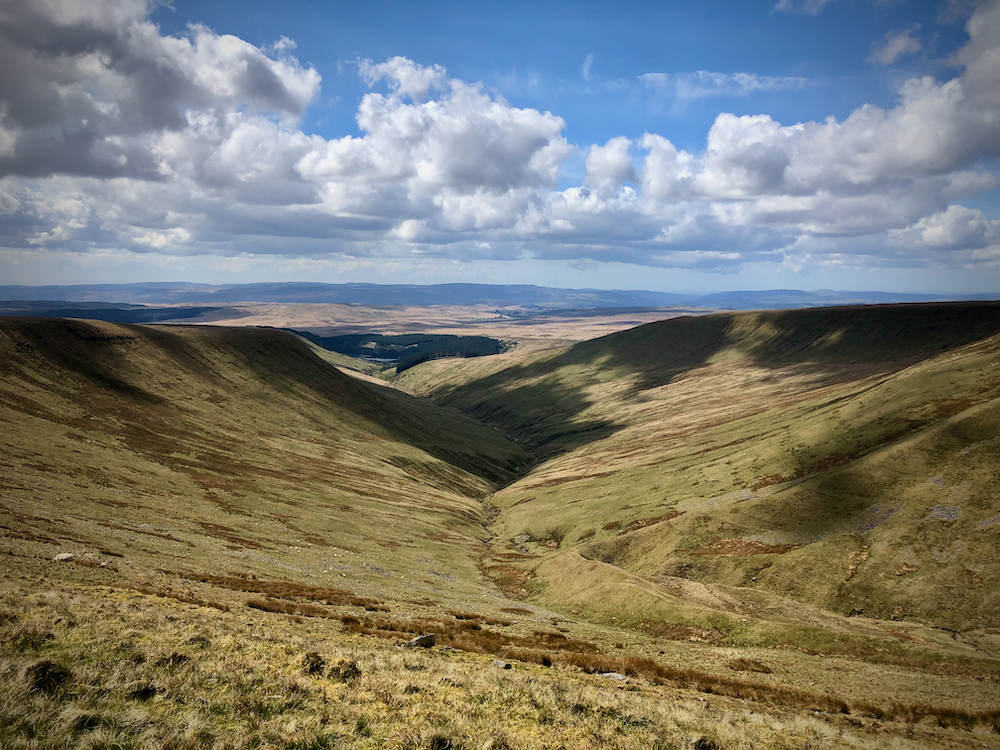 "Cwm Crew is a classic U-shaped valley indicating that it was cut by a glacier. Much of the sides and floor are covered in unconsolidated sediments of glacial and periglacial origin. This 'head' moved downslope over the permanently frozen subsoil during periglacial conditions which existed after the main Ice Age. The stream left in the valley then began to cut a sharp 'V' down through these deposits, resulting in the abrupt change of slope on either side of the stream." Andrew Davies, Walk 23, Walking on the Brecon Beacons
I've been studying geology through my Environmental Science course, and Simone comes from a strong lineage of scientists and geologists so we had much to talk about. However, not being geologists ourselves, most of it was nonsense, and we literally laughed our way around the whole loop, often having to stop to wipe away the tears. Who knew such mirth could be found in words like "strata", ",moraine", "bedrock", and "freeze-thaw". We spotted some unusual mosses and ferns on the small cliffs around the river bed, though any hope of a specific plant ID was lost on the "ferocity" of the stream preventing a close-up analysis.
To make this walk a loop, there's no choice but to eventually climb out of the Cwm up onto Rhhiw yr Ysgyfarnog. There's no easy way up – Davies suggest going along the "tongue" of the moraine (an interesting geological feature in itself) but we headed westerly on a diagonal, equally steep and arduous no doubt.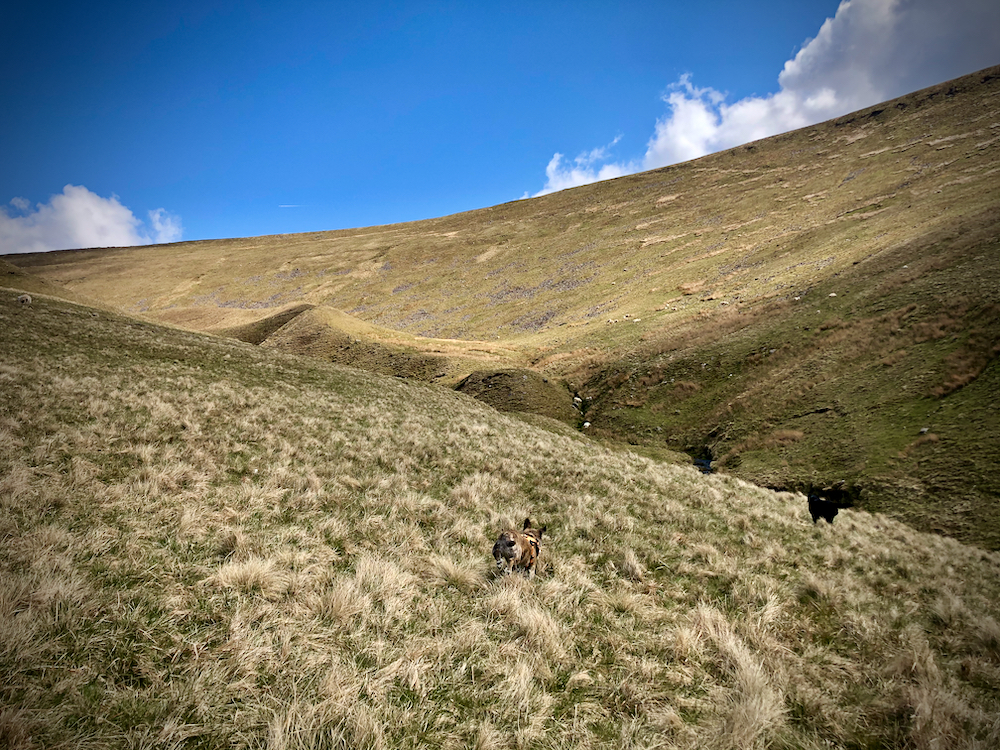 The promise of second breakfast at the top was a key motivating factor. However, when we got there, it was so windy that we nearly froze our hands off trying to quickly consume our overnight oats before pressing on.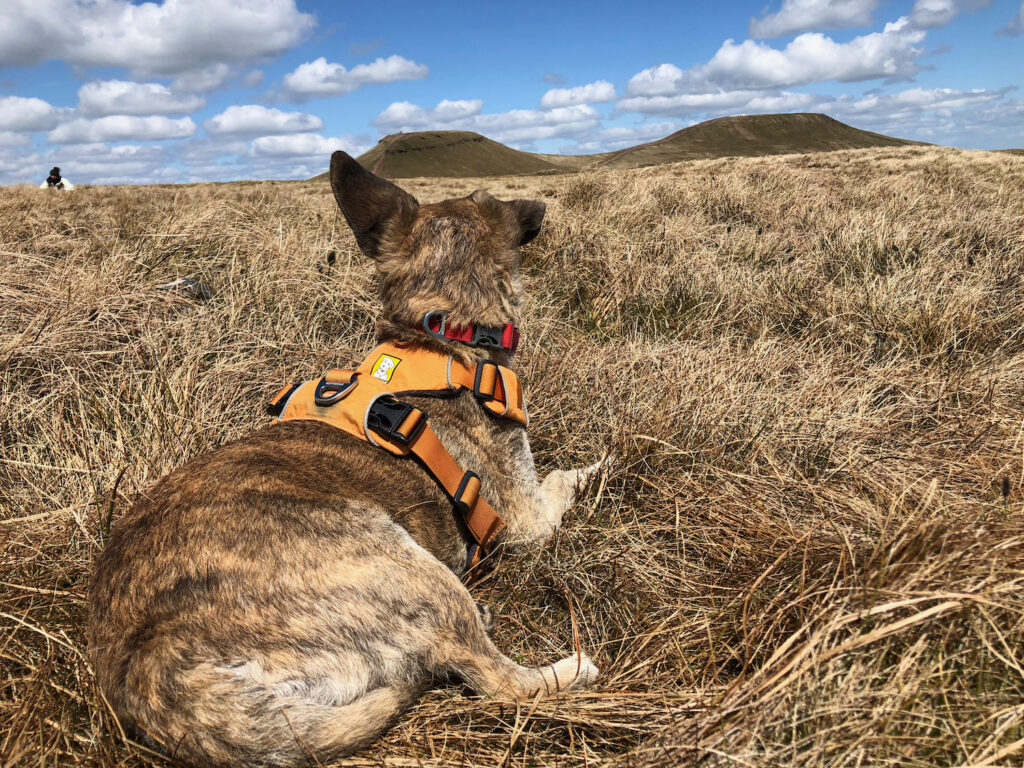 Having overcome the hardest climb of the journey, it's an easy bimble up to Corn Du and Pen y Fan. As luck would have it, our picnic spot was inordinately windy compared to the rest of the ridge. The area around Pen y Fan was still aside from all the people, which seemed in ethereal contrast to the wilderness vibes we left in the valley.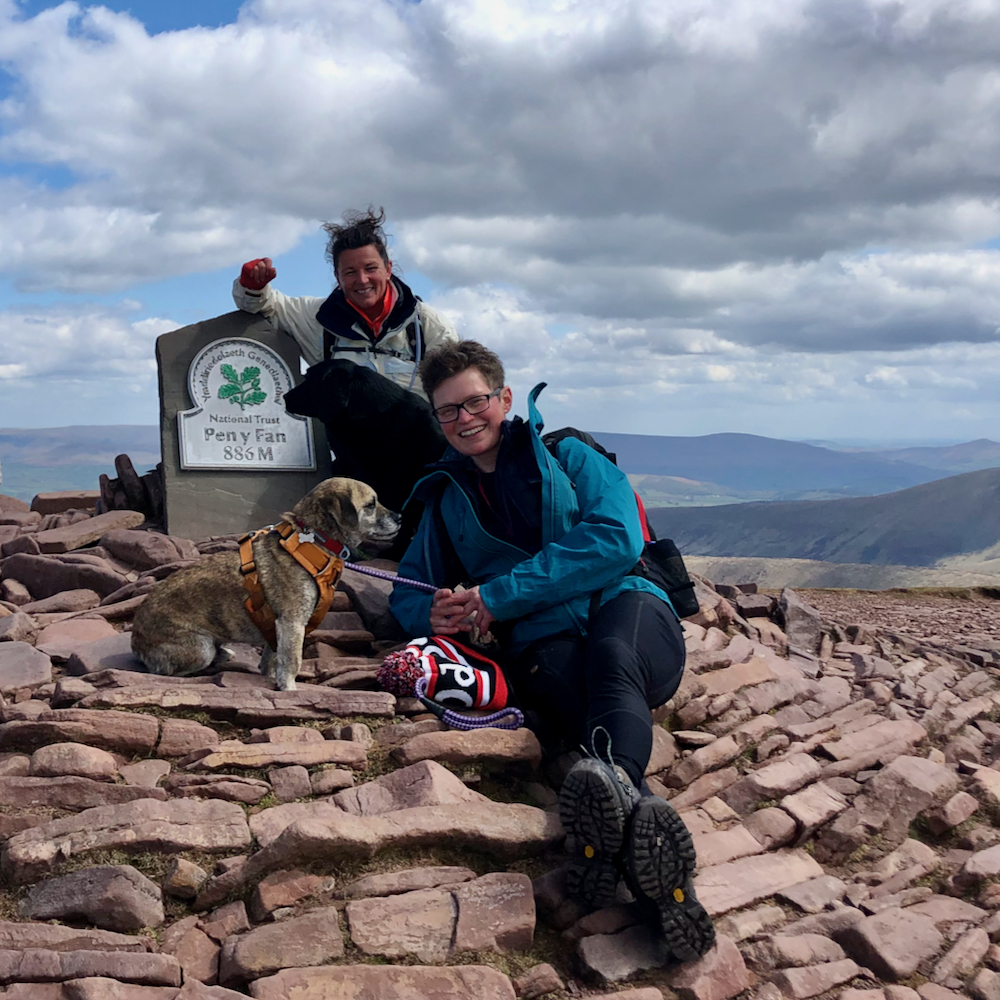 The walk back was a bit of a trudge through an annoying sea of tussock, with the tree line of the forest plantation never seeming to get closer. Good conversation helped, as did the unfettered enthusiasm of our canine companions, Lucky and Mouse.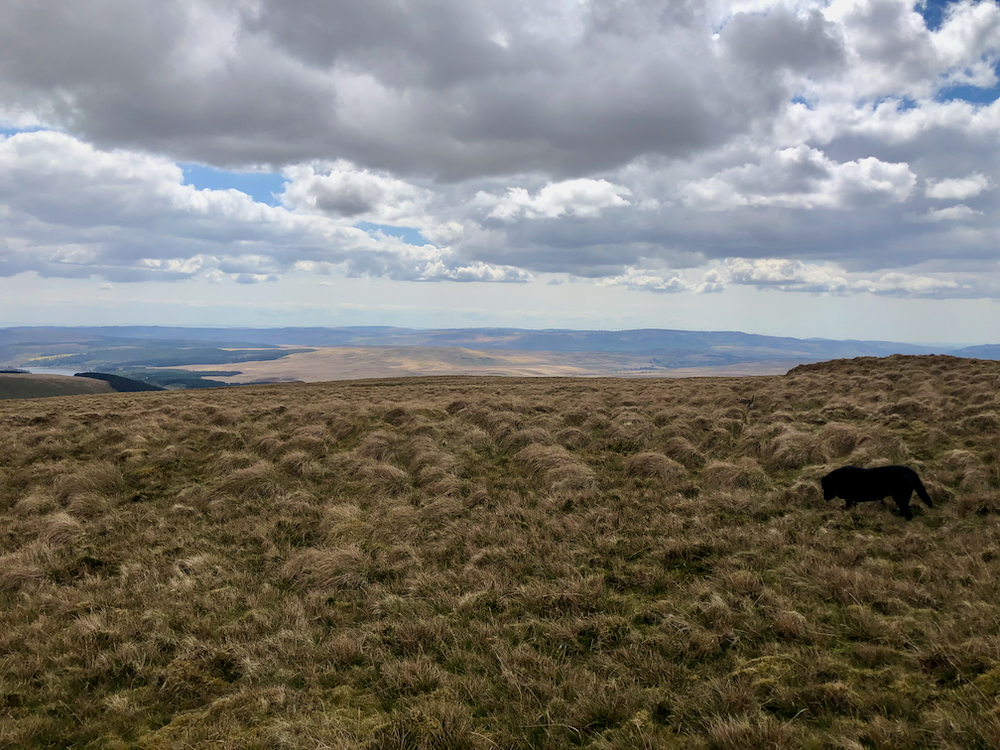 The nearly six hours and 10 miles of walking felt like a lot more…. though the paths around Pen y Fan were straight forward, the rest of the walk was off piste, negotiating riverbeds, steep climbs, light scrambling, and an endless sea of gruelling tussock to finish.  My legs are a little wobbly but I think my stomach hurts more from all the laughs. 
Related links: