Since my trip to the Cambrian Mountains a couple years ago, I've always wanted to go back to explore more of this "Green Desert of Wales". It may not have the high drama of the Brecon Beacons or Snowdonia (the Cambrian Mountains are mainly rounded hills of grass-covered sandstone and mudstone, verses the older and more craggy volcanic rocks of Snowdonia) but it also has fewer people, and a notable lack of roads or towns, making it seem to me much wilder than its National Park neighbours. And of course there's plenty of natural beauty, historical interest, and groovy plant life and geography to make it more than worthwhile.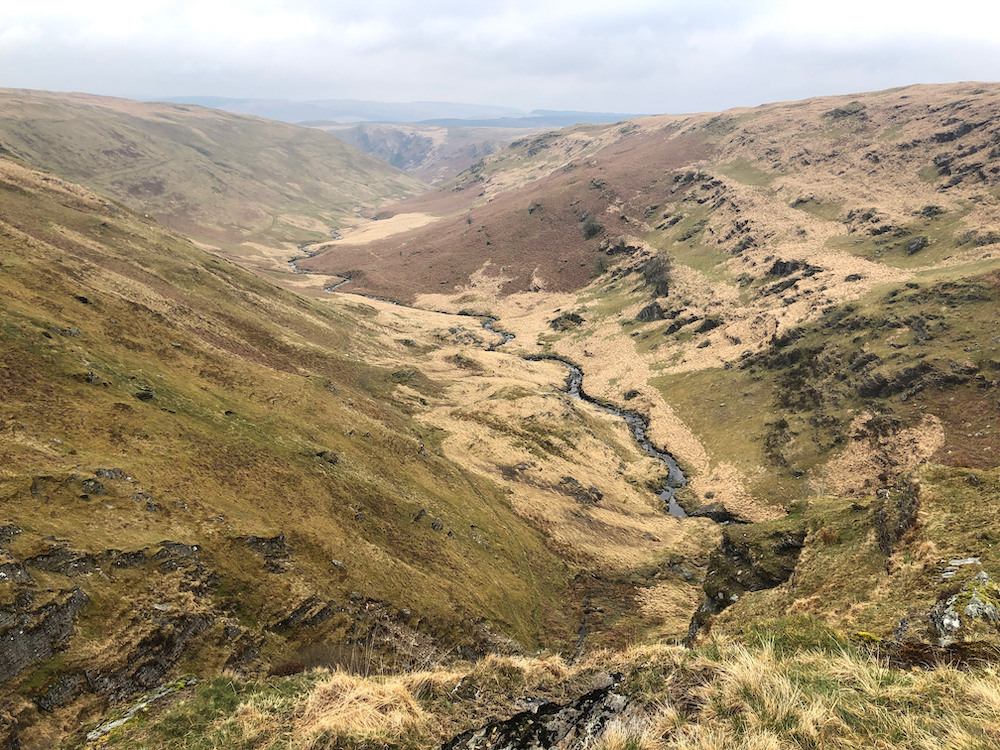 Lockdown restrictions put the kibosh on my Cambrian Mountain dreams for a while there, as well as mountains in general and any hope of "consolidating" the knowledge from my Mountain Leader Training (more on that below). But on the plus side, I had the opportunity to focus on other things such as the Eat Sleep Wild shop, my myriad side hustles, and studying for my Environmental Science degree, something that seems to have re-awoken the science nerd in me. OK, the nerd never truly went to sleep, but in the past year or so I've observed not only a strong reconnection with my science-y self, but also a joining up of all kinds of interests: hiking, camping, nature, food, sustainability, even art and mathematics. In short, I've had a lot of time at home thinking, learning, and observing; but all the time I couldn't wait to get back out and experience an adventure through the lens of new found knowledge!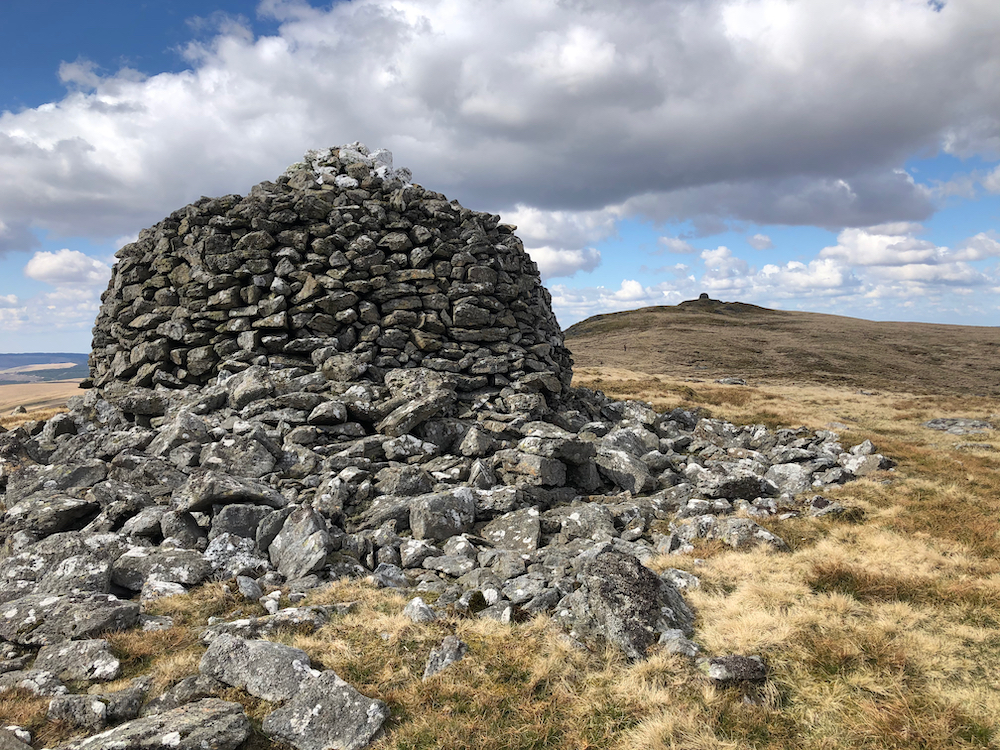 So when my outdoorsy buddy, fellow wild camping aficionado, mountain leader, and landscape archaeologist Paul (aka @antiquariangent) suggested we head to the Cambrian Mountains for some nerdy pursuits and navigation practice around Drygarn Fawr, how could I say no?
Quarry camp on Nant y Ffrwd
The loop started and finished at the Village Hall car park in Abergwesyn. Having enjoyed many days of sunshine, and clear skies here in Wiltshire, it was a rude awakening to find hail and snow in the upland forecast. Fortunately, the weather wasn't as bad as MWIS let on. It was cold and breezy, but we escaped any serious downpours. The harder part was re-adjusting to walking uphill with a heavy pack after months and months confined to the gentle rolling countryside of the Cotswolds. The recent prolonged dry weather made for questionable water supplies, so we decided to decamp at Nant y Ffrwd and do the rest of our exploring from there. What looked like a convenient ledge turned out to be, according to Paul, an old mudstone shale quarry, with etchings to match! Says Paul: "They left their names and glyphs, including so-called Marian marks, for posterity. This suggests that the quarry dates from the early post-Reformation period at least."
Flora and Fauna "identification"
Many plants were seen, few could be named with any specificity! Sphagnum denticulatum, bilberry, and generic "lichen" are as far as I got. Oh and Molinia aka purple moor grass (see pictures above) which dominated the landscape and made the going a real trudge in places.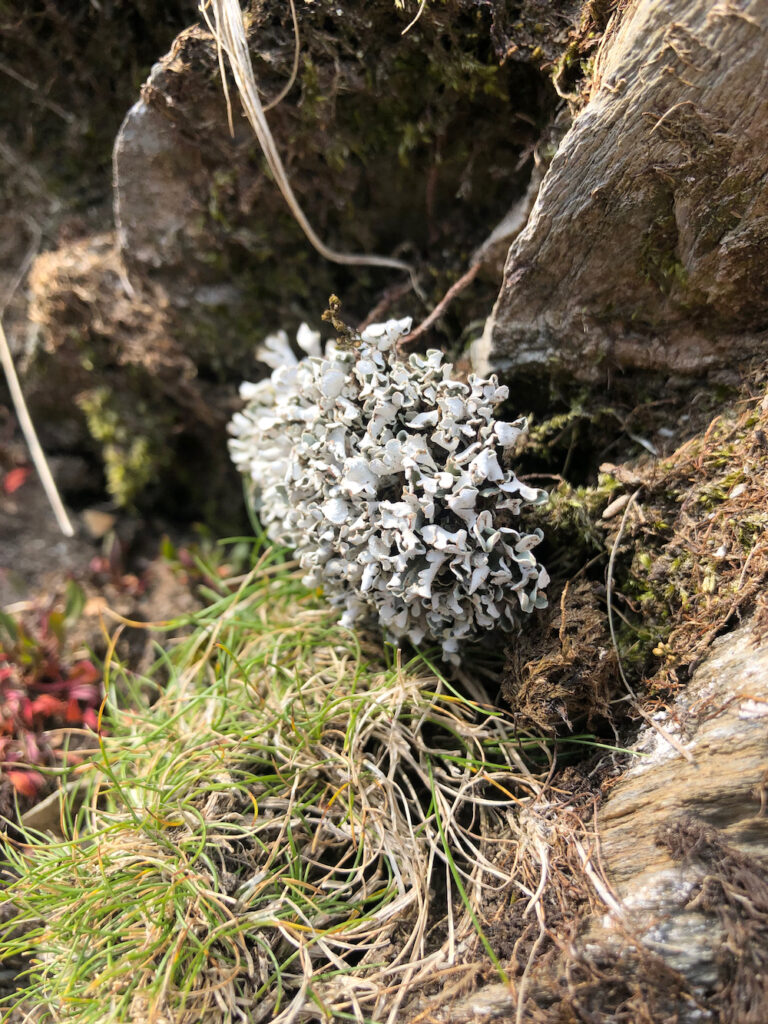 Micronavigation
Quick aside: a couple years ago I signed up for the Mountain Leader (ML) scheme. I completed the training in February 2019 and should be now consolidating my knowledge in preparation for the assessment (Covid and other things have made my completion of said assessment somewhat questionable, but that's a different story!). Mountain Leader or not, navigation skills are pretty important in these parts and elsewhere, and it's always good to practice! My biggest insecurity about the ML thing has been micro navigation, that dark art of navigating to tiny features on a map, whatever the weather. I have been nagging Paul for over a year to give me some tips and finally isolated on this desolate upland I was able to corner him and demand all the knowledge! It was hard work navigating such featureless contours – a learning point in paying attention to subtleties like bogs and streams as reference points. I wasn't as inept as I thought I was, but I still have much to learn!
Drygarn Fawr
Drygarn Fawr is marked by two massive beehive cairns and a trig point. The cairns were originally Bronze Age but rebuilt sometime in the 20th century. Says my landscape archaeologist comrade: "The cairns have clearly been extensively remodelled in historic times but there's enough surviving evidence to suggest original stone kerbs, banks and deliberate landscaping of the surroundings of each cairn." We were fortunate to have clear weather and the views were outstanding. We could see all the way to the Brecon Beacons in the south and Snowdonia to the north, along with Pen Pumlumon Fawr and the Sennybridge MOD area.
Basecamp Kitchen
Of course words must be said about the food and drink. I highly approved of Paul's decision to bring TWO stoves – a wild camper of my own overpacking heart! And I always delight in trying new cooking equipment (a Primus and an Edelrid stove in this case). I used the opportunity to test out a new trail meal – Thai tofu curry. Alas, as with many trail meals, the reality doesn't look all that amazing, but it was super tasty! Look out for it soon in the shop. Coffee was provided by good friend and Master of Taste Donovan Rosema of Light Bulb Coffee – he runs an awesome coffee van and is soon going to be selling his own roasted beans. I'm super grateful to be on the receiving end of early production, and we have schemes to collaborate on some ESW adventure coffee, so watch this space! I'm still perfecting my wild coffee setup but I think a portable grinder and collapsible V60 filter may be in my future.
As usual this short sojourn was all too brief and I felt a little twinge of sorrow on the walk back along Cwm Gwesyn (mitigated slightly by the blissful and easy going path which was much welcome after all that Molinia). This green desert and all of its mystery and mirages continue to enchant me, and as usual I'm promising myself not to let it go so long before I return.
Related reading