A tale of Type 2 fun and many, many learning moments, told from the cozy Grwyne Fawr bothy in the Brecon Beacons.
Following a few very successful bothy trips, including Scotland's four star Magoo's, the remote Tarf Hotel, and Nant Syddion bothy in mid-Wales, I'd caught the bug. There aren't many bothy bagging opportunities this south of Scotland, except for one…
I'd read about Grwyne Fawr Bothy in Phoebe Smith's Book of the Bothy. It's the smallest of all the Mountain Bothy Association bothies, and it also happens to be the closest bothy to my house, just a couple hours away in the Black Mountains. So it seemed a natural choice for my next adventure.
If you've done any research on Grwyne Fawr, you will read stories about this "remote" bothy, tucked into the "deepest darkest" corner of the Black Mountains. These descriptions give the illusion that this bothy is somehow very difficult to get to. In truth, it's a little over an hour's walk (2.5 miles) from the Mynydd Du forestry car park down a straightforward path. This always rings alarm bells, as such bothies close to easy access tend to attract some unsavoury characters. Let's remember – the bothies are mountain huts for walkers seeking shelter. There are those less privy who seem to think they're a great place for a party. But I digress…
I like a challenge and the feeling of arriving at a destination with the sense that I've earned it. So, I took the long route in via Waun Fach (6.5 miles, 410m of ascent, see map below). I could have chosen better weather. Visibility was non-existent. And it being December, it was cold. Oh, and I was carrying a very heavy pack which included plenty of food, liquids, candles, and firewood.
It was somewhat of a relief to get off the hill where visibility improved quickly on the descent, making me wonder why I bothered with the high road. Nevermind. I was eager to get to the long awaited bothy!
The Grwyne Fawr bothy is not hard to find, but easy to miss. The bothy is a former waterworks building at the top of the Grwyne Fawr Reservoir. Located at the bottom of a deep ravine, it's easy to overlook. And getting to the building from the main path while wearing a heavy pack takes careful footwork.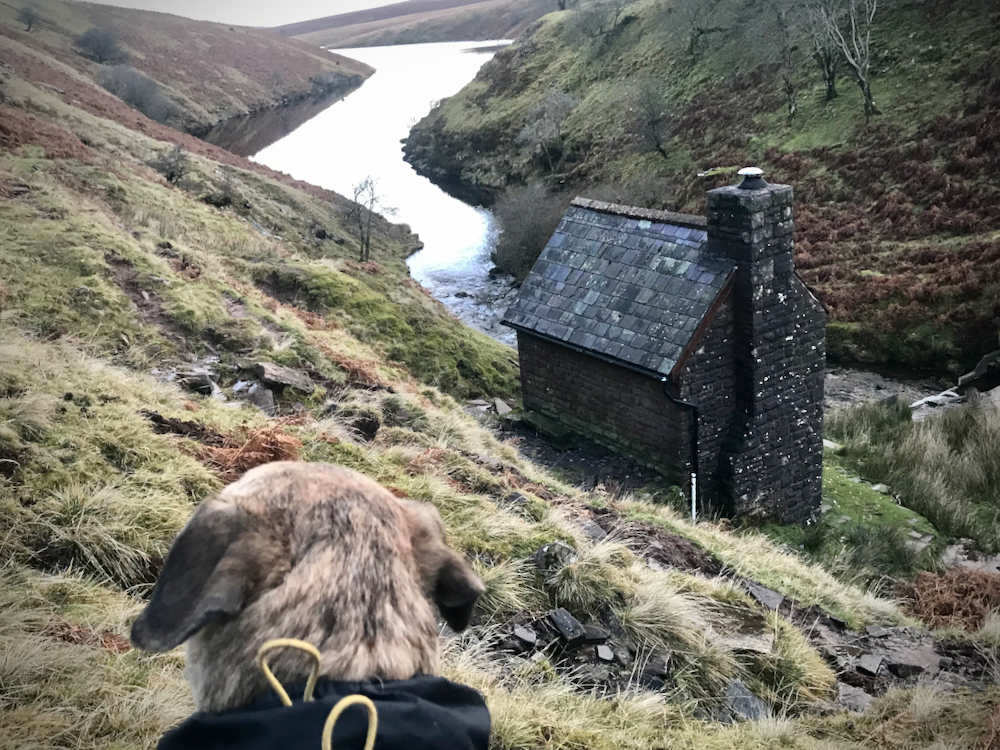 The bothy appeared welcoming. And like all bothies, I approached with trepidation: would it be occupied? I'd read that it slept two, possibly three at a pinch. Dogs were also apparently not allowed which I obviously disregarded. Upon meeting the bothy door, I found it empty, but opening the door prompted a bit of an "oh" response…
I knew that the bothy would be small but I hadn't quite expected it to be, well, the size of a small closet. It wasn't the size that was a let down, though. It was the state of things inside. The previous attendants left a load of rubbish: bottles, cans, dirty food containers. There was a half used bottle of ketchup, and broken glass on the floor. I'm used to the sort of abandoned house vibe of a bothy, but this was just gross. Reading this romantic perspective from neapandspring, I just have to laugh at the juxtaposition:
"The centerpiece was an impeccably crafted stove that tapers into the flue. It was a tiny space but everything looked made to measure, encompassing the playful charm of a child's den."

neapandspring
I quickly realised why this "child's den" was not welcoming for dogs (and possibly not children, either). The sleeping area is an elevated "mezzanine" above the main floor, accessible by ladder. I don't think Lucky nor I would have slept a wink up there if we tried. So what to do?
I suddenly had The Clash in my head: "Should I stay or should I go?" While I deliberated my movements I got to work cleaning out the bothy, collecting rubbish and sweeping up the glass. I also organised a few items, put on an extra layer, and lingered outside to look at the view and refill my water from the stream.
While pottering around by the river I saw what every bothy dweller fears: two people approaching along the main path. Worst of all they were both carrying large carrier bags – never a good sign. One of the gentlemen, a burly guy in sweatpants and workman's glove who I can only assume had not been out all day walking, descended the ravine to meet me.
"I guess it's all full, huh?!" To his credit, he was really nice about it. I told him I was actually thinking about going, and mentioned the mess it was in and that I was worried about my dog. The thankfully non-creepy young man had a peak inside the tiny bothy, saw my impressive amount of gear, my elaborate cookware and the impeccable state of the bothy, and insisted I stay. "Listen, you walked all the way here and cleaned it out – you have to stay." On my cookware: "Wow, all we brought with us were potatoes, baked beans, and vodka." He didn't say much after that except "here you go", leaving me a big bag of fire logs and heading back up the ravine to his friend.
After that I felt kind of stuck with it, and resigned myself to giving this bothy a chance. Alone. Again, in contrast to this writer's experience:
"The tiny, dark stoned building blends into the heather on the steep banks of Grwyne Fawr Reservoir and a sharp eye was needed to spot it. We squeezed ourselves in one by one (three people is almost all it can take), the stove was lit, potatoes thrown in and the night passed by board games and moments outside to appreciate the Dark Sky Reserve…Full with mulled wine, we climbed the ladder to sleep on the boards above. The bothy had spared us from what had been one of the coldest nights of the year so far."

TGO Magazine
I wish I could say that this bothy spared me this cold night. I managed to get a fire going, have some food, and create some semblance of bothy vibes. No board games or potatoes. I set up my Thermarest on the floor for Lucky and I, hoping that the mice I read about in the tattered bothy book wouldn't crawl all over us (though Lucky might have appreciated the snack). I used the ol' Sigg hot water bottle trick to make us a cozy den, and attempted sleep.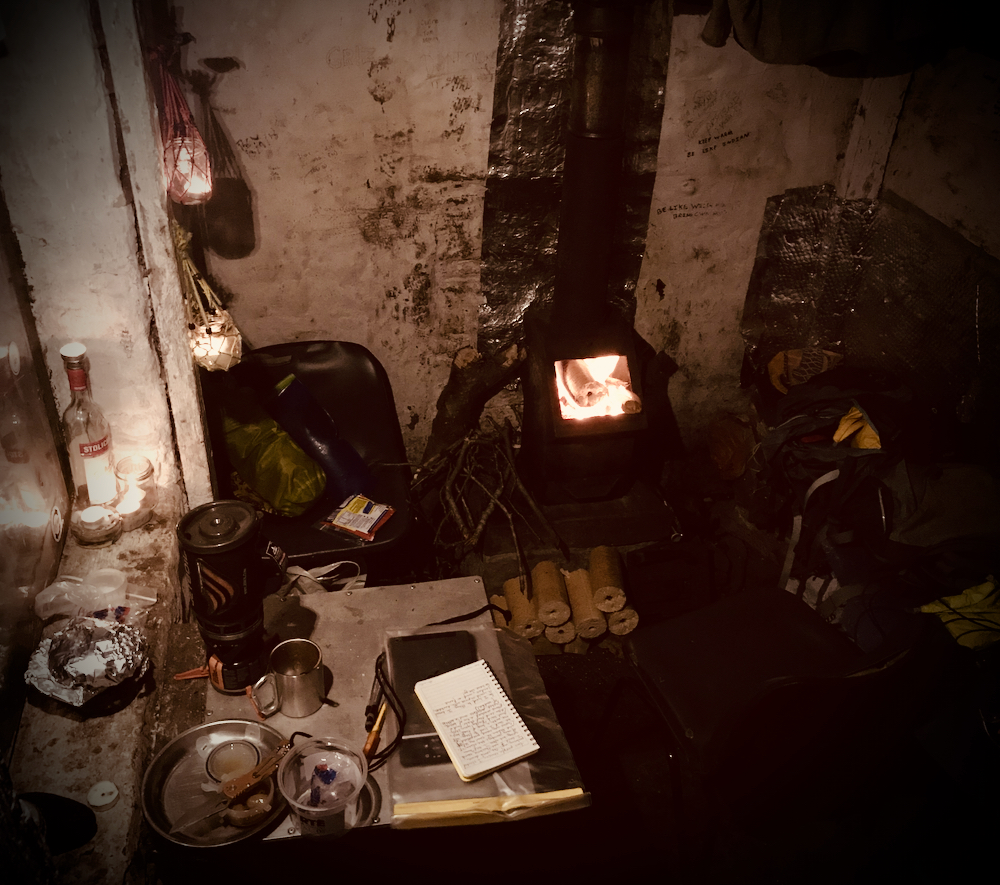 At about 2am I awoke absolutely freezing. And worst of all: in my kerfuffle I had not screwed the Sigg cap on properly and water had leaked all over me! Nightmare. Apparently it's much warmer up on the sexy mezzanine thanks to the rising heat from the woodburner. I'll admit that in my sodden position on the stone floor, I felt pretty sorry for myself.
I gave up on sleep, got up, re-lit the fire, and waited, experiencing immense gratitude for all of the extra firewood I had thanks to the bearded be-sweatpantsed non-walker. I passed the time writing in my journal, and in the bothy book, and drinking many cups of tea.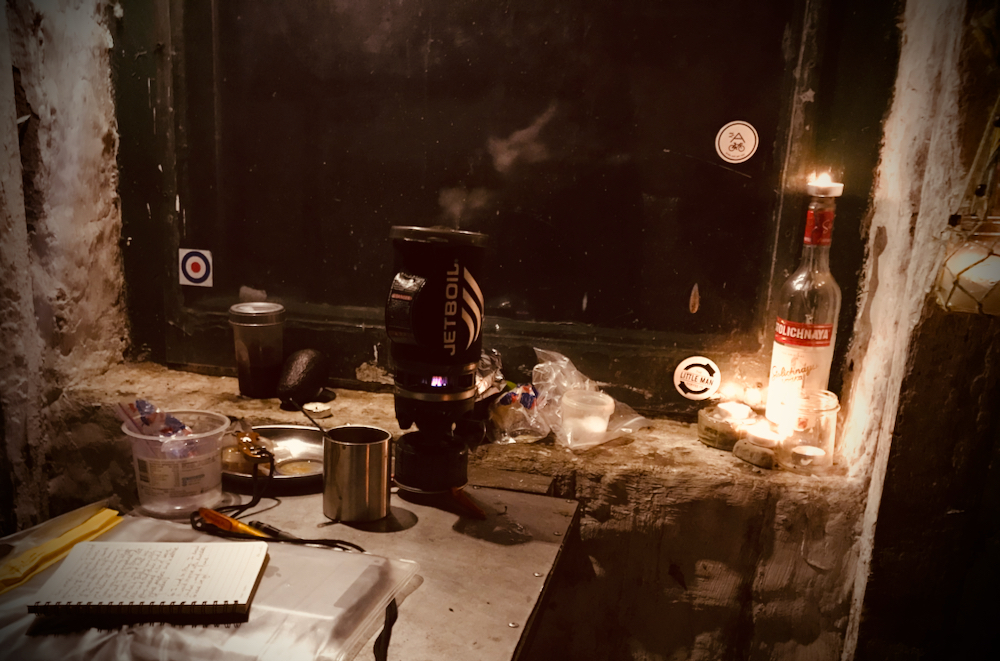 When the last log burnt out at around 5am, I packed up and made a beeline back to my car. One minor saving grace is that I caught a very atmospheric sunrise on the walk out: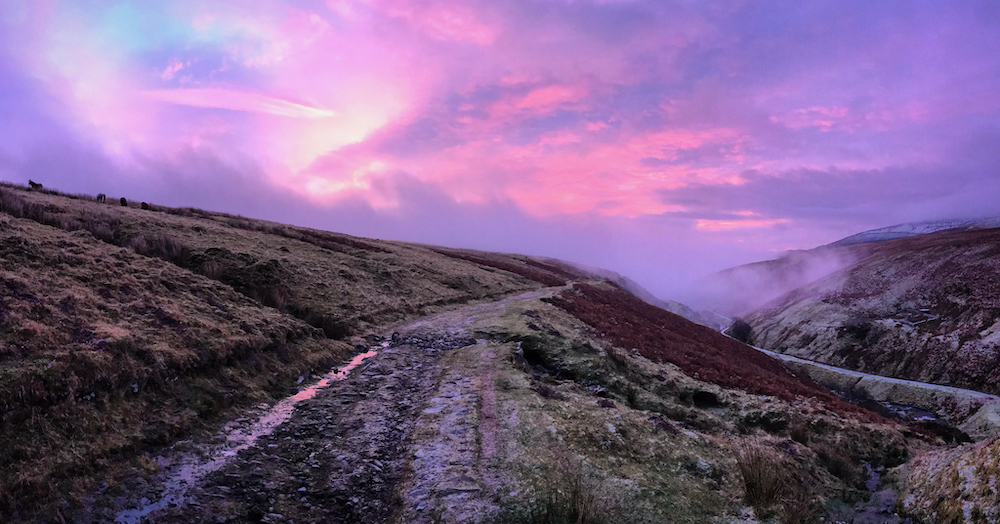 Since returning from this trip I've referred to the experience as "The Horrible Bothy". Even calling it "Type 2 Fun" is probably a stretch. Lessons learned:
Trust your instincts. Go back to the car. Or carry a tent! (My rational for no tent in this case is that I knew the bothy wasn't too far from the car and leaving the tent at home would allow more space for firewood!)
Listen to the MBA – when they say not suitable for dogs they have a reason!
Screw your effing Sigg bottle cap on correctly, stupid!
Leave the bothy better than you found it – OBVIOUSLY!
I have a small (teeny tiny) impulse to return to Grwyne Fawr bothy to check in on the place, spruce it up, maybe with a friend to keep me company. I generally find bothies a bit spooky on my own. And even with a friend, that latent fear of meeting other people is off-putting. Apparently some people actually enjoy the social element of bothies which is the exact opposite of why I go to these wild remote places in the first place. But I digress again.
Another lesson…
Tents are best. And in poor or very cold weather, making bothy times at home with candles and whisky is pretty damn good, too.
To read about some awesome tent times in the Black Mountains, check out this post: Black Mountains Wild Camping – Top Tips and Beautiful Spots.
And for a funny story about "duck breasts" at Grwyne Fawr Bothy, check out this post from Two Blondes Walking.