Fans of history, solitude, and off piste wild camping will have a field day in The Erme Plains in Dartmoor. All of Dartmoor is rich in prehistory, with the Erme Plains containing a particularly dense cluster of still-visible Bronze Age settlements, stone rows, and stone circles.  The first part of this walk takes the easy-to-follow Two Moors Way north towards the Erme Plains. From here, some reasonable map skills and a patience for such obstacles as bog, river crossings, and uneven ground is required. Among the rewards are the 3,320 metre Stall Moor Stone Row, one of the longest in the world, and the stone circle at its southern end, a magical place for a wild camp. Inspired by Phoebe Smith's excellent book, Wilderness Weekends.
Essentials
Getting there: Harford Car Park (free).
Distance: 22.5km (14 miles)
Distance to Camp: 12.2km (7.6 miles) / 261m (856 ft) height gain
Height Gain: 478m (1568 ft)
Recommended map: OS Explorer OL28
The Route
The car park in Hartford is a convenient starting point for this walk. On the day of my trip, I arrived at the same time as a running club. Having come to Dartmoor for peace and solitude, it took me a bit off guard (it was also inconvenient because I really needed to pee!). However, as I set off, it wasn't long before I left the people behind. In fact, after about an hour of walking, I didn't see any people at all for the rest of the trip.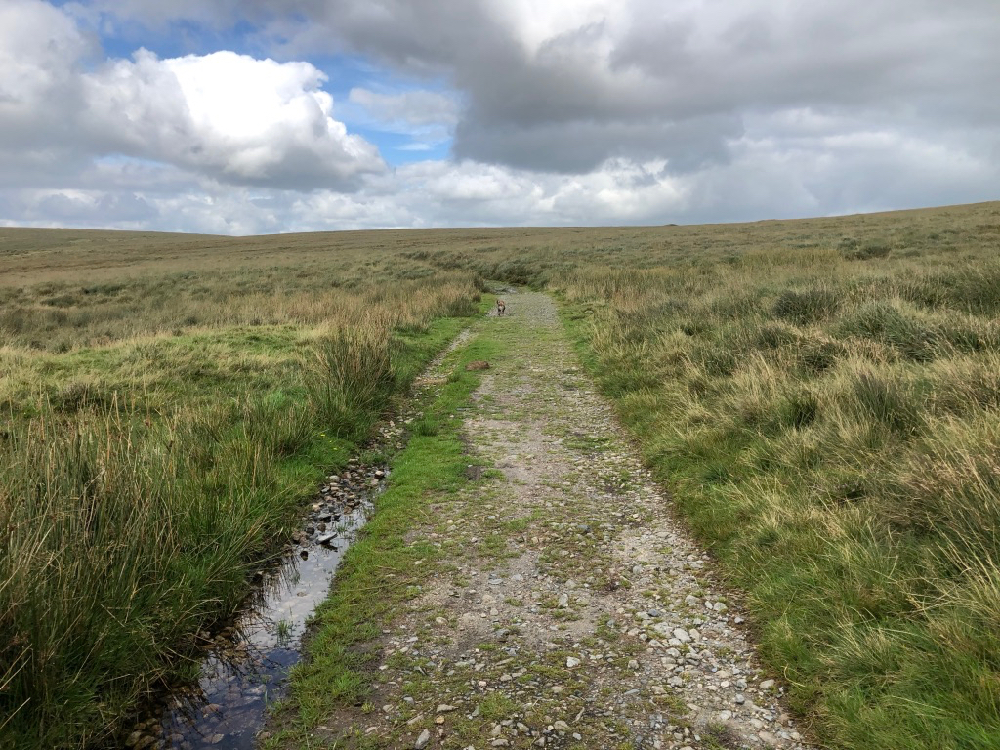 From the car park, you can either take the bridle path east, or head out northwest onto open moorland. Either way you'll meet the Two Moors Way, a wide easy to follow path. Following this path north takes you deeper into Dartmoor's depths. If you fancy some hills there are opportunities to walk up to the cairn at Sharp Tor and/or the trig point at Three Barrow's. Both are short diversions from the main path and promise great views (if you happen to have views – this is Dartmoor, of course!).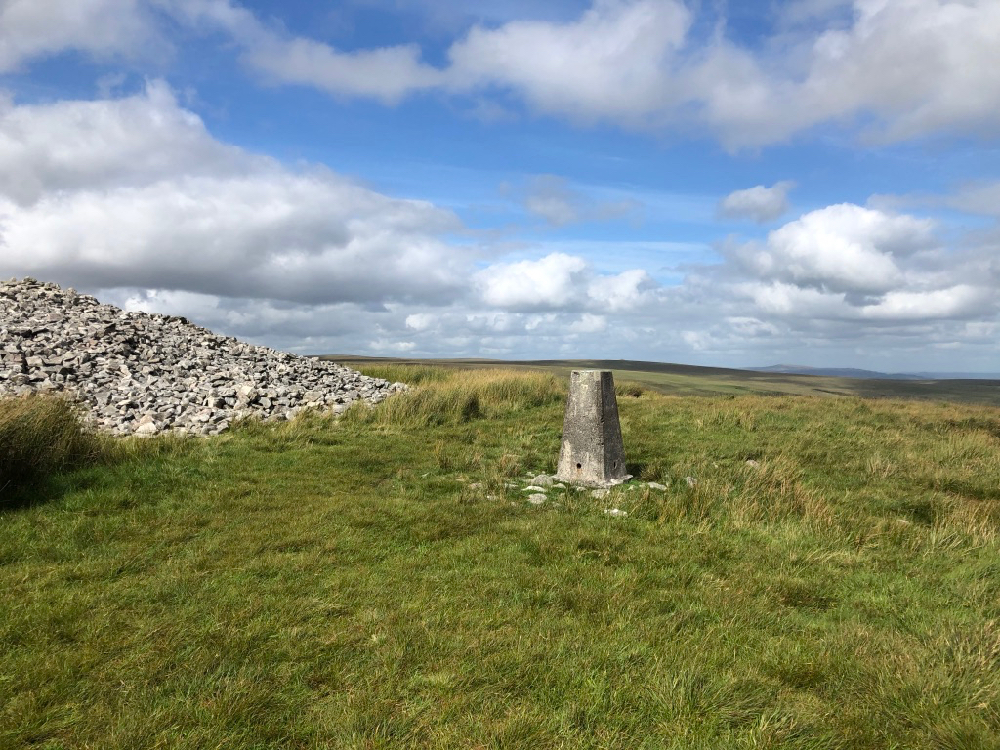 About 6-7km north of the car park, the Two Moors Way starts to curve eastward. Here you diverge from the comforts of this clear path onto more interesting territory. Shortly after the curve, a boggy path heads downhill northwest towards a stream marked "Red Lake" on the OS map. The bog wasn't too bad when I was there in late August, but in wetter months I can imagine this being quite unpleasant.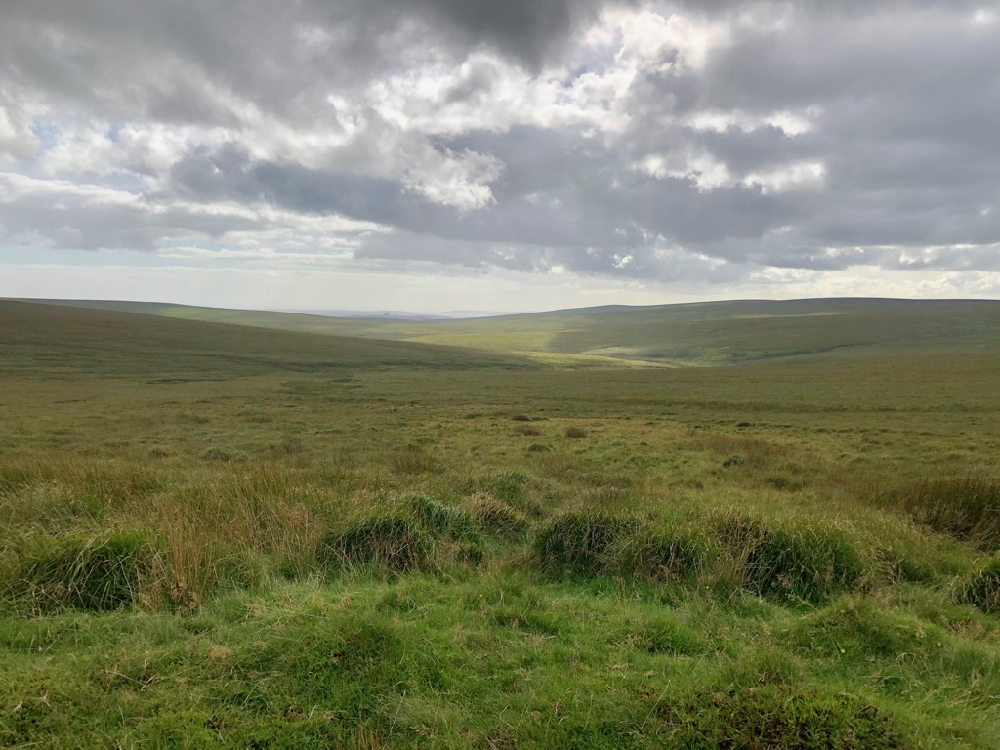 Both "Red Lake" and a second stream flow into the Erme River, not trivial to cross. My plan was to cross these two smaller streams to end up east of the Erme which I'd follow to the stone row. The first stream was trivial, but the second required a trudge through long grass and bog plus a little hunting to find a suitable crossing point. After our Northwest Scotland trip in July, Lucky managed the crossing like an old pro!
On the other side of the river I was grateful to have found a faint path (not shown on the OS map) leading south along the Erme, making the going a bit easier. Leading uphill out off the river valley, I enjoyed a great view of the eerie Erme Pound (a once heavily populated prehistoric settlement).
Carrying on I was grateful to intersect the Stall Moor Stone Row which I followed to its end at The Dancers Stone Circle, my pitch for the night. Great weather and a brilliant sunset made the experience all the more magical. I made the most of it, well aware poorer weather was forecast for the next day.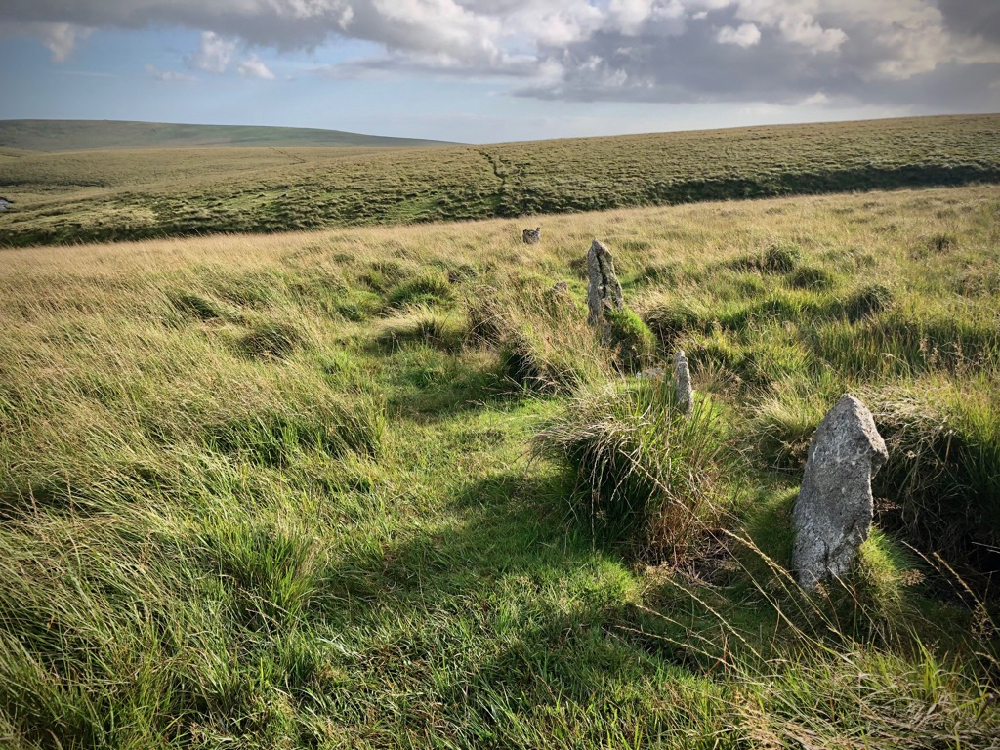 As predicted, I woke up to heavy mist and the palpable sense that rain was on its way. I didn't linger, and despite Lucky's clear preference for lounging in the sleeping bag all morning, I quickly took down camp while the weather was still dry.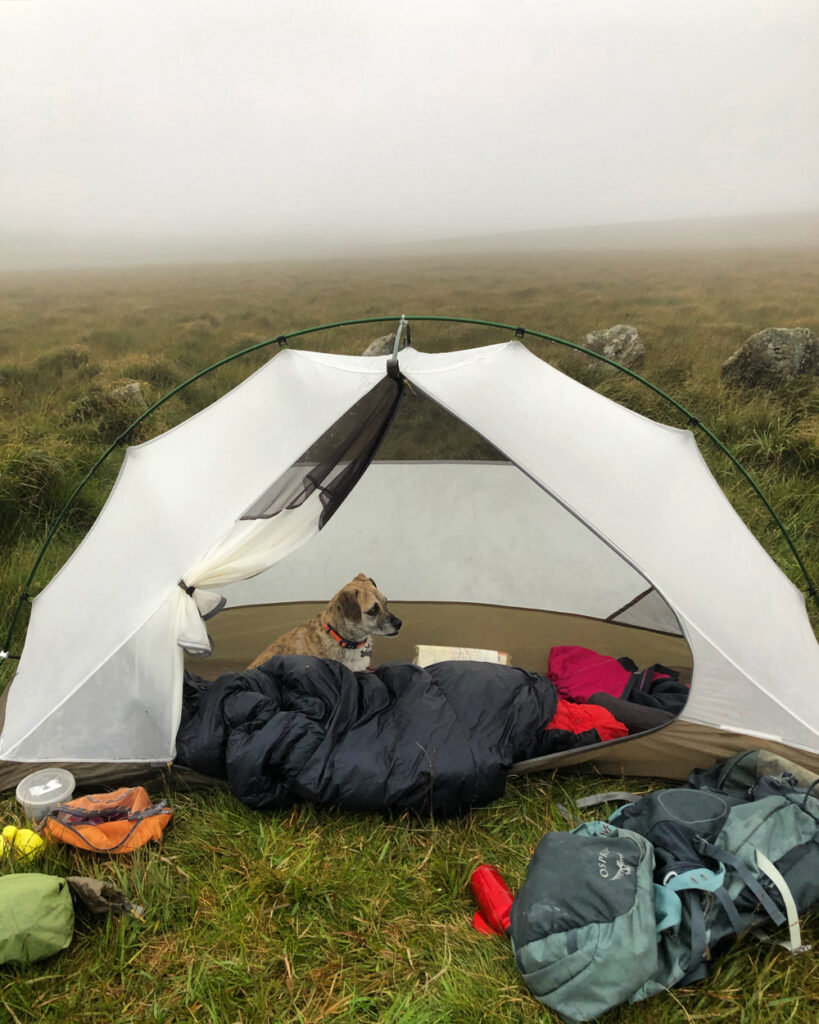 I could have gone back the way I came but decided to craft a loop. I carried on down the river to a track near "Downing's House Tinner's Hut". In better weather I would have taken the high ground over Stalldown Barrow. But at this point the rain was falling steadily and an easy track was very appealing.
The track eventually meets a heavily fortified Water Treatment Works that required a slight diversion north to a bridleway, then to the road leading to Tor. The rest of the journey followed quiet country lanes back to Harford and the car park, where I cursed myself for not bring a spare dry set of clothes to change into.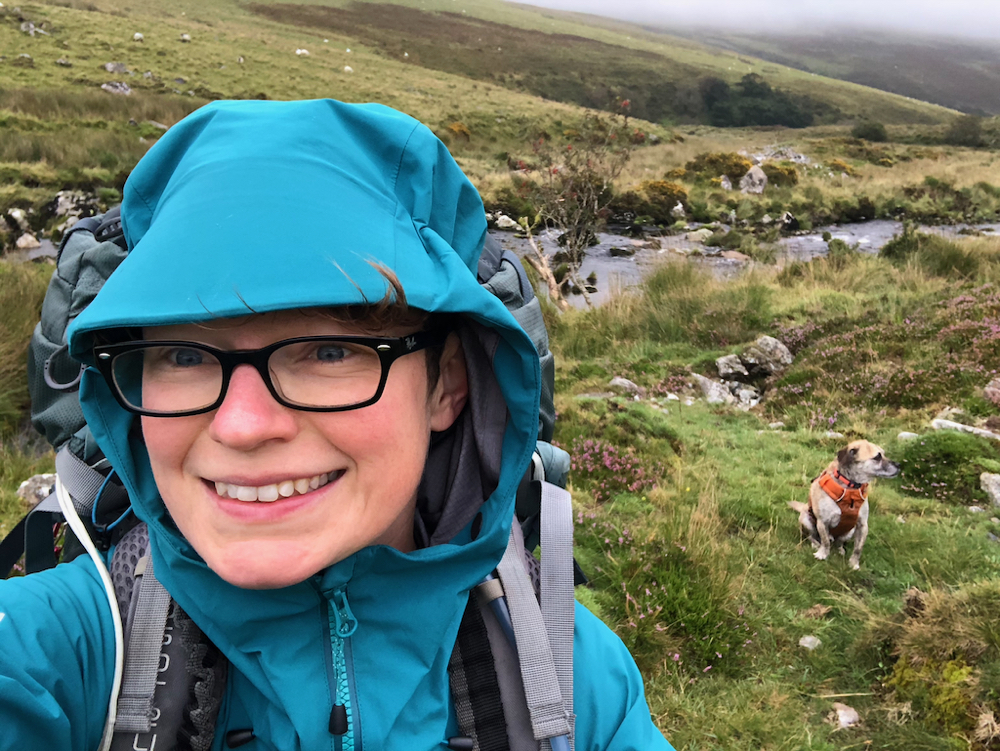 Foodie Highlights
My camping move is almost always Mexican or Indian, however as I've been developing new meals for the shop I'm learning that not all of my customers are keen on spices! So I've been experimenting with some more classic European fare including this Tuscan Summer Stew. Quite excited about this one as it's truly a case of preserving the seasons, with Wye Valley green beans, allotment courgettes, and home grown Tuscan kale. It all gets simmered with tomato, cannelini beans, red wine and Parmesan. Inspired by Ribolita, the dehydrated / rehydrated process is true to the name! It was good but this batch needed a bit more seasoning. I served it with broccoli and wholemeal pasta but it would have been more at home with some toasted sourdough or perhaps grilled polenta. And a glass of Chianti, of course.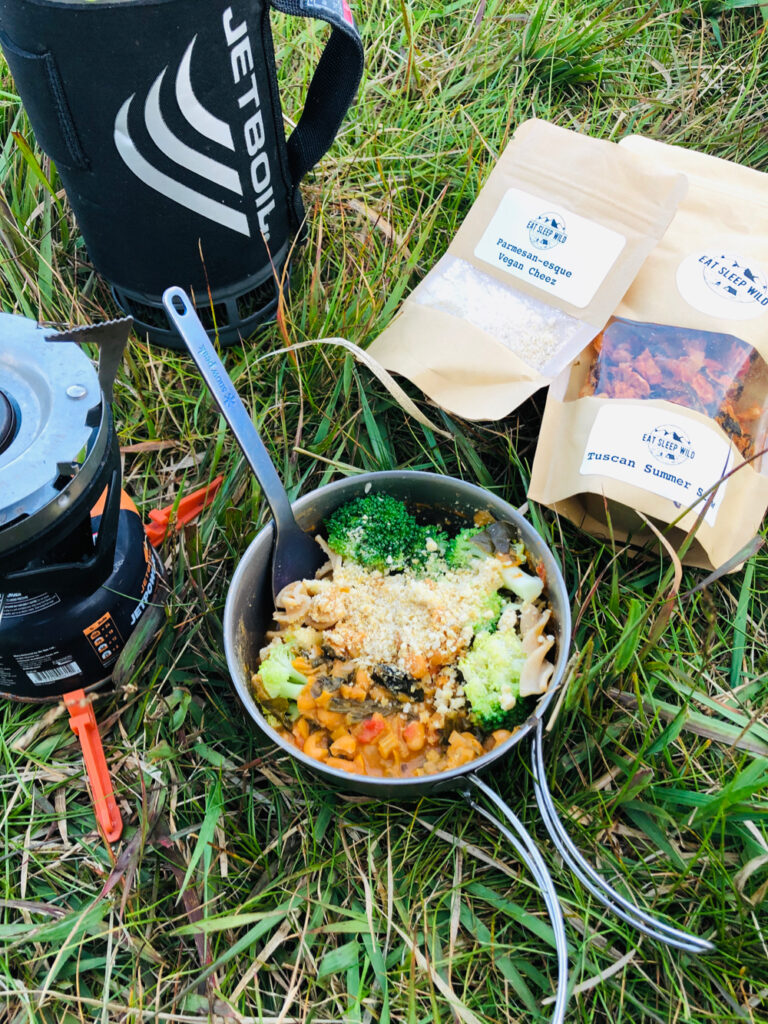 In addition to main meals I've been working on some "extras" to put in the shop. I had three of them with me this trip…
"Instant hummus"
Vegan Parmesan-style "Cheez"
Peanut butter shot
The hummus isn't so instant and really requires hot water to rehydrate properly. Not a big deal if you don't mind leaving it to cool. I'm still getting the proportions right of water to hummus mix, but look out for this one soon cuz it's a personal favourite. (I'll need to add some hummus garnishes, too.)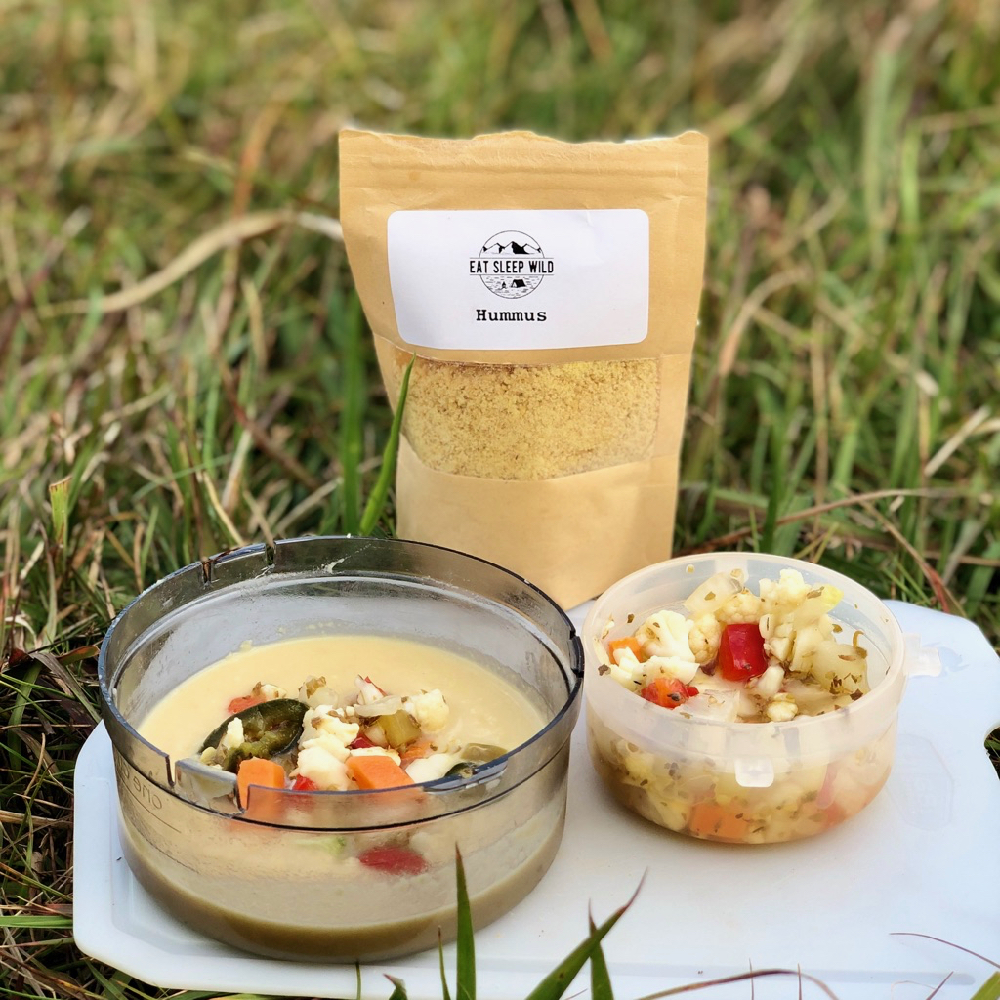 Love the Vegan "Cheez" for adding instant flavour and nutrition to meals. A bit of a retro guilty pleasure as it reminds me more of that powdery so-called "Parmesan" you buy in a shaker rather than proper Parmesan cheese. But if you have a fondness for that product like I do (and a preference to eat real food) you might like this! 
The peanut butter shot is awesome. My challenge is packaging, as it's not totally easy to get the peanut butter into the packets, there's a lot of waste, and the oily nature of PB makes it a little messy. But once I can master that, these will be a super handy item for adding to porridge, smearing on a bagel, whatever. A always, keep an eye on shop.eatsleepwild.com for this and other new products.
Useful Links