I have a birthday tradition that involves starting and finishing the day in the outdoors (usually in a tent!) and 2022 was no exception. This year's birthday getaway took me to the Cairngorms for a 3-night backpacking trip through the Grampian Glens with Mark and Lucky. The trip was inspired by Route 14 in Graham Uney's excellent book Backpacker's Britain: Volume 4 – Central and Southern Scottish Highlands. It was as Graham described a "superb round of the glens", but more challenging than expected mainly due to unseasonably warm weather and total lack of shade for most of the walk. Read on for more…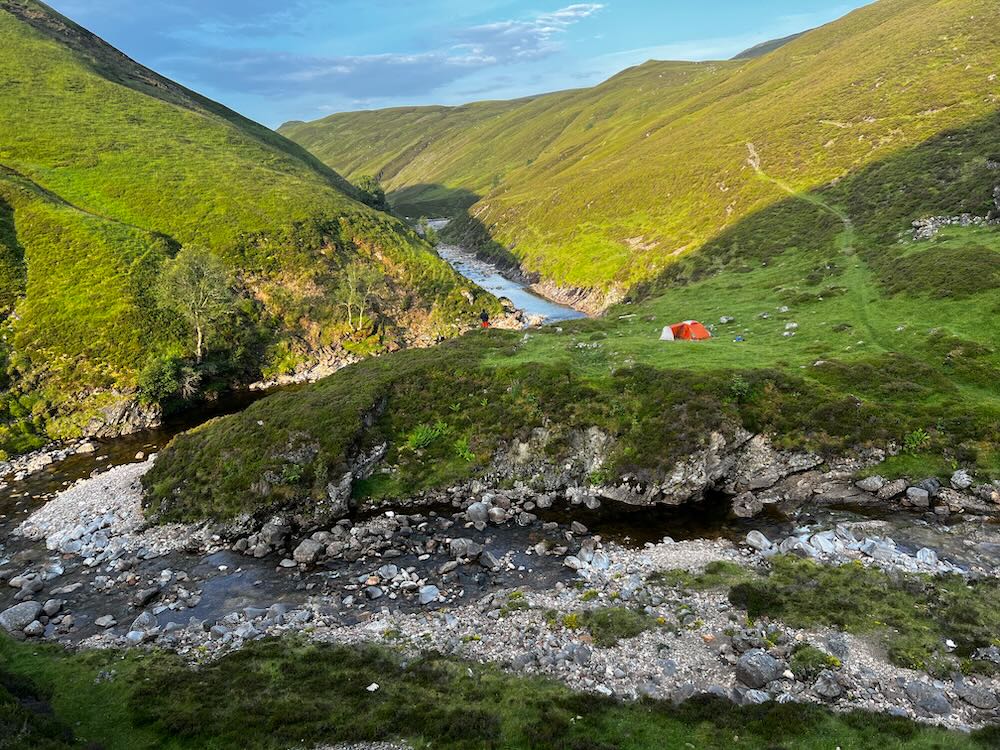 Trip Essentials
Starting point: Free parking at Glen Tilt Car Park

Distance: ~80km

Ascent: ~1829m

Map: 

OS Landranger 43
Itinerary: 
Day 1: Glen Tilt Car Park to Glen Bruar (wild camp just south of Briar Lodge) – ~13km

Day 2: Glen Bruar to The Feshie Bothy (pimp stay in this 5* bothy) – ~30km

Day 3: The Feshie Bothy to Falls of Tarf (wild camp where the River Tilt meets Allt Feith Lair) – ~23km

Day 4: Falls of Tarf to the Glen Tilt Car Park ~21km
Highlights
This walk was a lot more challenging than we anticipated! And not just for the length. Part of it was the hot weather – temperatures were pushing 30 C the whole trip and most of the route is totally devoid of shade. There were also some substantial sections between Glen Briar and Glen Feshie lodge that were extremely boggy making it easy to lose the path. Some Type 2 fun was had!
CampFire on Bruar Water
The hike into Glen Bruar is pretty straightforward and takes you past the [difficult to pronounce] Allt Sheicheachan bothy which was full on this occasion. So we carried on a couple kilometres and were so glad we did – the ground around Bruar Water just south of Bruar Lodge is super wild camping territory. After dinner Mark made a little fire bowl on the banks of the river and we scavenged for dry bits of old bracken to create a wee campfire. It's a rare treat to have a campfire while wild camping (bearing in mind Leave No Trace principals, alongside availability of dry wood and kindling which is often hard to find in Scotland) so to cuddle up around this little fire pot for 20 minutes was very special!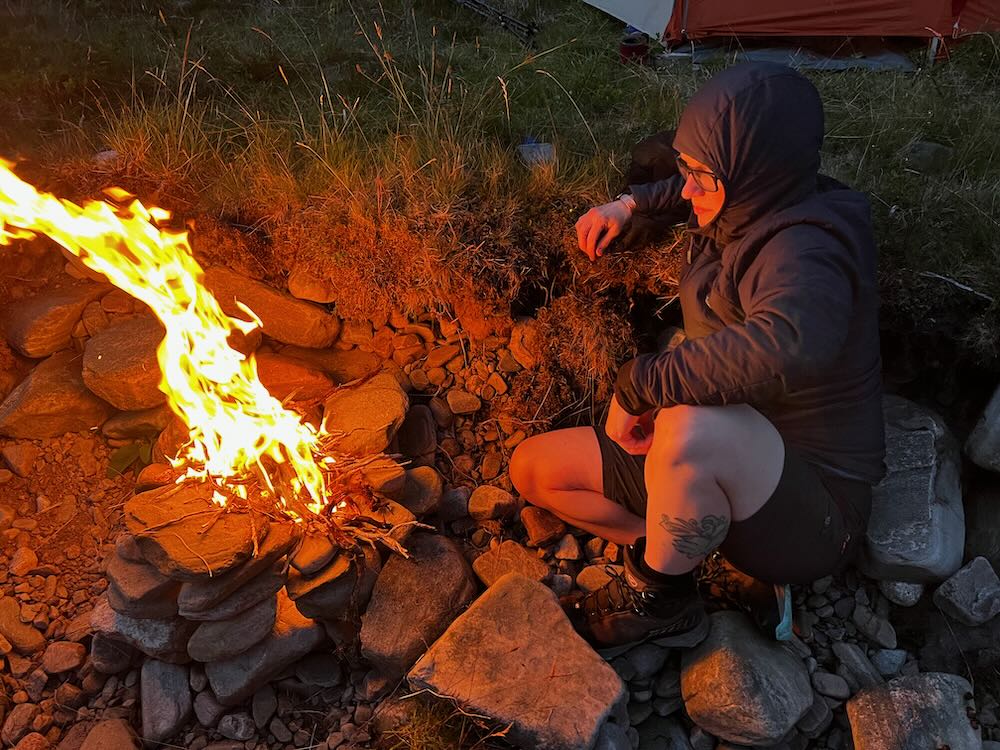 Overnight at the Feshie Bothy
Day 2 of our adventure was tough. The boggy slog followed a determined hours-long walk to Glen Feshie on a hot forest track with sore feet. We could have stopped short but we had our mind set on reaching the Ruigh Aiteachain bothy (aka The Feshie Bothy) on the Glenfeshie Estate. When we finally arrived, we couldn't believe our luck. Not only was it empty, but it has to be the most luxurious bothy I've ever come across. It has a kitchen garden which on this occasion was bursting with black currants and gooseberries (Mark made a cocktail of the muddled berries with our elderflower gin that we brought in a flask). The place had a huge wood store, and each room had a wood burner. The outside had a barbecue and comfy seating. The entire building and surrounds have been renovated to a standard that people would pay a lot of money for! It even had not one but TWO toilets that were simple but clean. We couldn't believe our luck! 
Wild Camping at Falls of Tarf
Day 3 of our adventure was easier going, with clear tracks all the way, but the day was long and hot. With no shade to escape to, the sun felt relentless, and the latter half of the day required some mental fortitude to achieve our objective: The Falls of Tarf at the top of the River Tilt. Again, we could have stopped earlier, but we were glad we pushed on. We pitched up in an idyllic spot where 
the River Tilt meets Allt Feith Lair. We soaked our feet for about an hour before putting up camp. I'm pretty sure were asleep by 9pm! I took this picture the next morning as the evening prior I had zero energy to tromp up a hill for this overhead shot!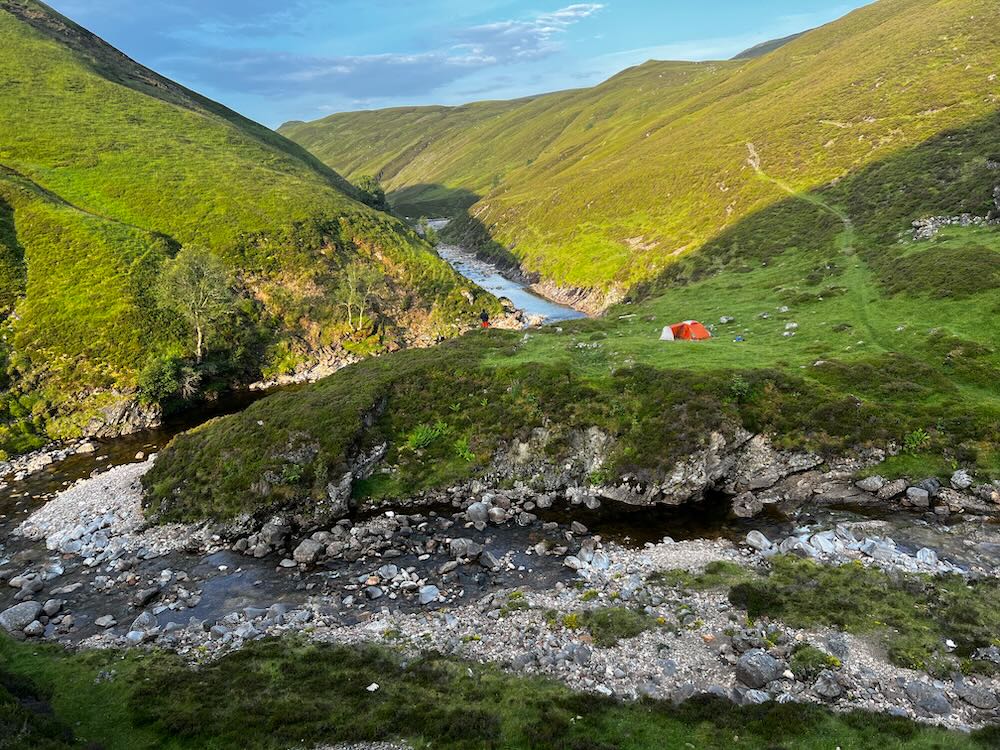 Impromptu Meet-up on the Minigaig Pass
The Minigaig pass is an old drovers route built towards the end of the 16th century linking Blair Atholl with Kingussie. Today it's largely a bog! Our friend Jimmy from Pinewood Steading happened to be walking in the area that weekend and we used our Spot trackers to stage a meet-up! It was miraculous that it actually worked as neither of us had phone signal so couldn't actually follow each other's track. Fortuitously we both thought 12:30pm would make a sensible time to intersect and so we did. It was pretty special! 
Backpacking Treats
We both had the idea to surprise each other with something fizzy on the journey. Mark of course upped the ante with a delightful bottle of birthday champagne. Mine was two cans of A&W Root Beer which I presented during particularly trying moments (pictured here, after the ford at Glen Feshie on the approach to the bothy, after a gruelling hot day including the aforementioned bog fest over Minigaig pass.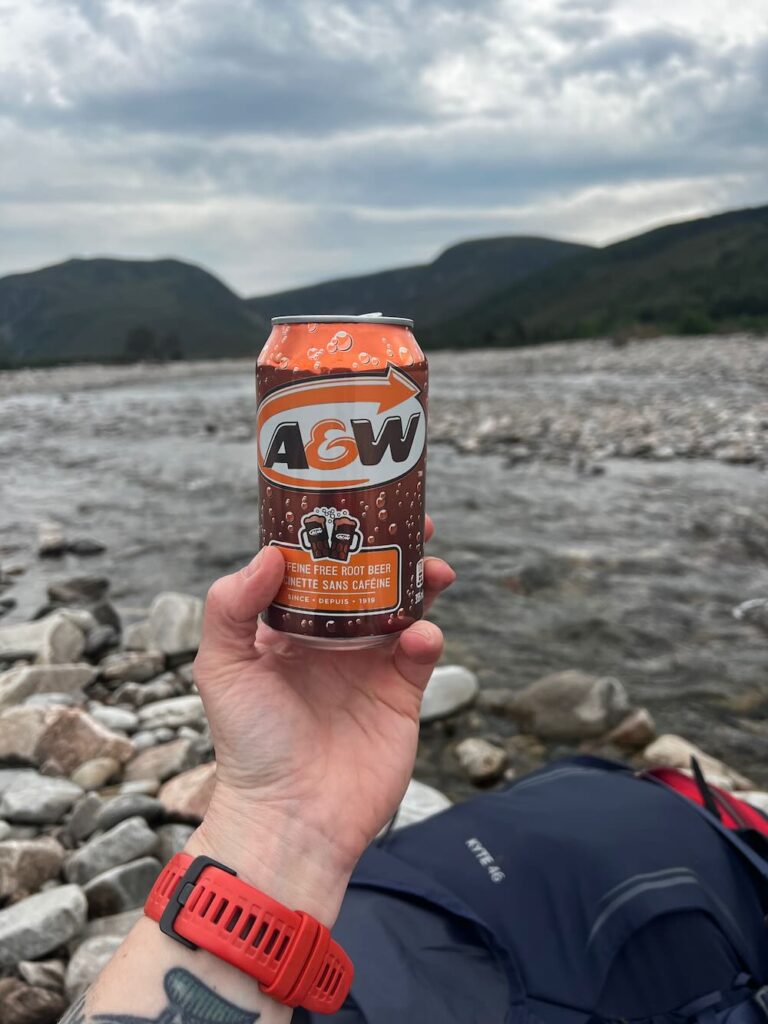 Final thoughts and learning points
We had some epic moments on this trip and felt very proud of our achievement – we've both been offline from backpacking for quite a while so to get out for multiple long days was a big lift! But like I said, it was a challenge, and noted down some top tips for a trip like this:
A guide book should only be treated as a "guide", particularly when travelling on foot to the remote reaches of Scotland. Paths aren't always where they should be. In summer particularly paths can become overgrown and invisible. Bog is always a risk. And the "escape routes" still require hours or sometimes days of walking to get anywhere useful. The point is: don't always expect the going to be easy, and as always, have a map and compass and the skills to use them (and a GPS for backup doesn't hurt – I use the OS Maps app on my iPhone for this).
Gear comfort is everything, especially shoes! I was wearing a pair of lightweight Scarpa hikers which I've been loving for big day walks in the summer, but on this occasion after a couple days carrying a heavy pack, my feet felt very sore. Superfeet insoles may have helped, but I suspect my sturdier Hanwag Tatras are a better fit for this type of backpacking.
Go as light as possible. We did pretty well here, making all of our own dehydrated backpacking food for the trip (highlights were venison chilli and chickpea dal with basmati rice and lime pickle!). Still we saw room for improvement (bottle of champagne aside!). Current plan is to get some luggage scales and do some pack analysis using ligherpack.com!
Pimp your first aid kit! And in the summer, make sure it includes Antisan as bug bites from midges and horseflies are inevitable!
Water shoes! We decided to save ourselves a few km walking by fording the River Feshie (rather than carrying on up north to the bridge). It was very doable but would have been way more comfortable in a pair of sandals, Crocs, or water shoes.