Mexican food is my ultimate comfort food, especially when camping, and these dehydrated refried black beans totally make my day. Forget that homogenous store-bought gloop that you can buy in a tin. With a dehydrator, you can make sensational dehydrated refried black beans to bring on your backpacking trips. Tent tacos, here we come…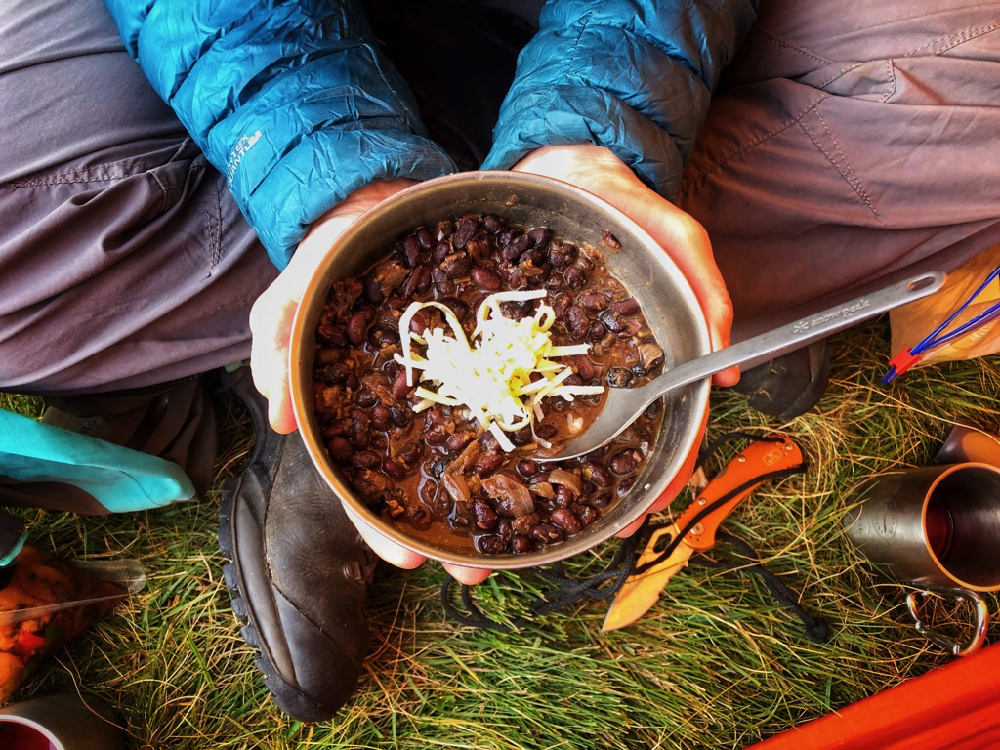 This is a great recipe on its own, whether or not you're camping. Enjoy them as tacos with your favourite fixings. Serve them along side fajitas (check out these portobello mushroom fajitas for inspiration). Or load them up into a bowl with rice, grated cheese, salsa and avocado for some top notch bowl food.
These dehydrated refried black beans take a bit of time, but much of it is unattended cooking time. You can shortcut the first step by using tinned black beans, but you get a lot more flavour when you cook the beans from scratch. It's also worth leaving the beans to simmer for a good long while so they get really soft. This makes the beans extra tasty, and also makes them easier to rehydrate at camp.
This recipe calls for epazote, an aromatic Mexican herb. It's optional, but worth getting hold of if you can. You can purchase it online (along with other specialty Mexican ingredients) from The Cool Chile Company.
I use an Excalibur Dehydrator for dehydrator recipes like this one. Refried beans dehydrate brilliantly and are super quick to rehydrate on the trail. Last time I made this all I had to do was pour boiling water over the beans, cover and wait a few minutes – no simmering required!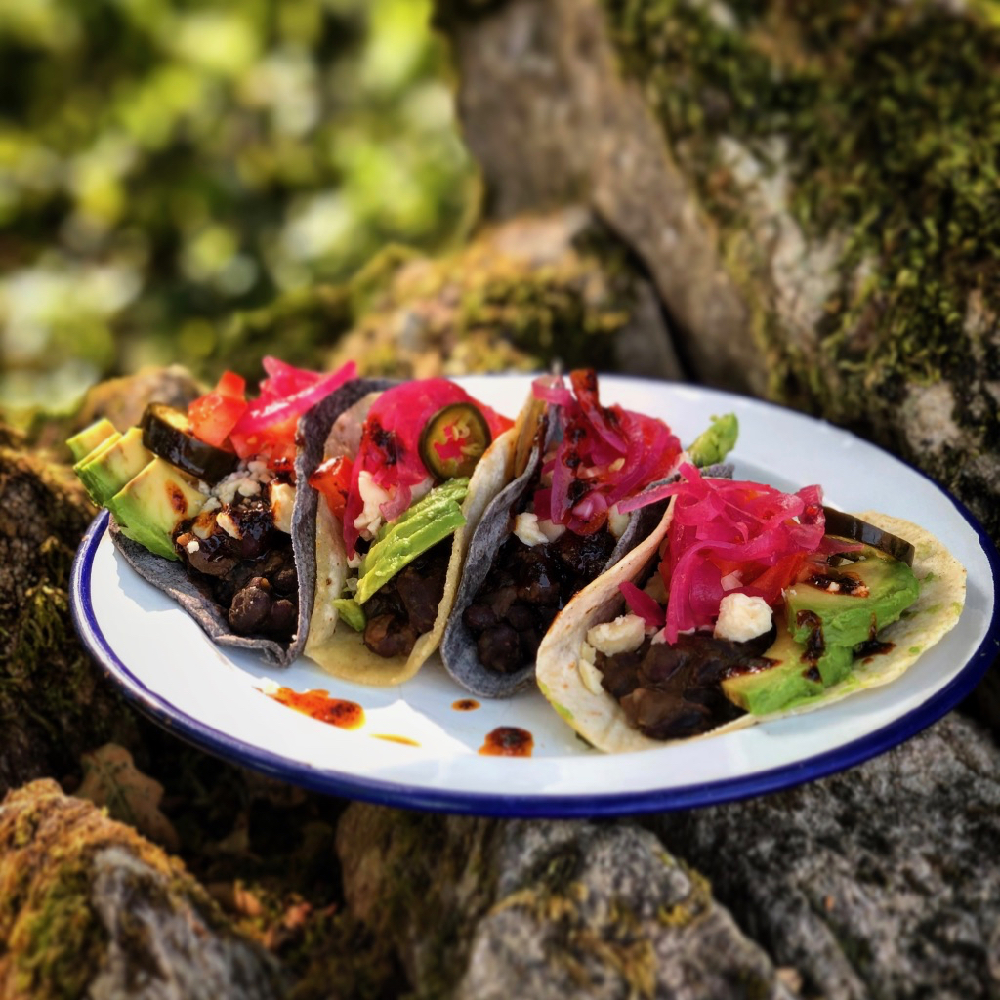 This recipe is adapted from the Frijoles Negros Refritos recipe at Demuths Cookery School, one of my go-to resources for veggie recipes and a fantastic cookery school in Bath. Recommended!
Don't feel like making these yourself? Purchase our homemade refried baked beans in our online shop, conveniently packaged for your next tent taco adventure.

Refried black beans
For the beans
200 g dried black beans
3 bay leaves
1 tsp dried epazote (optional)
4 cloves garlic (peeled)
1 onion-halved
For the refried beans
1 onion (diced)
2 tablespoons olive oil
6 red chillies (deseeded and finely chopped)
3 garlic cloves (peeled and finely chopped)
1 teaspoon paprika
1 teaspoon ground coriander
1 tbsp epazote (optional)
1/2 teaspoon ground cumin
1 orange (juice of)
1 tablespoon lime juice
lots of chopped coriander
salt and pepper
Garnishes (optional)
Avocado
Fresh limes
Chopped coriander
Chopped tomato
Chopped onion
Grated cheese
Pickled jalapeno
Sliced cabbage or lettuce
At home
Soak the beans in lots of water overnight.
Next day drain the beans and rinse them, checking for any stray stones.
Boil in plenty of water with the bay, half onion, garlic and epazote until tender, which takes 1-2 hours-keep checking the level of the water and top up a little if the beans are drying out. When the beans are soft remove the onion and bay, drain and set aside.
In a large saucepan, fry the onion in the olive oil until soft.
Add the garlic and chilli to the onion and fry until fragrant. Then add the paprika, epazote, coriander & cumin and quickly stir-fry.

Add the cooked beans, orange & lime juice and cook gently until the beans begin to break down and the fruit juice has been absorbed. Add a little water if the mix gets too thick and then taste-add sugar, salt and pepper to your taste.

Spread the refried beans onto dehydrator trays lined with nonstick sheets or parchment paper. Dehydrate at 63C / 145F for 8-10 hours until totally dry. Vac pac or store in baggies until ready to use.
On the trail
Put your refried beans in a pot and add water to cover. Bring water to boil.

Turn off heat, cover the beans and wait for five minutes. (Use this time to warm some tortillas or prep your garnishes!)

Check the beans – add more water if necessary to achieve the desired consistency (I like mine reasonably thick so they stay in the taco, but you could add more water and eat this almost as a soup).

Serve with tortillas or on rice topped with your favourite garnishes.